Armageddon Again
11/17/2018 – Michigan 31, Indiana 20 – 10-1, 8-0 Big Ten
Indiana was defeated. It was annoying, as per usual. The method was different this time. 
----------------------------
It's here, again. Football Armageddon. The last time I called a game Football Armageddon it was 12 years ago, when Michigan and Ohio State were both undefeated. Michigan ripped off a slick touchdown drive to start things off, and in the Ohio State student section I thought to myself "we're a third of the way home."
This was incorrect. Michigan's defense played three inside linebackers the whole game against Troy Smith, gave up 500 yards and 42 points, and blew an opportunity to get the ball back when Shawn Crable hit Smith in the helmet on a scramble. The 2006 defense featured Alan Branch, Lamarr Woodley, Leon Hall, David Harris, four guys with decade-long NFL careers. They whooped up on everyone, but within were the seeds of the past decade of Michigan football. Michigan had one cornerback: Hall. Morgan Trent couldn't change direction with a sail and a headwind, and when the starters got pulled against Ball State two weeks prior the Cardinals mounted a comeback that ended in Michigan's redzone down only 8.
The two corners who came in against Ball State were Chris Richards, the defensive coordinator's godson, and Johnny Sears, a kid from Fresno who'd never played a varsity game when Michigan offered him. They saw him at practice. (Practice! We're talking about practice!) Eight months later Michigan would field Sears as a starter in The Horror, in which a cut-rate Troy Smith exploited the same tactical naivete Smith had to hand Michigan the worst upset of all time.
Football Armageddon really was Armageddon for Michigan, not because of anything Ohio State did to them in that one game but because they'd fallen behind the curve out of their own arrogance. Michigan's recruiting was increasingly lazy, dependent on guys who bothered to come to camp and random, uninformed guesses about players based on not enough scouting. They'd get about half a class of well-regarded and then pluck random dudes out of the ether for the rest. They'd singularly failed to adapt to the prevalence of the spread across college football, kicking off the Ohio State dominance that extends to the modern day.
When Lloyd Carr retired he asked the athletic director to interview the two sturdiest branches on his coaching tree: his coordinators. One, Ron English, had never been a head coach and was the architect of the Horror. The other, Mike DeBord, was 12-34 at Central Michigan before quitting because he wasn't a head coach. These were the options to keep it in the family.
2006 Michigan was Indiana Jones on a rope bridge. Ohio State was the guy with the machete leering from the safety of land, but it didn't create the situation.
----------------------------
Incredibly, improbably, amazingly: Ohio State looks like it might be on a bridge of its own devising. Michigan's culture caught up to them in a slow-motion avalanche that took half a decade. OSU's got blown up in a week by Brett McMurphy and Urban Meyer's callous disregard for anything but winning.
Since Zach Smith was exposed, Ohio State's house has morphed from bricks to cards. Every week (except Michigan State) brings a new sordid depth to their defensive issues. With JT Barrett off to pick up YAC in the Estonian league, the offense frequently fails to convert buckets of yards into points. There was a fourth and goal wide receiver screen against Purdue. Not incidentally, a 5-6 Purdue team that's going into the Bucket game looking for a bowl berth boatraced OSU 49-20.
The nature of the series with Michigan has already changed in the post-Durkin landscape. Michigan lost by a literal inch the last time they were in Columbus despite Wilton Speight fumbling on the goal line and throwing two miserable interceptions. Last's game was 21 Michigan players outplaying the opposition and the third-string quarterback tossing up a 14.3 QBR. This isn't Michigan scrapping and clawing because "throw the records out" and we'll go for two at the end of the game because we know what's what. It's Michigan getting hit by a red shell rounding the last corner.
They're there. They're good enough. They're legitimately elite by any metric you want to poke. Now they just have to do the damn thing. The consequences of failure do not bear thinking about. It's armageddon, again. Ohio State is a rope over an abyss. Sharpen your knives.
AWARDS
[Fuller]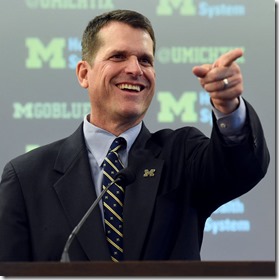 you're the man now, dog
#1 Devin Bush. Michigan lined him up next to Gary for a blitz and that seemed unfair and also please continue doing that forever. Twelve tackles, one of them to destroy a fake punt, and one critical fourth down PBU. Run issues were mostly things he was trying to mitigate and not things that could be plausibly put on him. Update: still good.
#2 Shea Patterson. Another game of almost ten yards an attempt. There were some hiccups, but the interception was an open guy on an RPO and it sailed because he got clobbered. The Gentry throw in the endzone… not so much. But the one after escaping the pocket, yeah buddy. Also chipped in 68 yards rushing. Which is a lot of yards.
#3 Rashan Gary. Had half that sack mentioned above plus a thunderous speed to power rush; 7 other tackles besides when Michigan really needed DL to step up.
Honorable mention: Zach Gentry had two big receptions and got interfered with twice… but maybe probably should have grabbed that ball in the endzone. Higdon had a workmanlike performance with some key broken tackles on short stuff.
KFaTAotW Standings.
10: Chase Winovich (#1 ND, #3 SMU, #1 NW, T2 MSU, T1 PSU), Shea Patterson (#3 WMU, #1 Maryland, #3 PSU, #1 Rutgers, #2 Indiana).
7: Devin Bush(#3 ND, #1 Nebraska, #1 Indiana).
5: Karan Higdon (#1 WMU, #3 Nebraska, #3 Wisconsin), Donovan Peoples-Jones(T1 SMU, #3 MSU, #2 Rutgers), Rashan Gary(#2 WMU, #2 Nebraska, #3 Indiana).
4: David Long(#2 Wisconsin, T1 Michigan State), Josh Uche (T2 NW, T2 MSU, T1 PSU), Jon Runyan Jr (T1 Wisconsin, T2 PSU), Zach Gentry(T1 SMU, #2 Maryland, T3 Rutgers).
3:  Juwann Bushell-Beatty(T1 Wisconsin), Jon Runyan Jr(T1 Wisconsin).
2: Ambry Thomas (#2 ND), Josh Metellus(#2 SMU), Brandon Watson(T1 MSU), Lavert Hill(T1 MSU).
1: Will Hart (#3 NW), Mike Dwumfour (T2 NW), Kwity Paye (T2 NW), Khaleke Hudson(#3 Maryland), Ben Bredeson(T2 PSU), Nico Collins(T3 Rutgers).
Who's Got It Better Than Us(?) Of The Week
Nick Eubanks scores his first touchdown at Michigan. An important moment in the game, sure. But his reaction afterward was a prayer to his late mom.
Honorable mention: Post-game news about Edwards and Winovich is positive. Moody hits a field goal X6. Rashan Gary stops Indiana's last drive before it starts.
​MARCUS HALL EPIC DOUBLE BIRD OF THE WEEK.
Berkeley Edwards suffers the scariest injury in Michigan Stadium in living memory after a cheap targeting hit on a kickoff return. Edwards is probably going to be fine, per Braylon, and he's tweeting, so… that's a mixed blessing. But mostly good!
Honorable mention: Chase Winovich is knocked out after a different cheap shot and is maybe unavailable for next week. The end of half debacle.
[After THE JUMP: cheap shots, other]
OFFENSE

i see nothing wrong with this [Upchurch]
Cheap shot city. Here's what it looks like when an OL is keeping a fallen defender down. Watch #75 Kevin Jarvis, the left guard:
Two hand shove, pretty harmless, not at all likely to injure anyone.
Here's a cheap shot in which an OL jumps on a DL with his full weight with the express intent to injure a player.
@SimonStepaniak you are trash stop hitting my Michigan guy after the play @Chase_Winovich @kwitypaye_1 pic.twitter.com/wLzLppAwY7

— Michael L Theisen (@Mikey_Mike_27) November 17, 2018
He and his bro would do the same thing to Gary later. The same guy got flagged 15 yards for hitting Kwity Paye super late, and should have gotten flagged for hitting Bryan Mone super late. One game. Four unnecessary roughness penalties. One called.
The capper? Jarvis was hit with a 15 yard flag for the above. Good job, Big Ten.
It should be noted that Winovich appeared to step on Stepaniak a play prior, which came after the Mone cheap shot from Stepaniak, etc. This stuff doesn't get escalated if the crew in charge of this game flags the first cheapshot. Instead: that.
not quite [Fuller]
Inefficiency. Michigan racked up over 500 yards of offense and had eight redzone trips. One of them yielded a touchdown. With Ohio State looming, time to freak out, maybe?
This continues a theme from last year, when everyone freaked out about the redzone offense early in the year after some bad luck (and one boggling call in the Florida game) got Michigan off to something like a 1-for-10 start. Despite that start Michigan clawed its way up to about average in Bill Connelly's "finishing drives" metric last year—i.e., they actually outperformed once the field got constricted. This is in line with NFL studies that show almost zero correlation between a particular team's redzone efficiency in the first half of a season and the second half. Ha! I win.
Except, no, not quite. Events at Ohio State have forced a retreat from my previous hardline "redzone offense does not exist" take.
@mgoblog the OSU-Purdue game, to me, is exhibit A against your "there's no such thing as red zone offense" thesis. You need a strong & diverse run game as the field shortens. pic.twitter.com/iE500ylm4B

— Avik Roy (@Avik) October 23, 2018
The NFL has recently started to diversify but the Football Outsiders article linked above is from 2011, well before there was any meaningful difference in the college-ification of various NFL franchises. Even now there's very little QB mobility involved. College is a different frontier.
I do believe having a mobile QB is a massive redzone bonus, and while large portions of college redzone efficiency are random it's more like turnovers on the whole (somewhat predictable based on your QB's skill and how much pressure he gets) than the 100% luck activity that is recovering fumbles.
Anyway, in addition to some dorfs like the above pass that wasn't very good and Gentry couldn't bring in, there's your problem. Shea Patterson didn't have a redzone carry until the beginning of the fourth quarter, and that was a super-conservative call on third-and-eight. A justified one, as the FG put Michigan up 11.
The rest of it? The usual. Michigan's offense has spent large chunks of the year unable to turn series in plus territory into points. See: Revenge Tour, all of. The offense is vastly improved but there's still enough wonk in it to stall drives unfortunately often. Sometimes that happens at the 35, sometimes the 15.
The good news! Ohio State doesn't appear to be the sort of defense to bend. It's more of a snap-in-half-when-two-guys-go-get-ice-cream kind of defense.
tough to stop [Upchurch]
When winning time came around. Michigan clearly wanted to wrap Patterson in plastic and get him to OSU without exposing him to extra hits. That did not quite come off because Indiana made it enough of a game that there was a point at which the game had to be won, and when that time came Michigan reluctantly busted the zone read out again. It was again a hit: Patterson averaged 7.6 YPC on nine attempts, and seemed to make entirely good decisions after the seal was broken. (I thought there were a couple of plays that were obvious pulls early, but whether that was a read or an instruction cannot be determined.)
RPOs emerging. Ronnie Bell and DPJ were the recipients of chunk plays on bonafide RPOs; Michigan also tried to hit Collins on a deep slant in the endzone but the IU DB made a good play on it. The combination of a legitimate QB run game with a thousand yard rusher and then a guy like Gentry or DPJ running behind it is rough for opposing offenses. It's a toned down (ie: no Saquon) version of last year's Penn State offense that showed a lot of really good defenses their entrails.
OTOH, Michigan's arc package is a souped-up version of most teams' since Michigan can formation the hell out of it with more tight ends than most spread teams bother with. And it's only one of the various ways Michigan will come at you. Assuming Michigan continues in this vein next year, and they almost certainly will since whoever the starting QB is going to be a decent-to-good run threat, things could get explosive. They're almost there.
go deep [Upchurch]
Nick Eubanks doesn't mess around with flat routes. The above is Eubanks scoring his first touchdown, a wide open post route that added to his list of chunk plays. Eubanks has just six catches but he's fourth on the team in receiving yards because he's averaging 25 yards a pop. Go big or go home.
Pretty much a paving. Michigan had 260 yards on 48 attempts in this game with a long of 19. That's hard to do.
This was sort of in line with expectations since Indiana's run defense is pretty bad and in the bend-but-don't-break genre, but they were just 60th or so in preventing explosive runs so eating 48 and managing to prevent any 20+ yard runs has to be a major outlier. They had just one TFL, so this was a steady diet of little yard slices and the occasional 2 yard disappointment.
Michigan did bring out a couple of new things, like a counter from the trip TE set, but they were in the easily predictable genre and I'm sure they've got plenty of items for next week.
DEFENSE
[Fuller]
Run issues. Michigan yielded a ton of yards to Stevie Scott in the first half and then turned that spigot off in the second. I'll have more detail as to why that happened later but the long Scott run on the BTN reel…
…is about 90% Winovich, who puts himself in the wrong gap. Mone is hitting the same spot. He might be able to draw a holding call if he doesn't more or less put himself to the inside; he can't flash into the hole with that OL's arms on his shoulder pads and (maybe… possibly) grab the attention necessary with the flag. And the immediate pop outside does not give Bush enough time to scrape.
I kind of thought that Indiana would have some success running Scott since Scott is the kind of back who thrives on turning two yards in to four and four yards into six, but not at the level they did. Michigan's DTs got hammered in a manner similar to (but less emphatic than) their outing against Wisconsin, early.
Michigan adjusted in the second half by adding fifth guys to the first level of the defense on most plays, which prevented extended doubles and allowed Michigan's DTs to stalemate single blocking. Indiana RBs had 14 second half carries; 8 went for two or fewer yards and only one 19-yard run was particularly successful; they averaged 3.3 YPC. Michigan will likely have to replicate this performance to deal with OSU's tight zone—or throw out a different front. You can bet that Don Brown has asked Ed Warinner for all the details.
The other run issue. A big chunk of Michigan's other run issues were Ramsey scrambles on which Michigan players got vastly out of their lane. The third and 11 conversion that was the key moment on Indiana's first TD drive was man coverage; Gary tried to shoot inside irresponsibly far and didn't realize that he'd lost that rush; he continued, got shoved down the line, giant gap up the middle.
Indiana's OL was able to keep Ramsey cleaner than just about anyone else, and this may have re-exposed some problems that have cropped up to time to time over the past few years. Mike Dwumfour had an event similar to the above; a third conversion saw Dwumfour go nuts, but probably on purpose as Michigan dropped Paye as a spy. Paye failed to read the likely scramble lane created by Dwumfour going right to left and got outrun to the sticks.
Naw. Michigan stuffed the first Indiana drive on fourth and three when they went empty and tried to pick off Devin Bush. Bush knew exactly what was coming, scraped over the attempted pick, and walloped the WR. Even if the guy caught it he was going to be two yards short on fourth and three.
The INT from Dwumfour was incidental. But nice!
Speed to power. Rashan Gary's probably very frustrated about his season, as are we all, but hot dang this is a clip and a half:
RASHAN GARY.

Indiana challenged the Wolverines, but the @UMichFootball beast shuts it down late: pic.twitter.com/4x6aQDJa3a

— Big Ten Network (@BigTenNetwork) November 18, 2018
Still time to do that eight times to Isaiah Prince.
[Fuller]
A couple chinks in the armor, but limited damage. Indiana scored on a drive that was mostly a deep shot against Brandon Watson, who completely missed a jam and paid for it, and a well-executed back-shoulder fade that Long was not in position to do anything about. This represents the most success any quarterback has had against Michigan since SMU was in town throwing slants, but Ramsey still only managed 5.6 YPA. That's his second-worst output of the year after a 5.3 YPA day against Minnesota(?!) two weeks ago.
Michigan's pass defense has been a bit inflated by games against wounded QBs. This was both a reality check and a reinforcement of Michigan's excellent D. No pass D is going to regularly keep a functional opponent to under 5 yards an attempt, as Michigan did against Wisconsin, Nebraska and MSU, unless they have been made non-functional by external circumstances.
If you're like me, the scattered shots across the middle that let the receiver catch and run for 15-yard chunks were the most horrible things that you've ever laid eyes on. In perspective…
…just another brick in the wall.
One ITEM, though. Tyree Kinnel got hit on one slot fade and almost got hit on another. On both the WR had won over the top, which stood in clear contrast to the time MSU tried it against Josh Metellus. That Metellus event was maybe the first time all year that an opponent had tested the outside leverage of Michigan's slot defenders, and it demonstrated why that doesn't happen.
Kinnel not managing that is a little frustrating even if he managed to rake the ball out on the first one. Rule one of this year's defense is "no slot fades, and we'll figure out the rest." Rule one! 
SPECIAL TEAMS
[Fuller]
Chip Shot Jake. Weird couple years for kicker debuts. Quinn Nordin hits two 50+ yarders in his first game last year, which either set or tied a Michigan record, IIRC. This year a wobbly Nordin gets replaced by Jake Moody, who sets a Michigan record with six FGs in one game—and if things had gone differently at the end of the first half* it could have been seven.
All of these field goals were from within 40 yards. One was a bit of a knuckler for reasons outside of his control…
Unsung hero: The holder!

Will Hart with a great hold for @UMichFootball, and kicker Jake Moody is having a heck of a day: pic.twitter.com/ibA7Hd6D5f

— Michigan On BTN (@MichiganOnBTN) November 18, 2018
…and the rest were routine short field goals. Nordin is 8/9 on the season from within 40, but some of his makes have looked like they weren't quite right.
Nordin was reputedly out with an illness that ran through the team this week and should be able to return for OSU. I might not mind Moody taking over the short duties next week.
*[ABOUT WHICH MORE LATER]
There are popup kickoffs and then there are those. What was Indiana doing on kickoffs? They popped one up to Brad Hawkins, and then that wasn't far enough up, so they popped one up to Berkeley Edwards, and that wasn't far enough, and then they popped one up to Peter Bush, who fair caught the ball at the 39 yard line. Also they put one out of bounds. There was no wind or explanation, just Indiana handing Michigan ten or more yards of field possession on every possession.
What's the point of trying to mis-direct Devin Bush on a fake punt? Even if you get him to step the wrong way he's just going to climb over the block you present and make up for it later. Bush wasn't even that necessary—if he doesn't close like a bolt the dude gets pushed out 3 yards short instead of 5—but that play was wonderfully clarifying about why Bush is on the punt return team even now.
MISCELLANEOUS

in lieu of debacle here is cake [Upchurch]
Anatomy of a debacle. After a 40-yard strike to Zach Gentry got the ball down to the Indiana 15 with 1:01 to go in the half, Michigan failed to score. This was about 90% their fault. First Michigan was not ready to snap the ball on the ready to play despite having a ton of time to prepare with two Indiana players down with injuries. The clock ran for 14 seconds before the snap—they lost at least ten seconds there.
Then they ran twice, calling timeout with 24 seconds. This might be acceptable if you can't pass at all. With functional quarterbacking and the possibility of another set of downs, the upside of running the ball there is minimal. Get to third and two in the air and, sure, run the ball.
Anyway it's third and two and you've got no timeouts and 24 seconds. Running the ball is all right—it's a higher conversion chance. But there's little upside to rushing to the line of scrimmage to get another play off with the clock running. There were nine seconds left when McKeon got tackled. If you'd spiked the ball you get two plays to the endzone before a FG attempt. Michigan got one, and then maybe if things had gone better they would have gotten a spike in and a FG attempt.
If this is cosmic justice for making fun of Frames Janklin, I'd like to apologize… for absolutely nothing. Frames needs to be called out, whether its Frames being Frames or Harbaugh being Frames.
The 10% that was not their fault. This doof of a ref.
Kicks the ball right out of the refs hand. Absolutely ridiculous missed call. pic.twitter.com/IExzMEVkPB

— Patrick (@PankDankTank) November 17, 2018
At the very least, an opposition player kicking the ball with the clock running should stop the clock until the ball is set—and probably until the snap. Doof's explanation to Harbaugh, per Harbaugh:
"I asked them – 'Did they kick the ball?' And the response from the umpire was, 'He didn't mean to.' So, I further asked – that doesn't seem like a judgment call. The ball was either kicked by one of their players or not. So, that was their response. That he didn't mean to.

"Had he meant to, then it would have been a (penalty)."
How many other penalties in football are based on intent? If you line up offsides but don't mean to is that cool? Also, he CLEARLY INTENDS TO KICK THE BALL. Watch it again. There is no world in which that is anything other than a deliberate attempt to prevent Michigan from getting another play off.
HERE
Worst: Lice

If you have children, or know people who have children, have passed a crowd of miniature people with snot coming out of their noses from unimaginable angles, or been Clay Travis trying to board an airplane, you know about lice. And the thing about lice is that they aren't particularly dangerous; they don't carry diseases, unlike bedbugs they die fairly quickly if they aren't firmly attached to your hair, and the most common treatment of shampoo + excessive grooming for a week or two is innocuous. In a way, they are the training wheels of parasites, the one that reminds you the world is pretty gross and you have to be vigilant, but not life-altering in the way, say, ticks with Lyme disease are. They just like They still suck and you'd be happy never to have to deal with them, but you also recognize that part of being a parent is accepting that the place where you spend thousands of dollars a month to house your child while you work is full of other little kids, and apparently a major way for them to communicate is to rub their heads against each other. Hell, some people even argue that they are beneficial, getting the body ready to battle far more dangerous forms of disease in the future.

Now, if you haven't gotten the allusion by now, let me make it explicit: Indiana is the louse of ... er, are the lice of the Big Ten East.
Adam:
Every. Single. Year.

Indiana came to the Big House having given up 482 yards to Minnesota and 542 yards to Maryland in their two games this month while putting up 385 and 374 yards, respectively. Tonight: 507 yards ceded, 385 yards gained. The yardage pattern continued for Indiana, though this time Indiana's offense put up 5.1 yards per play on a defense that previously was allowing just 3.82 yards per play, the best in college football.

But even in a game that was a one-score contest for all but about six game minutes, the story tonight was less about what happened defensively and more about Michigan's offense in the red zone and the players that had to be helped off the field.
In that moment on the field though, it wasn't the season at stake. It was Winovich and all he means to this team.

This is someone who could be long gone from Ann Arbor, enjoying life in the NFL. Nobody would have blamed him for taking that route. Winovich decided to come back, not just to improve his draft stock, but to win a national title — because he thought the Wolverines were capable of winning a national title.

Going into the season, it was easy to look at that as bluster. After the Notre Dame loss, it was easy to look at that as insanity. Now? The Buckeyes are one hell of an obstacle, and Alabama looms large. But it's pretty easy to see that Winovich was right about Michigan's capabilities, no matter how things turn out.
The State of our Open Threads:
In a game that we won, and by the second half, one that we were more or less controlling, we still managed to get the season high thus far for fucks. We game 341 of them, which beats the 316 which we gave during the Michigan State game. Indeed, we've only topped 200 fucks four times this season, but we are 3-1 in those games. Even so, it is far less than last year's game against Indiana - 421 fucks in that one. For further comparison, we exceeded 200 fucks given 9 times last season, and we were 5-4 in those games.

Now, it does need to be said that the context of "fuck" is dynamic in this game. We were down early and not playing quite as well as we thought we might, but there was also the matter of the dirty play of Indiana and the fact that we had possibly the single worst crew in the conference if not in Division I football. I think we were comfortable in the fact that we would prevail, but it was definitely not an exciting football game by season standards and the results of "fuck" bore that out.
ELSEWHERE
Jon Falk gets a particular honor:
Big Jon.   Saturday's honorary captain was Jon Falk.  The in-game announcement included a lengthy video tribute from Tom Brady.  The GOAT was filmed inside his metrosexual-certified living room.  He praised Falk and flashed a few rings.

On top of Saturday's honor, my understanding is heretofore the U-M equipment manager position (Equipment Operations) will be named after Big Jon [H/T: @michiganinsider Ira Weintraub].

That's a cool tribute for a great man.  And P.S., you probably know that Big Jon has been very good to me and always willing to help me out for content on these pages.  Congrats.
More things should be named after people who actually did things for the school. Also the world "family" should be banned from endowed names. Everyone knows it's just a fig leaf. Just one dude's name on the The Sir Dr. Elrond J Stark PhD Esquire Family Cornice.
I have to agree with Sap here:
UNIFORM CHAMPION (NOT!) – How many times do I have to say this?? DO NOT PLACE HELMET STICKERS BETWEEN THE STRIPES!!

DPJ was the guilty party on Saturday.
The fatal flaw is that the stickers are 1) too large and 2) not murderwolf. Here's Patterson's helmet:
[Fuller]
The size of the decals has to be related to the number achievements that can acquire them. Michigan's ratio is obviously out of whack.
HSR:
As I say so often, college football only lives in the past and in the future, never in the present so it can be reasonably understood that yesterday's matchup, already viewed by many as a last perfunctory hurdle before The Game, cause many in the Michigan fanbase and brain trust to worry about "What does this mean for next week?"  It's a reasonable question, but it's also one that ignored that Ohio State looked eminently ordinary against Maryland in the early game slot.  This game likely has little meaning for next week, save the notion that Michigan has some nice "don't do this" film and got some practice against a team that likes to tempo.
Maize and Go Blue looks at Big Ten scoring margin:
Believe it or not, if it stands, Michigan's scoring margin of plus-25.6 would be the third-highest in 15 years. If they are somehow able to raise it by a point over the next two weeks, they could top Ohio State's scoring margin from last season of plus-26.4 and match Ohio State's 2006 title team's scoring margin of 26.6. The Wolverines have been so dominant in Big Ten play this season that the next closest scoring margin is Ohio State's plus-12.2! Iowa is next at plus-6.2.

Additionally, the 13.4-point gap between Michigan and Ohio State is the widest gap between No. 1 and No. 2 in scoring margin in a single season since at least 2003. Only one other time has the team that led the conference in scoring margin had even a double-digit gap between the second-best team and that was 2006 when Ohio State's 26.6 margin was 10.5 points higher than Wisconsin's 16.1.