The Aneurysm Of Leadership
1/27/2011 – Michigan 61, Michigan State 57 – 12-9, 2-6 Big Ten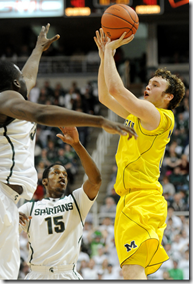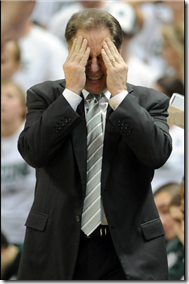 left two Melanie Maxwell, AnnArbor.com
A couple years ago Michigan fans were wondering if they really had something or if an unexpected win against UCLA was just a one-off when they took on Duke in Crisler arena. Michigan won that game, and the moment I remember most was Zack Novak holding his follow-through an ostentatiously long time. He'd just hit a three pointer to push Michigan well in front that sent Crisler into honest-to-God hysterics. It was an ungritty thing to do, but if anyone can justify a little flash now and then it's Zack Novak.
Yesterday Novak had what can only be described as a leadership aneurysm. It was the grittiest twitchy, alarming fit anyone's ever had. MSU fans rushed to put it on the internet the better to mock him by:
This worked out about as well as painting "1,181" across your hairless, AXE-laden chests.
You know this, but: 6 of 8 from three, 19 points, six rebounds, two assists, a steal, and various dogged things that don't show up in the box score but contribute to the bottom line. In the aftermath of the game David Merritt tweeted something about how if you question Zack Novak's importance to the team you "don't understand team sports*". That and math.
-------------------
Because Michigan followed up a series of promising performances against elite teams with road duds against Indiana and Northwestern, beating Michigan State won't mean anything outside of the thing itself. Michigan's not likely to get even an NIT bid because of the win. Before my fiancée fell asleep for the second half she remarked that even though Michigan was in front "they make everything seem so hard," and they do.
Michigan is aimless. The announcers kept talking about Michigan taking a lot of time off the shot clock like that was a special strategy for this game when they're almost as slow (327th) as they are young (337th) and played at the exact same pace against South Carolina Upstate. When it's going well they're "deliberate," but to my eyes it's a team that doesn't really know what it's doing. They're forced to improvise when time gets low after chucking it around the perimeter for 20 seconds. It's almost exactly what Amaker teams did down to pulling the big out of the lane to provide a low-threat passing option as the ball cycles around the three point line.
The most eye-opening section of the season was the first half against Northwestern, when the Wildcats team ran a series of intricate cuts that opened up Michigan's defense for a rain of open threes and drives into the lane against mis-positioned defenders:
Michigan gets a lot of that from Darius Morris but Northwestern gets it from all over. Morris has an astronomic assist rate but if you compare the teams there are seven(!) Wildcats between him and Stu Douglass, Michigan's #2 guy. Despite the hype about Beilein, right now Michigan's offense boils down to "do something, Darius."
Fortunately for Michigan, Darius Morris has proven pretty good at not only that but twisting down the lane and getting awkward shots to fall. He was somehow 5 of 8 from inside the arc despite his teammates assisting on zero of his buckets; most of those were Dion Harris-style "well, someone has to put it up" buckets while swarmed in the lane. Combine that with near 50% three-point shooting and a you've got the recipe for an upset.
You don't have something sustainable to go back to the rest of the season.
----------------------
Michigan's going to get better the rest of the way, but it might be hard to tell because of noise. They'll probably even get better more quickly than more experienced teams. IE, all teams. They still won't be very good. That's okay. Beating Michigan State at Breslin hasn't happened since I was a freshman in college—JESUS—and while it's very Sparty to say they can pack it in the rest of the year and there will still be some satisfaction from the season, it's also true. As a self-contained thing it is the best of all basketball things.
In the larger picture it's just one of those games when Colton Christian hits an 18-footer as the shot clock expires. They happen. Where this game gives hope is for the offseason, when Zack Novak will call for a captain's practice and the his teammates will remember he was the man who sprayed gore all over the Breslin Center and showed Michigan State it was theirs.
*[He also mentioned that he used to throw "Office" quotes back and forth with Douglass.]
Non-bullets and whatnot
Not a vintage MSU team. At some point in early in the game a goofy white guy did something bad and I was about to kick something when I realized he was playing for Michigan State. Late in the first half I was wondering why the goofy white guy never came off the floor when the announcers mentioned his name, which was a different name, and I looked at their numbers and they were different too and it dawned on me that there were two goofy white guys who only did bad things splitting 40 minutes of playing time. One of them was an elf who bakes cookies.
It was at this point hope dawned.
Novak and Stu as reasons for Beilein hope. They're obviously better than Smotrycz on a possession-to-possession "oh God, what was that?" level, and I'd throw in Hardaway and his addiction to chucking up not-very-good shots in there too. Novak and Douglass were just as shaky as freshmen. Douglass had the same disease Hardaway does. Now they have the best eFG% on the team excepting easy-bucket machine Jordan Morgan. Douglass was a conscience free gunner his first couple years; now his usage rate is in the "limited roles" category and his three point percentage is a point short of 40%.
If Hardaway and Smotrycz can advance at the same pace they can be those guys plus three inches each. I'm relatively serene about Beilein's bulletproof status because his recruiting's improved tremendously, the team would be a lot different if Robin Benzing and Ben Cronin hadn't flamed out, and it's at least worth checking out what will happen next year when experience goes from almost dead last nationally (337 of 345) to approximately middle-of-the pack. If you add a year of experience to everyone they'd be in a huge multi-way tie for 126th, but that's generous because Michigan will play Burke and Brundidge.
Beilein's already earned next year, and when they take the inevitable step forward in '11-'12 he'll get year six, and that's got at least a decent chance of working out.
Tim Hardaway, Jr., please report to the lost and found. We have found your conscience. Please re-insert it and stop leading the team in three-pointers attempted despite only hitting 30% of them. He's got a higher percentage of shots while he's on the floor than Morris does, which is kind of amazing. Michigan would be better if he got that usage down to around 20%. I'm sure, like Stu, that he'll learn.
The strange thing about Smotrycz. Does anyone else think his best defense is played in the post? This isn't really a compliment—he's probably the worst defensive player on the team, constantly getting lost. But when Michigan goes tiny they have him defend the five and I can't remember thinking "this has to stop" during any of those long stretches.
Seriously. Someone at The Only Colors complained about my characterization of the streak guys as "meatheads." Seriously?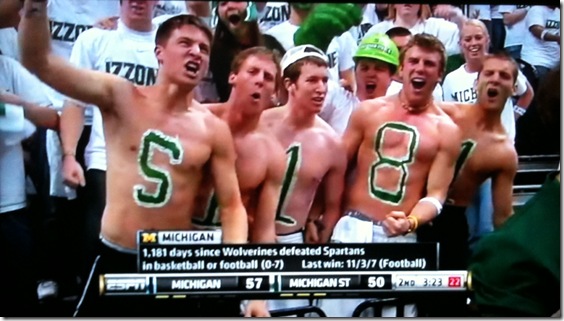 You can seriously look at those guys and envision them doing anything other than slather each other in AXE as they recite "Sex Panther" quotes back and forth to each other before heading out to a kegger where they are totally going to get laid, or at least slapped?
This has something to do with the juggalos post in the aftermath of the football game this fall, but here I was just making an observation about five guys with spotlessly hair-free chests whooping like monkeys. Michigan has meatheads enrolled. I met plenty. It was not a shot at anyone except the jinx-bringers.
Also, seriously: juggalos in Ann Arbor last fall. Seriously. Never been that bad, even when OSU fans were 30k strong for the 2009 Game. This is because the OSU fans who showed up were the kind that went to the game instead of just hanging out for an opportunity to take out their insecurities. Dozens of Michigan fans have told me this, a good chunk before the post even went up.
Elsewhere
Schadenfreude: you has it. Jump in it. Daily story plus slideshow. UMHoops recap, plus interviews with Morris and Novak. AnnArbor.com with postgame stuff. Wojo's column.