And On Third Down, He Rose Again
11/3/2012 – Michigan 35, Minnesota 13 – 6-3, 4-1 Big Ten
The only press box I've ever been in is Eastern Michigan's, and I was there to watch Devin Gardner play. He was at Inkster; Inkster was in the Big Day Prep Showdown. We even live-blogged it. The cadre of grizzled preps guys sat a few seats down. Their silverback called Gardner "high school superman" and Paul taped him from the sideline.
In an eerie prefiguring of Denard Robinson's career, Gardner had a ridiculously high percentage of Inkster's yards and made everyone feel ill when he got knocked out of the game. Inkster was on a grinding fourth quarter drive with Inkster down two. They had no kicker, so on fourth and seven from the eight they went for it. Gardner did a Vince Young impression down to the one and did not get up.
The backup came in to guide Inkster to minus three yards on the next three plays. Gardner was reinserted for fourth and the game. He rolled out into heavy resistance, drew coverage to him, and threw a weird mechanics-free jump pass that scored the go-ahead touchdown. His teammates celebrated; he laid under a defender. Defender removed, Gardner got up like a glacier tired of gouging lakes out of mountains. Weary. A thousand years weary.
In the press box, the preps silverback spake thusly: "and on fourth down, he rose again."
[UPDATE: Damn my memory. This was actually a Tim tweet. Sorry I didn't remember it right and work you in all fancy-like, Tim.]
--------------------------------
With Gardner on the sideline, Pioneer went 68 yards in 49 seconds to win. At halftime, the Free Press had launched their Rodriguez jihad, sucking any attention his Lazarus comeback may have generated out the airlock.
That's just how being Devin Gardner has gone. He arrived with an armload of hype and fell prey to an avalanche of it wearing dreads. He didn't even get to preserve his redshirt year thanks to Tate Forcier's inability to keep on the sunny side of life and Denard going out in about 2/3rds of Michigan's games. He moved to receiver, but called himself a quarterback. He saw the Nebrasaka game up close and personal. What was he thinking then about where he had ended up?
-------------------------------
Things happen and you feel certain ways about them and you can only figure out why you felt the things you felt in the moment later, after. From distance I think my extremely complicated yesssnononononoyessss response to Gardner's rolling out stopping neh neh neh no lets turn around and run the other way touchdown heave was comprised of these three things:
Seeing that Dileo had broken open by twenty yards.

Remembering Devin's high school superman act.
It was third and seventeen and Michigan hadn't been able to move the ball a lick against Minnesota, so that colored my expectations as well.
Mostly I expected that something hilariously bad would occur and I would tweet out gallows humor while scouting out Goldy for some Ohio Bobcat action. This expectation got much better when Gardner cleared the containment and broke to the backside of the play. It got worse again when Devin chucked it without setting his feet, and then it was a touchdown and I'm just like…
…oh. That was madcap. That's not happening again but at least we're seven points closer to not losing this game. I wonder how we will get any more? I think we should try the triple reverse throwback bomb to Lewan. Works every time when the universe has turned into a cartoon.
Michigan went with "fade route to 5'8" receiver in jet boots." Close enough. No one adjusts to the laws of physics going all looney tunes like the Michigan Wolverines.
Yeah, Minnesota is just a high school team with a nice stadium that disguised their pass defense in the wreckage of 2012 Big Ten quarterbacking. Yeah, everyone is getting way ahead of themselves praising Gardner when his performance seemed split about 50/50 between yakety sax (but good!) and receivers bailing Gardner out on balls they have no business catching. Yeah, Gardner's mechanics still look bizarre. The main takeaway from that game was uh-oh, Ohio State. Sure.
I don't think Devin Gardner cares after years of being a two-snap sideshow. That ridiculous heave was the first hint that he might be able to hack it next year, and that's a huge relief for everyone. It took three years and third and seventeen, but Devin Gardner got up and recaptured some of that old magic.
Media
Gallery from the Daily. Detnews game story and gallery. Here's another for the Hoke pointin' files:
John T. Greilick/Detnews
Photos from MVictors. This is epic:
 Obligatory jug shots from same:
Highlights again:
Hoke postgame; players postgame.
Bullets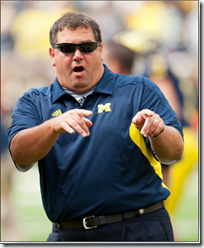 Brady Hoke Epic Double Point Of The Week.
A close race this week. I did tweet "JMFR" after that and meant it. Nine tackles, five solo, three TFLs, various other things that don't show up on the scoreboard but let other people make plays. However, Jake Ryan got edged again and I'm pretty sure he was the guy who let Minnesota's tight end get so wide open on their touchdown.
So… Wide Receivers As A Unit, come on down! Drew Dileo: I'm not even laughing at the inevitable Wes Welker comparisons. Jeremy Gallon: separate like a boss, leap like a man with rocket boots. Roy Roundtree: Devin Gardner TARP. If those three guys don't collectively play out of their minds the narrative about Gardner is quite a bit different today.
Honorable Mention. Devin Gardner, about whom more in a bit, Jake Ryan(beastmode on several plays), Jordan Kovacs (damn you fluck), Desmond Morgan (when he hits you on third and short stops happen).
Epic Double Point Standings.
3: Jake Ryan (ND, Purdue, Illinois)
2: Denard Robinson (Air Force, UMass)
1.3: Jeremy Gallon(Alabama, 1/3 Minnesota), Drew Dileo (Michigan State, 1/3 Minnesota)
1: Craig Roh(Nebraska).
0.3: Roy Roundtree (1/3 Minnesota)
Brady Hoke epic double troll of the week. This is just magnificent:
Coach Brady Hoke said after the game Gardner now is entrenched as Michigan's backup quarterback while Bellomy deals with an undisclosed injury, although he was guarded about what exactly is ailing the redshirt freshman.

"Russell's situation is a little different," Hoke said. "Not one I want to discuss."

Asked to clarify whether the issue is injury related, Hoke said "Most likely. Yes. A boo boo."
There's an art installation about the nature of truth and reality in Hoke press conferences. UMAA, get on that.
BONUS TROLL THAT MAKES IT DOUBLE: When Michigan announced that Denard Robinson wouldn't play after Hoke said he "will start," they described Denard's injury like so:
The Michigan Athletic Department delivered the sobering news minutes before kickoff: senior quarterback Denard Robinson would not start against Minnesota due to an "undisclosed injury."
Hoke is "very optimistic" he'll be back next week. Amazing thing: that was the first game Denard has ever missed with injury.
Obligatory Gardnertake. Obviously he'll be the backup QB the remainder of the year what with Denard being even more fragile than normal and Russell Bellomy being both injured and the primary author of the second half of the Nebraska game. And he's finally done something other than worry everyone about his future not living up to what people were hoping it would be. This is major progress.
I still find myself way on the conservative end of reaction to Gardner's performance. Some other blog takes to set the table:
"After a frightening start, Gardner was amazing.  I'm amazed that he can spend basically one week preparing for this game and do that.  Yes, I realize it was The Gophers and like everyone else I'm prone to oversteer after a win, but that was remarkable.  So that is the 5 star guy that everyone was salivating over out of high school."
Also at MVictors, Steve Sapardanis:
WOW!!! His performance evoked three words from me: Poise, Confidence and WOW!!
SMQB:
Robinson didn't play at all, and converted receiver Devin Gardner made him look utterly expendable. Lining up at quarterback for the first time this season, Gardner was 12-of-18 for 245 yards – he had three completions covering at least 45 – and two touchdowns, good for a sky-high pass efficiency rating of 206.6.
Meinke's headline-writin' guy:
Devin Gardner's stellar performance leads Michigan to rout
This may be an effect from sitting in the stadium instead of catching it on TV: Gardner had plenty of wide open dudes, and his throws were erratic. On the one hand, there was the picture-perfect bomb to Gallon; on the other, Dileo and Roundtree bailed Gardner out hardcore on the touchdown drive that put the game out of reach. The Dileo catch was a circus catch all the way, one that could have been made much easier.
Roundtree == Gardner TARP. MVictors
Meanwhile Roundtree broke open by yards and would have had an easy touchdown if Gardner had gotten the ball to the endzone on the opposite hash. As it was he had to circus Michigan out of an interception. I'm torn on pressured completions to Jerald Robinson and Roundtree that were wobblers but did pick up big chunks.
Gardner does have a much better sense of when to run around like a lunatic than Denard. His High School Superman mode picked up the Dileo touchdown and a critical third down conversion on Michigan's second touchdown drive. He's still having trouble adjusting to what he can get away with in college, as his second attempt to reprise his MSU 2012 Yakety Sax (except good(!)) ended in a crazy whip-around throwaway that is easy to see resulting in something worse than a harmless ball out of bounds.
Compounding everything is the complication that Minnesota is Minnesota, and Minnesota, despite being Minnesota, was the top pass efficiency defense in the league entering the game. I tend to give more credence to the Minnesota bit of that given Ace's FFFF of Jared Abbrederis hand-wavingly wide open and seeing plenty of that in person Saturday. Gardner had doorwalls, not windows.
Okay, yeah. Michigan called maybe one or two runs for Gardner, which was frustrating but…
The passing game wasn't difficult to acclimate to, Gardner said, but recognizing new protections and familiarizing himself with the ground game took some time. He called offensive coordinator Al Borges' gameplan a "safe" one, due to the extreme lack of depth at quarterback.

"They couldn't run the quarterback," Gardner said. "I'm comfortable with doing that, but there was no way we could have done that, it just wouldn't have been smart."
…okay yeah I'm with you.
Running game, turrible. Michigan got a short-yardage romp from Fitzgerald Toussaint in garbage time to make the final numbers look okay. Extracting the final two drives (four Thomas Rawls runs for 6 yards and four Toussaint runs for 50), suck out sacks (three for 23), and Michigan's run game did this:
30 carries for 122 yards.
That is a hair over four yards a carry, and suuuuuucks. Even if you add in the garbage time they only get up to 4.7 YPC, which is almost two yards worse than Minnesota's best performance to date in the Big Ten.
Kids, it's sackcloth and ashes time. I had a little fit in the stands when Michigan ran an iso on one of their first couple drives and it went for three yards because it was Rawls running into an unblocked linebacker instead of Toussaint running into an unblocked linebacker and getting two yards. Things got marginally better from there, but only marginally. Michigan's long run other than the Toussaint TD was a Gardner scramble. Their next two were 1) a Gallon end-around that didn't require much blocking, and 2) the Rawls counter pitch that required none. I'm guessing that when I do the UFR the offensive line won't come out much better than they did against Nebraska.
That's mystifying after they did pretty well against a rampant ND defense and throttled a couple bad Big Ten teams. Minnesota and Nebraska aren't much better than Purdue and Illinois on defense. Michigan crushed the latter two, and essentially got crushed by the former two. Denard's absence has a lot to do with that; it's still depressing to think of Michigan's rushing offense as the worst in the Big Ten minus #16.
Hagerup dup. Will Hagerup, please report to the garage for a tuneup: three punts for an average of 29 yards each. Yorp.
Minnesota trip report section. The Gophers' new stadium is nice, as you would expect. Unlike Northwestern—the Big Ten stadium of comparable size I've been to—even the far reaches in the corner are pretty good seats, and the video board is far superior to Michigan's. I looked it up on the wikipedia: their main board is 5184 square feet to M's 3,991 and has a higher resolution. Michigan's down to 14th on their list of biggest screen things; kind of feels like the boards installed just a couple years ago are already dated.
I was on the aisle. I spent most of the game looking around people going up or down, because 1) they serve beer and 2) Minnesota fans in our section made Michigan students look like ruthless drill instructors with their punctuality. I guess it was an 11 AM local start. Even so my strategy as a Minnesota fan would be to show up for the part of the game where you're competitive and exit early if and when that ceases to be true. At least they were nice. I didn't see a single negative interaction between Michigan and Minnesota fans.
The chintz factor was pretty high, largely because the announcer would prompt everyone with "THAT'S ANOTHER GOLDEN GOPHER…" and then a variable number of fans would say "FIRST DOWN." The PA guy's mood shifted wildly with the fortunes of the game, too. By the end of it he was almost surly. The Minnesota marching band is 350 strong and the only thing I remember them playing was the Mortal Kombat theme sometime in the third.
Logistically, the stadium is in a good spot. We tailgated at the state fairgrounds in St. Paul, which was a ten minute bus ride from the stadium on a private university road. That last bit is key: no traffic. After the game I went to a sportsbar to watch an epic Sparty No moment with various folk; another set of companions went right back to the car. The bus line: about ten minutes and then you're out of all traffic.
Oh so Sparty. Oh, Sparty. You sonsabitches. First you have to run out to a two-score lead and then salt the game away before getting their world-class Sparty No(!) moment in on a personal foul on a pick six—one of like six you sonsabitches took after being on your best fairy godmother behavior against Michigan because really you're just misunderstood—and then getting outright screwed in a fashion that I couldn't even enjoy because you needed to win that game.
And then. And then after the game you took a shot at Denard for no damn reason:
"He's faster than Denard, even though he thinks he's faster than (Usain) Bolt," Narduzzi said. "He's flat-out fast. He's a good football player."
And then players hopped on Twitter to claim they had not lost but one game this year:
The post-MSU-win column truly could not have been anything but what it was. So Sparty.
It took exactly two weeks to go from "where's the threat" to Same Old Spartans. Well, okay. I actually hope you sonsabitches make a bowl game because thanks to the ineligible teams you'll get sucked into a NYD thing against an SEC team and lose by 600.
BONUS BONUS BONUS
Kid's got a future with Vince McMahon if the football thing doesn't work out.
All that said. I'm with MGoGadfly KJ on the validity of that penalty.
The player is trailing the play, looking at what's going on. He's Kenny Bell—he's fast. There is a possibility the play cuts back to where he's relevant, and Adams doesn't hit him in the head, he just shoulders him to the ground. It's not dirty or excessively violent. It's the equivalent of the PF Michigan got last week for hitting Martinez late—overprotective busybody stuff done in the name of PR. Unlike last week, it swung the game.
AND I DIDN'T EVEN GET TO LIKE IT ARRRGH
Fake field goal thing. Minnesota folk were livid at it but after seeing it on replay I think Kill almost got us.
Kill had something up his sleeve and used it, getting his quarterback wide open on the sideline with no one covering him. If he'd run downfield and the guy had thrown downfield, touchdown. Bizarrely, despite setting this up and getting a quick snap in the throw was on the LOS and Michigan could recover because they were not rushing seriously. It didn't seem like it was a screwup by the guy throwing the ball, either: Nelson just sat on the LOS instead of running downfield.
I don't get that bit, but the idea worked. The execution/play design was busted.
Side note: if you're wondering how that happened after the rules were changed such that anyone checking into the game has to do so between the numbers: Nelson was already on the field and just stayed on as the rest of the offense jogged off. I'm not sure why you'd put Nelson out there instead of a receiver in that case, another strange thing about that play.
So… yeah, everything that happened after the snap was weird and bad. The gamble itself I can get behind when your kicker is .500 on the season.
A plea for pass interference sanity. I'll probably expand this into a larger post after the season but Saturday really crystallized how much I hate the pass interference rule as currently implemented. I actually thought this when Michigan got the benefit of it on the long incompletion to Roundtree on which the DB had excellent position and Roundtree kind of flung himself all over the dude's back.
IMO, if the DB is over the top of the WR, he's earned the right to slow down and prevent the guy from getting to the ball. If he's behind him and the ball is crappy and underthrown that is the offense not executing. You should only be able to commit pass interference with your arms or by actually hitting a guy. You have a right to your momentum, and to exist. Grabbing, holding, blowing a guy up before the ball gets there—all of these are legitimate calls. Running over a guy because he suddenly stops because the QB left the ball 10 yards short is not. I'm really tired of plays on which the offense is bailed out when a terribly-thrown ball turns into 15 yards.
Defensive backs are corporeal beings! Let's treat them like that! I'm founding the We're Made Of Matter Too League.
LOLWUT. I'm with Heiko:
Michigan by 13.5 over Northwestern? That's higher than the opening line for Michigan vs. Minnesota.
Home/away yeah but Northwestern is competitive against teams not named Purdue. This does make me feel so much better about that game. PREVIEW PREVIEW: Not picking the spread this time, probably.
Oh, right, defense. The defense held Minnesota to 13 points and under 300 yards—though if pass interference penalties were credited as offensive yards they would have gone over—and other than some Jake Ryan chatter above this 4000-ish word post has nothing to say about it, because that's just what happens. Being seventh in yardage defense just happens. Hail Mattison.
Here
It's Michigan versus Minnesota week, at Minnesota, which means one thing. A University of Michigan quarterback is going to have a career day. In 2008, Nick Sheridan was 18 of 30 for 203 yards and a 127.8 QB rating. In 2006, Chad Henne was 17 of 24 for 284 yards, 3 TDs, and a QB rating of 211.5. That may not have been his best performance, but I don't ever remember seeing a QB rating greater than 200. In 2003, John Navarre was 33 for 47 for 353 yards and 2 TDs. During my college years, we put up these scoring numbers at Minnesota: 49, 52, 58, and 44 ('89, '91, '93, '96.)

I guess what I'm saying is, we shouldn't have been surprised by what transpired yesterday, but after that first quarter, I'm betting that I'm not the only one that was shocked by the next three quarters. After 9 consecutive TD-less quarters, we scored 5 in the next 3.
Elsewhere
Blog folk. MVictors also made the trip, where he took in the game from the resplendent comfort of the press box. He was also not impressed by Gopher timeliness, and reminded me that I was also astounded by how into the Kiss Cam everyone was.
QUINTON WASHINGTON – To me it seemed like every time a Golden Gopher ball carrier got up from a run up the middle, Big Q was at the bottom of the pile. There may have been some questions about the strength of UM D-Line, but Washington is starting to clog up the middle, making it tough sledding for opponents to run on Michigan this year.
HSR:
I think one of the hardest things college football fans have to reconcile is the ephemeral nature of players.  When you consider depth charts, redshirting, and the like, we may get about three years with them at most, four if we're really lucky.  We get to know them, we come to appreciate them for what they can do, and then, like that, as quickly as they came, they are gone, leaving only memories, and occasionally questions of what might have been.
BWS:
Gardner looked like a Jim Tressel-led Terrelle Pryor: an athletic, tall quarterback being forced to play under center and make plays only when he's asked to while allowing the defense to carry the load. In this game, Gardner was able to do so, but this was against a Minnesota team that allowed 44 points to New Hampshire and 28 to Western Michigan and Purdue. Does Gardner's obvious improvement actually resemble a sustainable winning offense? That's debatable.
Tremendous bullets. Ditto TTB bullets. Maize and Blue Nation bullets.  Maize and Go Blue recap. They're SEOing Drew Dileo's name into post URLs at SBN! (Don't bother with the "RESURGENT POWER RUNNING GAME?!?!?" comment if you hit up that article, as they have been taken care of.) Gopher takes from Fringe Bowl Team and Daily Gopher. I agree with TDG on Phillip Nelson—guy was extremely impressive. Holding the Rope column.
There is a flowering of "no QB controversy" posts, BTW: Maize and Go Blue has one, and the MZone leads with:
Repeat After Me: There is NO QB CONTROVERSY

After Devin Gardner's amazing game (minus the 1st quarter), I joked on Twitter that the easiest way to identify a so-called "Walmart Wolverine" on sports talk radio this week will be the guy calling in asking if there's a QB controversy now in A2.

There is not.

Devin was outstanding (minus the 1st quarter).  He was outstanding by any measure, but more so since he hadn't gotten any meaningful game reps at quarter back since... Illinois 2011?  But as soon as he's 100% again, Denard is Michigan's QB this season.  Period.
Also yes so hard
Paid folk (and the Daily). Come on Baumgardner diviiiiiide and take into account connnnntext before you praise RB production. Numbers from same.  Michigan had its first consecutive 90-yard TD drives ever, which… like… wow.
When Michigan has needed to scramble this year, it has turned to Gardner.

Gardner was never really given a fair shake. He came in as a five-star recruit marooned behind a once-in-a-generation talent. Next year, he'll have to compete with another hyped recruit, Shane Morris, who better fits Michigan's pro-style system.

This year, he was asked to move to receiver, though it's unclear whether he had a choice. The extent of his protest was to say he still considers himself a quarterback.

On Saturday, Michigan thrust him into uncharted territory: a wide receiver given one week to prepare for quarterback. There was little run game to bail him out, and even with Robinson, Michigan hadn't scored a touchdown in two games. Gardner had taken reps at quarterback in his first two years, but he had to learn new protections and run packages in days.

"I was pretty nervous coming in to know how I would handle that," Gardner said. "But I feel like I handled it pretty well."
It looked as though Gardner, a junior who moved to receiver following two seasons as Robinson's backup, was back at home -- and he said that's exactly how he felt.

"I play quarterback," he said, "so I feel good."

Is it possible Gardner is a better quarterback, now that he doesn't play quarterback?

Absolutely.