2018 Recruiting: Hassan Haskins
Previously: Last year's profiles. S Sammy Faustin, S German Green, CB Gemon Green, CB Vincent Gray, CB Myles "Spider" Sims, LB Cameron McGrone, DE Taylor Upshaw, DE Julius Welschof, DE Aidan Hutchinson, OL Jalen Mayfield, OL Ryan Hayes, TE Luke Schoonmaker, TE Mustapha Muhammad, WR Ronnie Bell, RB-ish Michael Barrett, FB Ben VanSumeren.
[photo: Ron Rigdon, Jefferson County Leader]
 
Eureka, MO — 6'1", 212
 

24/7
3*, #1094 overall
#70 RB, #11 MO
Rivals
3*, 5.6 rating
#40 RB, #12 MO
ESPN
3*, 75 rating
#55 RB, #14 MO
Composite
3*, #978 overall
#49 RB, #11 MO
Other Suitors
Purdue, Wyoming
YMRMFSPA
Brandon Minor
Previously On MGoBlog
Hello post from Ace.
Notes
Twitter. Twitch.

Film

Senior:
You know, you do a lot of these and they can get repetitive. I try to insulate you, the reader, from that by deleting most of the truly generic takes, but even the finished products can be a bit same-y. So it's with great pleasure that I present you with something never before seen in one of these posts or anywhere else: these three colors in one outfit.

Eureka Senior High School has some classy Washington-esque purple and gold duds, some bad Nike gray upon gray upon gray outfits, and then these pink, purple, and highlighter-yellow monstrosities that were surely the work of a four-year-old or criminally insane maniac. Adidas and Nike should leak these before every uniform reveal just so their latest attempt to make your favorite football team look like a sexy pterodactyl seems brilliant and understated by comparison. Hassan's senior highlight film cuts between various games and whenever it strikes on... this... your author vomit-snickers. It's a thing.
Anyway, Hassan Haskins. He's a running back.
[After THE JUMP: more about these uniforms, surely]
Haskins had a wildly productive high school career, with 1500 rushing yards as a junior and nearly 2200 as a senior, but gathered next to no recruiting attention. Purdue was his only Power 5 offer until Michigan came in, and apparently even the Boilers had stopped recruiting him. He'd set up an official to Wyoming, Michigan offer, boom recruitment over.
So the enthusiasm gap between Michigan's staff, which made all the CHOO CHOO noises on twitter you can imagine to hype Haskins up, and literally everyone else paid to recruit or evaluate recruits is extremely large. Michigan takes as relayed by Lorenz include someone telling him Haskins is a "total steal" and someone the staff is "very, very excited about", a slightly dubious story about Haskins's clandestine offer...
A source [told TMI that] the lateness of the offer was by design, as Michigan's recruiting department was high on the unheralded recruit ... but didn't want to offer too soon and put the bruising tailback in the spotlight for other schools.
...and something that does perk the ol' ears up:
I'm told Michigan loves Haskins' explosiveness out of the backfield and believe he has plus-plus vision. The staff loved him on first viewing of his film.
"Plus-plus vision" would indeed be a reason to get hype about a back that absolutely does not show up on highlight film, where every cut is brilliant even if you're a donkey getting lucky. Haskins's physicality doesn't stand out in the first half of his senior reel above, which follows the "all touchdowns go first" rule, but does start emerging in the second half on his good runs that happen to see him get tackled. There Haskins displays a tight spin move he uses to good effect and the ability to set up a cut by threatening outside and then knifing upfield, plus a fair amount of pile-pushing power.
Recruiting folks said some generally positive things but nobody thought he was a riser, except for the usual courtesy bump to get him out of two-star range. And I think that story above is dubious because Haskins couldn't have been a mystery to teams like Mizzou and K-State after a massively productive junior year. They had to know about him, and weren't on his tail. Nobody was.
Part of the skepticism here is speed related. Haskins laid down a 4.74 at a camp and you're in tough with the ranking people when you're not from a heavily scouted area and aren't putting up triple-digit SPARQ scores. (He claims a 4.58, FWIW.) Haskins runs mid-11 100 meters so that's not likely to be a fluke. Jake Sumner, his coach, says he did all the local camps; he drew mention at none of them. And the speed thing is not a one off:
"Something that he can continue to get better at is his speed. That's been part of the issue with him I think. He runs a 4.7 40-yard dash and that's something he can improve on. ... He's a three-sport guy so he's never really focused on that. He does football, basketball and he also took second in the state last year in the high jump jumping 6-6."
Apparently that was part of an overall physical package that didn't impress. Josh Helmholdt:
"late bloomer ... only recently [matured] into a Power Five caliber football prospect with the development of some physical tools; particularly greater quickness and agility. ... balance, the vision, the toughness and the football IQ were there ... [must continue to] develop the necessary explosiveness to hit holes on time and the agility to make defenders miss."
Sometimes analysts get caught up in what a player is right now and not what he'll be in the future—see Jalen Mayfield—but in this case the near-total dearth of other P5 offers suggests that Helmholdt was far from alone in that opinion.
And then of course you have the completely opposite opinion, often from folks comparing him to other high school players. Like his coach, naturally:
"His ability to be very explosive in his runs and how he finishes his runs are what make him such a great football player. His natural ability is off the charts. ... phenomenal in [the weight room]. His flexibility and his technique is perfect. He'll take squats parallel and absolutely explodes up."
That latter is interesting, as Sumner specifically noted he could put on 20 pounds in his upper body alone, that "his lower half is absolutely rock solid but his upper body does need to catch up." Survey says: yup. This is the closest thing to Caris Levert arms I've seen on a non-DB...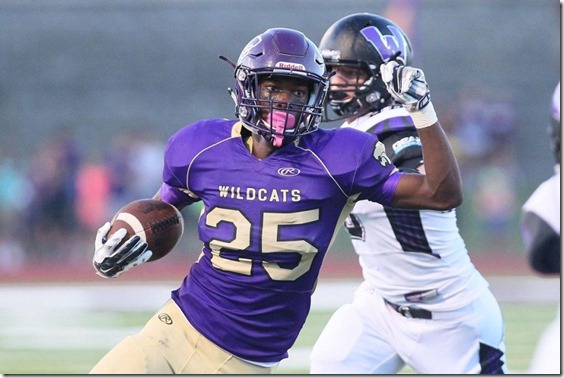 ...and he wasn't that much more filled out by the time he committed. Meanwhile, Michigan is already listing him at 212. If he ends up looking anything like Karan Higdon has he'll be 230+ easy. Rivals in fact compared Haskins to Higdon in one of those articles where they make one comparison for every team in the Big Ten. That would put him in genuine thunder-back territory and make his long speed fairly typical for the genre of RB that runs over the fishing village.
Should that in fact happen, Haskins might be worthy of the internal hype. After analysts get the Caris thing out of the way they say some encouraging things:
That last one might be a wee bit optimistic, but it is worth noting that Bell was a late two-star flier for MSU when they had a spot. It does happen. Heck, I'd rather have Haskins than a five star given their success rate at Michigan. Four? Well... I like four-stars.
In any case: Michigan really likes Haskins's skill set and will hope to build him into a physical force that can take advantage of it. Ask again later.
Etc.: nope.
Why Brandon Minor? Tall, not that thick guy who runs with rage. Minor's was fairly upright, like Haskins, but lowered the boom well at the end of his runs. Minor was a 3.5 star guy as a recruit who got ranked as a fullback a couple places; he was more clearly a D-1 level recruit physically.
De'Veon Smith, David Underwood, and Chris Perry are other possibilities for a guy who could end up just about anywhere.
Guru Reliability: Moderate-plus. Haskins didn't get a lot of scouting but what was out there fit pretty well with the shape of his recruitment.
Variance: High. Boom or bust guy who could easily was out but offers physical upside if he can fill out.
Ceiling: Moderate-plus. 40 time isn't a huge deal for running backs. Lack of serious wiggle does mean he's probably not going to blow by guys.  Through? Maybe.
General Excitement Level: Moderate. Haskins is another swing at a big player as Michigan tried to project which three-stars in last year's class were potential contributors on a team that (hopefully) is surrounding them with more highly touted guys. He's not a bad shout as a lottery ticket; he's very much a lottery ticket.
Projection: Selected games this year as Michigan preserves a redshirt. From there, I dunno. Could be lost in the shuffle, could be immediately useful.