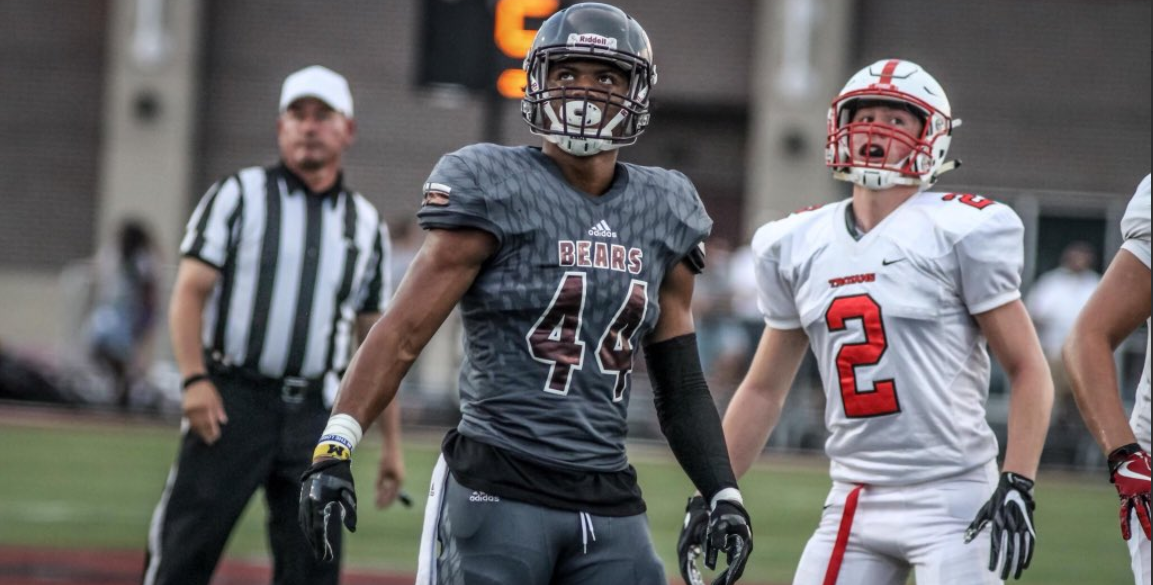 2018 Recruiting: Cam McGrone
Previously: Last year's profiles. S Sammy Faustin, S German Green, CB Gemon Green, CB Vincent Gray, CB Myles "Spider" Sims.
 
Indianapolis, IN — 6'1", 220
 

24/7
5*, #24 overall
#1 OLB, #1 IN
Rivals
4*, #195 overall
#16 OLB, #2 IN         
ESPN
4*, #206 overall        
#9 OLB, #2 IN
Composite
4*, #118 overall
#7 OLB, #2 IN
Other Suitors
ND, LSU, Stanford, Wisconsin, IU
YMRMFSPA
Devin Bush
Previously On MGoBlog
Hello post from Ace.
Notes
Twitter. Army Game.

Film

Junior:

Senior:
On the national and regional level—ie, the rankings level—24/7 is often the only site paying close attention these days, and every time they attended to Cam McGrone they liked him a little better. He started off as a fairly well-regarded gent but one just outside the top 250. Then he was 131st, 44th, 31st, and finally 24th. Along the way he became a five-star and the nation's top outside linebacker.
It's possible that other folks would have come to the same conclusion if they'd been paying similar attention. ESPN again has just an underclass evaluation, and while Rivals did offer a bump after McGrone was excellent during Army game practices that 43-slot jump barely got him inside the top 200, and Rivals straight up admitted that they hadn't really been paying attention to one of the top prospects in the Midwest:
"It had been some time since we got a really good evaluation update on McGrone, but the Army Bowl gave us a full week to see his development and his development has been strong. The future Michigan Wolverine is a fast and athletic linebacker who is very comfortable playing in space." - Helmholdt
One wonders what happens to prospects who don't get picked for the Army game.
The pattern of McGrone's recruitment—a more or less rapid rise—is important in the context of his high school career. McGrone tore his ACL at the tail end of his junior year and spent a portion of camp season still in recovery mode. Once back to full strength and a little more filled out, McGrone took off. You know, took off-ish. That is in part because his recovery was absurdly fast. By the Opening he was more than holding his own against a selection of the country's top athletes:
…showed zero signs that he is around seven months removed from an ACL injury. The four-star is extremely quick and would add speed to the Notre Dame linebacker core if he selects the Irish. He is also a fluid athlete and covers a lot of ground in the middle of the field.
And he got back to business quickly enough that went Brandon Brown flagged down a coach who had experienced McGrone in person it warranted italics:
"I thought he improved a lot as a senior. He was just so explosive and incredibly fast for his size. I was so impressed with him — he's just an all-around great linebacker, and will be a great fit at Michigan."

When asked what the four-star linebacker's biggest attribute is on the field, Frauhiger didn't hesitate.

"His explosiveness," he said. "At one point during our game, our guard took the wrong step and McGrone proceeded to break our quarterback in half — he's probably still sore from that hit five months later. It should be on a highlight reel of 'what not to do.'"
The late takes are even more likely to be the real ones in this case. And as you can probably extrapolate from Frauhiger's broken quarterback, McGrone is the very model of a modern Don Brown backer.
[After THE JUMP: oh look another jetpack squirrel.]
McGrone scouting reports universally describe the sort of rabid jetpack squirrel that Michigan currently has at middle linebacker. Early (ie, pre-senior year) reports describe him as a spacebacker sort…
Long, lean, athletic backer who does well in space.

…most fluid linebacker out there. He was assertive in his movements and displayed great explosiveness coming downhill.

…absolutely swarmed running backs in 1-on-1s including the highlight of the day, popping a running back and forcing a fumble to end the cat and mouse session. He's a space eater. McGrone is a plus athlete and his speed was on display when he won fastest man in the linebacker race to close out the camp.
…most impressive linebacker in terms of closing speed in the cat and mouse drills.

Aggressive. Plays with leverage and has ability to close quickly. … not asked to cover much, uses his athletic skills to blitz not cover. Run and hit LB prospect with a relentless style and effective change of direction ability.
…and he had the numbers to back that up, with a 4.6 40 as a sophomore and SPARQ scores that put him amongst the top linebackers in his class. He maintained that spacebacker ability while packing on muscle. By the Army game McGrone was nearing college-ready size, weighing in at 222 pounds. When 24/7 gave him that fifth star, Steve Wiltfong described a complete player:
"He has short-area burst, outstanding feet and striking ability. He's like a vacuum out in the open field on those guys, those slot receivers that are supposed to be game changers in the open field, he sucks them in. When he tackles, he's a finisher. He plays the game at a different speed than most of his peers and moves differently. Some guys may check a couple boxes, but McGrone checks them all."
"…has been on the radar since his sophomore year and back then, I considered him a good prospect with a nose for the ball. Somewhere along the way, he turned into a Mack truck. This kid is aggressive, explosive, likes contact, (and possesses) all the qualities to be successful in Don Brown's defense."
Brandon Huffman says "there are not too many linebackers nationally that move like [McGrone]"; Barton Simmons:
Downhill linebacker that closes ground and eats up grass really quickly. At the collision point, McGrone is a striker who knocks ball carriers backwards. He shows a great feel for angles as a tackler and is very effective and disrupting running lanes and sifting through trash. His ability to accelerate gives him a lot of upside as a blitzer from the second level. Can improve in man-to-man coverage but the athleticism is there and has a very good feel for zone drops as an inside linebacker.
His side in the Army game was down to five linebackers because of injuries, so McGrone played all three spots and was naturally everywhere on the practice field:
…made multiple outstanding plays, including a pass break up across the middle of the defense that proved he can play in space. He also made a nice tackle at the line of scrimmage, showing his ability make plays among bigger lineman he'll see at U-M.

…found himself around the ball with regularity during Monday's practice. His ability to pursue laterally was encouraging … not the biggest linebacker, but he plays physically and compensates for it.
He moved up at Rivals and 24/7 afterwards.
If all this sounds a lot like Michigan's current MLB, well, yeah. This scouting report from his commit is the one that hews the closest to one Devin Bush:
….aggressive linebacker with excellent burst and explosion. He is a great blitzer because of his quickness off the snap, but also his timing. He will take on blocks aggressively as well and does a good job of delivering initial contact. As he adds more technique in terms of using his hands, he should be a guy who can blow up lead blockers because of his explosive power.
Unless several above also do.
So it's not a surprise that despite being ranked and recruited almost exclusively at outside linebacker, per Lorenz at Michigan he will man the middle in Michigan's heavily squirrel-biased linebacking corps. Interestingly enough, by the time the Army game rolled around his position coach there was saying he's "a more natural MIKE backer" but had WILL abilities because of his great speed. This, too, is very Bush:
"He gets such good reads it dang near turns into a blitz," Sanders said. "He's so quick on his feet that when he sees run he's up in that hole right away. …

"I don't think he's undersized at all… that's the size of linebackers now. Everyone wants kids that can run, which Cam can do. He's put together at about 225 pounds so that's plenty big enough."
He then said he'd be an OLB in college because he's not 250 and ready to take on Wisconsin fullbacks. Don Brown does not care about that. He'll be in the middle.
He might do so very quickly. Coach quotes are always upbeat but this one might be in the so-generous-it-means-something category:
"His maturity level is off the charts," Peebles said. "From day one, I walked in here and he was a second-semester sophomore and he stood out like a second-semester senior. He's extremely intelligent and grounded — he has a great family. When you add those attributes on to him being a great athlete, the tangible things, he has all of the intangible things you look for too.

"I've been doing this for 20-plus years and he's one of only two players who have ever been a team captain as a junior at any level of football. Even in my playing days, it's always seniors but he rose to that level as a true leader of our team last year. For the programs I've been a part of that is highly unusual but it's very well deserved for Cameron."
With the ACL in the rear view after a spooky-fast recovery, a stellar senior season, and an Army Bowl where he played all three LB spots without difficulty, the only immediate-contributor boxes McGrone doesn't have checked are early enrollment and a depth chart vacancy. If Michigan needs him to be a major player in 2019 that should be just fine.
A final positive: McGrone is fairly young for his class and could have some of that sweet Levert upside.
Etc.: 3.8 or 3.9 GPA, FWIW. Michigan won Mom:
"I would do my research before we'd even visit a school to see if it was worth our time," Redd says. "I wanted to know what type of degree programs the kids were majoring in, I wanted to know the average GPA of the student-athletes and I wanted to know what the coaches expected out of those students.

"Did they expect a certain GPA in order to get playing time? Did they go above and beyond what the basic NCAA standards were?"

When McGrone and his family went to visit Michigan for the first time, Redd never had the chance to get to her academic questions.

They were answered for her immediately.

"They had everything already laid out for me," she says. "Michigan came in kind of late, last April or May, but when we went up there they already had the academic part of the visit set. All the questions I had in my head to ask, they answered them for me in their presentation.

"At other schools, I had to ask."
Why Devin Bush? Slightly undersized rabid jetpack squirrel who gets ranked as an OLB but will be Michigan's MLB down the road with very similar scouting. Nobody was as high on Bush as 24/7 is on McGrone—Bush was a 3.5* sort—but you have to wonder if Bush's breakout year didn't help McGrone's ranking out since they're similar players.
Guru Reliability: High-minus. 24/7 got a lot of looks in and Rivals did as well. Lots of camps, Army game. Some projection. Big gap between 24/7 and others.
Variance: Low. McGrone added a bunch of weight and only got better. The last 10 or 15 pounds he'll need to start at Michigan shouldn't be much of an issue. ACL injury appears to be overcome already.
Ceiling:  Very high. Devin Bush plus a couple inches.
General Excitement Level: Very high. He's closer to the five star that 24/7 has him as, especially at Michigan in a defense that's a perfect fit for him.
Projection: Michigan has to be prepared for the possibility of an early Bush departure and McGrone will be a candidate. The presence of Drew Singleton and Jordan Anthony could lead to a redshirt—it seems unlikely Michigan will need McGrone for more than four games—but if he hits the ground running and is the clear heir apparent Michigan will have to get him as many reps as possible just in case.
Survey says… he's probably going to get those reps because he's the closest thing to Bush on the roster.