2016-17 B1G Basketball Preview: Purdue
Miss you, Spike. [Bryan Fuller – MGoBlog]
PREVIOUSLY: Illinois, Indiana, Iowa, Maryland, Michigan, Michigan St., Minnesota, Nebraska, Northwestern, Ohio St., Penn St.
Matt Painter has been a fixture in the Big Ten for quite a while now – he's the third-longest tenured coach in the conference (behind Izzo and Matta), had some phenomenal teams built around the Robbie Hummel / JaJuan Johnson / E'Twaun Moore nucleus, and – after consecutive losing seasons in 2012-13 and 2013-14 – rebounded nicely to finish with back-to-back 12-6 conference records in the last two seasons. Despite his flirtation with the Missouri job a few years back (which seemed serious, but who knows), Painter seems like a lock to stay in West Lafayette for a while, especially after turning things around lately.
Even though last season ended in a shocking opening round upset to Arkansas-Little Rock, it was a rousing success for the Boilermakers. Their trio of big men – AJ Hammons, who finally put it all together as a senior, Isaac Haas, a massive backup center, and Caleb Swanigan, a five-star prospect – led the way and helped overcome a sort of mediocre backcourt, though it should be noted that Purdue had some quality wings. Hammons in particular was a force; after questions about his effort and intensity plagued him for years, he was a terrifying combination of rebounding, rim protection, and scoring.
[More on the Boilermakers after the JUMP]
He's gone now, as is Rapheal Davis, a defensive stalwart who could lock up a couple different positions on the wing – he very well could have been the best "stopper" in the Big Ten last season. Haas and Swanigan are back though, and Vince Edwards is very underrated. Point guard play, an Achilles Heel that may have doomed them against UALR, figures to be better with Michigan transfer Spike Albrecht and four-star freshman Carsen Edwards on the way.
The profile of this Purdue team seems to be similar to last years, and they basically have to hope that collective improvements from their young players offset the significant losses of Hammons and Davis. While I haven't seen much talk of them as a Big Ten contender, they very much could be, and should probably be considered in that top tier along with Wisconsin and Indiana.
LAST SEASON
There's a little bit of everything here. Unsurprisingly the two highest-usage players on the team were the two centers: AJ Hammons and Isaac Haas split minutes so neither have particularly big bubbles and it's interesting that they were roughly as effective as one another with their touches. It's a mild surprise to see Haas have higher usage; if he can handle major minutes, he'll post some crazy scoring and rebounding numbers.
Caleb Swanigan might (and should) get some of the minutes at the five – he played as a four last season and it didn't work out that well. His defensive and rebounding profile is fantastic, but his offensive rating is alarmingly low. Much of that has to do with a propensity for turnovers and a perplexing green light on three-point attempts – he only hit 29% of them and took more than two per game.
Vince Edwards had the most playing time of anyone and his efficiency was dragged down some by surprisingly poor shooting at the rim (just 54%), but his excellent three-point shooting and assist rate (which may have to do with post entry passes?) are crucial for Purdue on the wing. Ideally he'd spend more time at the four, but with the talented big men on the team, he can play the three.
There are a few high-efficiency / low-usage players who will be back. Diminutive point guard PJ Thompson actually had the third-highest offensive rating in the entire country and was a valuable floor spacer for the Boilermakers; Dakota Mathias and Ryan Cline were pretty equivalent players at the two – though Matthias (who was a freshman) showed some unanticipated playmaking abilities.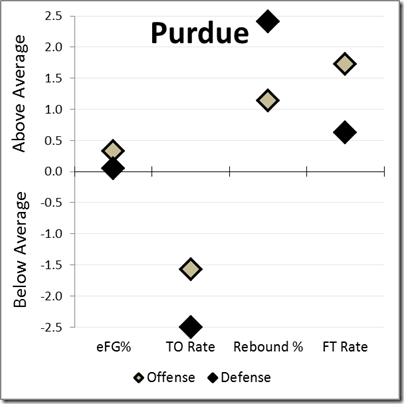 Four Factor Z-Scores from games against Big Ten opponents
Purdue was unsurprisingly a team of extremes – and those extremes were pretty much the same on both sides of the court. Their shooting and shot defense – despite some pretty awesome rim protection (mostly from Hammons) – were average. For a team that was basically an anachronism in how much they fed the post, their three-point shooting (outside of Swanigan and Davis) was actually pretty good.
Their inability to force turnovers was probably mostly due to scheme, but their propensity for turning it over on the offensive end was a huge flaw – and there was plenty of blame to go around. Predictably, they were an excellent rebounding team (and strangely, they weren't able to outrebound UALR in that tournament loss, despite UALR being a much smaller team). With a team structured like Purdue was, it's not a surprise that they were able to get to the line a lot; foul avoidance was key for their big men and as a team, they were able to prevent opponents from getting too many free throws.
NEWCOMERS
Purdue brought in a familiar face for this season – former Michigan point guard and native Indianan Spike Albrecht. Spike's last season was derailed by injury after hip surgery, and it remains to be seen if he'll be healthy enough to play the whole season for the Boilermakers, but right now, he's ready to play and logged a decent amount of minutes in the opener. We know Spike fairly well: he's a defensive liability (though not egregiously so), he's a good distributor as a point guard, he can shoot from outside, he's aware of his limitations when he drives to the paint, and he can play alongside other point guards in certain lineups. It was a great addition for Purdue, who brought in a grad transfer point guard last season (Johnny Hill), who didn't work out as well. Even if Albrecht doesn't supplant Thompson in the starting lineup, he'll be able to provide solid minutes off the bench (if he's healthy enough to play), which would be a huge boost for the Boilermakers.
They also brought in a freshman point guard from Houston, TX, who's the only signee for them in the 2016 class. He's a legit scoring guard who can create for himself and shoot from outside; at 6'0, he might not have the size to score over bigger defenders in the paint. Edwards was a four-star who fell just outside of the Top 100 players nationally, so he definitely has the talent to see the court right away, but Thompson and Albrecht are likely ahead of him on the depth chart. How much he's able to play might come down to defense, which is an issue for most freshmen, let alone undersized ones.
PROJECTED ROTATION
STARTER (POINT GUARD) – PJ Thompson (Jr, 5'10, 185): Very efficient, but hardly took any shots – though almost two-thirds of them came from three-point range, where he hit 41%, might need to up his usage this season.

STARTER (COMBO GUARD) – Dakota Mathias (Jr, 6'4, 200): Also incredibly efficient, not quite as good of a three-point shooter but very valuable for spacing, showed off some passing ability last season, with a low turnover rate.

STARTER (WING) – Vince Edwards (Jr, 6'8, 225): Quietly had an excellent season across the board, unique combination of offensive rebounding, passing, and outside shooting makes him very versatile, can play the four also.

STARTER (TRADITIONAL FOUR) – Caleb Swanigan (So, 6'9, 250): There was a lot of good and bad with "Biggie" as a freshman, he was beastly on the boards, and strong as an individual defender and in the post but turned it over a ton and took bad shots from outside.

STARTER (POST) – Isaac Haas (Jr, 7'2, 290): Enormous center was the focal point of Purdue's offense when on the floor, block rate wasn't as good as Hammons but was still decent, will be interesting to see how he handles increased workload.

BENCH (POINT GUARD) – Spike Albrecht (R-Sr, 6'0, 180): Michigan transfer with an injury history provides a spark of offense off the bench, should stabilize Purdue's backup PG situation, could become a starter.

BENCH (POINT GUARD) – Carsen Edwards (Fr, 6'0, 190): Scoring point guard played well in their trip abroad this summer and looks unlikely to take a redshirt, might be a defensive liability.

BENCH (GUARD) – Ryan Cline (So, 6'6, 195): Just a shooter (only one(!) two-point make last season) who converts on 39% of his outside shots, suspended for the first few games of the season.

BENCH (WING) – Basil Smotherman (R-Jr, 6'6, 235): Took a rare mid-season redshirt because of the logjam in Purdue's frontcourt last season, could be a small-ball four but not much of a shooter, very low usage rate earlier in his career.

BENCH (STRETCH-FIVE(?)) – Jacquil Taylor (So, 6'10, 240): Very much an unknown because he played so few minutes, but took a few threes when he did play, might be out of the rotation if all the minutes at the five are split between Haas and Hammons.
PLAYER COMPARISON
A few years ago, I came up with a system that would compare the statistical profiles of Big Ten players to their historical counterparts by taking the sum of the differences between a given player's profile and each of the thousand player-seasons from 2008-present in twenty different statistical categories.
# value is the Z-Score of the player's statistic (or statistics averaged over multiple seasons) relative to the entire sample
With an interesting combination of skills, there weren't really any great comparisons for Vince Edwards: few players can match his ability to pass (though his assists might be mostly from post entry passes, but still), shoot, and rebound. One such player – who shows up on this list – is Caris LeVert, the versatile former Michigan wing, who managed to blend together scoring, distributing, and rebounding better than most Big Ten players of recent vintage.
The names that come up with Edwards's statistical profile are a wide range of different types of players. There are burly Wisconsin forwards that like to shoot the ball (Marcus Landry, Vitto Brown), smaller combo guards like James Blackmon, Eron Harris, and Andre Hollins, and more archetypal defensive-minded wings like Ohio State's William Buford and Lenzelle Smith. Edwards might be the key to unlocking Purdue's potential as he plays more of the four this year now that Hammons is gone and Swanigan will ostensibly be spending more time at the five.
OUTLOOK
By the time his career in West Lafayette was over, AJ Hammons had morphed into an incredible force and one of the best players in the conference, finally making good on the obvious potential he had and shedding the bad habits that kept him from getting there. In his absence, Isaac Haas and Caleb Swanigan, the remaining two heads of Purdue's big man Cerberus, must play more and play better to keep up that level of interior dominance for the Boilermakers.
Haas has looked great and played well in backup minutes at the five, but adjusting to the starting role will be a challenge. Swanigan might be more important however; he was forced to play almost entirely out of position last season and while he did play pretty well, the combination of the normal, expected freshman-to-sophomore leap and an adjustment towards more minutes at the five make him a strong breakout candidate. Hopefully playing as a center would discourage him from taking too many three-point shots or being too adventurous with the ball in his hands. His efficiency was too low last season and Purdue can't afford to have it like that again, especially if he's playing more.
Between Vince Edwards on the wing and the combination of Dakota Mathias and Ryan Cline at the two, the Boilermakers should be fine at those positions; when Edwards slides down to the four or needs a rest, Cline is a good option at the three. The real question, however, is point guard: PJ Thompson was efficient last season but didn't make much of an impact and could be replaced by Spike Albrecht or Carsen Edwards. At the very least, Albrecht and Edwards should be an upgrade over PJ Hill but Purdue desperately needs more dynamic guard play and I'm not sure that they'll have that this season unless Albrecht returns to his pre-injury form, which is far from certain.
The blueprint from the last few seasons – which is basically to feed the post as much as possible and play through the talented big men – will be Purdue's strategy again. Whether that can help carry them to a Big Ten title or enable them to make a surprise Final Four run is definitely worth debating; my guess is that the backcourt still isn't quite good enough to make that happen. Still, they were a Top 10 team (per Kenpom) last season and should finish in the top four of the conference if the losses of Hammons and, to a lesser extent, Rapheal Davis, aren't felt too acutely.