2012 Opponent Preview: Ohio State

Ohio Agricultural and Mechanical College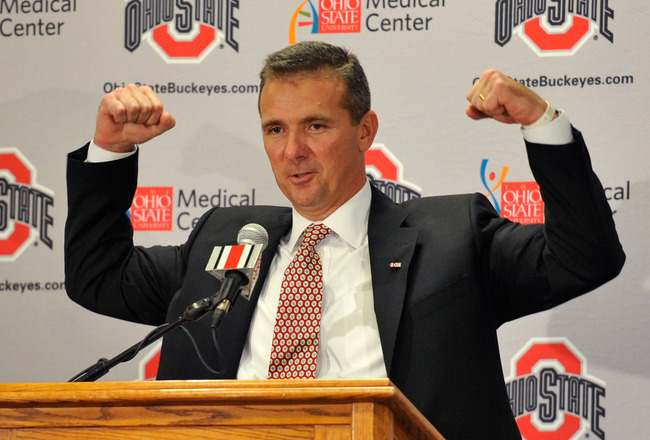 Domestic violence is very bad, mmk. Ohio State's backup middle linebacker Storm Klein was arrested a week ago after his ex-girlfriend, who is the mother of his child, said that Klein "violently and purposely grabbed" her and slammed her into their front door during an argument. She sustained a minor scrape and swelling on her forehead and abrasions on both forearms. He was charged with domestic violence and assault.
Ohio State head coach Urban Meyer, who is fighting a reputation for being soft on his players' legal problems, dismissed Klein from the team shortly thereafter. Meyer released a statement saying the charges "violate the core values of the Ohio State Football Program ... it has been made very clear that this type of charge will result in dismissal." It was consistent with his actions earlier in the year when he dismissed DBs Dominic Clarke and DerJaun Gambrell for run-ins with the law. Gambrell, incidentally, was charged with assault.
In the same statement, however, Meyer said he would "re-evaluate" Klein's status with the team pending the status of his charges, leaving the door open for reinstatement. As of earlier this week, Klein's lawyer (who was Terrelle Pryor's defense attorney a year ago) was optimistic about Klein's future with the team (parenthetical punctuation mine): 
"I believe when this is said and done. this will be resolved in Storm's favor, with an exclamation (!) mark."
Uh huh. 
So after opening with a strong gesture by dismissing Klein, Meyer is now deferring to the legal system. Perhaps he is remorseful for what happened with Clarke and Gambrell, as neither of them received the benefit of reconsideration after trial. But their fair and speedy banishment opened up a scholarship for Armani Reeves, so it was a net positive.
Perhaps Meyer feels unfit to judge the truth. Unfortunately domestic violence is notoriously difficult to tackle in court, however, and charges frequently get reduced or dropped because victims have a hard time prosecuting their own family members, signficant others, or in this case, their baby's daddy. The verdict rarely reflects what actually transpired, so relying on it to determine whether Klein did something to violate Ohio State's "core values" is a bit disingenuous.
Or ... perhaps that depth chart at middle linebacker is looking awfully thin, and it would be a shame if months later an "innocent" Klein weren't available on the two-deep to fill in for Curtis Grant after Taylor Martinez breaks his ankles. 
I'm not saying Klein should be kicked off the team without the benefit of due process. For the arrest and initial charges -- "violating team rules" -- Ohio State should hand out a suspension but leave room for additional consequences pending the result in court. But I believe in being consistent. Suspension until further notice would have been acceptable for Klein had Meyer afforded it to Clarke and Gambrell in January. But alas, Armani Reeves. To make matters worse, Klein has a previous arrest record, so it's hard to imagine that external pressure will allow Meyer to relent, especially given the precedent. There's no way he can reinstate Klein without suffering significant backlash.
The Klein saga isn't over yet, so I'll withhold judgment of how Meyer ultimately handles it until then. But if Klein is in a Buckeyes uniform ever again, the chance that Meyer and Ohio State actually have any "core values" of their own approaches zero.
---------------------------
The Actual Preview Part
Jim Davison / the-Ozone.net
1000-foot view. Ohio State is banned from the 2012 postseason, but that isn't going to stop them from trying to go all USC on everyone. The installation of Urban Meyer's fearsome spread offense and the renewal of their defense under former head coach/co-defensive coordinator Luke Fickell and DC Everett Withers has caused all of the analysts to project them to sweep the majority of their schedule. 
Can they? Probably. The Buckeyes benefit from returning a whole bunch of starters and maintaining a roster stacked with four-star talent. Moreover, Meyer has declared himself an Ohio State man, which has made it easy for the players, staff, and fanbase to buy into his program. Yes, this is in direct contrast with the Rich Rod transition. 
I believe there are two factors -- one tangible, one not so much -- that will determine whether they can reach their full potential this season. The first is whether QB Braxton Miller can stay healthy. In Meyer's spread, the magnifying glass over the quarterback position is a lot bigger. Whether Miller holds up over the course of a season will be critical to their success. With him in a game, the Buckeyes have a shot to beat any team on their schedule. Without him, not so much.
The second factor will be how the current roster adapts to an up tempo spread. Under previous offensive coordinator Jim Bollman, fans have been treated to some of the most boring offenses even by Big Ten standards. While there were some spread elements in that offense, hence the recruitment of dual threat quarterbacks like Troy Smith, Terrelle Pryor, and Miller, the bigger element in those offenses was a running back oriented ground game that wore defenses down slowly over the course of a game. "Zippy" or "Jack-rabbity" were not words often used to describe Ohio State players. What's Meyer going to do with a bunch of 230 lb. running backs? While the talent in Columbus is there, how it molds to Meyer's system and how the system molds to them will be something to keep an eye on. 
Schedule.
Sept. 1, Miami (OH)
Sept. 8, UCF
Sept. 15, Cal
Sept. 22, UAB
Sept. 29, @ Michigan State
Oct 6, Nebraska
Oct. 13, @ Indiana
Oct. 20, Purdue
Oct. 27, @ Penn State
Nov. 3, Illinois
Nov. 10, WIFEDAY
Nov. 17, @ Wisconsin
Nov. 24, Michigan
Ohio State has a decent number of tough-ish games as well as some easily winnable ones. While there are just four road games, three of them will be tough. Their bye comes rather late in the schedule on Nov. 10.
It's hard to predict how the Buckeyes will play this season against opponents who are also experiencing significant changes. Michigan State, Penn State, Illinois, and Wisconsin are all debuting new quarterbacks or head coaches. Ohio State isn't necessarily a lock to beat all four, but with the defense they return this season, they should have enough firepower to keep that possibility open.
The game to watch other than vs. Michigan is the one vs. Purdue. The Boilermakers have given Ohio State some trouble in the past, but only within the confines of West Lafayette. This year could be different because they may field one of the more complete teams in their division. Not that winning the division will matter all that much the Buckeyes, but Purdue will certainly be looking to legitimize their candidacy for the Woody Division crown, and beating Ohio State will go far in making a statement.
------------------------------------
X's and O's, Jimmys and Joes
Offense
QB Braxton Miller: "I paid for this!"
Style: Spread
Key losses: RB Dan Herron (675 yards, 5.0 ypc, 3 TD), WR DeVier Posey (12 rec, 162 yards, 2 TD), C Mike Brewster, LT Mike Adams, RT J.B. Shugarts
Top returners: QB Braxton Miller (54.1%, 1159 yards, 13 TD, 4 INT), RB Jordan Hall (405 yards, 4.1 ypc, 2 TD), RB Carlos Hyde (566 yards, 5.3 ypc, 6 TD), FB Zach Boren (1 twitter hissy fit), WR Corey Brown (14 rec, 205 yards, 1 TD), TE Jake Stoneburner (14 rec, 193 yards, 7 TD), LT Jack Mewhort
So the biggest development since I previewed Ohio State for HTTV was Jordan Hall stepping on some glass and severing a tendon in his foot. He'll likely miss a couple games and won't be able to practice up until then. This is a blow to their run game, especially since Meyer was planning to use him the way he used Percy Harvin back in the day. 
In other news, Jack Mewhort and Jake Stoneburner peed in public, ran from some cops, and then got suspended "indefinitely." They won't miss a snap.
Anyway, the skinny on the Buckeyes offense is that Braxton Miller returns to commandeer an offense much more suited to his strengths. Their spring game put that system on display rather well, and a few playmakers emerged, most notably WR Michael Thomas, who had like 12 catches for a bazillion yards during that game. How this offense does against anyone else remains to be seen. They were rather turnover prone as all the quarterbacks threw interceptions during their spring game.
The run game would have been find had Hall stayed healthy, but with him gone, all that's left is a bunch of burly 230-pounders who are probably thinking longingly about all the other college offers they had and wondering why they didn't commit to a school where being a little hefty was a good thing. (Looking at you, Brionte Dunn.) Yes, yes, I'm sure Meyer will find a way to use his bigger running backs. Warming the bench in November is a start.
Their group of receivers will be okay if they learn to run their routes correctly. None of them seem to be elite space players, but sometimes just catching the ball is enough.
And of course, their offensive line has been subject to a lot of debate. They're big since Tressel recruited them for hulking running backs to run into. I imagine that they will spend the offseason dieting so that they at least pass the eye test for what a lithe spread offensive line looks like.
------------------------------------
Defense
DE John Simon: "I did this one myself."
Style: 4-3 under, some kind of nickel package.
Key losses: LB Andrew Sweat (missed most of the season due to injury), DE Solomon Thomas (basically nothing. These guys are not really key losses at all. Just here to fill some space.)
Top returners: All of the defense!
I'm gonna block quote myself. Blockquotesturbation!
Fickell will run the same 4-3 Under Michigan uses, and which Jim Heacock deployed in Co- lumbus for years, switching to a 4-2-5 over (i.e. nickel) against spread offenses. The last game of 2011 (Michigan) and this year's spring game saw them come out in a lot of cover 4 (quarters) coverage, very much like what Virginia Tech used to good effect in last year's Sugar Bowl.
Wow, sounds smart! What can you tell me about their players?
Their secret is talent, having recruited more 4- and 5-star defensive players than any team but Alabama (30—tied with FSU and Texas) in the last five classes. The Ohio State defensive line, the strength of their 2011 defense, will again be the strength in 2012. Massive nose guard Johnathan Hankins (6'3, 325 lbs) and tackle Garrett Goebel (6'3, 290 lbs) will anchor the interior line. While Hankins was overshadowed by any number of Big Ten tackles during his sophomore season, he is the type of plugger who can hold his own against double teams and make a few athletic plays here and there. If Hankins continues to develop, he could be a persistent nuisance for teams that like to run straight up the middle and vie for All-Conference honors. Strongside defensive end Adam Bellamy and weakside end John Simon will bookend the line. Simon, who earned First Team All-Big Ten honors last season, gave Ohio State fans a pleasant surprise when he chose to stay in Columbus for his senior season; he is probably the best player on their roster.  
You are a really good analyst. That defensive line sounds scary. How do you feel about their linebackers, though?
The linebackers, on the other hand, will require some work if they are to live up to their potential this year. MLB Curtis Grant was a highly touted recruit who became an exciting fresh- man, and seemed to lock down the starting job this spring before a ding kept him out of their spring game. Also sitting out was his main competition, awesomely named Storm Klein, who started for a time last year. 
Hahaha. Storm Klein. He's a funny guy. I remember they had a really good linebacker named... um ... Razor? Shazor?
Shazier.
Shazier! That's the one. 
WLB Ryan Shazier erupted late last season as a true freshman—Penn State fans and Michigan fans might remember him being all over the field doing his best impression of NFL second- round draft pick Lavonte David from Nebraska. The problem with being liable to show up anywhere—and this is true of the entire linebacking corps in general—is he just as likely to apparate in completely the wrong place. Michigan fans will remember SLB Etienne Sabino quickly dropping into four-deep coverage on a 3rd and 11 (very good), carrying Hemingway too far to open up Odoms (not good), and turning around to put a perfect block on strong safety C.J. Barnett as Odoms gratefully walked into the end zone (explode!). Given the proper coaching, this could become a dominant group, but as it stands they are an unruly troupe of goblins, equally capable of nuking an opponent as each other. 
That sounded an awful lot like Seth's writing.
Speaking of Barnett et al., the Buckeyes secondary was a solid but unremarkable group last year, and they should again be solid; ask again later for remarkability. Barnett is a budding star at safety, and linebacker-ish 5th year senior Orhian Johnson—you saw a lot of him versus Michigan—will keep the other safety spot a plus. Junior Christian Bryant will play the "star,"—Ohio State's word for the nickel back—who will rotate in for Sabino on passing downs and against spread teams. Michigan fans who remember 2005-'08 S/CB Brandon Harrison will recognize Bryant's role. At cornerback it gets a little thin. Travis Howard returns for his fifth year opposite redshirt sophomore Bradley Roby, but behind the starters are three "meh" sophomores before falling off into the pool of true freshmen. Meyer has acknowledged this lack of depth by stepping up his defensive back recruiting, but it may be several seasons before the reinforcements truly pan out on the field. Repeating a theme, elite talent is extant--Roby, Howard, Barnett, and Johnson are future NFL draft picks-- but whether it can come together to form an elite secondary depends on whether they can learn to complement each other and stay healthy. 
That was definitely Seth, since you have no idea who Brandon Harrison is. You didn't write this preview! I call shenanigans.
------------------------------------
Special Teams
This image never gets old.
They have a kicker on the Lou Groza Award watch list. Name's Drew Basil. Cool.
------------------------------------
Predictions
Overall: The way this preview started is very different from the way it ended. Huh. Not sure what happened.