2012 Opponent Preview: Illinois
Purdue Errata. Several MGoUsers, including one (TMill) whom I suspect is Travis Miller of Hammerandrails.com, pointed out last week that Ralph Bolden tore his ACL for the third time during the Indiana game. He's probably not going to be playing much football for the Boilermakers this season. 
That pink thing in the middle = why the Boilermakers can't have nice things.
Also, Sean Robinson moved to linebacker, which brings Purdue's QB count down to a whimpy nine.
*****
Illinois
Standin' arrow straight.
Not that talented. HailtotheOrange.com recently wrote a post to dispel the myth that Ron Zook was a great recruiter who was otherwise a horrible coach. They go through the recruiting rankings during Zook's tenure and find that it started off strong before tapering off after 2008. 
I don't know what he was pitching to kids when his team was in the gutter the first few seasons, but the 2006 class ranked 30th in the nation and 4th in the Big Ten.
2006, 2007, and 2008 were similar, and those were the years that gave them four-/five-star players like Martez Wilson, Arrelious Benn, Corey Liuget, and Graham Pocic (older brother of super 2013 LSU LT commit Ethan), not to mention some under-the-radar types like Whitney Mercilus and Mikel Leshoure. 
2009 gave the them a bunch of guys who ended up transferring. Illinois spent 2010 at a three-star resort, which caused them to them dip below Tim Beckman's Toledo in recruiting class rankings (70th and 68th, respectively).  
Conclusion? Whatever positive effects of the Beckman hire on the coaching and decision-making side of things may be mitigated by an impending "empty cupboard" syndrome.
But still pretty talented for now. ALionEye.com lays out the NFL draft stock of last year's defensive starters. Five returning players have strong draft potential. 
Completely unrelated. ALionEye's list of top-five QB recruits in recent memory from Illinois  includes one Jeff Hecklinski (emphasis theirs -- Aaron Bailey is their most recent QB commit):
In the last 30 years, I think the order of "top-5 Illini QB recruits" goes like this:

1. Jeff George
2. Juice Williams
3. Aaron Bailey
4. Nathan Scheelhaase
5. Jeff Hecklinski
Yes, our Jeff Hecklinski!
He ended up choosing Western Illinois State over the Illini, and there he became the second QB in school history to throw for more than 5,000 yards. 
The actual preview part
1000-foot view. 
Illinois's 2011 campaign began with so much promise. At one point the Illini were bowl eligible and 6-0 along with conference champ Wisconsin and Sugar Bowl champ Michigan. Ron Zook, who job had been under intense scrutiny for some time, was saved.
But then Illinois's offense stopped scoring, and the team stopped winning. They remained bowl eligible but fell to 6-6 and ended the regular season in disgrace after getting curbstomped 27-7 by a 3-9 Minnesota team. Zook fired; Beckman hired.
Beckman wasn't received by a whole lot of enthusiasm. Other names mentioned during the coaching search included Kevin Sumlin and Butch Jones; Beckman was not the sexiest of the bunch.
HailtotheOrange called him the "MAC coach du jour," which he was. Personally I don't think there's anything wrong with hiring former MAC coaches.
CAN YOU HEAR ME NOW sonofabitch headset's not working again.
Beckman's 2011 Toledo team was one bad read away from upsetting Ohio State in the Horseshoe and ended the season tied at the top of the MAC-West standings.
Much like how the feelings of uncertainty following Brady Hoke's hire at Michigan subsided to cautious optimism, at least the blogosophere seems to have gradually warmed up to Beckman. He's off to a good start in recruiting, garnerning 10 recruits thus far including the aforementioned third-best Illinois QB recruit over the last 30 years. While recruiting success doesn't always translate to on-the-field success (see Zook, Ron (and yes, I will continue to stick to the idea that Ron Zook recruited well)), his track record indicates that he can coach.
Also, having 13 returning starters in 2012 including RS junior QB Nathan Scheelhaase certainly won't hurt his chances. Their B1G schedule sort of sucks, though.
Schedule.
Sept 1, Western Michigan
Sept 8, @ Arizona State
Sept 15, Charleston Southern (this is a school?)
Sept 22, Louisiana Tech
Sept 29, Penn State
Oct 6, @ Wisconsin
Oct 13, @ Michigan
Oct 20, BYE
Oct 27, Indiana
Nov 3, @ Ohio State
Nov 10, Minnesota
Nov 17, Purdue
Nov 24, @ Northwestern
With seven home games, it's not the worst schedule ever, but visiting Wisconsin, Michigan, and Ohio State on the road within a month can't be that fun. 
Illinois looks to have one loss from the non-conference schedule and about three from its B1G road games. It has a shot at beating either Penn State or Purdue at home but probably not both. Minnesota is an enigma. Indiana will be a great midseason morale boost.
Illinois's schedule is as favorable as: A sunny day to a ginger.
*****
X's and O's / Jimmies and Joes
Offense.
Illinois ran a manbearspread during the Zook era with a mobile quarterback handing off to thumping tailbacks. Passing wasn't a huge emphasis, but when they had the talent, the Illini liked to go vertical. 
Beckman probably won't change things up much on offense. He ran the spread at Toledo because that's what all the Davids do. I don't think he'll shy away from some of the manball things that he'll be able to do now that he's coaching somewhat of a Goliath.
At quarterback, Nathan Scheelhaase (63.2 pct, 2110 yards, 13 TD, 8 INT) returns for his third year as starting QB. He's fairly mobile (624 yards, 3.3 ypc sacks included) and has an accurate arm. Not that I know a whole lot about quarterbacking, but my criticism of him has always been his inability to use his dual-threat abilities to his advantage. In all the games I watched of him last year, he was either obviously passing or obviously running. Unlike Denard or Braxton Miller, he wasn't very good at threatening one while doing the other. 
Reilly O'Toole (59.7 pct, 270 yards, 1 TD, 4 INT) will be Scheelhaase's backup. While his numbers aren't impressive since he had only spot duty for most of the season, O'Toole proved himself a worthy second string at the end of the season when Scheelhaase struggled.
The Illini lose starters Jason Ford and Troy Pollard at running back, but I don't think Illinois fans were particularly happy with either of the two last season. In their stead Donovonn Young (451 yards, 5.2 ypc) will carry the mantle. At 6-1, 215 lbs, he fits the mold of his more productive predecessors.
Like at nearly every other B1G school, things get hazy at receiver. ALionEye is really high on sophomore Darius Millines (218 yards, 11.5 ypc, 1 TD) who sat out most of last season due to injury. Beyond him there's just a bunch of guys you'd give smack on the "possession" label if you were being polite. None of them really impressed during the spring game.
Offensive line is the real question for the Illini, though. A dysfunctional offensive line in 2011 was primarily to blame for their six-game losing streak, and they're not getting much help in 2012 with a couple departures and the returners unsure about their ideal position. 
So there you have it. Terrifying offense? Hardly. By not being coached by Zook, however, they have the potential to be average. 
This offense is as frightening as: A small rock. Fear level = 3. (1 = Threetsheridammit; 10 = Oregon/USC/Wisconsin Frankenoffense)
Chargin' from the gate.
-----
Defense.
Illinois has one thing going for it. It's called Chicago.
I'm being facetious again.
Also, defense. Against teams not made out of tiny track stars coated in butter, Illinois's defense has been pretty terrifying for the past couple years after a rennaissance under defensive coordinator Vic Koenning. It has been one of the best in the country in statistical categories like sacks and TFLs thanks to a ferocious defensive line that had first-round NFL draft picks with sweet names like Corey Liuget and Whitney Mercilus. 
Unfortunately for the Illini Koenning is gone. Beckman offered him to stay, but he declined and instead left to become co-defensive coordinator at UNC, a position vacated oddly enough by new Ohio State DC Everitt Withers. 
But that's neither here nor there. In comes new DC Tim Banks. While Banks doesn't have the greatest pedigree (2010-2011 Cincinnati was his most prominent stop), I am going to judge him only by whether he takes Koenning's system and ... leaves it the hell alone. 
Also by whether this defense is any good in two years after all the current stars leave.
Michael Buchanan, on left
Defensive line will be anchored by DE Michael Buchanan (62 tackles, 8 sacks), who impressed during the spring game, and DT Akeem Spence (69 tackles, 2 sacks). It will be very good, and both are likely to be drafted at some point in the near future. 
As an aside, ALionEye wants defensive line to be Illinois's thing:
I've always wanted us to have a thing. Wisconsin has a thing. Penn State has a thing. We need a thing.
But you already have a thing. 
What is Michigan's thing, by the way? Oh right. The Team.
At linebacker Jonathan Brown (108 tackles, 8 sacks, 1 INT) will quarterback the defense from his station in the middle. Last year he and his fellow backers were a superaggressive unit, which probably explains why a middle linebacker has 8 sacks and 1 (knee to the nut-) sack. This made them prone to misdirection. 
Maybe not so much on that second play, but nearly every other big Fitz gainer happened because of linebacker confusion or overpursuit.
Unless the Illini linebackers are getting coached differently this season, Borges would do well to use the same game plan with lots of spread and read option concepts. 
Finally, the secondary returns both cornerbacks -- Terry Hawthorne and Justin Green -- despite losing all-purpose secondary player Tavon Wilson to the NFL. These guys were fourth in the nation pass defense last year, so even a modest dropoff in production would still make them very good.
This defense is as frightening as: A large rock. Fear level = 8. (1 = GERG 2010; 10 = Greg Mattison 2010)
Carryin' the weight.
-----
Special Teams.
K Derek Dimke (8/9) graduated. He missed once all season (42 yarder @ Penn State to tie the game), but it was the 42 yarder at Penn State to tie the game. 
Otherwise Illinois was really bad on special teams last year. They had no return game, and they punted exclusively at inopportune times.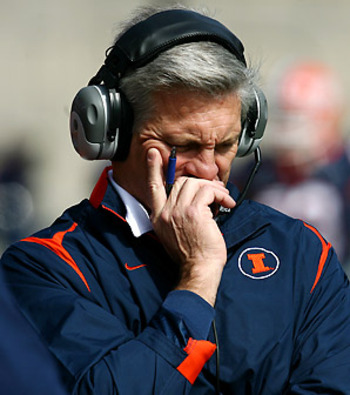 Yeah, that's how we all feel.
*****
Predictions
Overall record: 6-6 overall, 3-5 B1G ... maybe 7-5, 4-4.
Against Michigan: 23-10 Michigan. Don't ask me how, but it's probably going to be ugly.
Their chances of winning the B1G are as good as: A ginger trying to get a tan.