2010 Recruiting: Carvin Johnson
Metairie, Louisiana - 6'1" 195


 
Johnson (#1) tackling. Via

Scout
3*, #79 S
Rivals
3*, #33 S, #13 Louisiana
ESPN
3*, 76, #73 S
Others
NR
Other Suitors
Utah, Minnesota, Colorado, Tennessee, LSU (interest).
YMRMFSPA
Jamar Adams
Previously On
MGoBlog
Commitment post. Johnson's coach drops in on Rivals. Johnson figures prominently in several editions of Friday Night Lights. A local coach offers a positive take.
Notes
Will play box safety.
Film
When Michigan brought in Louisiana safety Carvin Johnson for an early November visit, he was the definition of a who-dat. The last thing Rivals had written about him was a four-month-old piece on Tulane's interest. When he committed, Tim scoured the internets for ratings and came up with this:
| Scout | Rivals | ESPN |
| --- | --- | --- |
| NR S | NR DB | Not in Database |
As you can see, Johnson is a COMPLETE STUD that the recruiting services ABSOLUTELY LOVE and have even HEARD OF.
Naturally, people were skeptical. He and safety classmate Ray Vinopal have spent the last month or so talking about how they're going to prove their doubters wrong because most of the things people have said about them are "why aren't you Latwan Anderson?" and "argh."
That was then. If you'll look above you'll note that the recruiting services now have an idea who Johnson is and think he's kind of good. The three stars Johnson got from Rivals are not a perfunctory ok-you-committed-to-Michigan three stars. He's on the verge of a fourth star (the #11 player in Louisiana has four stars). While the other three star rankings are perfunctory, there's plenty of evidence that Johnson is not a MAC-level flier and is actually a guy who Michigan got in on while he was under the radar.
Why might Carvin Johnson, who played for Louisiana power Rummel, which made the state championship game and landed a ton of guys on the all-state team in the largest division, be under the radar?
What did you like least about the process?
• Carvin Johnson: "I didn't like anything about it. I don't like all that, I really don't. I don't like recruiting, I don't like going to the recruiting camps. I don't like all that, I just like to play, pretty much. You want to watch me play, come and watch me play."
Johnson totally avoided the camp and combine circuit, lowering his profile. LSU is now heavily dependent on its summer camp, so when Johnson didn't show he fell off their radar. Since Rummel's coach has his kids on serious lockdown—Carvin's in-season official visit was an extremely rare event for a coach who usually does not permit them—Johnson was virtually unknown to the sites when he committed.
Since that time there has been plenty of evidence that Johnson is a sleeper in the true sense of the word.
Item one: the above-mentioned re-rank. Rivals' enthusiasm derives from an in-person viewing($):
STRENGTHS: Johnson is a fantastic tackler. He can tackle in the open field or fill the alley. He brings a pop at the point of contact and always has the ball carrier falling backwards. Johnson is a smart safety in the run game, picking his spots to make an impact and not overpursuing or being too aggressive.
WEAKNESSES: Johnson doesn't look to have elite straight-line speed and he is more of a run-support safety than a coverage guy. - B.S.
Scout and ESPN did not mention such a viewing, so the positive Rivals take carries more weight. Also, while Michigan recruits do tend to get a second look that doesn't mean they all get a bump. DJ Williamson and Ray Vinopal both carry two stars at one site or the other.
Item two: his profile amongst coaches wasn't quite as low as it was a the recruiting sites. When Johnson committed, he had a number of offers from BCS schools:
Johnson, a returning All-District 10-5A selection and the top player on the state's undefeated and No. 2 ranked team in Class 5A,  had other official offers from Tulane, Minnesota, Colorado, Utah, Tulsa, SMU, Louisiana Tech, UL-M and Northern Illinois, Johnson and Rummel Coach Jay Roth said.
Minnesota, Utah, and Colorado aren't hugely exciting, but after Johnson committed LSU got on the phone with Rummel immediately. This was more than a cursory look. At about that point, LSU hired Tennessee RB coach Frank Wilson a job that he accepted. Wilson spearheaded a serious look at Johnson:
Frank was in town at Archbishop Rummel High School, taking a hard look at Carvin Johnson, who has verbally committed to Michigan. He likes the 6'1, 190 pound senior safety and may recruit him wherever he coaches next year. … He also opined that while LSU has gotten most of those outstanding home-grown players, they have either missed on or not recruited others, including the likes of Rummel's Johnson.
Johnson did not reciprocate the interest and LSU eventually drifted away without an offer. Would Johnson gotten an offer if he had taken an official? That's not definite, but does seem possible. On Signing Day, Fred Jackson wove a tale of fending off a pair of unidentified SEC schools($) (and a horde of robot insects from Xazrak, this being Fred Jackson) at the last minute. In a Signing Day interview, Johnson confirmed that one of the schools was Tennessee.
Item three: local support. In the aftermath of the slightly downcast commitment post, this site received an unprompted email from a Louisiana football coach promoting Johnson's ability. Coach Ox:
Carvin Johnson is not even one of my players – but I have played against his Rummel team and know Jay Roth and his program well. Carvin Johnson can play. Here in LA, we do not send kids to camps to get hyped up. We know our kids can play. If a LA kid is going to combines, it is very much more than likely due to (a) his high school coach trying to get exposure for himself or (b) because his program isn't any good, but he plays well. Trust me, this is how it is.

You are getting a solid player – big, physical, coached up, football smart.
(Clearly, Johnson is ticketed for the box safety role.) Meanwhile, scouring a local message board or two—"Carvin" is a terrific search term—reveals a few references, all of them positive. In a thread on Louisiana recruits that escaped the state, a poster claims a couple of in-state defensive backs are underrated, "especially Carvin." In a similar thread a couple of other posters pick Johnson as a guy LSU should have offered.
This is likely because Carvin was the "heart and soul" of Rummel's crushing defense. Stats:
Defensively, he's amassed 74 tackles, including two sacks, while forcing a fumble, breaking up three passes and recording seven interceptions. He's also been a key special teams' performer, returning 26 punts for 358 yards (13.8 yards per return) and two touchdowns.
By the end of the year, Johnson was first-team all state in the largest classification, winner of the local "Amateur Athlete of the Month" award, and on the Clarion Herald's all-decade(!) team. One thing that's been widely reported here and elsewhere he did not, in fact, accomplish: Johnson was not the state championship game MVP in a 30-0 loss. He was his team's MVP. Imprecise language on the part of some local reporters has let that bizarre, and sadly untrue, factoid loose.
Local reporters tend towards panting reactions:
Breaud was terrific, taking many huge hits, particularly from a human missile named Carvin Johnson and by linebacker Chris Randle. Johnson, who earlier this week committed to Michigan, returned a punt 69-yards for a score on a brilliant effort but the play was called back for a block in the back by Rummel.
So there you go.
Item four: character/coach fawning. If Justin Feagin taught us anything, it's don't scam an unstable burnout out of money because he'll try to burn South Quad down. But if he taught us a second thing, it would be "don't read too much into quotes." Even so, Rummel coach Jay Roth's lavish praise moves the needle with your blogger. This bit specifically:
A mid-year transfer after starting as a freshman at a New Orleans-area public school, Johnson showed up in Roth's office one day three years ago and said, "Coach, I was at a program where the kids showed up late for practice and they weren't held accountable and the coach didn't work as hard as I want to be worked. I want to be challenged."
"But Carvin is a stud. When the word was out he committed to Michigan, my phone started ringing off the hook from the schools down here, but I told them it's too late.

"Carvin's told everyone that's tried to call that he's done. He's committed to Michigan."
"First of all,'' Roth said, "everybody who knows Carvin or who has been around him knows that he's as good of a person as he is a football player. That's a compliment to him and his momma. Football-wise, he's a ballhawk. He's always around the football making plays.''
"I cannot say enough about him and our defense."
After Johnson committed, Roth went so far as to hop on Rivals and answer a bunch of questions.
It is in these things that this site's recent optimism on Johnson is born. In this, he's like Vincent Smith last year: a player who initially drew a "meh" but by Signing Day was touted around here as one of the low-rated guys to watch out for in this class. Johnson isn't likely to have the same impact Smith did as a freshman—running back is always the easiest place to make an instant contribution—but he's this site's sleeper of the year.
Understatement of the Decade. Roth on Johnson:
"He's a different kid. Very intense kid, look you in the eye, shake your hand firmly, hang on every word you say. And he's not accustomed to losing. He doesn't care for it too much."
This is Johnson after Rummel's 30-0 loss—their first and only of the year—in the state championship game: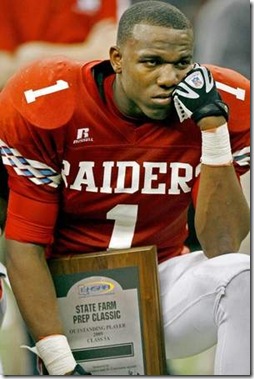 Word, coach Roth. Word.
Why Jamar Adams? Adams was 1) a big safety who was good in run support, 2) a generic three star to the sites, and 3) a guy who came in with a buzz disproportionate to his rankings. He bore that buzz out quickly, starting a couple games as a freshman when Angry Michigan Safety-Hating God struck and establishing himself a three-year starter. Over the course of his career, Adams proved himself a reliable safety, a character asset, and solid starter. He was a fringe NFL player because of a lack of top-end athleticism.
Guru Reliability: Low. Johnson was unknown until the Michigan commitment and the re-rank after that was based on game observations, sans all star or combine appearances. Also there's a considerable spread.
General Excitement Level: Moderate plus. I'd rather have a guru-approved kid, all things being equal, but this point Johnson has shed the who-dat label and appears to be a solid find for Rodriguez & Co. Roth's praise indicates a kid who will be a program asset, as well.
Projection: Might have a chance to contribute early since box safety is sort of vacant and classmate Marvin Robinson did not enroll early, but the best bet is for a redshirt and then some development time with an eye towards starting in years 3, 4, or 5. Could fill out to play linebacker or spinner.