2009 Recruiting: Jeremy Gallon
Previously: S Vlad Emilien, S Thomas Gordon, CB Justin Turner, CB Adrian Witty, LB Isaiah Bell, LB Mike Jones, LB Brandin Hawthorne, DT Will Campbell, DE Anthony LaLota, DE Craig Roh, OL Michael Schofield, OL Taylor Lewan, OL Quinton Washington, WR Cameron Gordon, and WR Je'Ron Stokes.
There is no more concise description of Jeremy Gallon than his high school's nickname wrought singular: "Blue Darter." Given the winged helmet you can see above, it seems like fate itself ordained Gallon to be a slot receiver at Michigan.
And lo, it has come to pass. Gallon's commitment to Michigan was, like that of DeQuinta Jones, sudden and based on nothing more than his relationship with Michigan's coaches. Unlike Jones, Gallon stuck with his commitment, possibly once you've worn a winged helmet nothing else compares.
At the time, Gallon was a 5'8" slot ninja playing quarterback and still managed to rank amongst the top 100 on Rivals. Though he dropped in a re-rank—probably because various Rivals folk did a double take, saying "he's how tall?!"—he clawed his way back up the lists after an impressive showing at the Army All American game, at which he was the only slot receiver. This is a perfect summary of Gallon's projected talents: he's absolutely a slot, which brings with it the sort of limited upside that causes only one of them to get invited to an all star game, but he may be the best in the country. After all, how many guys of any size can levitate?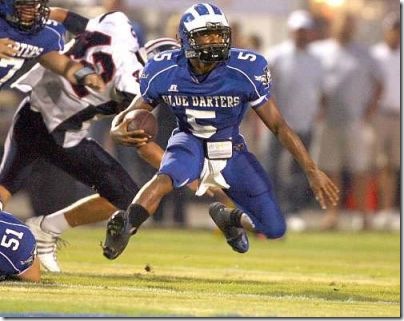 In fact, a quick scan of Rivals' rankings turns up only one slot electron ranked higher than him: Pahokee star Nu'keese Richardson, a Florida Tennessee commit. Everyone else on the list under six foot is a defensive back or running back. Though Gallon doesn't rate as highly at ESPN or Scout, everyone lists "size" is the major downer and is otherwise positive:
Has great feet and is really slippery as a runner-- is very tough to get a clean shot at. Runs low and gets lost behind his blockers, does a good job using his stature to his advantage and doesn't take many big hits as a result. He can really accelerate and shows explosive first step quickness as a back. Has good vision, can hit the cutback and he has the speed and second gear to hit the edge and turn the corner. Shows wiggle and the ability to make multiple defenders miss in space.
Scout's Bob Lichtenfels:
"I think Gallon is a stud. I think for Rich Rodriguez, that's the next Darius Reynaud. He doesn't have elite speed, but his quickness and shiftiness is just out of sight."
There's a disconnect here between the talking and the numbers, some of which can be attributed to the usual disconnect between talking—which is invariably to people who want you to say good things and therefore more positive—and the numbers. But not all of it, possibly not even most of it. This is one of those guys that, as the theory goes, is a three or four star to everyone else but a five star in Rodriguez's offense.
And just look at him go:
The rest of the praise out there is as you might expect: "outstanding with the ball in his hands, especially in space." His coach:
"His game is: he's fast. And he's elusive -- he's hard to get a handle on. He changes directions real well. And he's also very strong. He power cleans 310 pounds, which is the most on our team."
Rivals' summary of his Army game performance:
Gallon was the star of practices all week and was effective in the scrimmage and during the game itself. He is tiny but he has great quickness and he is smart. He knows how to find space between the cornerback and the safety and catches almost everything thrown his way.
The catching is a major point, since there's always that question with high school quarterbacks turned wide receivers. Take Steve Breaston's well-documented (and slightly overrated) tendency to drop slants, or Terrence Robinson's reported struggles this spring. So it's encouraging to hear items like this from Rivals' Adam Gorney:
"He's obviously not the biggest guy, but he doesn't need to be. He's going to be able to get open, get the ball in his hands and do a lot of things with it. He had good hands today and every time the ball was thrown his way, he caught it. He looked like one of the best guys there."
If Gallon's existence as a single-wing QB has a downside it also has an upside: Gallon's versatility will serve him well at Michigan. Lichtenfels' reference to Reynaud is on point: at West Virginia Reynaud* lined up in the backfield regularly and wasn't above taking a carry or an option pitch. Gallon's extensive experience in the backfield—he racked up over 3,500 rushing yards in two years as Apopka's single-wing star—should provide the offense with a flexibility in formation they lacked last year.
And, you know… these passing stats aren't half-bad for a wideout. His junior year:
He also completed 56 of 88 pass attempts for 1,071 yards and eight touchdowns and no interceptions.
I can't find solid senior year stats, but Varsity Blue made a game attempt to total up the incomplete information provided and got a partial season count that was 15 of 29 for 341 yards. These aren't dinks: single-wing passing is a go-deep-or-go-home sort of enterprise. Gallon's approximate YPC in his two years as a quarterback is a Yossarian-worthy 19.9. While Gallon isn't going to give Tate Forcier a run for his money, he's going to be a slot receiver who takes a lot of pitches and screens that defenses will be freaking out about. Could he be an Antwaan Randle-El trick play factory? Let's hope, as that would be awesome.
Gallon is a Swiss Army knife of a player: pocket-sized, versatile, capable of surprising feats, and… uh… hard to tackle. (If you've ever tried to tackle a Swiss Army knife you know what I'm talking about. They're pointy.) It's hard to envision a scenario in which one of his diverse and sundry talents doesn't find him on the field, if not this fall than next.
Actually… there is one scenario. Despite telling TomVH this in January…
I asked him about the rumor that he wouldn't qualify, and he told me, "No, that's not true. I'm on track, and will qualify to play."
…there remains a possibility he won't make it in. Gallon remains "on track," which is better than signing with a JUCO but not as good as qualified. Though the latest reports are trending positive, Gallon still has work to do.
Why Steve Breaston? In high school Breaston was an electric quarterback who spent his time running around making various people look silly indeed. At Michigan he settled into the nascent slot receiver spot, was the recipient of a ton of bubble screens, and was generally a YAC terror. Breaston is considerably taller, but everything else fits.
Etc.: There is an unbelievable amount of video out there on Gallon: Interview from the Army game; smokes ND commit Zeke Motta for a TD in this AA practice clip; video of six touchdowns in a playoff game; GBW interview from AA bowl.
Guru Reliability: Moderate to high. All Star appearance but a big spread in the rankings.
General Excitement Level: High. He's a slot who promises to be a multi-purpose threat, and there might be some awesome trick plays in there somewhere.
Projection: If he makes it—about which I know nothing—he'll have an opportunity to contribute immediately what with Terrance Robinson enduring a case of dropsies in spring and Roy Roundtree being a poor target for bubble screens. Even if playing time in the slot is not immediately available he could potentially return kicks. Versatility and his existence at a shallow position suggest a redshirt is unlikely.
*(Reynaud, by the way, has a fan way into the metric system. His wikipedia page has a variety of touchdowns scored or yards gained, every single one of which is annotated with a conversion from yards to meters. Por ejemplo:
When Slaton was injured against Louisville, Reynaud filled in for him at running back, contributing to Reynaud's 221 yards (202 m) rushing on 14 carries for the season. Reynaud had a career-best 110 yards (100 m) on 5 catches with a touchdown against ECU, when the run offense wasn't productive.
WTF?)