Football Team Banquet Award Winners
We all know the football team had their annual banquet tonight.  Here are the team award winners:
Award Winners
Earlier in the evening, Denard Robinson was presented with the Bo Schembechler Award, given to the team's most valuable player. Other award winners included:

• Dr. Arthur D. Robinson Scholarship Award (top senior scholar): Zac Ciullo.

• Hugh R. Rader Memorial Award (top offensive lineman): David Molk and Stephen Schilling.

• Roger Zatkoff Award (top linebacker): Jonas Mouton.

• Robert P. Ufer Bequest (enthusiasm): Mark Moundros.

• Richard Katcher Award (top defensive lineman): Mike Martin
Denard even got a little choked up accepting his Bo Schembechler Award...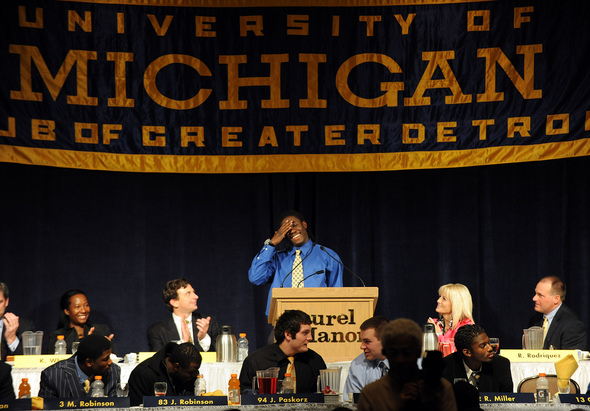 Love that kid.
Also, I know we still have one more game to play, but I wish all the best to the departing seniors.  They've endured a lot over their college careers.  I wish them all the best.
Go Blue!
Here is the link (see the bottom of the page):
http://www.annarbor.com/sports/um-football/an-emotional-rich-rodriguez-makes-his-case-to-remain-michigans-football-coach/