Preview 2010: Secondary
Previously: The Story.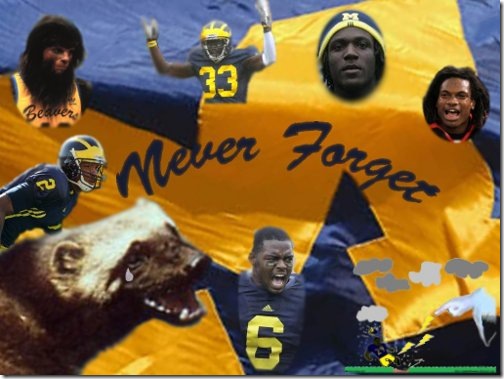 Never forget.
What's the point of anything?
I ask this question for reasons existential and practical. Earlier this summer Eleven Warriors pinged me for some help previewing Michigan's defense, so I talked about Mike Martin and the rest of the promising defensive line and mentioned the trouble at linebacker; the section on the secondary was simply this: "rank them last." At this point Justin Turner was still on the team and Troy Woolfolk's ankle was unaware of what Angry Michigan Secondary Hating God had in store for it.
When it, he, and we found out AMSHG's true power in mid-August I started drinking immediately, resulting in a night where I finally used twitter as God intended by blathering about having a power drill, burning my elbow on tea, coughing, not coughing, and finally drinking a horrible concoction of Cointreau with anything (the whiskey had been exhausted) and eating cold squash pakora with a slice of American cheese while mournfully contemplating everything from Mike Floyd to whatever 5'8" guy UMass will throw out there this year. The next day Henri the Otter of Ennui made his earliest-ever appearance on the blog (setting a record that will probably stand for all time) while I enumerated the options left at corner, mentioning Richard Nixon twice before a nominal first-string player at the semi-public fall scrimmage. Even if I've calmed down since, and I have a little bit, that's the existential chunk.
The practical chunk: the probable starters at corner, safety, and the safety-ish position that was called spinner (except when Greg Robinson was denying such a concept ever existed) and is now called spur are:
at free safety, a redshirt freshman
at spur, a true freshman (who will be treated as a linebacker, FWIW)
at bandit, a redshirt sophomore walk-on
at one corner, a redshirt sophomore pulled in favor of Mike Williams last year, and
at the other corner, a true freshman.
Meanwhile, literally every backup except the aforementioned Williams has never played a meaningful snap at Michigan because they arrived two months ago or, in the case of James Rogers, was just one of those guys who seems like they're never going to play from day one. I could just point you to their recruiting profiles, tell you they'll be in the conversation for worst secondary in the league, and resume cowering in a closet. Previewing this position group is almost totally pointless: I've never really seen anyone play. They're probably going to be bad.
If this is an insufficient description of the situation, though, well, here's all this stuff. 
Cornerback
Rating: 1.
| | | | |
| --- | --- | --- | --- |
| Corner #1 | Yr. | Corner #2 | Yr. |
| JT Floyd | So.* | Cullen Christian | Fr. |
| Courtney Avery | Fr. | James Rogers | Sr.* |
| Terrence Talbott | Fr. | Tony Anderson | Jr.*# |
[* = player has taken redshirt. # = walk-on.]
Technically, the position preview scale goes from one to five. Nothing has ever gotten a zero before even jokingly, not even the 2008 offensive line that consisted of seven guys who could plausibly play and actually started a defensive tackle who had been switched in the middle of fall camp. But I thought about it here. What Michigan has to offer at corner is going to be substandard unless a great miracle falls from the sky, and will probably be no better than last year's fare even before Woolfolk moved.
The single person at this position who Michigan fans have seen on the field is redshirt sophomore JT Floyd. On the one hand, he was so overmatched last year that Michigan decided they should move Troy Woolfolk to his spot and unleash Mike Williams on the world; Williams promptly gave up a third-and-twenty-four conversion to Iowa and was subsequently swapped with freshman walk-on Jordan Kovacs, leaving a tiny, slow, inexperienced guy no one even recruited in the most critical spot on the defense. This went exactly as well as you might expect. The coaches thought this was preferable to having Floyd on the field.
For my part, the Indiana UFR waved a white flag even at 4-0:
Whatever lingering hopes you had that the corner spot opposite Warren could turn into a non-liability should be put in the corner and told to  be quiet for a while. JT Floyd did better than I thought he did live but still remains a timid redshirt freshman who transparently lacks the speed to be an elite corner. Michigan is going to have to cover up for him.
So did the game column:
Seeing an Indiana freshman zip past not only the walk-on safety gamely pretending he doesn't run a 4.8 but the scholarship, potentially-starting cornerback not named Donovan Warren was alarming. If JT Floyd is going to play corner in the Big Ten he's going to do it ten yards off the line of scrimmage.
Floyd held onto his job for the Michigan State game, but that game saw Michigan adopt a fundamentally unsound formation featuring Floyd in the parking lot. State exploited this with a ton of virtually uncontested wide receiver screens:
They then countered those with the outside pitches that were the only consistently successful running plays Michigan State managed all day (QB scrambles were another story). Floyd may not have gotten smoked deep but it was only because he was playing Hail Mary defense all game. Seeing how untenable that situation was, Michigan's coaches made the move to Woolfolk at corner, thus opening up the already pretty much wide open floodgates. Except for sporadic plays and special teams duty, thus ended Floyd's participation in the 2009 season.
On the other hand, the coaches have been talking up his improvement since spring and have continued to do so through fall. Rodriguez 4/13: Floyd has "played well." Rodriguez 8/2: Floyd is coming off "a great spring." Also on 8/2: Rodriguez expresses "particular confidence" in Floyd and drops the t-bomb—"tremendous." Greg Robinson 8/11: Floyd is showing "a lot of progress." A spring practice source: Floyd is "vastly improved." And Robinson and Gibson on 8/25:
"J.T. Floyd may have been the guy that made the biggest jump from last season to the end of spring ball in so many ways," Robinson said on Sunday. "There's nothing any different - he's just worked really hard. J.T. just has a way about him - he leads well and his work habits - he's just a harder worker than he was at this time last year."

Gibson concurs. "He's done such a complete turnaround. You just take last year at this time, and he was just a guy really trying to work to the point that he's at right now, and he's done it."
UFR '09: JT Floyd
Opponent
+
-
T
Comments
WMU
-
5
-5
Yikes.
Indiana
4.5
8
-3.5
Tries hard. Clearly
physically deficient.
MSU
3
3
0
I'll take it.
Wisconsin
-
1
-1
Eh.
How meaningful is any of this? The fear is not very. This is replica of the Johnny Sears hype down to the sweet dreads: after being largely responsible for that heart-stopping moment when Ball State had a first and goal with a shot to tie Michigan in the '06 season, Johnny Sears was in line for a starting cornerback job after the graduation of Leon Hall. Sears was talked up all offseason, failed miserably during the Horror, was quickly yanked for true freshman Donovan Warren, and was off the team a month into the 2007 season. While that outcome is an negative outlier even with Angry Michigan Secondary-Hating God at full wroth, it goes to show that sometimes a coach praising a kid who's struggled and is being thrust into a prominent role is more hope than anything else. Our best hope may be that anonymous spring observer, who has no reason to pump up a kid in the hopes he'll keep it together.
Floyd was just a freshman last year and should improve significantly. The chatter's consistent enough and from enough sources that some of it is probably real. Average is about all anyone can hope for, though.
The other corner spot will probably (50.1%!) end up in the hands of freshman Cullen Christian. James Rogers had a tentative hold on the first string in the semi-public fall scrimmage that he maintained to the release of the fall depth chart, but since he hasn't played at all in his Michigan career—not even when the walls were falling in last year—he's likely to cede that by the time the season rolls around. If not by then, probably by the Big Ten season.
Christian gets the ultra-tentative nod here simply by virtue of his recruiting rankings, which were strong. He checked in a near five-star at Scout, a top 100 guy at Rivals, and hit three other top 100 lists. He's not a burner; his main assets are his size (6'1"), leaping ability, and excellent hips. ESPN praised his "coveted size, quickness, fluidity and savvy" and said he would enter college "ahead of the curve in terms of technique, understanding of coverages and size," and assessment basically echoed by Rivals and the rest of the chattering class. His main problem is tackling, at which he's pretty sucky.
How doomed is Michigan here? Still pretty doomed. But it is worth pointing out that if there's one spot on defense where a freshman can walk onto the field and not spoil everything, it's corner, where conservative play and safety help can mitigate the damage.
What, Me Backups?
The backups are unknowns or freshmen. The aforementioned James Rogers was a lanky high school tailback reputed to have great straight-line speed but no hips; Michigan took him as a flier recruit. He has not panned out, bouncing from wide receiver to cornerback for the duration of his career.
Rogers did come in for some fall fluff during Rodriguez's post-scrimmage presser:
James Rogers is a senior that has played over that position. He has had a really good camp. Some of the young freshman that are competing out there at that position … Again, James Rogers is a veteran. He has been around a little bit, so we have a little experience with James out there as well.
He has to play and may even get the bulk of the time early. The assumption here is that even if he's currently ahead of the freshmen he probably won't remain so for very long.
The two remaining freshmen are extremely similar. Terrence Talbott and Courtney Avery are middling three-star types from Ohio; Avery is probably the better athlete, since he was a star quarterback; Talbott is more polished since he's been a full-time corner but spent a lot of his high school career injured. Both approached but did not get four stars on one of the big three recruiting sites; both got "meh" from the other two; both are generously listed at 5'10" and truthfully listed at 165 pounds. They need 20 pounds before they're anything approximating Big Ten corners. Instead they get thrown into the fire immediately.
Talbott in a sentence:
The book on Talbott: short, smart, agile, excellent in coverage but needs a year or two to bulk up for college.
I don't have anything quite as neat on Avery but both Scout and ESPN praise his "exceptional athleticism" while calling him very, very small.
Reports out of fall camp have been conflicting, with certain folk claiming one or the other will play, possibly a lot, while the other is way too small and a guaranteed redshirt. There wasn't much to tell them apart during the scrimmage; whichever one does get drafted into playing this year is going to play a lot of conservative zone coverage and miss a lot of tackles.
There were rumors Kelvin Grady might get a shot at corner but with Martavious Odoms apparently moving outside full-time there's room for him to play at slot and he's been prominent this fall; if he does end up moving it will be a midseason panic thing. Teric Jones was moved back to offense after spending a year trying to learn cornerback, getting moved to safety, and then getting moved to cornerback again; obviously he's just not a D-I caliber player on D.
Safety
Rating: 2, generously
| | | | |
| --- | --- | --- | --- |
| Bandit/SS | Yr. | Free Safety | Yr. |
| Jordan Kovacs | So.*# | Cam Gordon | Fr.* |
| Marvin Robinson | Fr. | Jared Van Slyke | Jr.*# |
| -- | -- | Vlad Emilien | Fr.* |
[* = player has taken redshirt. # = walk-on, or former walk-on]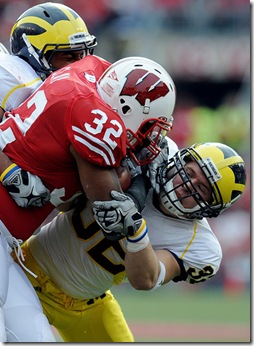 Safety has been the positional bête noir of the Michigan fan for going on a decade now but things had never been as black or beastly as they were last year, when Boubacar Cissoko's epic flameout forced Michigan to go with the doomed Jordan Kovacs-Mike Williams combination. Williams was the most confused, least useful player I've ever broken down film of; Kovacs was just slow and small. Their powers combined in episodes like "Iowa tight ends are open by 15 yards," "We don't have a guy in the deep middle on third and twenty four," and "What would Juice Williams be like if he was an unstoppable 500-foot-tall robot?"
Williams has been shuffled off to third- or fourth-team spur to cover punts for all eternity,  but the situation here is hardly less bleak than it was a year ago. Jordan Kovacs is now a sophomore walk-on and probable starter. Last year he debuted against Notre Dame, was one of two Michigan secondary members to be blazed on the infamous 85-yard Indiana touchdown, and then actually started making a name for himself as a solid box safety in the Michigan State game:
Jordan Kovacs registered a +4.5 and is single-handedly responsible for about half of the + tackles Michigan saw yesterday … Kovacs provided hard-nosed run defense that makes me think he'll be a positive contributor going forward.
Williams imploded in the next game, Michigan dropped Kovacs to free safety, and the walls caved in. The dividing line was clear as day in UFR:
UFR '09: Jordan Kovacs

| Opponent | + | - | T | Notes |
| --- | --- | --- | --- | --- |
| Notre Dame | 1 | - | 1 | Nice story. |
| EMU | 2 | 1 | 1 | Hasn't cost Michigan anything yet.. |
| Indiana | 3 | 4 | -1 | Hardy, but slow. |
| Michigan State | 7.5 | 3 | 4.5 | Some of these were just backside blitzes that he tackled on, but he did tackle. At other times he displayed a real knack for getting to  ballcarriers. |
| Iowa | 2.5 | 3 | -0.5 | Missed one tackle, made another few, good downhill box safety. |
| Penn State | 1 | 6 | -5 | Just can't play a deep half. |
| Illinois | - | 3 | -3 | Again burned as a deep half safety. |
| Purdue | 1 | 5 | -4 | Enormous bust #3. |
| Wisconsin | 4 | 4 | 0 | Did pretty okay. No idea why they moved him to deep safety; he's pretty effective in the box. |
The Mike Williams bit is handled in the linebackers and has more on just how disastrous a switch this was, but the morals of the story: Kovacs cannot play free safety and is pretty effective as a tiny linebacker when he doesn't have to take on linemen.
Michigan moves him back to tiny linebacker this fall, but it's not that easy. When Steve Sharik explained how you defend four verticals in the three-deep coverage Michigan would love to play all year if they can get away with it, he made it clear such a move was how you draw it up but not how it plays out much: frankly, three deep, one-high coverage sucks against four verticals. You know how a bunch of Michigan's passing plays in spring and fall came when the quarterbacks nailed the slot receivers in between levels in zone coverage? That's what happens, Larry, when you meet a stranger in the alps by playing exclusively one-high coverage.
So Kovacs is going to have to cover a deep half sometimes. This won't go very well, and Michigan's defense will be limited by it. On the other hand, the run defense shouldn't be nearly as bad with Kovacs filling the weakside alley; last year he racked up 75 tackles despite the late start. Marvin Robinson will press Kovacs for his job, but probably not take it. Iowa and Wisconsin have gotten away with players like him for years.
At free safety is this year's Grady Brooks memorial King of Spring Hype award: Cam Gordon. Though Gordon was recruited as a wide receiver, everyone on the planet expected he'd get his token chance at the position and then get flipped to defense, where Michigan desperately needed bodies and he projects better anyway.
This duly happened, except when Gordon and his 6'3" frame moved it was to free safety, not linebacker. This was pretty weird, and it got weirder still when the hype machine starter cranking out superlative after superlative. A sampling follows. Rodriguez:
"Cam Gordon has been really consistent all spring," Michigan coach Rich Rodriguez said. We're "really getting some confidence with him."
MGoBlog's own Tom Van Haaren reporting back from some conversations with players on the team:
Cameron Gordon is the most surprising for everyone. His name keeps coming up. I've heard that he tackles well and has really good coverage skills. The people I've talked to say he's just a natural ball hawk. Good decision to move him to safety.
By the spring game he was the undisputed starter at free safety; he managed to get through that without anyone even noticing him. In the safety business this is a win.
Unfortunately, Gordon struggled in the fall scrimmage, failing to wrap up on a number of tackles. Rodriguez was sticking to his guns afterward:
"Yesterday was not his best day practice wise, but other than that, he has a really good camp. He is a very physical guy and the game is really important to him. Again, he has not played. He has not played in the big stage yet. There is going to be nerves and there are going to be some mistakes, but he has just got to limit them… we look for a big year for him even though he is a redshirt freshman."
As a redshirt freshman, a "big year" would be wrapping up his tackles and not letting anyone behind him for crippling long touchdowns. With his lack of blazing speed and inexperience, actually making plays seems out of the question. Misopogon dedicated a couple of his epically researched posts to the safety play and found that Brandent Englemon's traditional 1-0-1 as a junior was actually the second best performance of any safety in the UFR era (with Jamar Adams obviously finishing first).
Repeating that +0.7 per game would go a very long way towards bringing Michigan's defense back from the dead. That's optimistic. Cam Gordon will chase more than a couple opponents into the endzone. But not on third and twenty-four.
Backups
Marvin Robinson is the most shirtless recruit in the world
If you've been watching the Countdown to Kickoff videos frequently, you've probably experienced the same sort of cognitive dissonance I have when #3 comes roaring in from somewhere else and whacks a guy to the ground authoritatively or picks off an errant pass. This is not the competent-to-good LB hybrid version of Stevie Brown, it's Marvin Robinson, Michigan's first great hope for bandit. As a true freshman, the book on Robinson is contained in his recruiting profile, but you're probably familiar with the general outline by now: hyped Florida recruit enamored with Michigan since a freshman trip to Michigan's summer camp, early offers from USC, Florida, and the rest of the world, precipitous fall in the rankings, still a highly regarded prospect with athleticism Jordan Kovacs can only dream of.
Robinson's early performance has him pushing Kovacs. Woofolk noticed him even before practice started, and Greg Robinson knows a lady-killer when he sees one:
"I know this: he walks around the building looking really good."
His performance in fall was highlight-heavy and caught the attention of his teammates. He finished second to Jonas Mouton when AnnArbor.com media day poll asked who the hardest hitter on the team was. Ricardo Miller was one vote:
"When he comes to hit, everyone knows it. I think he's cracked his helmet twice this camp, and if that doesn't show you enough that he can, I don't know what could."
Robinson has huge size and speed advantages on Kovacs and will certainly play this fall, possibly as a passing-down replacement, possibly as something more. In an ideal world he would be so good he would ease Kovacs out of his starting role by midseason. I don't think that's likely since the bandit position is extremely complicated, but I do expect some sort of platoon where Robinson gets ahold of some parts of the playbook he executes better than Kovacs and is brought in regularly.
At deep safety, Vlad Emilien still seems like the first option behind Gordon but his initial returns have been discouraging. He enrolled early—giving him just as much experience as Kovacs—and then never played, Turner-style, despite the debacle going down on the field. Word was that the senior-year knee injury that cost him almost all of his senior season and his Ohio State offer lingered through the year. With that almost two years in the past now that can no longer be an excuse—any damage still lingering is permanent.
There may be some, as it was Emilien who was left in the dust by Roy Roundtree on the 97-yard strike from Denard Robinson in the spring game; Teric Jones caught and passed Emilien en route. Getting instantly passed by a position-switching guy the same class as you is a bad indicator, as is ending up behind a walk-on on the depth chart.
That walk-on is Jared Van Slyke, about whom nothing is known except his father is really good at baseball. True freshman Ray Vinopal (recruiting profile) is also at free safety. Rodriguez did mention him as a guy who has "a chance" to play this fall, he didn't show up on the first depth chart and he's probably going to redshirt.
The deep safety situation is grim past Gordon; if he doesn't work out you're either starting two walk-ons, moving up Emilien, who doesn't seem ready, or shuffling Robinson and or Kovacs around.