2010 MGoShirt Alert, Week Two
Camp is here!  The summer is shrinking…. The coaches are drilling… and the players are sweating.  The season opener is just over three weeks away, and a new chapter will be written.  So why are you still wearing the student shirt from 2005?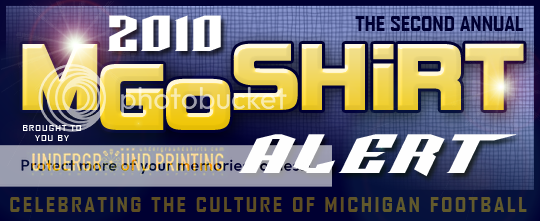 Once again, it's my privilege to present to all of you the second round of the MGoShirt 2010 Season Line, as designed by yours truly and produced exclusively by Underground Printing in conjunction with our very own MGoBlog.
As an MGoBlog exclusive, we're rolling out the wolverine's share of the line today, allowing all of you maize and blue faithful to get the very first glimpse of these new designs and imagine yourself walking down State Street sporting this unique Michigan apparel.  And, yes, conveniently enough, these very same shirts are immediately available for purchase at the MGoStore!  Remember, the title of every shirt is an active link directly to the catalog entry for that product.  You can shop as soon as you see the shirt if you'd like.
AND a special offer is being made today—Underground has created Special Deal for those that want to own the full MGoShirt Alert 2010 collection. Buy all 10 shirts (or any 10 shirts - mix and match your favorites) and get them for $150 (25% off!).  MGoStore has also heard your prayers and is now offering multiple shirts in the coveted American Apparel option-- you asked for it, you got it!
So enough with the Billy Mays bit—let's get to the shirts:
We've got options this year, kids—whether you're a shoelace guy or an Our Man Tate loyalist, you can rest easy knowing that the other guy is ready to step in and deliver  at a moment's notice.  This shirt allows the wearer to clearly identify himself as a number 5, with his second choice of quarterback emblazoned on the back.
DESIGNER INSIDER:   We toyed with simply choosing one QB over the other, but in the end the front and back concept works really well.  I must disclose that the guys at UGP wrote these, and even looked up the correct spelling of midi-chlorians-- I will say that I love the way everything's worded.  Both sides read easily, and jump off the shirt.
For all of the number 16's in the crowd, here is the alternate.  Dilithium on the front, Midi-chlorians on the back.  I understand this seems to be the current consensus of the blog, and whatever happens Denard's gotta get on the field.  
DESIGNER INSIDER:   I'm pleased with both of these.  I wanted a fun typeface, something that doesn't take itself too seriously.  Because this QB battle is sure to become serious enough in the next few weeks.
The Blue Album.  No matter what Rivers ever does with the rest of his career, he still can't take that one away from me.  Dude, they really named the album after Hurley?
DESIGNER INSIDER:  I've always rooted for that certain linebacker who wears #8… he's come such a long way and I have to believe that he's going to get something done this year.  I can't be the only one… can I?
Vlad Tepes, Dracul, the very impaler of souls and eater of hope, is coming off a very quiet redshirt season that allowed his knee to heal.  It's time to consume the blood of the innocent and hang their heads on stakes at the thirty-five yard line.  I'll let you all guess what part of that statement is actually true, and what's just funny Internet stuff.
DESIGNER INSIDER:  I've seen this image of the real, historical Vlad before, but once I actually got to work on it, I was surprised at how not terrifying he really seemed to be.  This historical depiction looks more like the guy who gives you rental skates at the outdoor rink than a ruthless, heartless dictator.  If you ask me.
Vader keeps the ball vertical, no spin, laces out.  The Dark Side of the force puts a big focus on great ball control skills, I guess.  Sure, it's a Yoda quote, but I just wanted to do something Vader-esque again, and the quote fit.
DESIGNER INSIDER:  This is based on the scene in Empire right after Luke loses his hand—I know the zone read doesn't typically require Tate or Denard pitching the ball, but it just seemed to look so right in conjunction with the pose, so I kept it.
The kid in the #9 jersey with the dreads and the consistent herculean effort—you know who I'm talkin' about—he gives slot ninjas everywhere a good name.  Well, a ninja is only as good as his gear.  This guy is well armed and clearly ready to play with more than a few 'hard edges.'
DESIGNER INSIDER:  enjoyed watching Tay work so hard the past two years and look forward to seeing him continue the trend this season.  I originally tried to get the dreads involved but it just took away from the design.  I'm beginning to think UGP should just sell entire sets of maize and blue ninja suits with #9's on their front and back, but that's another story.  Certainly one of my favorites.
I tried to look back to see where it came up exactly, but at some point during last year's rollout this slogan came to surface, and I always wanted to revisit it.  It's the same slot ninja that I put together last year, but with the true shout-out to all our boyos from Pahokee.  Who knows?  If enough of us sport this shirt on primetime TV, we could truly cement the Pahokee-Ann Arbor pipeline connection.  DO IT FOR THE TEAM!
DESIGNER INSIDER:  Fun, a little goofy, almost looks like a legitimate kid's shirt—that's all by design.  I also wanted to do a white shirt, because as of now everything I've done for MGoStore has been a maize or blue shirt.  I don't know about the rest of you, but I try to keep diversity in my UM wardrobe, and right now the colors are winning handily over the whites and grays. 
---
So there you go—another healthy batch of MGoShirt goodness that are guaranteed to make the next three weeks feel like 6 hours.  Okay, not really—but at least you'll know you've got the merch you need for the opening tailgate.  Shop, buy, wear with pride, and YELL AS LOUD AS YOU CAN when the game starts!!  And don't forget—if you're interested in loading up your closet with some high quality MGoApparel, Rishi and UGP have made it possible with the MGoShirt Alert special offer!  Simply go to the store and put 10 shirts into your cart, and the special offer will take the discount off for you!
I'm not sure what next week will bring in the 2010 MGoShirt Alert-- stay tuned.  Three weeks til kickoff!