2010 MGoShirt Alert, Week One
The players are working hard.  The summer is growing old.  There's a slight scent in the air, one of leaves and cider, and of change.  You find yourself tempted, to daydream of tailgates, of afternoons in front of your television, and of the confines of the hallowed stadium itself.  You find yourself dreaming of football.
And your wardrobe seems suddenly... unworthy.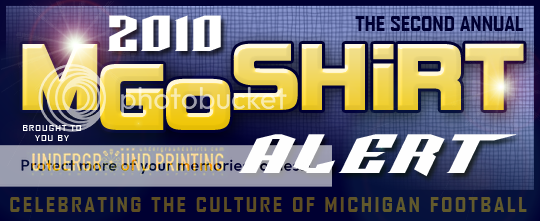 Yes, ladies and gentlemen, it is my distinct pleasure to formally present the
MGoShirt 2010 Season Line, as designed by yours truly and produced exclusively
by Underground Printing in conjunction with our very own MGoBlog.
As an MGoBlog exclusive, we'll be officially premiering a series of shirts every Wednesday, allowing all of you maize and blue faithful to get the very first glimpse of these new designs.  And, conveniently enough, the very same shirts will then be available for purchase at the MGoStore.
So enough with the sales pitch—let's get to the shirts!
Forget the ScanTron sheets, forget all of your Calculus tutoring sessions… this is sure to be the most important question that should be in every test on campus this fall.  Who's going to start?  Here's your chance to identify your UM quarterback partisanship—feel free to take a Sharpie to the shirt and check the box of your preferred player under center.
DESIGNER INSIDER:  I must admit that I can't really claim this idea as my own, but I enjoyed running with it.  It's worth noting that the last player reference was literally created by banging haphazardly on the keyboard with the back of my hand.  Good times!

The new hero on the defensive line, young Craig is sure to be a force to be reckoned with on the outside this year.  One of the things I'm looking forward to the most this season is watching that #88 break through the lines and wreak havoc on Big Ten backfields this year.  This shirt was simply a no-brainer, and I'd probably have been neg-banged to Iowa City if we didn't have a Death Roh shirt this year.
DESIGNER INSIDER:  Two inside tidbits worth revealing:  The typeface of this shirt is literally modeled after the "EVIL DEAD" movie wordmarks, rather fitting.  And, the skull itself is modeled after the very same head bone as seen in the dotted eye of the "Goonies" mark as well.  As for the eyebrows, that's an absolute original.
Okay Big Will… you know we're expecting big things from you when you get your own T-shirt.  Pimpin' your own killer MGoShirt carries a certain degree of clout, and we feel that you're capable of carrying the load.  I'd like to find any other D-1 team that boasts its own Thor.
DESIGNER INSIDER:  Thor, Bitches, Thor.  Do we need to say anything more?  I originally played with no cape, but in my opinion it just seals the deal.
---
Like the shirts?  Not big on waiting?  Well, you're in luck-- these designs are on on the MGoStore.  Moving forward, the MGoShirt Alert will appear every Wednesday, and the plan is that the shirts featured on subsequent days will be available for purchase the very same day.  Instant MGoGratification, so to speak.  Personally, I'm really excited about finally unveiling them—this is a true sign that the SEASON IS ABOUT TO BEGIN!!