MGoBBQ: Pork Steaks
[Sponsor Note: We started doing these recipes because Matt Gase, then CEO of a barbecue sauce company, offered to sponsor Joe Pichey's materials for it. Later Matt and his wife decided to create a new company that makes #MichiganDifference good hummus.

Also it's not made of cats!]
---------------------------------
I have moved on from my obsession with pork bellies and gone ALL IN on the St. Louis classic, the PORK STEAK. Not that I don't enjoy a good pork belly burnt end or pork belly braid every once and awhile, but I am officially on the PORK STEAK express. This is a staple in the St. Louis area and huge in the midwest. We just recently started getting pork steaks in at my local grocery store and butcher shop.
A pork steak is basically a steak cut from the shoulder of the pig. They are commonly referred to as a pork blade steak as well. If your butcher does not carry them, but carries bone-in pork shoulder or butts, he can cut them for you. Think of a bone-in pork butt sliced into 1 inch thick steaks leaving a little bone in each steak. These will be slow smoked to render some fat and finished over high heat to add some sweet an sticky BBQ goodness. You will love these, I promise!
Ingredients:
[Hit THE JUMP to see how this renders]
---------------------------------
Directions:
Load that smoker up with FOGO Hardwood Lump Charcoal and get to 275 degrees. Add a few chunks of Pecan and cherry wood. I love my fruit woods with the pork and this combo is a great one. Use 2 pieces of pecan along with a small hunk of cherry wood for this recipe.
Lay out your pork steaks and hope that your butcher cut all of your pork steaks the same size. As you can see from my pic, I need to write a strongly worded letter to my guy on consistency. Obviously, he snuck in a little taster piece in the middle of my order. Oh well, we will have one that will be done a little quicker than others.
As the smoker is heating up, season your pork steaks with a good sweet and salty rub. I chose Gentrys Smoke Stack for this recipe. This rub has a nice balance of sweet and salty and goes great with pork and chicken.
Once your pit hits 275 degrees, toss em all up on there. Thee will take about 2.5 hours from start to finish, depending on the thickness of your steaks. These are full of fat that needs to be rendered for tenderness. These will be worth the wait, I assure you. We added some pepper to a few just for S's and G's. I like me some pepper.
You've got some time to kick back and enjoy a beverage of your choice and some Lantana Hummus. What flavor do you prefer? I am hooked on the Black Bean Hummus because of it's great kick. It's got some heat!!!
Let these go for about 90 minutes before looking at them. They will start to color up nice after 90 mins.
I've made these twice over the last week. Once in a class we were teaching with the Pork Master Chris Prieto of Prime BBQ and once for lunch at the office. Keep a spray bottle around just in case you want to spritz with your favorite apple cider or cherry cola. My local Lowes carries these spray bottles and I love that this is my only color choice. I spritzed every 30 mins, but it is not mandatory. I was only trying to add some color and a little exterior sweetness to the steaks.
Once the pork steaks have reached 175 degrees internally, we can start saucing. I like a sweet glaze on my steaks, but feel free to use whatever sauce you prefer. Give them a good thick coating.
I repeat this step every 15 minutes on both sides. As long as the smoker temp is around 275, you will not have to worry about the sugars burning. After 45 mins of saucing, these freshly lacquered steaks will have a perfect gooey coating. The internal temp will be approaching the 190 mark. Some guys will say this is too high for a pork steak but I prefer to go a little longer on these. The fat has started to render and the tenderness is almost perfect.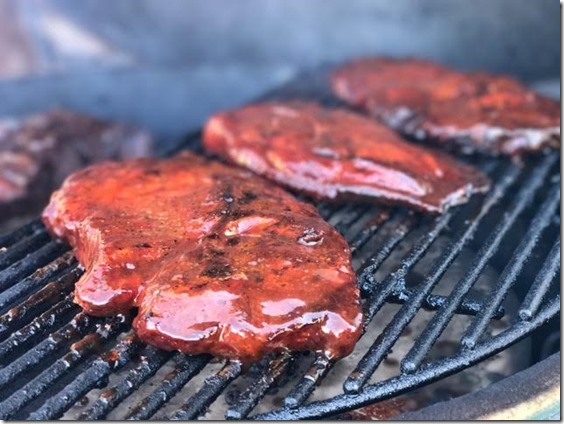 After the 3rd coat of your favorite sweet sauce, remove them from the heat and tent loosely. Change your grill set up over to direct heat and get the flames going a little hot. We will finish these off over direct heat.
I like some char on mine, so I let them go a little longer. If you don't like that char, hit 'em for 30 seconds a side and remove. I went nearly a minute on my steaks. I Love me some char.
These finished around 200 degrees internally and were fork tender. I've tried the traditional recipe and finished around the 175 mark, but I prefer the overall tenderness with this longer cook.
Give these a try and let me know what you think. Enjoy the game and GO BLUE!