Act Of God
10/17/2015 – Michigan 23, Michigan State 27 – 5-2, 2-1 Big Ten
[Eric Upchurch]
So I was trying to come up with a clever thing for this post and started Googling "Act of God." Folks in contracts who are beset by improbable occurrences regularly petition the courts for forgiveness since, you know, things. And stuff. I mean, seriously. That thing, that was a pretty unlikely thing. Cumong man.
The courts have generally gone along with this. If you are beset by a plague of locusts and boils and rivers of blood and the like, the courts are generally like "God's bad, yo" and then they let you go.
Anyway. I'm scanning, scanning, trying to find something apropos, and then
I AM NOT ON THIS LIST
NOR ARE THE HUNDRED THOUSAND STRUCK DOWN JUST THIS SATURDAY
WHAT KIND OF RATIONAL WIKI DO YOU PURPORT TO BE
IF SERIOUSLY I MEAN I AM NOT ON THIS LIST, NOR IS MY UNCLE OR MY COUSINS OR VARIOUS STUDENTS AND ALSO JIM HACKETT AND JIM HARBAUGH AND PROBABLY LIKE 1500 OTHER JIMS IN THE STADIUM
OH I'M NOT RATIONAL, RATIONALWIKI?!?!? IIIIIIIII'M NOT RATIONAL?
Fine. Okay. Yeah. Okay. You're right. It's cool, RationalWiki. Keep on being mean to anti-vaxxers. It's cool. I am perfectly calm, RationalWiki. Calmer than you are.
-----------------------------------------
This is the section inspired by the brain above. It's a pretty impressive brain, all up in some parentheses that probably mean something to people who took their discrete math class seriously instead of asking my friend to drop off my homework because 8:30 on North Campus just wasn't happening, man.
So. In about 10 months Jim Harbaugh erased the physical gap between Michigan and Michigan State. Michigan didn't run roughshod; both teams struggled to get yard one on the ground. Injury whinging is out of the question: both teams were down one starter on the line when MSU was on the field.
In the absence of a physical advantage either way, the game came down to the fact that Michigan State spawned a generational quarterback from a three-star recruit at the same time they had disastrous special teams. Michigan's special teams were amazing until they were… not amazing, and Brady Hoke hired an offensive coordinator whose 30-year career has seen one quarterback he recruited ever—everrrrrrr—start. (That guy was Indiana's QB as a sophomore; the next year he was a tight end.) Jake Rudock is a smart dude who I am grateful is at Michigan; he is not a guy who Harbaugh has chosen and developed.
[Bryan Fuller]
When Cook had an opportunity to hit a receiver who'd gotten over the top of Jeremy Clark, he did so. He nestled the ball in there with the care and precision of a watchmaker. If there was a job where you had to throw babies at titanium bassinets inside a volcano, I would be comfortable giving Connor Cook that job. Rudock hit some intermediate passes but he did not take advantage of his opportunities to hit touchdowns.
Thus a game that was close enough for God to do some serious smitin'.
So, that sucks. It sucks that happened. It sucks that the kind of trash program that would run all the way across the field to taunt the Michigan student section after being handed a gift gets to feel like they earned something this morning. They're planning on nicknaming it, as if they earned something. That is why Michigan State will always be Michigan State. That is why "little brother" stuck: because it is the truest thing ever said about the attitude of that program.
But I've seen worse. I've felt worse. I have a big ol' callus. It's clear the direction this is going, and it's not a loss to Rutgers. The juggalos will get theirs as soon as Harbaugh flips the QB matchup. That's the undercurrent of their relief. They're already celebrating like underdogs who fluked it out.
See you next year.
AWARDS
[Fuller]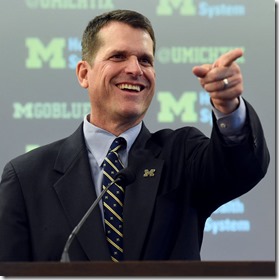 Known Friends And Trusted Agents Of The Week
you're the man now, dog
#1 Jourdan Lewis had 6 PBUs, wasn't beaten clean without offensive pass interference, and shut down Burbridge enough that MSU was behind despite a monster game from their QB.
#2 Jabrill Peppers had three excellent returns, was important in limiting the MSU ground game, caused MSU to freak out and burn consecutive timeouts late in the first half, and set up a Michigan touchdown with an end-around.
#3 Willie Henry had two sacks and was in MSU's backfield for most of the fourth quarter.
Honorable mention: rest of the front seven, Kenny Allen.
KFaTAotW Standings.
9: Jourdan Lewis (#1 UNLV, #1 Northwestern, #1 MSU)
6: Jabrill Peppers(#2 BYU, #2 Northwestern, #2 MSU)
5: Chris Wormley(#2 Utah, #1 Oregon State)
3: Jake Butt (#1 Utah), De'Veon Smith(#2 Oregon State, #3 BYU), Ryan Glasgow (#1 BYU), Desmond Morgan (#1 Maryland),
2: Ty Isaac(#2 UNLV), Maurice Hurst (#2 Maryland), Willie Henry(#3 Utah, #3 MSU).
1: AJ Williams (#3 Oregon State), Channing Stribling(#3 UNLV), Blake O'Neill(#3 Maryland), Jake Rudock(#3 Northwestern)
Who's Got It Better Than Us Of The Week
This week's best thing ever.
Michigan's defense boots MSU off the field on fourth and nineteen to win the game, until they did not win.
Honorable mention: 80 yard punt. Peppers on the loose.
WGIBTUs Past.
Utah: Crazy #buttdown.
Oregon State: #tacopunts.
UNLV: Ty Isaac's 76 yard touchdown.
BYU: De'Veon Smith's illicit teleporter run.
Maryland: Jehu Chesson jet sweeps past you.
Northwestern: Chesson opening KO TD.
MSU: the bit where they won until they didn't.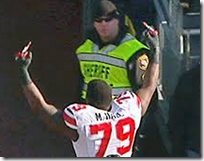 MARCUS HALL EPIC DOUBLE BIRD OF THE WEEK.
This week's worst thing ever.
Obvious.
Honorable mention: N/A
PREVIOUS EDBs
Utah: circle route pick six.
Oregon State: Rudock fumbles after blitz bust.
UNLV: Rudock matches 2014 INT total in game 3.
BYU: BYU manages to get to triple digit yards in the last minutes of the game.
Maryland: Slog extended by deflected interception at Houma.
Northwestern: KLINSMANN OUT
MSU: Obvious.
[After THE JUMP: Jourdan Lewis targeted again. It goes okay to well.]
OFFENSE
[Bryan Fuller]
Why it was close enough to turn. Jake Rudock couldn't hit a deep ball. He missed Jehu Chesson long; above he missed Jehu Chesson way short and to the inside; he underthrew Amara Darboh after Darboh had beaten MSU's coverage by five yards. Darboh caught the ball, but instead of a touchdown it was 32 yards and Michigan had to settle for a field goal. Remove the Jabrill Peppers sweeps that are inanely credited as passes in the NCAA rulebook and Rudock was 13/23 for 140 yards—6.1 an attempt.
Rudock hasn't hit a deep pass for a touchdown seven games in, and it cost Michigan. Especially frustrating was a the play after the (phantom) holding call inside the redzone; he had Jake Butt as M hit the play design, but he didn't throw it. Rudock generally avoided challenging the weakest part of Michigan State's defense. At his point it's hard to see that improving.
On the other hand, good enough to win.
[Upchurch]
Run game: nope. It was blocked better than it looked at first glance, with a number of opportunities to pick up solid yardage that went awry because of the backs. The above shot was one of them; Michigan had creased the MSU defense just to the right of where Isaac went. You can see Cole burying a guy—the crease was over there. Higdon fell down on a promising opportunity late, and there were a couple others from Smith.
Michigan remains pretty bad at adapting to a changing situation in front of it. Both lead blockers and the backs were stymied when MSU would shoot a guy inside what was supposed to be a kickout block; they did not adapt to that and hit the gap outside. By the time I saw Stanford do that a lot they'd had Harbaugh for three years. It is a work in progress.
They did hit their long run. It's just that it went to Sione Houma, and he got caught from behind after bursting past the entire MSU D.
Arrrgh. After the Butt play mentioned above Michigan had second and goal and f-ing had it, man, on a clever Tiny Screen on which Smith ran an angle route and Glasgow released downfield. Glasgow was about to cut off the only guy between Smith and the endzone when the ball got batted down at the line.
Enter the Peppers. The insertion of Jabrill Peppers on offense freaked MSU out to the point where they called consecutive timeouts at the end of the first half. Michigan ran something that looked odd; Butt fell down and then got up; MSU got a lot of pressure and Rudock just threw it away. Often TEs falling down in those situations are making a bid to be forgotten about; MSU did not bite.
When Peppers did finally get the ball on offense he immediately outran an angle to the corner for a near-touchdown. I'd like to see him continue in this department, because he is a good football player in any situation.
DEFENSE
[Bryan Fuller]
The other 19 guys were almost incidental. Run for two yards, throw at Jourdan Lewis covering Aaron Burbridge, repeat. Burbridge was targeted 19 times. Burbridge had nine catches (one of them was against Jarrod Wilson as he and Lewis swapped coverage on the first drive for reasons unknown); Lewis had 6 PBUs. There was maybe one Burbridge catch on which he had gotten any separation. Most saw Cook launch a laser-guided munition, often under pressure just over Lewis's head.
All three gentlemen in this matchup made themselves a lot of money on Saturday, except Jourdan Lewis is obviously too small for the NFL until 2017, when he will be quite excellently sized.
Was this a good idea? Michigan's defense gave up 328 passing yards and 58 rushing yards. 74 of those passing yards were on the fullback thing on which either Ross or Hill—I think Ross—busted. Outside of that RPS play Cook had 6.7 YPA.
Meanwhile Burbridge was averaging ten yards a target coming into the game; when matched up against Lewis he managed 5.8. Lewis was up to the task, and the configuration Michigan was in helped them limit the MSU ground game to 3.1 YPC once sacks and TEAM are removed.
Also, Cook was straight dealing. I can't imagine there were any other approaches that would have made it more difficult for him. Michigan gave him windows that were more like arrow slits and he delivered. Looking forward to seeing Not Connor Cook as MSU QB.
Henry beast mode. This is the game that's going to get Willie Henry his double-digit UFR day. Two sacks, a few other hurries, and yeoman work on the ground game.
The personal foul was unfortunate. I looked at it and it seems to happen simultaneously with the whistle, but it is a belly flop onto a pile of guys that is unnecessary. That was the only blemish on a day that was probably his best as a Wolverine.
Runs: stuffed. MSU rushes went nowhere. They had a long of 11 on the day, that on a play on which the pulling guard wrapped both arms around the body of Royce Jenkins-Stone. Virtually all other runs were downs set on fire.
The fullback wheel. It was either on Hill or Ross. If I had to guess I'd say Ross. Excellent design there, though—reminiscent of the Butt screen against Maryland with the multiple fakes opening up an unexpected blocky/catchy guy. Michigan did have some ripostes of their own but they did not come off due to bloody-minded fate.
SPECIAL TEAMS
[Fuller]
Why they won until why they didn't. Michigan killed it in this game. O'Neill hit an 80 yard punt, placed two others inside the 20, averaged 45 yards a kick, and didn't have a touchback. RJ Shelton had 4 return yards on those punts. MSU averaged 37 yards a punt and put zero inside the 20, instead banging a ball eight yards deep into the endzone.
Peppers had a 34 yard punt return and a 49 yard kickoff return; Allen hit his field goals while MSU chose two attempts to convert fourth and long instead of fairly makeable field goals.
Michigan also covered and then stuffed a fake punt, with Desmond Morgan getting over to put Tyler O'Connor on the ground. Jourdan Lewis covered the pass option—Michigan had their defense on the field. Until the thing at the end this was an unbelievable blowout.
Field goals. None were particularly long but Allen was 3/3 and is now… reliable? Can we say he's reliable? He seems fairly reliable, knock on wood. I abjure and reject thee, #collegekickers.
Kickoffs: let's stop bothering with them. Kenny Allen can put the ball in the endzone whenever he wants; Michigan keeps trying to pop it up short in case they can get the guy down short of the 25. The upside there is low and the results have been mediocre to date. I'd rather save the wear and tear.
MISCELLANEOUS
seems legit [Fuller]
We got boned. This was as bad as that Oklahoma State-Texas game that sent most of the Texas fanbase to the tinfoil hat shop. Flagrantly wrong calls against Michigan in this game:
They missed an obvious offensive PI on Peppers on MSU's drive from the 1 after the 80 yard punt.
The holding call on Jourdan Lewis (or "86," whatever) was vaporware. Feet got tangled and the WR stumbled into the umpire.
The targeting call on Bolden was roundly denounced by the entire world; that moved MSU from third and four at the 40 to the 25.
Royce-Jenkins Stone was put in a bear-hug on the ensuing MSU TD.
Michigan was about to have second and goal on the four when a phantom hold on Braden sent them back to the 18.
Rudock had his head damn near taken off after he caught his own pass on that bizarre deflection, but no facemask was forthcoming.
Add in the ludicrous number of replays because these guys couldn't get the call right on the field and this was 1000% clownshow. Oh and the block in the back call they picked up after someone was like "is the side of the guy the back of a guy?" and they managed to figure it out.
It happens, I guess, and Michigan had won anyway until you know what.
Game theory bits. The "what if" afterwards is inevitable. This one is pointless. That loses you a game about once every 125 years. The absolute worst case there should have been O'Neill falling on the snap and giving Michigan State a shot at a Hail Mary.  Other options are at least as risky.
The only thing I might have done differently is align in whatever formation you'd use for a punt when you're backed up on your own goal line. Michigan surely has one of those, and this would be a situation to use it.
Stat business. MSU fans will point at the yardage in an attempt to claim that it was some sort of fluke that they were behind, as if special teams doesn't count. FWIW, Bill Connelly's numbers had Michigan a very healthy favorite given the way other games with that statistical profile went. Michigan was winning because they should have been winning.
HERE
Best:  Jourdan MF Lewis

Nothing was more entertaining than seeing MSU fans complain about Lewis "mugging" Burbridge throughout the game on his way to 6 pass breakups and a pretty decent effort against MSU's sole real passing threat.  Lewis, of course, is just playing the same type of physical, grabby defense MSU introduced to the conference some years back, just perhaps at a better level than either Waynes or Dennard every did.  Being a shutdown corner doesn't necessarily mean that the guy you cover never catches a ball, especially when the opponent doggedly targets him because they literally had no other competent options (Burbridge was targeted 19 times in this game).

Instead, it means making it as difficult as possible for the offense to consistently complete passes to your side and limiting the damage when they do, and Lewis did that in spades.  Even though Burbirdge finished with 9 catches for 132 yards, he only had 3 catches after halftime, and at least two of them were just great plays by him despite great coverage by Lewis.  Lewis was also the victim of a pick play in the 2nd quarter (I believe) that Brandstatter called out immediately when it happened.  Overall, he played like the All-American he's being touted as and performed well in a tough matchup against a good receiver.
* Jake Rudock was once again, 2 for 3 on my efficiency metrics, going 15 for 25 (60%, passing, but just barely) with zero turnovers, but missing on the YPA by averaging 6.7 per attempt.
* Early on, someone said my YPA was not sufficiently difficult. I checked the stats this week and saw about 84 QBs average at least 7 YPA. There are 128 FBS teams, give or take, so that doesn't seem like a high bar. However, I want my efficient QB to do this AND this AND this. Of all those QBs, only 60 throw for 60% or more with 7+ YPA and 1 or fewer TOs per game. I'll take that. Either you are efficient or you are not. If ~1/2 of the QBs pass my test, I'd say my WAG at efficiency is close to the mark.
Craig Ross posts a list of Historical End Game Debacles if you'd like to compare and contrast.
ELSEWHERE
Shamepaint, naturally. This week's edition has minimal phalluses.
Marc Tracy nails it in the NYT:
In contrast to the title of their fight song, the Wolverines were not the victors. Nor are there moral victories in football, particularly at programs like Michigan's: There are just too few games, and too many other teams competing for the final four playoff spots, to take much heart when it says "L" instead of "W" next to a given game on a schedule.

But there is such a thing as appropriate perspective. This will not be Michigan's year, but it was never supposed to be. After all, Michigan's last seven seasons involved two failed coaching tenures and an overall 46-42 record. In those seven seasons, Michigan was 1-6 versus Michigan State.

Even had they won Saturday, the Wolverines would not have looked like a championship team. On offense, they converted only four of 16 third- and fourth-down opportunities and amassed just 230 total yards.

But what is true — not in a hazy, sentimental sense, but in a real one — is that Michigan's football team is back. And one byproduct of the revival is that the Michigan-Michigan State game was again at the epicenter of the college football universe on a midseason weekend.

"This time last year, no one was talking about this game," the ESPN analyst David Pollack said Friday. "It was, 'How bad will Michigan lose?' " (The answer last year was 35-11.) Michigan defensive end Willie Henry, a senior, said after the game that this traditional rivalry felt different this year.

"Both teams were winning," he said. "Everyone thought it would be a great game. It was a great game."
Matt Hinton on the immediacy of the moment in college football. Bill Connelly.