Hokepoints: Keep Believing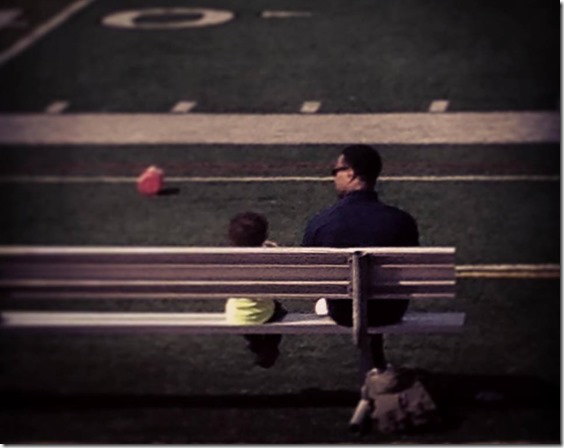 Todd Howard came to Michigan in 1998, following the national championship season. We both grew up in the same middle class suburb (Southfield) before moving to more affluent ones. But he was a highly recruited scholarship athlete who played cornerback for four years on the Michigan football team, while I was sort-of recruited journalism student who played guitar on a couch at the Michigan Daily.
Todd now coaches defensive backs in his post-Southfield hometown of Bolingbrook. We've developed a recent friendship over M football obsession, and some heated disagreements, plus wives pregnant at the same time. His perspective is one of a guy who came to Michigan and had it made clear upon arrival that no player is bigger than the program. His perspective is also one of a player who played in an era when "getting your bell rung" was common, "shaking off the cobwebs" was routine, and everybody "saw" a few more snaps than they actually played. But he's also a modern high school coach with responsibility for player safety, and a defensive back who believes inside routes should be punishable by death.
He agreed to let me share a thing he wrote on Facebook and some bits from our text message marathon last night.
From the texts:
Supports Hoke, says he's a good coach and the right coach for Michigan.
Players always play hurt.
Doesn't know what's going on in the administration and can't affect it.
Want people thinking long-term: Michigan will be great again. Supports people speaking out, but turning away disgusts him.
Every effort should be made to show the players they're supported, including showing up to games and cheering for them and not distracting the coaches further.
The Facebook open letter to fans:

Dear Michigan "Fans"...I really couldn't have said it any better myself. You took success for granted. 8 win seasons became the norm and you got comfortable. You never saw the hard work and late hours put in behind those brick walls of Shembechler. The lack of sleep, barely being able to drag yourself to class, minor addictions to pain killers, while fighting to remain academically eligible. PLAYING through injuries most of you couldn't make it up a flight of stairs with. The coaches preparation every week from sun up to sun UP, sacrificing valuable time with their own families so the BEST team possible could take the field on Saturday.

Now your "favorite" team is going through some adversity and look at you! Look at how you respond. Are you a Michigan FAN because it's convenient? Sure, every one loves a winner...if that's the case take your allegiance down I-96.

It's so easy for you to call for Hoke's job. You've never met him, never had a beer with him, never seen him COACH! Only interviews and cutaways on Saturday. If you think you want to win, multiple that by 100 and MAYBE you'll attain the same passion he has for football and an equivalent compassion for his players.

My brothers and myself are Michigan MEN, not FANS! So to read some of your comments and rants is a little disheartening. Is this how you would've ridiculed us had we not been as successful? Would you not inbox us autograph requests?

When you're team is up, cheer! When you're team is down, cheer LOUDER! When your team wins, congratulate them. When your team loses, sympathize and have pride in the fact they gave everything they could. That's a TRUE fan...but instead you're spoiled. It's a privilege to cheer for Michigan. It's a privilege to sit in the Big House...not an obligation. "The Expectation is for the POSITION!" Back to yours!!!

/adjusts Michigan hat

...as you were. HAIL!
[My rebuttal, after the jump.]
Sports fans don't turn out in huge numbers just to support the players; they're there because they enjoy it, and lately much of that enjoyment is gone.
This is the ticket I bought off Steve Kyritz. It cost me $13.50 to upgrade to superfan.
Specifically to Michigan, what used to be a bargain was made prohibitively expensive. Let's not underestimate the fallout: Michigan Stadium didn't drop from 113,000 to "103,000." It dropped from capacity plus a wait list of 200,000. The wait list is gone because Michigan put a $1,000 price tag just to be on it, leveraging the 300,000 potential fans to just 80,000 willing to pay triple the price. They leveraged the students even harder, and this was compounded by an awful home schedule to fill just 2/3 of the students' seats.
Losing teams always get less follow than winning ones, but there's far more at play with this team, because the athletic department has been driving off fans with mercenary policies. Of course the stadium is filled with fair-weather fans; a big portion of them only went because they were offered free tickets and the weather was fair.
This isn't the same program which our freshman year cost $81 for season tickets, and featured McNabb vs Tom Brady, Saban's MSU, Randel-El, #9 Penn State, and #8 Wisconsin (and EMU, but that was on Rosh Hashanah), not to mention the banner, the band, and flinging toilet paper and marshmallows from our pockets that also had flasks of rum & coke. Students today pay more than that for their App State tickets, and can't sell their tickets to non-students unless the buyer pays an exorbitant fee. They get frisked on their way in, get treated like criminals once they're seated, and last year had to put up with a seating policy that separated them from their friends.
I didn't mention winning in there, but of course our freshman season was a team coming off a national championship, and of course that mattered. I went to the PSU game on a friend's ticket and we cheered so loud in that end zone that Paterno ran out the clock in the 3rd rather than try another goal line play in our proximity. That wasn't just because the team was good—you guys barely got by Minnesota the week before—but because the fan experience was otherworldly.
There's nobody in sports easier to root for than the players in college football, and there's no Michigan fan who can look at a guys like Peppers (made himself great and emerged from the deepest part of the depth chart), Butt (7 months ago his ACL wasn't even attached), or Gardner (who's still picking bits of 2013 linebackers out of his sternum) without immense admiration for what they go through to be out there.
The players probably do share much of the blame—if they'd practiced harder, tried harder, focused better, their execution could have prevented the holes the team fell into. Fans tend to overlook that because the players are young and unpaid. When there's a player who clearly can't play we mostly get mad at the coaches for putting him in a position to fail.
The things that really drive fans away have nothing to do with the players. When you ask most fans who've stopped paying attention this year what did it, they point to specific events: 1) Michigan running the clock out against Notre Dame but trying to pretend like they were still trying by having the starters in there, which got Funchess injured. 2) Michigan doing the same exact thing against Utah. 3) The Morris incident, and 4) again running down the clock punting the ball away down 2 scores late in the 4th quarter. #3 is an issue of national embarrassment, for which many fans believe they need to make an example to show their displeasure. The rest are fans taking a cue directly from the team. They don't doubt the players put themselves through hell to prepare for those 60 minutes on Saturday, until they see the coaches letting those same minutes slip away when the game isn't out of reach.
The thing is, very few fans are going to be as emotionally invested in the team as a guy like me (and I wouldn't have gotten there if it wasn't for that PSU game in '98), even in good times, and NOBODY is as invested as the players and coaches. You can't hold the entire Michigan fanbase to the standard of the players' passion. Fans will invest only as much time and money as they find worthwhile against all the other things in their lives. The greatest team in history couldn't fill a high school stadium with fans as loyal as a player. To get a 113,000 fans to show up and be loud, it has to be epic, and I don't mean fireworks; I mean defending national champs with names like Swett/Irons/Gold/Steele vs. Ron Dayne.
This team can't get out of its own way long enough to beat a bad batch of Gophers. Before you ask why Shane was in there after a clear headshot, ask why he was in there after a clearly unproductive handful of drives. Michigan was inserting a sophomore QB who clearly wasn't ready to play because in five years they still haven't figured out that Devin Gardner has different skills than John Navarre. I know as well as anyone that there's more to the story than that. But you know as well as anyone that it's painful to watch potential greatness get wasted.
Michigan will have this problem for a long time, because they've spent the last few years chasing away any fan who won't pony up more money than a typical household can justify, because they've obliterated the student experience which spit out guys like me for generations, and because for most of Michigan's home games this year the thing on the line is "either we cream them or we're not very good."
A true fan is someone who wants the team to win. If we extend the definition any further, it's just alienating more people from a dwindling base.