The Incredible Photo Story of the 78-0 Rutgers Game (2016)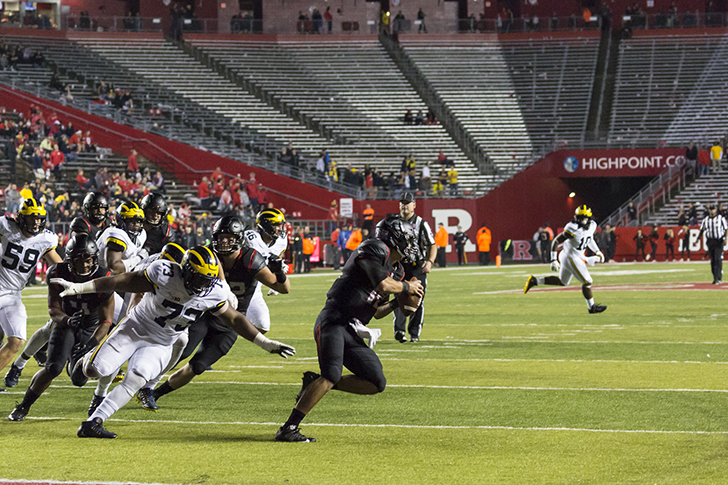 The Rutgers student section by the 4th quarter
Author's note: All photos in this post are by me! I will also be attending the 2018 Michigan Rutgers game this weekend, follow me on twitter @BlueBarronPhoto for gameday photos -Patrick Barron
For the 16 or so years that I've been going to Michigan football games it's been fun to play around in my head with a top 10 list of games I've attended. Some are easy - Braylonfest, touchdown Manningham, Under the Lights. Some are abstract - 2008 Wisconsin and 2010 Illinois come to mind. Sometimes I have to think a bit - I will probably never see something play out like the M00N game again in person, so does that make the list in a masochistic sort of way? The 2012 UConn game will be on everyone's bottom 10, but it was the first game I ever photographed so do I consider it? A criteria for anyone's top 10 is undefined and arbitrary.
But there is one game that should be on the top 10 list of every Michigan fan that was there. This game was incredible. Everything about the 2016 Michigan at Rutgers game was incredible.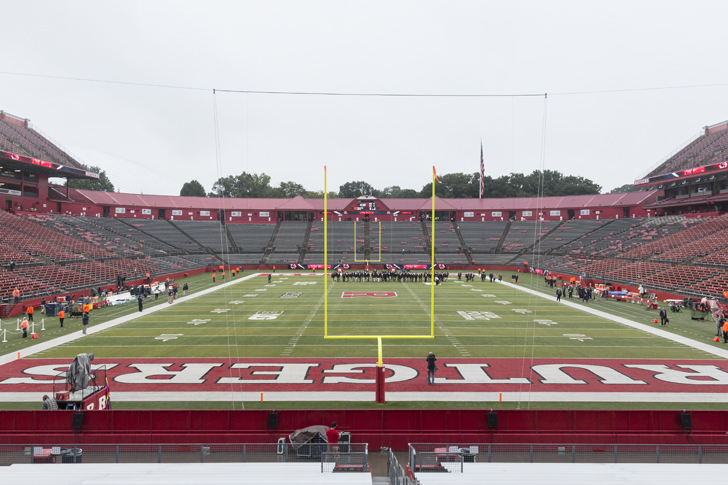 On November 6, 1869 football was born at Rutgers. This is also the last time they were nationally relevant.
Let's set the scene back up for everyone who needs a refresher. In 2016 Michigan was in an arms race with Ohio State. Rutgers had just lost 58-0 to the Buckeyes, the first of four scoreless games for the Scarlet Knights, and Michigan was looking to one-up their rival following a huge 14-7 win over top 10 Wisconsin.
Rutgers, on the other hand, decided to make the Michigan game a spectacle. The theme was Stripe the Birthplace, a theme that had been planned since May. As many as 200 (TWO HUNDRED) recruits were expected to be in attendance. Jim Harbaugh's satellite camps were causing a stir, with one New Jersey publication referring to them as "An act of war on Rutgers". A Rutgers "secret society" even went so far as to litter the Paramus Catholic high school football field with little red 'R' magnets as an anti-Jim Harbaugh act of... aggression? Sure, let's go with that. The stage was set.
Birthplace: Striped
The atmosphere at the start of the game was as electric as a 52,000 capacity stadium could be: there was pyro, a knight riding a horse, they fired a cannon (more on this later).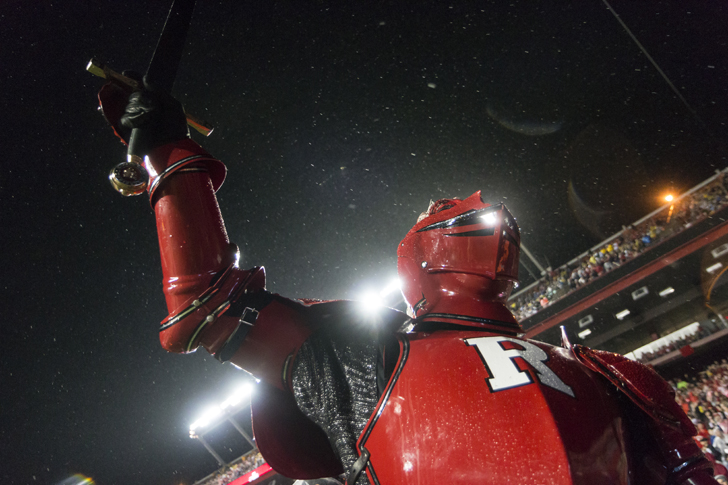 It was at this point in the night that the Scarlet Knight should have rode out to mid-field and removed its helmet to reveal a proud Chris Ash announcing that the game was over. It would have been the closest thing to making the evening a success.
Michigan did not score until their 4th possession, 7:16 into the game. The early rain made conditions tricky and Michigan even managed to lose a fumble. But a 4-yard Ty Isaac carry set up by a 63 yard Jabrill Peppers run gave the Wolverines the first touchdown. For the next few game highlight photos, I would like to just list off stats from the boxscore.
Michigan scored 78 points. Rutgers totaled 39 yards. This game was a rare double-Rutger (pluralize it and you get Rutgers).
Rutgers quarterbacks were a combined 2-for-18 for 5 passing yards. Zach Allen finished with -1 passing yard, his raw QB Rating per ESPN was 0.9. ZERO POINT NINE.
Rutgers had 34 total rushing yards and averaged 0.9 yards per carry. Three players finished the day with negative rushing yards.
Michigan rushed for 481 yards and averaged 8.6 yards per attempt
The first Rutgers 1st down was with 9:00 left in the 4th quarter. They had 14 three-and-outs.
Five different Michigan players scored rushing touchdowns, including 3rd string fullback Bobby Henderson on a run play that was not even supposed to score a touchdown.
Michigan only completed 8 passes for 119 yards, two of those were for touchdowns.
Michigan had 13 TFLs and 4 sacks vs 36 Rutgers offensive rushing plays, meaning Michigan pushed Rutgers backwards on 47% of all ground plays
Garrett Moores scored a 2-point conversion, helping secure his 1st place Holder of the Year award status. This was when Michigan was already up 27-0.
Yeah
We're not done yet. The Rutgers cannon remained silent most of the night.
Michigan fans surrounding the cannon, however, were not. Eventually, after every Michigan touchdown, chants of "SHOOT THE CANNON" could be heard even on the broadcast.
They did fire it... Once
As much as I want to joke about how they never fired it, they did fire it once during the actual game. With time expiring at the end of the 3rd quarter, Shane Morris threw a pass that seemed to hit Moe Ways in the knee and bounced up to a Rutgers defender who ran it back for a pick-six. The cannon was fired and the Scarlet Knight mounted his horse in the tunnel to run a lap around the field.
What few Rutgers students remained scrambled to get a flag to wave during the only bright spot of the night.
BUT. They reviewed the play and it was determined that the ball had hit the ground and the ruling would be an incomplete pass.
So they put the horse away into the back of a trailer.
The knight's expression to the review pretty much sums up the night
In a white flag act I have never seen before, the Rutgers band marched over to the Michigan section and began playing The Victors.
A video of this can be seen here.
The ROTC push-up board was never used.
By the 4th quarter, this was the Michigan section:

As for Rutgers, well:

I have no idea what Jim Harbaugh said here, but it looked Walter White-esqu.

Stay. Out. Of my territory.
If you turned this game off in the 3rd quarter, I understand. You could have spent time with your family, read a book, watched anything else. But being at this game was an experience, man. So much so that I asked to go again. This weekend, Michigan's number one ranked defense will go up against the worst power-5 team per S&P+. In fact, Rutgers is ranked even lower on S&P+ this year than they were in 2016. I can't wait.
I'll leave you with two more photos from this game to scratch your head over.
Incredible