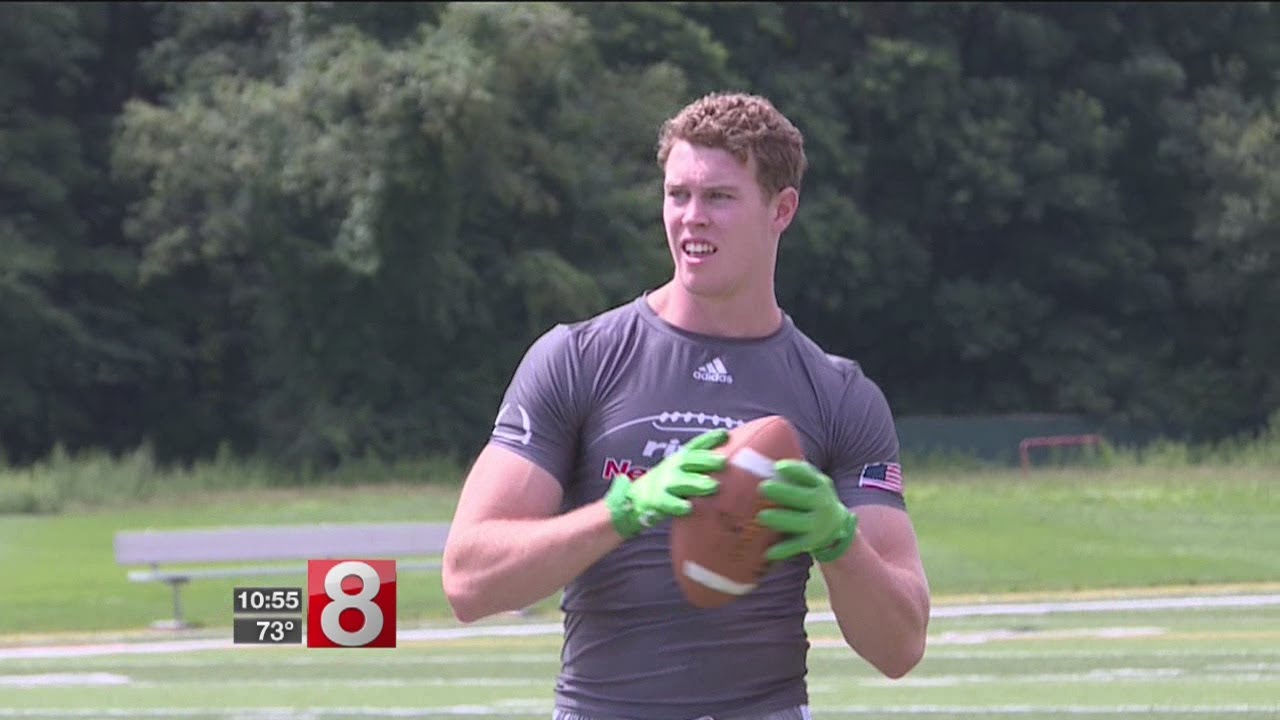 2018 Recruiting: Luke Schoonmaker
Previously: Last year's profiles. S Sammy Faustin, S German Green, CB Gemon Green, CB Vincent Gray, CB Myles "Spider" Sims, LB Cameron McGrone, DE Taylor Upshaw, DE Julius Welschof, DE Aidan Hutchinson, OL Jalen Mayfield, OL Ryan Hayes.
 
Hamden, CT — 6'6", 229
 

24/7
3*, #920 overall
#42 TE, #3 CT
Rivals
3*, 5.6 rating
#39 TE, #3 CT
ESPN
3*, 77 rating
#21 TE-Y, #3 CT
Composite
3*, #798 overall
#39 TE, #3 CT
Other Suitors
Indiana, BC, Pitt
YMRMFSPA
Zach Gentry
Previously On MGoBlog
Hello post from Ace.
Notes
Twitter.

Film

Midseason junior:
Luke Schoonmaker is the kind of recruit whose first appearance on this site is a Hello post about seven months from Signing Day in which two sites (of the four at the time) don't even have a page for him and one that does rank him has him at #1748—EMU range. That post unsurprisingly starts with "since we don't have scouting."
So why would Michigan take a swing at him?
Just seems like a Harbaugh kind of guy. Even if that's not quite a direct quote from the quote board. It's okay. I get references wrong all the time. Seth thinks I do nothing else. "Ol' Can't Get A Reference Right," he calls me. Very Michigan Man trait, confidently making an incorrect reference.
Anyway: if there's anyone on the planet who can pluck a tight-end-shaped dude no one's heard of from deepest New England without complaint it's Jim Harbaugh. Sean McKeon, the most recent example, is on track to be a four-year starter. And in Schoonmaker's case, his obscurity was... by design?
"There is no recruiting ranking for him because we never broadcast him to anybody," [Hamden Hall HC Joe] Linta explained. "When he first started getting offers, I didn't call Rivals or ESPN. It was kind of funny, because college coaches would call and ask who'd all offered him, and I'd tell them not to worry about it – if you like him, that's all that matters."
Per Rivals's Adam Friedman, Linta and Don Brown are bros and it was no coincidence that Michigan stumbled over the guy because they had a local satellite camp that he attended; they offered after the 6'6" 230-pound guy banged out multiple 4.6 40s, and nobody told anyone about it for a month. There is a croots scale. On one end there is a dude releasing a top 27 on instagram who will commit to three different schools. On the other is Luke Schoonmaker.
[After THE JUMP: man stalks scholarship like jaguar, evades scouting]
Unfortunately this air of mystery does make it hard to get a read on him. Schoonmaker was mostly a tight end as a senior after being mostly a quarterback as a junior, but the last thing on his Hudl page is a midseason reel from 2016 that Ace already went to the trouble of having an opinion about in that Hello post:
...good straight-line speed, and while he doesn't have a lot of wiggle, he's got yards-after-catch potential in that rumbling Jake Butt-like fashion—he can juke just enough to keep from getting hit square, at which point he can run through tackles from smaller defenders. I was impressed with his feel for the game; he makes good reads as both a thrower and runner, and while he won't make those same reads as a tight end, that football IQ will help him out. He also shows good vision as a runner.

He's certainly got the requisite size for the position. There's far too small a sample to get a feel for his hands, but on most of his catches he does a solid job of high-pointing and plucking the ball away from his body. He'll have a lot of work to do from a technical aspect, both as a receiver and blocker. He rounds off his routes; those cuts need to be a lot sharper to gain separation against better defenses. When blocking he shows a habit of stopping his feet upon initial contact, which causes him to lose a couple blocks that doom edge runs.
Since nobody got out to Hamden Hall, most of the reports that filtered in after Schoonmaker's commitment appear to be based off that tape. ESPN(!) provided a brief eval that boils down to "hey, this guy's big and fairly promising":
Excellent height ... good initial burst and enough speed to make plays down the seam. Displays good hands and can extend for the ball.. .. Needs to continue to develop frame and add mass. Shows some upside, but can further develop as route runner. While can be effective still room to improve as a blocker ... good ability and some upside as a TE.
Ditto Rivals:
"...all potential right now ...  I really like his upside. He has a big body and a big frame and runs really well at his size. I'm excited to see how versatile he can be. He's clearly a guy who can flex out and be a big time receiving threat. I'm curious to see him as an in-line blocker to see if he can handle the job on the line of scrimmage."
That post ends with Friedman saying he'll be really interested to see how he develops as a senior; there was no follow-up. This one doesn't bother me since Connecticut, but it is worth pointing out that I don't think anyone followed through with a senior evaluation. And since there was no Hudl tape from that year, this really is a shot in the dark for the sites.
Then-Scout analyst Brian Dohn went into more detail:
...starts with his acceleration. There are times he covers a lot of ground quickly when he sees an open area and bursts to it ... able to get clean releases off the line of scrimmage, but he rounds his breaks. He needs to tighten them up, and show he can get into and out of a break with fluidity ... large catch radius. ... flexible and gets under the defensive player.
TTB was similarly impressed with his ability to move:
speed is impressive for such a big guy. He moves very well in a straight line, and he changes direction well, too. At the quarterback position, he's able to make some nice cuts on zone read keepers, and he runs away from a lot of the competition in Connecticut. He shows good natural athleticism when catching the ball, and he uses his hands well to catch the ball away from his body. As a blocker he bends well, moves his feet, and shows good hand placement.
Both of the above do reference the need to add strength and polish up his routes.
His coach of course has the most hyped-up take of all:
"...certainly in the top five at his position in the country though. We played against the No. 2 tight end last year in our playoff game – [North Andover (Mass.) Brooks School four-star Patrick Freiermuth] – who has offers all over the place and is going to Penn State, and I'd take Luke over him any day of the week. You just can't find Luke's kind of speed – he ran a 4.54 and doesn't even train or anything.  ...

"He has tremendous explosiveness. He has long-jumped as much as 10 feet, two inches at various camps, so his ceiling is extremely high. ... just raw, and still learning the positions ... you just can't teach that kind of size and hand-eye coordination – he made some real circus catches for us. The sky is the limit."
Word from inside the program is similarly optimistic. Per Lorenz his testing numbers "blew Michigan away" and folks were making comparisons to McKeon, who doesn't have Schoonmaker's frame but did have a national-best TE SPARQ score. In other posts Lorenz re-iterates, asserting that Schoonmaker was a take even before Jeremy Ruckert committed elsewhere, that Michigan was "completely enamored" after the satellite camp, he's "a potential year-one player" and that he has the "highest upside of any TE Michigan has recruited under Harbaugh." And so forth and so on.
While inside the program takes can be optimistic—cough cough Fred Jackson—there's a different tenor of chatter around Schoonmaker than there is for some of the other high-upside wildcards in the class. There's a hope that Welschof or Upshaw can become something. With Schoonmaker there seems to be an outright expectation. And it's hard to disagree. If he can block a bit he's headed for the NFL.
Why Zach Gentry? I mean, most of his highlight tape is him running away from safeties in a state not known for producing a ton of football prospects. Schoonmaker is more flex than inline, probably, and appears to have all of his claimed height. That's not quite Gentry height; even so. Harbaugh compared the two guys on his podcast:
"Really fast and another 6-foot-6, 4.6 type of guy that can really run, catch and develop into his blocking. I've watched him play basketball, he's a football and basketball player. You look at him on the basketball court, a phenomenal everything."

"Zach was a quarterback in high school and I think he will be similar," Harbaugh said. "[Schoonmaker] is more developed physically than Zach was when Zach was coming out of high school. Two inches shorter but 6-foot-6 is plenty tall to play tight end, I'm very excited about him."
Good enough for me.
Guru Reliability: Nil. No (recruiting service) camps, no scouting, no knowledge of the kid's existence many places.
Variance: High-minus. Sort of a position switch, must add weight, low level of competition, but physical package is rare.
Ceiling: Very high. If the 40 times are at all realistic, serious NFL upside.
General Excitement Level: High. This one was probably a slam dunk from the moment he dropped: Sleeper of the Year. Yeah, I'll roll with the giant TE out of nowheresville.
Projection: Is 230 pound TE out of Connecticut, redshirt. Good news and bad news for him after that: there's probably more TE playing time available at Michigan than anywhere else, but unless Gentry blows up and leaves early he's going to be behind at least four guys unless he's a preternatural talent. Year two should be scattered snaps and a few catches.
Gentry definitely leaves in 2019 and with Nick Eubanks trending towards inline and Ty Wheatley emphatically so, Schoonmaker will have a good shot at the starting job. His main competition will be Mustapha Muhammad, his more heavily hyped classmate.