This Week's Obsession: One Shining Moe-Ment
[Bryan Fuller]
THIS ARTICLE HAS A SPONSOR: It's Nick Hopwood, our MGoFinancial Planner from Peak Wealth Management. Nick is also a Podcaster—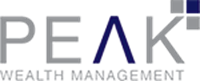 if you haven't listened to it before, his podcast Finding True Wealth, with recent episodes covering the mortgage industry, social security disability, and what number is enough for retirement.
Legal disclosure in tiny font: Calling Nick our official financial planner is not intended as financial advice; Nick is an advertiser who financially supports MGoBlog. MGoBlog is not responsible for any advice or other communication provided to an investor by any financial advisor, and makes no representations or warranties as to the suitability of any particular financial advisor and/or investment for a specific investor.
-------------------------------
The Question:
When you close your eyes and think of Moe Wagner what moments come to mind? Can have multiple answers.
Ace: Trying to narrow it to one…
But if we had to, it would start here:
Seth: Other than Gary...
Ace: But that moment also shows why this starts to get really hard. That was the final blow in a two-year-long battle with Nick Ward that was an absolute joy to watch. Wagner had a few of those. The Painter-Beilein Wars spring to mind.
slackbot:
Ace: One of the first things that comes to mind for me when I think of Moe Wagner is a Matt Painter postgame press conference.
I still have the quotes saved from when he asks the assembled media if they really want to hear this (I'm nodding furiously) and then goes full scheme-geek on how Wagner absolutely blows up everything you want to do on defense.
Seth: The one for me—other than "ankle breaker"—is late in the Final Four, drenched in more sweat than the guy whose job he usurped, dribbles into the lane then right back out to the corner like he just suddenly had an idea to shoot from out there instead, and swoosh.
Brian: Wagner was so sweaty against Loyola
BiSB: Carrying a team for 30 minutes is sweaty work.
Brian: The sweat a culmination of all the work he put in to become an outstanding defensive rebounder. The brow of the working man. The common 6'11" three point shooting man. The man who could no longer be called soft.
Ace: Seriously, though, those NBA Combine numbers!
Michigan big man Moe Wagner ranked high among the centers tested at the 2018 #NBACombine pic.twitter.com/SnpmNnsnxv

— Def Pen Hoops (@DefPenHoops) May 18, 2018
Brian: He played 30 MPG at center for a top 5 defense.
Ace: Fair point. I was still surprised.
[After THE JUMP: see what we remembered before you comment what we forgot]
Seth: Geoff Schwartz, an NFL lineman who tweets about drawing weakside ISOs on his daughter's magnetic doodle board, was in awe of Wagner's effort that day. Schwartz has never complimented anybody within 50 pounds of Moe.
Ace: Here's a glorious sweat putback:
Brian: The moment towards the tail end of the first half against Loyola where he looked like Ricky Doyle in a sauna was a moment for these reasons.
But even though I wrote a whole dang column about Nick Ward's ankles…
slackbot:
…I think my absolute favorite Moe moment was the year before:
Brian: Michigan entered that game a seven seed against two-seed Louisville and their criminal sex vampire coach; Louisville had four different seven-footers and Wagner ate all of their lunches. That upfake that gets a center to commit outside the three point line and guard-like drive to the hoop is Wagner's career in five seconds to me.
Ace: Wagner's crowd theater stands out to me as much as almost any specific in-game moment. I have so many gifs of him that could be captioned "ARE YOU NOT ENTERTAINED?"
Brian: Yes, the laughing on the bench gif
He was a walking meme.
Ace: Every foul call.
Brian: I LOOKED EXACTLY THE SAME TBH
Ace:
He was often justified!
Seth: So there's another one that wasn't his great basketball but it's embedded in my head under its gfycat name: Enchanted Lame Antelope Ground Squirrel. After Poole makes his shot he starts running and then realizes he's being chased by a 7-foot mad German and you can see the moment when his brain clicks off "I WON THE GAME" and goes to full fight or flight.
Ace: Yes, thank you. I couldn't have been happier that the player nearest to Poole ended up being Moe.
Brian: It feels off brand for the blog to mention that Wagner stopped and consoled one of Houston's many Davii immediately after that GIF.
Like Peter King should say it instead of us.
But that was nice!
Seth: Sportsmanship!
Brian: We here at MGoBlog treasure sportsmanship.
Seth: Firm handshakes for everybody.
Brian: That means we're kicking them off the team.
(After they graduated!)
Seth: This is what comes of making light of #sportsmanship for a decade, sir.
Ace: And at the same time I absolutely understand why players (and opposing fans) hated him.
Brian: Oh god yes! The tongue alone.
Ace: Just imagine spending 30 minutes being dragged by a German dude who hits threes, doesn't play defense, and calls you "bitch" every other possession.
…Nick Ward doesn't need to imagine except for the 30 minutes bit.
slackbot:

Ace: STILL GOT IT.
Seth: It's one thing to get trash talked all recess. It's another when it's the foreign exchange student. Also you guys: lips.
Mood pic.twitter.com/vEP0XZjK9W

— Seth M. Fisher (@Misopogon) March 16, 2018
Ace: While we're tied up in Wagner's emotions, the interplay between him and Beilein also made for amazing theatre.
Brian: I wonder if Moe actually hooked Beilein up with his German hip-hop
Ace: This picture is unfairly taken out of context but it absolutely kills me every time:
[Marc-Grégor Campredon]
Also did NOT have to scroll far for one of these:
[Marc-Grégor Campredon]
But in the end:
[Bryan Fuller]
That's another one for me: John Beilein talking about Moe Wagner while trying to keep a straight face.
Brian: They would have been perfect in a buddy cop movie. Also I have many ideas about good buddy cop movies involving Michigan persons, 98% of which star Don Brown as the curmudgeon about to retire.
Seth: "Pitch a Don Brown Buddy Cop Movie" is a future TWO.
So my first memory of Moe is his first game (not counting the scrimmage I didn't go to) against Elon. It sticks because Marc-Gregor was so excited he got the shot and because Demorest and I are two of the fuzzy things behind it:
[Marc-Grégor Campredon]
Ace: Moe really grew an insane amount in two years. Seeing Baby Moe bleed is kinda jarring.
Brian: That's a wing.
Ace: Two years later, he dropped 24-15 in a national semifinal.
Brian: Another excellent on-court thing was that one specific game vs Purdue at Crisler where Matt Painter kicked off his desperation switching defense. As Ace mentioned, Wagner and Purdue made for really fun basketball games.
Ace: Also: learned English.
Seth:
Just in time.
Ace: I'll show my NBA habit and make a comparison for Moe that'll seem odd initially: Steph Curry. There's been a lot of talk this week based on this bit of brutal and 100% correct insight:
KD went for 37 and 38 the first 2 games and Warriors twitter was like "eh...I guess". Steph had an 18 point quarter and Warriors twitter lost their shit. KD thought he was Kobe. Chasing that farewell tour. They don't love you like that.

— Beyonce has an uncle named Larry Beyince. Bruh.... (@DragonflyJonez) May 21, 2018
Nobody since Stauskas had Crisler under their spell like Moe when he had it rolling and man that Purdue game was one of those times.
Ace: This post would've been incomplete without the German three signal.
Seth: Oh what about that Wisconsin game last year (Feb 2017).
Find the spot where Moe goes off.
Ace: A lot of it runs together for me. There are absolutely peaks that stand out but it's more faces and threes and murder offense and foul trouble and touching Player's Tribune articles.
Which is another thing: it was genuinely remarkable to watch a kid from Berlin grow to love and understand Michigan in ways that he expressed quite beautifully by the end of his career.
Seth: Also: mad dunks.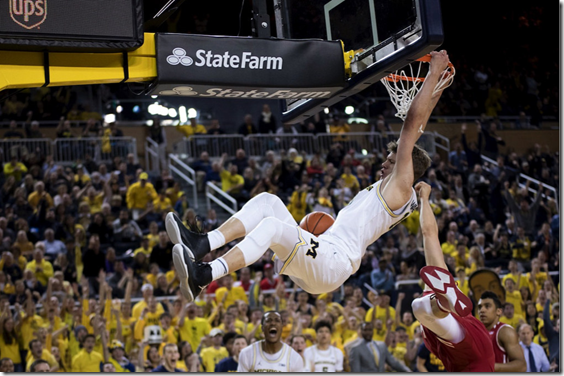 [Marc-Grégor Campredon]
Ace: Yes, MAAR's face. Also: the future of Wisconsin basketball.
Seth: MAAR vs the camera lens is undefeated.
BiSB: It's hard to believe he was only 20 when he played his last game. The guy was mature and contemplative beyond his years. But only after he played the game like a 16-year-old hopped up on Pixy Stix and Surge.
Ace: Really personable, too. He found a way to connect with people. This will sound a little fanboy-ish but whatever. I'm not one who asks a lot of questions in pressers. After a game this year I was the last person lingering behind the player scrum for Wagner, who I really doubt knows me from Adam (so to speak, hi Adam), and I slipped in an off-kilter question that I don't completely remember but am 97% sure was about Jordan Poole. A lot of guys would quite understandably fire off something quick and run back to the locker room. He paused for a moment, said something legitimately funny and insightful, and winked before heading for the exit.
Seth: Also: ran over Tom Crean.
Brian: You're going to be asking a lot of questions about mulch next year
Ace: I've already taken notes on pitchforks vs. shovels.
BiSB: Jars three. Runs over Tom Crean. Appears to feel bad about running over Tom Crean. The Moe Wagner Story.
Brian: God if that was Izzo instead of Crean he'd have a statue already
Ace: We can give him partial credit for this:
Brian: I think this is where i say YAAAAAAS QUEEEN?
Ace: Good couple years for angry opposing coach gifs, and again, Wagner is largely responsible. Also some very short opposing coach postgame press conferences, hello Tom Crean.
Brian: Pretty much the direct cause of Twenty Minutes Of Izzo Eating His Liver At Breslin
BiSB: Unlike Izzo, at least Wagner put Nick Ward on the floor once in a while.
slackbot:
Ace: I feel like I'm taking the lid off my still-only-outlined Moe retrospective post early but, yeah, that man's legacy is being pure uncaged emotion and sucking everything around him into that vortex. I'll, uh, work on the metaphor.
Brian:
Ace: Are we missing anything glaringly obvious?
Brian: Probably
But that's what commenters are for.
Ace: One last shoutout to his signature, awkward, devastating behind-the-back move, which in addition to murderating Nick Ward's ankles also produced the most hilariously evil basket in the Texas A&M game, which was 40 minutes of hilariously evil baskets:
slackbot: