Shovel On A Little More Coal
9/7/2013 – Michigan 41, Notre Dame 30 – 2-0
Eric Upchurch
The media trend of the last ten years is a demonstration of the power of hope. There are now three national networks covering recruiting, plus ESPN, plus a cottage industry of who-dat bloggers who get picked up by these national networks far faster than actual journalism majors get picked up by, you know, newspapers. (Michigan has no journalism major, which explains why you can't throw a rock at a sports editor without causing him to hire a Daily grad.) This site alone saw two guys snapped up and almost hired a third who was snapped up just a bit later. Meanwhile, newspapers continue to give us Drew Sharp and wonder why they're withering on the vine.
Here's all you need to know about recruiting sites: they can charge for content on the internet. Hope, man. Hope.
Because the next guy is always going to be The Guy. The Guy will rescue us from the purgatory of not being Alabama and deliver us unto glory. He may be a defensive back, or a running back, or a quarterback, or a defensive lineman. He is going to be Woodson or Adrian Peterson or Andrew Luck or Jadeveon Clowney—except Clowney's defense just got torched for 41 points and lost.
Jadeveon Clowney! Indisputably The Guy, and somehow still not. If Jadeveon Clowney can't be the guy, well… there's always the recruiting sites. It's college football. The next arrival is always just around the corner.
------------------------------------------
Devin Gardner turned in what I can confidently state is the worst play in the history of organized football—I have watched all of it from Pop Warner on up—and was still awesome Saturday night. Awesome. I do not mean this in the Spots-gave-me-extra-wings way. I mean this in the light-from-the-sky, tremble-at-the-power, bow-down-lest-we-all-perish kind of way. If I could use the words "yea" and "lo" genuinely, I would deploy them now. The numbers are amazing. The numbers do not do it justice.
Here's the thing about Notre Dame's defense: it's going to be just fine. Gardner ate plenty of defensive lineman Saturday, usually after delivering a perfectly-placed dart. Notre Dame blitzed him almost two-thirds of the time and got the one huge mistake and nothing else. Notre Dame defensive backs were, with rare exceptions, in position to make a play on anything other than a perfectly-placed ball. They could not make plays without committing pass interference, called or not, because Devin Gardner was spitting hot death all night long.
If you happen to rewatch that game you'll see did-that-just-happen surgical strikes even more impressive the second time around.
On third and goal from the 14, Drew Dileo screwed up his route. He ran next to Gallon, bringing a third defender into the area. Gardner fired a ball in between all three guys that hit Gallon in the hands instead of the chest because KeiVarae Russell was riding him like a horse. Earlier in the drive he'd tossed up that back-shoulder throw that he might have been attempting against Central Michigan when he got hit, and Gallon plucked it out of the air. Russell was there. He just couldn't do anything about it.
By the fourth quarter, Gardner and Gallon had become so proficient at the back shoulder fade that Notre Dame was actually sitting on it, which I have never seen before. There were a lot of things last night that I haven't seen before in a winged helmet, that have traditionally been the province of passing specialists like Texas Tech. They tried to man up Crab, once, and Texas Tech beat the #1 team in the country without a running game or defense. Michigan has at least one of those.
In the aftermath, Michael Crabtree looked a lot like you did at some point last night: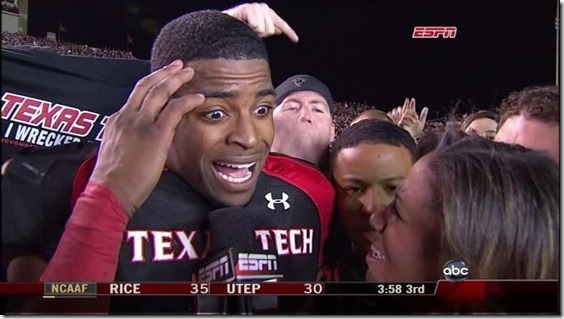 IS THIS REAL LIFE
Oh and Gardner led the team in rushing at 7.5 yards an attempt. He might be The Guy. Gardner hinted at this kind of thing over the last six games, and now he has delivered. You could feel it coming, maybe, but Michigan just graduated a guy who was The Guy, like Jadeveon Clowney is, and could not get over the hump, like Clowney. Even in the world where talent comes through it doesn't always end up steamrolling the opposition.
Devin Gardner just left Notre Dame a two-dimensional smudge in the rear view mirror, and now it's downhill for a while. Shovel on a little more coal, and let's watch old 98 roll.
Highlights
Parkinggod has the Michigan stuff:
And Notre Dame has some things that Notre Dame did right:
Pressers are available from Maize and Blue News.
Gardner thing from Gameday:
Also a lady got hit real hard.
Awards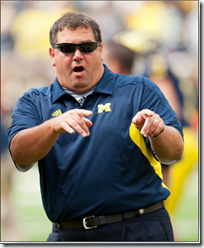 Brady Hoke Epic Double Point Of The Week. How does a guy who threw four touchdowns at nearly 10 YPA and ran for 90 additional yards split this award? Well, to get the award by himself he has to be a separate entity from guy who caught eight of his passes for 184 yards. This does not appear to be the case. DevinJeremy GardnerGallon, come on down.
Honorable Mention. Thomas Gordon and Jarrod Wilson (invisible all game in a good way), Drew Dileo (THROW IT TO DILEO), Brendan Gibbons (your record-holder for kicking consistency /2009 version of your head explodes), Blake Countess (drifted off his man for critical INT), Brian Kelly (thanks for not running the ball).
SPECIAL NEW RULE. Doubling points from this game because I can.
Epic Double Point Standings.
1.0: Devin Gardner (ND), Jeremy Gallon (ND)
0.5: Cam Gordon (CMU), Brennen Beyer (CMU)
Brady Hoke Epic Double Fist-Pump Of The Week. Since it featured Borges screwing with ND, an NFL dart from Gardner, a crazy spin move from Gallon, and Chesson The Destroyer reveling in the blood of the fallen, this is an easy pick:
Honorable mention: Countess's game-changing interception, Jeremy Jackson catching a long handoff for seven yards because ND is playing in the parking lot against Jeremy Jackson for some reason, Fitz Toussaint using a tackle attempt as an awesome juke to dart 20 yards when Michigan really needed something, either of Gardner's perfect back-shoulder throws to Gallon, Gardner nailing Gallon 40 yards downfield, and Gardner taking off on a zone read so open you'd think Stephen Threet was running it.
Epic Double Fist-Pumps Past.
8/31/2013: Dymonte Thomas introduces himself by blocking a punt.
9/7/2013: Jeremy Gallon spins through four Notre Dame defenders for a 61-yard touchdown.
[After THE JUMP: offense, defense, and everything in-between. Plus incredible chicken gif!]
Offense
Upchurch
We have a number one receiver. Jeremy Gallon, ladies and gentlemen: mostly open, still catching things if he's not open, acutely aware of everything and anything Devin Gardner may do on any particular play. That was an all-time performance from Gallon. It tied Jim Smith's 1975 Purdue game for the 6th-most receiving yards in Michigan history; that and another of the games in front of him were laughable blowouts. Those that remain:
Roy Roundtree grabbing 249 yards in the 67-65 Illinois game.
Tai Streets catching 6 passes for 192 yards in a 15-10 win over a 5-6 Minnesota team*.
Braylonfest.
Derrick Alexander catching 7 passes for 188 yards in a loss(!) to 5-6 Illinois in 1993.
Gallon, ND 2013.
In terms of quality of opposition and importance of performance, only Braylonfest tops what Gallon just did. Roundtree was going up against a tire fire defense and largely benefited from being wide, wide open; Streets and Alexander were playing bad teams. Only Braylon bailing Michigan out singlehandedly can compete with Gallon's array of back-shoulder adjustments and crazy spin-move touchdown.
So yeah, he's not big, but he's really tough to cover, catches everything, and has a telepathic connection with his quarterback. He played like an All-American Saturday. Michigan has a number one receiver.
*[Oh man, that game is just appalling. With Tom Brady, Tai Streets, Anthony Thomas, and a bevy of future NFL linemen Michigan averaged under two yards a rush even when you remove a –22 yard Jason Vinson attempt that must have been a fumbled punt snap and seven(!!!) sacks of Tom Brady. They had 259 yards of total offense. OSU had just put up 56 on the Gophers. OC: Mike DeBord. Viva Borges!]
Borges para Presidente. What does Al Borges have to do to get Tlon, Uqbar, Orbus Tertius, Hoover Street Rag? Is 41 points and nearly 500 yards without an effective basic running game against a defense that returned seven starters from the #2 scoring D in the country insufficient? WHAT MORE CAN HE DO, HOOVER STREET RAG?
I may take the Borges-O-Meter too seriously, but man: Borges had a game. The long Gallon touchdown was opened up by Michigan's play design. He handled Devin's running for maximum impact without exposing him to too much damage. He remained aggressive to re-extend Michigan's lead to two scores late, pulling out an uncovered wheel route to pick up a big chunk of that drive. The early reverse would have been a touchdown if Schofield and Gardner didn't go after the same player. It was pretty good, man.
I love this staff's feel for the game. Michigan plays high offense and low offense games correctly; in this one Michigan could not feel particularly confident in a four-point lead so they went and got some more.
Oh and speaking of that Minnesota game from back in the day… as pointed out by rbgoblue, this is quite a bit different from infinite opponents saying they knew everything Michigan was going to do:
"You're dealing with an offense that can run option as well as power, and we've got to be prepared for a little bit of everything." - Brian Kelly
Hoorah.
Number two… uh. Outside receivers not named Jeremy Gallon had three catches, one of them a long handoff to Jeremy Jackson because for some reason Notre Dame was playing in the parking lot on Jeremy Jackson. Actual downfield throws to them: two, and for the second straight game Jehu Chesson doesn't get targeted.
The wild efficiency of Gardner to Gallon makes that less of a problem than it might be otherwise, especially with Dileo doing Dileo things underneath to reduce the need for a burly slant merchant on third and six. I'm still a little leery about how dependent on Gallon Michigan is. While it's not as easy to do something about that as internet ND complainers would have it, diversity is important to keep opponents off balance.
The good news is that Michigan now has three weeks before they play Minnesota and has some time to integrate those outside guys into the passing game a bit more. At this point Jackson is who he is; Chesson is a guy who is still pretty raw and could improve greatly. You know his blocking isn't keeping him off the field.
The real number two. Drew Dileo screwed up a route that one time; he emphatically did not screw up his route when he scored. He freed himself with a slick jab step that drew a Wes Welker comparison from Herbstreit that for once didn't annoy, because it seemed on point. Dileo also rescued the first drive of the game with a fantastic diving catch on third and six that elicted a "wow" from me in the stands. Three catches for a long of eight yards doesn't quite capture his importance.
If AJ Williams is out for a significant period of time I wonder if Michigan will go to a three-wide base package. Having Dileo out there opens up a lot of options underneath that might get some of those tight end seams open. It seems like Michigan should be a team that passes to open up the run right now.
This one wasn't called (and Gallon caught it anyway) [Upchurch]
Interferences. Michigan's last touchdown drive featured a couple of pass interference penalties that turned third down into first down and have been a source of bitching from some Irish fans. To my eyes, the first one was a call that you don't always see but was correct, as the ND DB is shoving Gallon without looking back for the ball with the pass in the air. (Meanwhile, the guy landed out of bounds and didn't catch the ball, so it wasn't an interception.) The second is obvious as Farley's grabbing Funchess the whole way. It might have been holding instead of PI, but the end result is the same.
The call in the first half was obvious, as well, and prevented a touchdown since without the tug and then hold that was Gardner threading a tiny window.
Upchurch
Ground: pounded. Aside from a couple nice Toussaint runs on which he made something out of nothing and Gardner zone reads and draws, Michigan got stuffed. Part of this was a major upgrade in the guys on the opposing defensive line; part was ND's linebackers heading hell-for-leather to any stretch motion. Michigan got some decent gains off that when they ran play action, but they were really lacking a counter trey to gash that tendency on the ground. I think Borges had a great game, but that stands out as a problem. Teams can nerf the stretch by overplaying it, and one of the great frustrations of the DeBord era was a total lack of counters.
Michigan showed their counter in the Central game, pulling Taylor Lewan to the backside, but Lewan couldn't execute. Getting that play up and running is likely a priority.
Overall, the lack of production on the ground seems about half rock-paper-scissors failures and half the offensive line getting overwhelmed. It's all downhill from here for those guys, at least.
Efficiency. The next bullet is about the defense's part in outdistancing Notre Dame on the scoreboard without getting similar distance in yards. Set aside the free touchdown and Michigan had 18 more points despite outgaining ND by only 50 yards. That's because Michigan turned 6 scoring opportunities (ie, drives that reached field goal range) into 34 points, with the big play from Gallon accounting for the other seven. Notre Dame had seven opportunities and came away with 23 points that would have been 19 if not for a fortunate bounce on their first touchdown.
Gardner's redzone efficiency remains off the charts: when Michigan got inside the ND 20 they got seven points 4/4 times. Look at this:
Since Devin Gardner became starting QB, Michigan is 29/29 in the red zone chance w/ 25 TDs. That's 6.44 points per trip

— jamie mac (@justcoverblog) September 8, 2013
!!!
Defense
Yes, it was hairy. It worked. A hairy night for the defense as Tommy Rees spent large chunks of the game straight dealin', but when the smoke cleared Rees had taken 51 attempts to acquire 314 yards, two touchdowns, and two interceptions. That's a pedestrian 6.2 yards an attempt.
While it felt like death as Rees and company were jetting down the field between the 20s, the strategy worked. ND drives that reached field goal territory:
Four-yard touchdown to TJ Jones on a deflection.
ND stalls at the 26, kicks 44-yard field goal.
ND stalls at the 7, kicks 24-yard field goal.
20-yard touchdown to Troy Niklas.
Turnover on downs at the 17.
ND stalls at the 23, kicks 40-yard field goal.
Rees intercepted by Blake Countess after two deflections.
ND racked up a ton of yards but was not particularly efficient at turning those into points—the offense acquired 23, a mediocre number. (Let's say the deflections offset.) Their longest completion of the night was 23 yards. The safeties did not split like a cantaloupe hit with an axe and spill out a bounty of touchdowns.
Michigan was content to sit back in their nickel package, rush four, get nowhere near Rees, and constrict as the field did. It was a gameplan based on scoring a lot of points themselves, which Michigan did, and continued doing the entire game. It is really easy to see a Carr version of this team putting the offense in the barn at some point and getting scorched; Brady Hoke is aggressive, start to end.
In the end Michigan overcame Notre Dame dominating the trenches to score a relatively easy victory. When's the last time that happened? The overall game plan was fantastic on both sides of the ball.
[Upchurch]
Earn the right to rush four: uh. Speaking of the trenches: Rees was sacked once on Notre Dame's final drive; other than that he was almost never hit unless Michigan was literally bringing more rushers than Notre Dame had blockers. A resounding splat after showing so much promise in the opener.
I was particularly down on Frank Clark but after a casual rewatch he did seem to be Michigan's most consistently bothersome defensive lineman. That wasn't saying much, unfortunately. He's yet to get particularly close to a sack in two games, and this one featured 51 passing attempts on which Rees often took a significant amount of time to throw the ball.
Secondary rotation. Avery didn't play much if at all, and Hollowell was the third corner the entire game. Stribling got in for a few plays in the third quarter in place of Raymon Taylor. I wouldn't be surprised to see Stribling surge past Hollowell by the time the November gauntlet rolls around, but if Michigan was dead set on making ND bleed down the field it's an easy call to go with the junior over the true freshman.
I don't actually have much in the way of opinions about the secondary. This is going to be a game in which I really wish I had a view of what was going on downfield.
They didn't blow any coverages, which is a major plus since Rees had time to survey, and Countess made a big-time play by coming off his guy to pick Rees at the end of the first half. The rest of it was mostly being in position to tackle on short stuff and giving Rees small downfield windows on long stuff. Rees hit a fair number of those, and tossed a fair number out of bounds. They were consistent. The spirit of Kovacs is in them.
I have even fewer opinions on the linebackers. They seemed to be missing some chucks on Niklas and were not to be found in the run game, but the line had a tough time getting any push to help them out and with six in the box the whole game it's tough to put a lot of blame on them.
Their coverage was okay. When you've got Davaris Daniels matched up on Desmond Morgan about all you can hope for is Morgan providing a relatively small window for Rees to hit; Morgan did and Rees hit it. Ross almost had a great one-handed pick and may have deflected the Niklas touchdown.
Bitching about the other team's gameplan is go. Notre Dame's inability to get anything long had a lot to do with Brian Kelly's refusal to run the danged ball despite Michigan's inability to stop those pistol power runs. At one point those gashed Michigan for gains of 12 and 7, and then Notre Dame threw from an empty set. I don't think the Irish ran play action all night. They ran once in the redzone.
I get irritated when Michigan tips its run/pass call by receiver substitution (no Gallon == run), but that doesn't even compare to having a statue like Rees by himself in the backfield. All you had to know about that strategy was what happened when Rees motioned a tailback into the backfield with him: the linebackers came five yards closer to the line of scrimmage. O RLY.
It seemed that ND was spooked by their first two drives, on which Michigan booted them off the field when they ran on third and short. The first one was Mattison calling a great blitz that put Frank Clark inside the right tackle too quick for anyone to do anything about. That's Mattison winning at rock-paper-scissors; Notre Dame seemed to accept it as fate. The sequence that led to the turnover on downs late was indicative: on third and two ND threw a wide receiver screen against two Michigan DBs within four yards of the line of scrimmage.
Maybe the last two years have convinced Brian Kelly he has absolutely no chance of rushing for a third and short conversion against Mattison? Actually, that's a defensible point of view.
Miscellaneous
Hoke versus Kelly. In two moving pictures. Kelly:
Hoke:
this was on the Gardner option keeper TD
Finally: a weird-ass number. Gardner in the 98 gets a thumbs up here despite my general dislike for players changing numbers midstream. I like that Michigan has gone full-bore to having the old numbers on a position-appropriate player despite their weirdness, and that outweighs the midstream change.
The oddity of a QB wearing 98 is the basis of a tradition, notable enough to occasion posts explaining WTF is going on at SBNation and questions on message boards across the country. One of my big problems with Brandon is that most of his moves have been to erode the differences between Michigan and Generic Sporting Experience; I'm a firm believer that you should be creating points of difference, not similarity. (Look at this website.) Having a QB wearing 98 is a point of difference that facilitates cult-like behavior.
So I thought it was a missed opportunity when they unretired Oosterbaan's number and gave it to a linebacker. I get that they've got 21 at receiver and I imagine #1 is on the docket sometime soon, so it made sense to spread it out a bit. I still wish other fanbases were asking "why is that receiver wearing 47?" just like they're asking why Gardner is wearing 98 right now.
The band. I cannot hear it even a little bit anymore, and I sit in row 16. Any musicality they are preserving in the stands is washed out by the amplification, which sounds really bad where I am, and when they're on the field it's a win when I can actually hear The Victors. The intricate tootlings are all for naught.
Hear it for the first time. Halftime:
I said Michigan should hire Beyonce as an assistant coach a couple years back. Close enough!
Pom-pom update! The department did a crappy job of handing them out, so there were like three people in my section who had one. Thanks, department. I salute your inability to flood the stands with vision-destroying plastic.
Okay. Point Special K.
Minus a point for playing something thematically inappropriate that I can't remember right before the fourth quarter.
Here
Via Brian Downing:
Best:  The Madden Offense lives!

At this point I imagine the Venn diagram of "People who read MGoBlog diaries" and "People who have played computer football" resembles a perfect solar eclipse, so if you only think of John Madden as a character played by Frank Caliendo, I guess just move on to the next section.

For everyone else, though, UM's offensive playcalling reminded me of those great 16-bit and early PlayStation/XBox/N64 Madden games where they hadn't quite figured out how to properly balance player attributes when it came to speedy QBs and so you could call a shotgun pass on basically every down with impunity (I know most people consider Michael Vick circa 2001-2004 as the apex mobile QB in video games, but picking the Eagles with Randall Cunningham or the 49ers with Steve Young led to untold fights when I was in junior high).  With one of those guys in the backfield, every pass carried the real possibility of a QB run with about a 1% chance that the defense could stop you before 5-6 yards.  And on the off chance that you found yourself on 3rd/4th-and-long, just call for a Hail Mary/4 Verts and you could either throw the ball into the tiniest of windows because your QB had a Howitzer or, to be extra dickish, run for the first while juking every LB about 15 times.  A mobile QB was about as close to god mode as one could get on the football field.

Well, with Devin Gardner at QB and Borges overjoyed with a QB who isn't afraid to scramble sensibly (sorry Denard), UM is trotting out the type of offense that seems largely immune to defensive adjustments.  Whereas in years past a collapsing pocket was almost immediately followed by a tuck-and-run, Gardner seems more than happy to move around while his WRs work to get open.  And if that doesn't happen quickly enough, or if there are yards available on the ground, Gardner just gallops 2-3 yards a stride and can pick it up efficiently.  A couple of times Gardner basically rolled out, outran with ease an ND player barreling down on him from the edge, and calmly surveyed the field looking for an open Gallon, Dileo, Funchess, basically anyone.  At least once he just kept running; other times he'd throw for the first.  You didn't often see that type of play last year, or at least run so easily and successfully, and it seems like it will be a staple in UM's offense going forward until such time as any defense (i.e. MSU and that's about it) shows the ability to slow it down.
* Critically underutilized WR, Drew Dileo caught 3 for 18 yards, and had the other receiving TD. Kudos to Borges for calling that play on 2nd down. If ND holds us to a FG, it's still a one-score game. Instead, I imagine Borges going over his playsheet, thinking, hey, it's been awhile since we threw one to critically underutilized WR Drew Dileo. Let's do that. TD. Ballgame. I go to sleep happy.
Elsewhere
Blog types. Regional rivalries often get Taiwanese animations.
The Solid Verbal podcast addresses the game amongst all other things. MVictors points out that Steve Everitt is wearing MGoApparel:
A man of infinite taste
The consistently helpful Raoul:
Game note: Devin Gardner's 376 yds in total offense ranks 9th in Michigan history. 3 of top 10 occurred vs. Notre Dame—2010, 2011, and 2013.

— Raoul (@Raoul_000) September 8, 2013
When Hoover Street Rag isn't criminally shorting Al Borges, they are writing columns:
In the end, the lights were on, and someone was home.  For a sixteenth straight occasion, Michigan's football players walked off their home field in triumph, having first made their way to the student section to share the moment with their peers.  There were gimmicks to be sure, Michigan Stadium's first thank you tifo, lasers, flyovers, celebrity cameos, the most underutilized giant disco ball in the history of mankind, but they were ephemeral to what was a Michigan football experience at its core, dread, hope, more dread, still more dread, and finally relief.
Can we get a tifo that's about football? That would be a unique tradition in college football.
The biggest part of the rushing game, and the main reason Fitz got the bulk of the carries, is Michigan didn't fumble. An experienced rusher will protect the football, and that's why Fitz played basically the entire game. As the line develops, expect Fitz's output to increase.
BRENDAN GIBBONS – For those of you too young to remember, Bo did not offer scholarships to kickers in the '70s and early '80s. As a result, Michigan had walk-ons who did an ok job of splitting the uprights. So for Gibby to have now successfully kicked sixteen consecutive field goals…it's BEYOND impressive. He just might be the best kicker to ever wear the winged helmet!
Also the Big House Blog, Maize and Brew, Maize and Go Blue, Touch The Banner.
Newspapery types. Michigan-ND pulled a 5.6, which was the highest-rated game of the weekend. I bet Purdue-ND does double that.
This better not be a coincidence:
Doing nothing to dispel a dumb notion that did a disservice to the latest game in the storied Notre Dame-Michigan rivalry Saturday night, the host school served chicken for dinner in the Michigan Stadium press box.

Coincidence?
That's a Chicago Tribune writer who seems rather annoyed at the idea that Notre Dame cancelling the series so they can continue to play Purdue does not represent a fear of playing Michigan. Because Michigan wanted to have one of the two-year hiatuses that have been standard in the series since its resumption.
Devin Gardner was on his back in his own end zone, looking up at the lights and a sea of maize. It was the fourth quarter of Michigan vs. Notre Dame, and Gardner had made the worst mistake of his football life. Could his legacy be tainted before it even really began? The whole world was here it seemed, and now they were all looking at him on his back in the end zone and he was alone, all alone.

What was he thinking as he lay there, arms sprawled outward, looking up at the sky, at the lights? He stared at Stephon Tuitt, who cradled the football in his arms in Michigan's end zone. What was he thinking?
The plan worked and Michigan won, but this was more bend-but-don't-break than overpowering dominance. Notre Dame hardly ran, but when they did it was alarmingly effective. The top two Fighting Irish backs averaged 5.3 and 7.4 yards a rush. A cornerback, junior Raymon Taylor, led the team in tackles. Thomas Gordon, a safety, was second.

More concerning was the lack of big defensive plays. Sure, Countess had the two game-changing interceptions, but the first was a bad pass, and the second hit off Taylor's leg. The Wolverines need to force the issue more.
"It was a horrible decision," Gardner said. "But everybody's going to look to me for confirmation that we're going to be all right.

"I stayed level."

Gardner's mistake could have been a nightmare, except, of course, it wasn't. The Michigan defense eventually got Gardner the ball back -- with a 14-point lead shrunk to four -- and Gardner calmly took the team back down the field for an eventual game-clinching touchdown pass in the Wolverines' 41-30 win over No. 14 Notre Dame.
Also an Everett Cook column. Baumgardner on the series ending. Jeremy Gallon could be none more better if he was 6'1", Josh Slagter. Chengelis on Countess and Gardner.
Lunatics. Favorite RCMB react:
drew dileo is literally hitler squared
That guy is holding a grudge.
Oh and:
New Years has become my least favorite holiday. I feel like the Rose Bowl is "National Prom Day" or something and I'm some fat girl who never got to go in High School, and every year I'm reminded about how awesome it is, while I'm bitter as fuck.
ND Nation was disappointingly sane, but at least one thread brought the crazy:
Gardner out ran a slow defense.
His throwing motion/action isn't very good.
His mistake in the end zone is among the worst plays I have ever seen in the sport.
"We should be wise and knowledgeable enough football fans to give him the credit he is due".
I ain't giving him squat and please don't include me in "we".
If that was Vince Young last night they would have scored 70...
gardner's shot put arm was less than impressive, his safety saving td int toss was less than impressive, the int Jaylon dropped was less than impressive (would've been a good catch), his missing hoke calling a TO while scoring on a busted play was less than impressive, our lack of 3rd down execution made him look very impressive....
I haven't re-watched the game, but diaco/kelly and co gave gardner all the room in the world to succeed. We sucked, were a half step slow and gave up third and long all night.
If you for a minute think that this um team has the firepower that 'bama had last year you're wrong. The point total last night is a disgrace.
Our team has massive problems and it starts with Kelly's unwillingness to physically dominate and complete willingness to finesse when it's not necessary.
He's reguarly a shitty coach with a poor attention to detail.
If that was Vince Young last night, the guy says.