In The End, A Parlor Trick
11/24/2012 – Michigan 21, Ohio State 26 – 8-4, 6-2 Big Ten
Bryan Fuller
In 1997, Michigan had a multidimensional weapon they'd take out of the garage for a couple dozen plays a game. His name was Charles Woodson, and I distinctly remember the disappointment that would wash over me 70% of the time he came in for an offense snap. This disappointment was because Woodson didn't get the ball. He ran a route, and something else happened.
Despite the disappointment, I got it. You can't just give the ball to the dynamic guy every time he comes in the game because if you do putting him in the game is tantamount to holding up a huge sign that says THIS IS THE PLAY WE ARE RUNNING. You can't flip up your hole cards before you bet.
Al Borges disagrees. If you've poked around the flaming wreckage of the Michigan internet in the aftermath of Saturday, you have undoubtedly heard the wailing and gnashing of teeth because of that. But the thing is so stark it has to be marveled at again: when Denard Robinson entered the game against Ohio State, every play but one was Denard Robinson doing something. Once it was fail to chip Ryan Shazier and try to get out for a screen; all other times it was run the ball, sometimes with a pitch included. The fakeout was a six-yard completion to Mike Kwiatkowski in the first quarter, and there ended any attempt at deception.
Devin Gardner was at quarterback for three of these plays. Michigan held up a sign that said RUN or PASS, and didn't even try the token fakeout where Robinson goes over the top when the safeties suck up. Gardner ran three times. Denard passed zero. Ohio State figured it out. Surprise!
Denard got a dozen snaps and watched from the sideline as Gardner tried to drive Michigan 70 yards for the win. There were six minutes left, and Michigan was reduced to throwing every down as a guy who might break the all-time rushing record for a quarterback watched.
What can you say? It's indefensible. It's a failure without any possible explanation. It caused legions of neutral observers to laugh or fume or sit slack-jawed as they watched it unfold. Sean McDonough was dumbfounded. Orson, in the stands, marveled. Twitter burst at the seams with furious mockery from people who don't care about Michigan but do hate to see Denard Robinson end his final Ohio State game on the bench, having averaged 11 yards a carry on ten attempts.
-------------------------------------------------------
Here is a list of things Denard Robinson could have productively done on Saturday that did not necessarily involve him getting the ball.
Be a running back on the inverted veer.

Stand in a two-back set, then motion out a la Vincent Smith on a pre-emptive flare route.

Run a flare from the backfield

Line up in the slot and get a fake jet handoff, then run a wheel.

Line up in the slot, run a bubble.

Run a route you ignore but the defense cannot.

Fake a screen to him and screen to the other side.
There were ways to work around the fact that Denard can't block, primarily running your best play with your best two players. What can possibly be so hard about telling Denard "now you're the other guy on the play we run all the time"? Even if it's play action, it draws everyone. If he's on the field, one to three people are concerned with him, and if that's at the edge of the field that's as good as a block. It's a fantastic block. It is a much better block than most of the folk on Michigan's offensive line were capable of.
And nothing. Nothing. Here is a sign that says whether we are running or passing.
"They were a little bit predictable in the first half," said Ohio State co-defensive coordinator Everett Withers. "You know, they put 16 (Robinson) back there, he was gonna run it. And they put 12 (Gardner) back there, they were gonna throw it. And after a while that became something that we keyed on."
---------------------
On the other side of the ball, things made sense. Ohio State's offense is a coherent whole that ruthlessly exploits every edge it can. Michigan spent the first couple drives unable to substitute as Ohio State went up-tempo. Afterwards they started running on right after the play; Michigan struggled to get set at times. When OSU slowed it down, they made a playcall after seeing how the defense lined up. They took every advantage the game gives them.
Once JT Floyd got turned around by Devin Smith on OSU's first drive, Michigan was faced with the prospect of repeating last year's festival of deep bombs or giving Floyd help. They chose the latter, and chose to contain Braxton Miller at all costs. To do this they had to give up two things: the underneath flats and the guy in the box that can be a free hitter.
The results: Miller was 14 of 18. Avery blew a deep corner route on a third and long early and there was the bomb. There ended downfield passing. Miller's other 12 completions averaged 9.8 yards a pop on a series of screens and quick throws in the soft outside section of the field. Carlos Hyde surged up the middle over and over again, picking up 146 yards on 26 carries with no Michigan player available to hit. Stat of the game: Will Campbell had ten assisted tackles.
The dispiriting thing is watching that and not being frustrated with anyone in particular when the other team moves the ball. There was no screaming some guy's name, no rolling your eyes and saying "come on make a tackle." When Michigan stopped them, it was a good play by someone. When they did not, it was because you can't play the wide receivers one on one so everyone's got a blocker.
Michigan was lucky not to give up 30 or 40 points. Ohio State is rickety. Botched snaps, penalties, and some heroic individual plays—Ryan checking Miller in space, Jibreel Black and Frank Clark combining to get Miller down on third and goal when Michigan had put four guys against three to the field—prevented that, but it was there. It will be there next year, and the year after, and the year after that. They will not be as rough as this outfit in its first year.
Michigan can only beat it by winning one-on-one matchups, lots of them. That's tough to do. Possible—see Stanford—but tough, and sometimes even if you're Stanford the Oregons of the world blitz you for 40.
Most of the time, actually.
Fuller
One mistake is all it takes.
---------------------------
The Hoke hire was alarming to me (for about two weeks) because it seemed like waving a white flag and going back to the Carr era philosophy that had seen Michigan slip definitively behind Ohio State over the last six or seven years of Carr's career. In a lot of ways, those concerns have proved unfounded. Carr was a puntosaur; Hoke is amongst the most aggressive coaches in the country. Mattison is as modern as defensive coordinators come. Whatever his flaws, Borges is a far cry from DeBord. He wants to score, for one.
There are two ways in which those concerns have been true, one tiny, one large. The tiny one is the spread punt. You've seen the coverage, seen what everyone else is doing, heard me complain about it, etc. I asked Heiko to bring it up a couple times over the past few years, and we did get an answer of a sort as to why Michigan doesn't run it:
MGoFollowup: Were you aware that they could run a fake out of the spread punt formation?

"Sure. Yeah. They had done it before, right up the middle."

MGoFollowup: What's your opinion of the spread punt formation vs. the traditional punt formation?

"Uh, we don't use it."

MGoFollowup: Is there a rationale for that?

"I think, you know … I'm more comfortable with what we use. That's the rationale."
That is a dull, unthinking answer. Heiko shot it to me as soon as he transcribed it and it depressed both of us.
Here is where the comparison to Beilein goes. Beilein, who has discovered the alley-oop and ditched the 1-3-1 except when it wins a game against Pitt, and wiped out his coaching staff to start anew. Beilein took his comfort level and chucked it out the window. We all stand to benefit. In the wake of this loss, I hope the football staff takes a similarly stark look at itself.
I wonder what possible use a huddle is now. I've had this Smart Football post lying around for months, as I was going to make a post about it:
It's only a slight exaggeration to say that huddling is an archaism destined for the dustbin. I say it's a slight exaggeration because there is a value to huddling, primarily when you have a great leader at quarterback as a huddle is an opportunity for him to show his leadership skills. But otherwise, it's inherently inferior to going no-huddle. It's slower, which is a problem both in games but also in practice where your offense gets fewer reps, and, maybe most importantly, the safety net of a huddle leads coaches to transform plays that can be communicated in just one or two words into multi-syllabic monstrosities.
The Patriots don't use it, Ohio State doesn't use it, Oregon lol huddle, etc. And I see Michigan get out of one with 15 seconds on the playclock having determined what they're going to do without getting information from the defense and with little time to change what they're doing. And I think about comfort, and how dangerous it is to slip into old habits just because they are old.
It feels like Michigan is on the wrong side of history here. After Rodriguez the spread offense is anathema. It's the one thing that keeps Nick Saban enraged at night, and it feels like Michigan's going to ignore it because Rich Rodriguez's defense couldn't stop a six-year-old child, instead of for any defensible rationale. I'm not sure that's going to cut it against Urban Meyer.
Highlights
OSU guy did this one but it's got all the important stuff:
A shorter but HQ reel from mgovideo:
Also pressers from Hoke and players.
Awards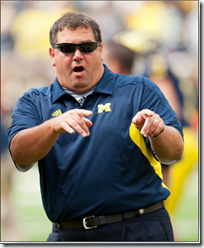 Brady Hoke Epic Double Point Of The Week. Well… this is close but since Jake Ryan saw something like 60 snaps instead of a dozen, his nine tackles two TFLs, sack, and impressive non-tackle of Braxton Miller get him the nod. One on one, he won his matchup. Now we just need five to six more of that guy.
Honorable Mention. Denard(obvious), Roy Roundtree (touchdown), Jeremy Gallon (six catches), possibly Will Campbell (ten assists!).
Epic Double Point Standings.
4: Jake Ryan (ND, Purdue, Illinois, OSU)
2: Denard Robinson (Air Force, UMass)
1.3: Jeremy Gallon(Alabama, 1/3 Minnesota), Drew Dileo (Michigan State, 1/3 Minnesota), Roy Roundtree (1/3 Minnesota, Northwestern)
1: Craig Roh(Nebraska), Devin Gardner(Iowa)
Brady Hoke Epic Double Fist-Pump Of The Week. Obvious.
Honorable mention: Roy Roundtree uses one man-Dileo convoy to score 75-yard touchdown, Frank Clark levels Braxton Miller a couple times, Denard turns not much into 30 yards on Michigan's first snap.
Epic Double Fist-Pumps Past.
11/10/2012: Mattison baits Fitz, Kenny Demens decleats Northwestern, game over.
11/17/2012: Denard WOOPS Tanner Miller in Big House finale.
11/24/2012: Denard uses PHYSICS to score a touchdown
Offense
Rawls lacks YAC, so what's the point? Michigan ended up in fourth and three on their first drive of the third quarter after a one-yard Rawls carry, a six yard Denard carry, and a zero-yard Rawls carry. The third down attempt was pretty much stuffed but Rawls could not manufacture even one yard after contact, something that has been a pattern after he got everyone's hopes up by running over some Purdue safeties.
But the real killer was the first down play, when Michigan successfully blocked everyone and got Rawls the edge. One on one in space with cornerback Bradley Roby, Rawls ran straight into him and went down. One yard.
Rawls's five carries netted two yards. Since he started picking up non-garbage-time carries against Minnesota this brings him to 68 yards on 32 carries, 2.1 per carry. Yeah, the line has something to do with that and Rawls is getting goal-line carries, but since he's getting so many goal line carries because he's bouncing outside the tackles or going down on first contact I don't think that's much to hang your hat on.
Yeah, he'll probably get better as he ages but at this point it would be a shock if he ever ends up anything but a short-yardage back. Chalk another one up to the Fred Jackson Hyperbole Curse.
This is a reason I'm skeptical about Drake Johnson making an impact. Guys Jackson personally campaigns for have a poor track record.
Bad time to get beat for the first(?) time this year. Michigan's first drive ended with a blindside sack and fumble yielded by Taylor Lewan, which was like… that can happen? I think Alabama got a blindside sack in the first game; since then nothing. Bad time for a bad play.
This of course means that he will slide down draft boards and return. That's the ticket.
Devin flaws exposed. It was coming, and it came: against a more talented defense than Gardner had seen so far he was hesitant. His throws were off, mostly deep, and throw after throw was a second late. Against Iowa and Northwestern and Minnesota it didn't matter, but Ohio State's defense is a really good unit that implodes to yield long touchdowns twice a game; when they were not doing that they're pretty good about closing down space.
All that's understandable. Hopefully we see a more polished version in the bowl game and go into 2013 with some confidence under center.
The stuff they got. Ohio State is a defense that is good, and then explodes spectacularly, and that's what they did on the Roundtree touchdown, which was just CJ Barnett making a terrible play. Good for Gardner to recognize that coverage; not a huge credit to the play itself. And then Denard used science(!) to burst through two tacklers on the 67-yarder.
That play was a credit to Borges as it was pretty much exactly what OSU ran some last week, a fake veer that turns into an outside play with a convoy of blockers. Michigan ran it to good effect in the first half, and then died in the second half because OSU adjusted.
"boy I hope this guy spends most of the second half on the bench" –nobody (Fuller)
Speaking of that play… find me the Michigan fan who was not in full FFFFFFUUUUUUUU mode the instant before after Michigan got the ball back with 1:30, ran for eight yards on first down, and then spent 30 seconds lining up. You can't even put it on Denard this time since there was the option to go to Gardner. Denard bailed them out of another hack job of a two-minute drill.
Rodriguez comparison point. That game was reminiscent of early Rodriguez offensive forays that worked fairly well for a half—think introducing MINOR RAGE against Penn State en route to 17-14 halftime lead—and then evaporated when the opponent took the fancy new stuff away and Michigan had no other way to move the ball. They came in with a couple things that worked, and then Ohio State said "we are not letting Denard run" and that was that.
Fuller
Speaking of that concept… on the fourth and three to open the second half Michigan ran that same play again. The above picture is from the touchdown; on the stop, Barnum's guy shot outside and upfield, forcing a cutback, and Lewan didn't have an angle to get on an equally hard-charging Shazier. It's almost like they spent halftime preparing to stop it.
"My comment was, after I saw Denard Robinson sneak outta there for a long run, stop the quarterback run," Meyer said. "That's the input I had. Probably the same — I think 107,000 people said that as well."
The most baffling thing… hmm. Not running your extremely fast guy who can actually throw the ball makes the top 20 of baffling decisions Saturday. What are you saving him for?
2013 peek ahead. I'm drafting a "22 Tickets for Team 134" feature that'll tackle this in more detail, but for now Michigan loses the following folks after the bowl:
Denard
WR Roy Roundtree
TE Mike Kwiatkowski
OL Taylor Lewan (probably), Ricky Barnum, Elliott Mealer, and Patrick Omameh
The likely replacements:
Devin
WR Amarah Darboh(?)
TE AJ Williams
OL Ben Braden, Kyle Kalis, Jack Miller, and Chris Bryant
Bryant is admittedly speculative; Fitzgerald Toussaint may not make it back. How do we feel about this? On the one hand, four new starters on the offensive line. On the other, the interior guys are probably going to be better even if they're young. Possibly a lot better. While Schofield isn't Lewan he was a solid pass protector this year and should be able to cope.
The most important thing is getting those tight ends in shape. Funchess was a crappy blocker this year; more alarmingly, AJ Williams was hardly better. I don't know much about OL technique but Williams has stood out as so spectacularly unrefined that even a layman like myself can look at him and think "that doesn't look right."
Defense
Story of the season. Defense hangs in against good offense as offense curls up and dies, putting them in bad spots time and again, eventually cracks a little, and fades late as exhaustion sets in. Ohio State neared 400 yards and put up 26 points but I'm not even a little mad at what happened. It was all so obvious.
this was an actual tackle (Fuller)
Most impressive non-tackle of the season. Jake Ryan in space against Braxton Miller was a little different than Jake Ryan in space against most people, but he did hold Miller up long enough for the cavalry to rally. On the day, nine tackles, a TFL, and a number of "oh thank God you are large and fast" moments. All Big Ten, surely.
I am going to hit you very hard now. Frank Clark was the main beneficiary of multiple all-out blitzes Mattison sent on third down.
Fuller
A couple of these threatened to send Miller out of the game or dislodge the ball; most other times Michigan didn't even bother to rush him.
2013 peek ahead. I'm drafting a "22 Tickets for Team 134" feature that'll tackle this in more detail, but Michigan loses the following folks after the bowl:
SDE Craig Roh
3TECH Will Campbell
MLB Kenny Demens
CB JT Floyd
S Jordan Kovacs
Likely replacements:
SDE: Jibreel Black/Tom Strobel
3TECH: Matt Godin/Chris Wormley
MLB: Effectively James Ross since the bet here is Morgan slides over.
CB: Blake Countess
S: Jarrod Wilson
That's a lot of youth, with Black the only upperclassman mentioned. It is at least highly-touted youth. Wormley was going to see the field as a freshman, Countess had a breakout freshman year before the injury that cost him 2012, James Ross is a summer in the weight room away from being awesome, and… well, Wilson is not going to be Kovacs.
2013 will probably be just as good as this year, if not a little better, and then look out in 2014: the only projected starters to graduate after next year are Thomas Gordon and Quinton Washington. (Nickelback Courtney Avery also departs.) Washington will be replaced by a fully groomed Ondre Pipkins; Michigan has a few options to replace Gordon.
Miscellaneous
Fourth and three from the forty-eight. My thought at the time was that was a coinflip decision, statistically, and yup:
Stat
Go4it
Punt
FG Att
Success Rate:
0.57
-
0.00
WP Success
0.61
0.56
0.67
WP Fail:
0.47
-
0.46
WP Total:
0.55
0.56
0.46
Break-Even:
0.64
 
Those are NFL numbers, of course, and can't be taken as gospel. Whatever adjustment there is to the college game it's not going to push it into slam dunk territory either way. That decision is all about feel.
From my perspective that feel includes information like "interior line cannot block these guys" and I was more nervous than happy when Hoke went for it, but it's right on that line. OSU blew up the playcall, which was a fine playcall since it involved Denard having the ball, and Michigan gave it up. Oh well.
Live by the sword, die by the sword. Since it's hard for people to get away from their base urges I prefer the guy who will be aggressive, even excessively so, since the vast majority of decisions to be aggressive will be correct, and even ones that seem weird like Saturday's are a push.
Yup. If you were wondering if the shirtsleeves would come off, nope:
MANBALL (Fuller)
If it's sleeting I think the guy should put a jacket on just because it's hard to think when you get cold to your bones.
Just the right amount of shoving. Football games are at their best when there is harmless shoving on a half-dozen plays a game, and M-OSU delivers on this count.
Fuller
This was immediately after Mike Jones became "that guy who got the dumb personal foul in the 2012 game" to Michigan fans, and never threatened to escalate past this business. They've done this for years now, and I approve.
Weekly Devin Gardner lookalike photo. Recycled from last week because Bryan didn't get a shot of it, but Devin definitely went Mr Burns after the long touchdown to Roundtree.
Upchurch/Groening
I enjoy this being a thing.
Here
* The leading tackler was WLB Desmond Morgan with 11. Last week's leading tackler was also the WLB, James Ross III. I guess they are not kidding when they say there is an expectation for the position.
* Will Campbell had one of the craziest defensive stat lines I've ever seen: 0 solo tackles and 10 assisted tackles.
* Jake Ryan was back making plays all over the field, 9 tackles, 2 TFLs, 1 sack, and 2 forced fumbles. On Thomas Gordon's sack, Ryan jumped on Gordon's back and tried to sack Gordon and the QB. It's been said of others, but I don't think it applies to anyone better than Jake Ryan, he plays like his hair's on fire.
Best:  MGoMeltdowns are awesome

So as is the custom around these parts, the traffic to the site after a loss follows the same trajectory as general internet traffic does whenever illicit pictures of some starlet are "leaked" to the the web totally-unexpectedly-but-right-before-my-new-movie-Crushed Blue Velvet Girlfriend 2-is-released.  For a graphical representation, here is a screenshot of the site about 4 minutes after the game ended

Click for full size

It will never approach RCMB or anything in the SEC not related to Vandy, but TWO redundant posts sarcastically "thanking" the coaches for losing the game, one out-and-out "Fire Borges" thread and one claiming he merely "sucked", one thread already set for deletion, and about 1,100 posts in a game thread, 50% of them berating Al Borges and the team for a poor second half, is nothing to sneeze at.  Subsequent posts included petitions to fire Al Borges, a couple crying out for sanity, and one inferring a discussion about iCarly and Larry Hagman that felt appropriate for an 8th-grader's "MySpace" profile.  Then Ace showed up with his usual quality summary and solid reasoning, which is like, Booo this man!
LSAClassOf2000 puts yardage for and against in a table.
Elsewhere
Figure you don't want to read crowing so right on to the other stuff…
Blog stuff. Hoover Street Rag:
In the end, I'm never going to understand this, I'm never going to understand them, I'm never going to understand that feeling.  Jim Tressel is honored during the first quarter break of the Michigan/Ohio State game for his 2002 National Championship season, and he is carried off the field by his players to a standing ovation at the Horseshoe.  Ohio proceeds to get its act together and win 26-21 to complete a perfect 12-0 season.  A season in which they are ineligible for a bowl game because of NCAA sanctions related to Jim Tressel's failure to report what he knew about illegal benefits being given to his players to his superiors.  A season in which they are ineligible for the B1G championship game next weekend because of the post-season sanctions.  But it doesn't matter, a standing ovation for what Tressel did, not how Tressel got caught.
Borges complaint section follows. Maize and Brew:
WHAT ARE YOU DOING RUNNING UP THE MIDDLE OF THE FIELD WITH A RUNNING BACK BUILT LIKE A WATER BUG? WHY DID WE DO EXACTLY WHAT OHIO STATE WAS EXPECTING ON SECOND DOWN, AND THEN DO EXACTLY WHAT THEY EXPECTED ON THIRD DOWN AGAIN?! WE HAVE NOT ONE, BUT TWO EXTREMELY TALENTED AND MOBILE QBS, AND THESE ARE OUR PLAYS ON SHORT DOWNS?! WHERE ARE THE TRICK PLAYS TO ROBINSON AT TAILBACK?! ARGGGHHHHHH.
While Hoke never really talks about injuries, it's not like there's some gamesmanship required here—the bowl game is five weeks away.   And let's say he was dinged up and couldn't run the ball for some reason–toss him in the backfield as a decoy, no?  

Other than the lack of Denard down the stretch, the other frustration was how he was used in short yardage.   He showed no indication that he was ever going to pass it and really didn't throw in warm-ups.    So if you aren't going to have him throw it–at any point–then on short yardage put him in the backfield with Gardner and hand it or toss it to Denard, or fake it to #16 and have Gardner run it, or toss it to Gallon or ARGH.

After the 2001 Michigan State Spartan Bob game Lloyd Carr summed up how he felt about his team, when he said, "They deserve better."  
MNB recap. M&GB recap. Sap's Decals. Maize and Blue Nation:
In the moments after the game, when I snapped this photo, the air was rich with the smell of marijuana, wafting down from the student section were people, from seemingly every direction flooded the field in a frenzy of drunken euphoria.

Between the Buckeye fans posing for photos in front of the team leaving the field with their heads hanging, and the idiots stupid enough to try and mix it up with Michigan players, it was all I could do to keep my composure and just walk away. I had to remember that I'm a credentialed media member and it's not my place to get involved. Just walk away. Props to the Michigan players for doing the same.

What a mess.
Papery stuff. Chantel Jennings scours instagram for Game photos. This one is from Channing Stribling:
Rothstein game story:
A week ago, the Wolverines appeared to have a devastating offense with two quarterbacks, including Denard Robinson, moving one of the most electrifying players in football all over the field. Not only did Michigan short-circuit on Saturday, the devastation was all their own unraveling.

"Yeah, we kind of knew what was coming when Denard was in and knew what was coming when [Gardner] was in," Ohio State defensive lineman Adolphus Washington said.

If Robinson was in the game, Michigan was going to run the ball without question. If Devin Gardner was in, there was a little bit more of a surprise, but more than likely the junior was going to throw the ball or try to.

Nowhere did this show up more than in the second half, when Ohio State adjusted to put nine players in the box when Robinson was in, essentially daring him to throw. Whether he couldn't or wouldn't, Robinson didn't. And that decision cost the Wolverines.

"Coach called the plays and we went with it," Robinson said.
I'll have to look at the fourth down to be sure but Robinson put it on himself after:
"I've got to come a little tighter and get outside a little more (there)," Robinson said after Michigan's 26-21 loss to Ohio State. "I made a bad read on the run, that's my fault."
Hoke as well:
"(Robinson) maybe should have been in a gap wider," Hoke said. "And, he had broken three (long plays) from that same run."
My initial take was that to do that he'd have to bounce into the backfield and the result may have been the same; I'll picture-page it.
Meinke on the end. Wojo gets in his WTF:
The play-calling went from scintillating to stubborn to baffling, and against a good defense, the quarterback combo of Devin Gardner and Denard Robinson was snapped in half. Gimmicky rotations are effective for a while, but in a game like this, in Urban Meyer's rivalry debut, lessons get delivered harshly.

"You know me, we want to run the football and we want to do a good job stopping the run," Brady Hoke said. "We didn't do either."