Opponent Watch: Week 11
About Last Saturday:
A 10-point lead late in the third quarter - 31, Is not enough points when you are Northwestern - 38 (OT)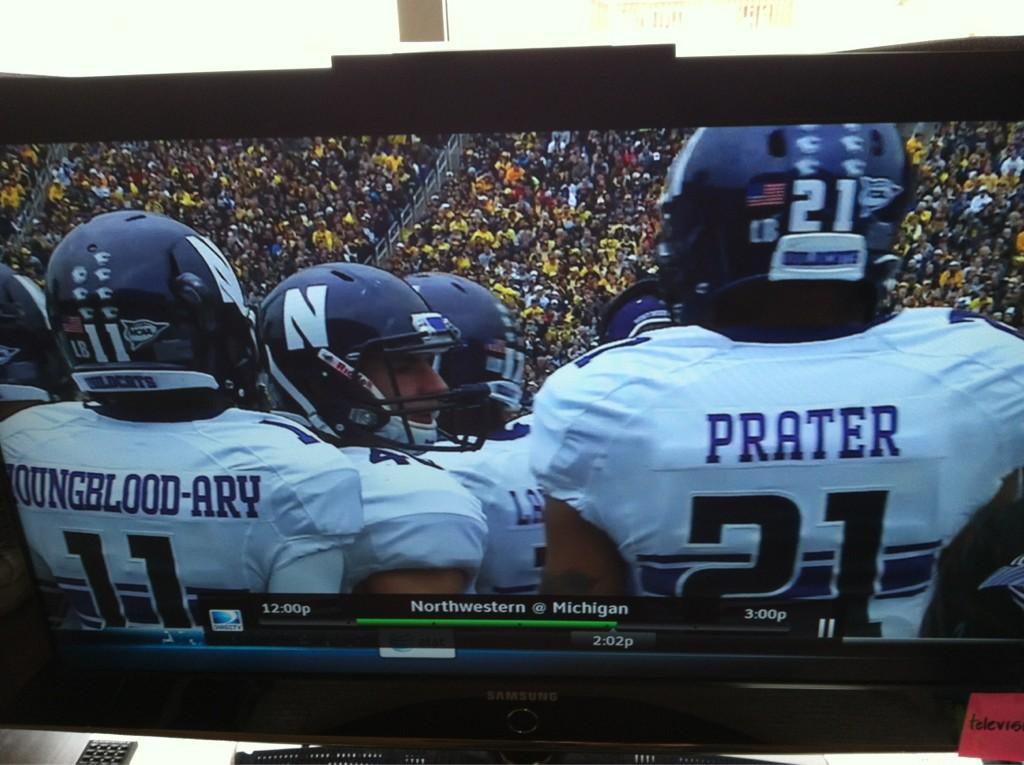 The best wide receiver in the B1G at right; My new favorite Northwestern player at left. (h/t @shane_heck)
-----------------------
The Road Ahead:
Iowa (4-6 overall, 2-4 B1G)
Last game: Purdue 27, Iowa 24 (L)
Recap: You know things are pretty bad when you play the second-worst team in the conference (which is incidentally the second-worst conference in the BCS) and then all of a sudden you're the second-worst team in the conference.
What is going on, Iowa? What's the deal? Why do you have only one running play? Why do you refuse to throw a pass farther than five yards past the line of scrimmage? Why does your offensive coordinator still have a job? (Why did you hire him in the first place?) Why does your defense give up 500 yards of offense to an offense run by a guy who doesn't have an ACL? How do you fail to beat a team when you're plus 3 in turnover margin and have just two penalties for 16 yards to their 10 for 100?
These are the tough, existential questions I hope will never be asked about Michigan. /knocks on wood.
At this point, it seems like Iowa isn't even trying. Let's look at their season to date:
vs. Northern Illinois, 18-7 (W)
vs. Iowa State, 6-9 (L)
vs. Northern Iowa, 27-16 (W)
vs. Central Michigan, 31-32 (L)
vs. Minnesota, 31-13 (W)
BYE
@ Michigan State, 19-16 OT (W)
vs. Penn State, 14-38 (L)
@ Northwestern, 17-28 (L)
@ Indiana, 14-21 (L)
vs. Purdue, 24-27 (L)
That's a couple of so-so games against randos, a couple of embarrassing close losses to Steele Jantz and Central Michigan, a close win against Michigan State that no one can really figure out, and then a bunch of games where they've gotten their asses handed to them, which have been disguised by final scores that belie reality.
Something isn't working when Minnesota is the only convincing win of the season.
Okay, fine, there have been extenuating circumstances. The offensive line turned into a mess after the Penn State game when two linemen went out with injury, and then there's AIRBHG, too, who wouldn't even spare a fullback from his wrath. That shouldn't be the end of the world, though. The Hawkeyes have a senior quarterback (best B1G pocket passer!), an All-conference caliber tight end, a bunch of fairly competent receivers, and a defense that … well, plays defense. Surely they could have mustered a better showing against Indiana.
Even more concerning: how will this team be any better next year? 
After the game, head coach Kirk Ferentz passionately defended his "dog crap" team. A few days later he dropped an F bomb. I'm half tempted to grab some popcorn to see what happens over the next two weeks -- Iowa plays Michigan and Nebraska. This promises to be more entertaining than an MGoBoard flamewar.
And I say "half" tempted only because, on the other hand, I don't want to support Nebraska's economy. Not for another year, anyway.
/refuses to eat any food that contains corn.
/starves to death.*
This besmacks of: Societal failure.
Michigan should worry about: Not beating up on Iowa too badly. Michigan needs them to be as intact as possible when they play Nebraska next week since they could be Michigan's last hope to hand Nebraska another loss. Although right now I like Minnesota's chances better.
Michigan can sleep soundly about: This has to be the easiest week of film study. Like ever.
When they play Michigan: It's Senior Day.
Also, bring tissues. It's going to get dusty.
Next game: No. 21 Michigan
*Joke stolen from Ace.
-----------------------
Ohio State (10-0 overall, 6-0 B1G)
Last game: Bye.
Next game: @ Wisconsin
-----------------------
Objects in Mirror:
No. 4 Alabama (9-1 overall, 6-1 SEC)
Last game: No. 15 Texas A&M 29, Alabama 24 (L)
Recap: Alabama couldn't deal with Johnny Football and A&M's receivers. The offensive line fell from "OMG All NFL 5-stars" to "One of them was a 3-star according to Rivals." T.J. Yeldon was all like, "Hey guys, I'm a freshman what is ball security."
The Tide rallied late and looked like they would get a couple shots at the end, but the punt team jumped offsides FTL.
I'm not sure how I feel about this. On the one hand, it's a big middle finger to the SEC, which is always great. But it also means Notre Dame is that much closer to the glory they've been returning to for 20 years, and it would be no fun if they actually managed it.
Next game: vs. Western Carolina. Because that'll help your BCS standings.
-----------------------
Air Force (5-5 overall, 4-2 MWC)
Last game: San Diego State 28, Air Force 9 (L)
Recap: 3-3-5 = death to the triple option.
Next game: vs. Hawaii
-----------------------
UMass (1-9 overall, 1-5 MAC)
Last game: UMass 22, Akron 14 (W!)
Mike Cox: 30 carries, 188 yards, 2 TD. Career day!
Next game: vs. Buffalo
-----------------------
No. 3 Notre Dame (10-0 overall)
Last game: Notre Dame 21, Boston College 6 (W)
Recap: Te'O got his sixth interception of the season.
Next game: vs. Wake Forest
-----------------------
Purdue (4-6 overall, 1-5 B1G)
Last game: Purdue 27, Iowa 24 (W)
Recap: Stoppable force vs. Movable object.
Next game: @ Illinois
-----------------------
Illinois (2-8 overall, 0-6 B1G)
Last game: Minnesota 17, Illinois 3 (L)
Recap: ALionEye goes Job on everyone.
Next game: vs. Purdue
-----------------------
Michigan State (5-5 overall, 2-4 B1G)
Last game: Bye
Next game: vs. Northwestern
-----------------------
No. 14 Nebraska (8-2 overall, 5-1 B1G)
Last game: Nebraska 32, Penn State 23 (W)
Recap: Video evidence was incornclusive. The ball did not break the plain. Fumble recovered by Zebraska.
Next game: vs. Minnesota. Sigh.
-----------------------
Minnesota (6-4 overall, 2-4 B1G)
Last game: Minnesota 17, Illinois 3 (W)
Recap: Fringe bowl team earns fringe bowl eligibility.
Next game: @ Nebraska. Let's go, Gophers!