Picture Pages: Ending It, Part I
Michigan punched in a touchdown on their only possession of overtime against Northwestern and took the field needing to get a fourth-down stop at some point to win. They got it right away. On first down, Will Campbell(+2, pressure +2) swims through a guard to get instant pressure; Colter finds a running lane because Washington is out of position and picks up seven yards.
Three plays later, Northwestern was still at the eighteen, out of downs. WHA HAPPEN? In three parts, what happened.
Second And Three: Campbell Two-Gap
Northwestern comes out in the pistol, with Michigan in an even front with Ryan shaded over the slot. They keep two safeties 13 yards off the LOS—they are essentially playing a man down in the front seven because Colter demands to be contained.
The FB started on the other side of Colter and motioned just before the snap; Michigan's linebackers shuffle a little in response, but not much. Northwestern is going to run a plain old zone play.
There is a mesh point here. Colter is reading Roh. Roh does two things once the tackle lets him go:
He forms up at the LOS
He shuffles inside a bit to remain tight with the hip of the tackle.
give + no cutback == job done
#1 makes Colter give. #2 prevents Mark from heading all the way backside, which is important. If my spread 'n' shred analysis skillz are now basically irrelevant at least they're useful for parsing Northwestern. I've seen this before:
It's the vertical zone read play RR termed "belly." Under RR Michigan wouldn't go so far as to move into the pistol, but they would slide the QB up a foot or two and make this same handoff. It looks a lot like inside zone to the defense, and usually by the time they find out it's not the guy going backside has picked up a nice chunk.
Belly is about doubling the DTs, and driving them back; failing that you go at the spot the backside DE vacated when he went to contain the QB.
Here there's nothing. This is the mesh point. The line is a solid mass of humanity from Roh to Campbell, with the only gap on the frontside as Clark contains. The DTs have held up at the LOS. Mark has nowhere to go save that frontside gap.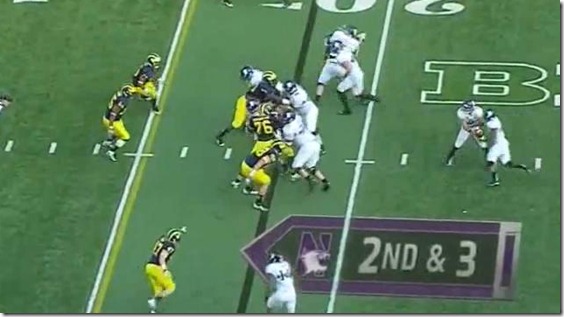 That's a problem because neither LB is hitting that gap. Meanwhile the fullback shoots downfield, looking for Kovacs. Mark has to redirect—this is not what the play was supposed to create—and this takes time, which is a saving grace.
Campbell is here, and then he's obscured because he's flung himself to the other side of his blocker and tackled.
Mark squeezes out a couple before most of the players on the field converge on top of him.
Now Michigan has third and short. They like third and short.
Video
Things And Stuff
It looks like Michigan is conceding the first down. Second and three and Michigan puts a full two-deep coverage on, leaving just six guys in the box against seven players. It's almost like Michigan is playing TD prevent and living to fight again on first and ten from the 13.
This is all defensive line. Collectively the two DTs take on four blockers and while those blockers release, Washington is in a spot where he closes off a gap at the LOS. Roh has taken the cutback away. And when Mark redirects outside, Campbell fills the gap outside Washington.
This is a cost of cutting off screens. Remember last year when Michigan got burned by bubble after bubble in this game? Mattison responded by flaring Ryan over the slot. That was the first we had seen of that; it's now a standard thing. Bubbles have all but evaporated. So that's good, but it also leaves Michigan in some vulnerable positions. Here their best defensive player is irrelevant to the play. It would be nice to have some better run support on the edges.
I'm not sure about the LB play here. Both guys end up catching blocks. They do this because the NW OL does not extend their doubles. Since the doubles are not extended, the DL can make the play they make. I am still kind of nervous about it. There's no slant here so they just have to play it straight, and as a result neither gets anywhere near the play. I'm guessing that's the way they have to play it. Gives me hives. Help, anyone?
Will Campbell woo. He vexed the pants off of a couple of guys in this game. This play in particular reminded me of watching Hoke talk about DL technique at that coaching clinic. Campbell may get a little high, but he takes one step inside and then fires upwards, rocking the G backwards. At that point his hands are on the interior of the OL. He controls the block, and can go from one gap to the other when Mark does. If you watch it enough you'll be like oh right the sleds DL hit.
Campbell made the Northwestern G look like an inanimate object designed to be hit to teach technique. Heininger Certainty Principle +1.
SIDE NOTE: DL DID NOT USE SLEDS UNDER RR /dies