Big Ten Media Days: Call For Questions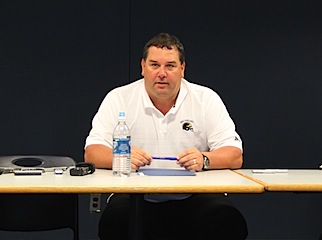 Like this, but in a suit. And at a podium. And with other Big Ten coaches and players as well. So basically not like this at all. Sorry.
Since yours truly will be at Big Ten Media Days on Thursday and Friday, time to crowdsource some questions. Those of Michigan players (Denard Robinson, Kevin Koger, and Mike Martin), and coach Brady Hoke are most likely to be asked, but if you have things for other players/coaches that are interesting enough, I may get a chance to ask them at Friday's roundtables.
So, if you have a pressing question (WHEN U SCORED TOUCHDOWN HOW U FEEL?), drop it in the comments here, and I'll ask some of the best ones. You have a couple days to give it your best shot.