Interview with Lion Kim, an MGoBlog exclusive.
[Ed: bump for Masters.]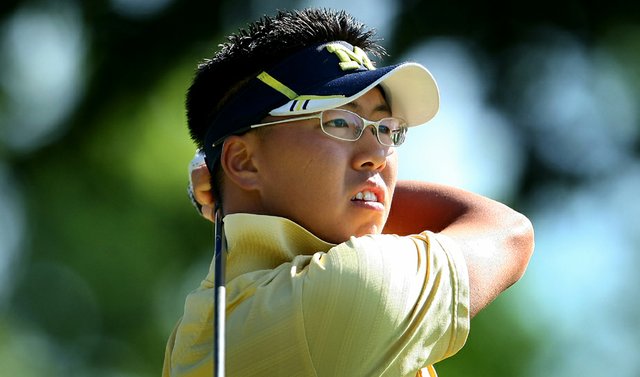 For the last year and a half, one of the most exciting collegiate golfers in the Big Ten Conference has been Michigan Golf Team captain Lion Kim. In a little more than a week, Lion Kim is going to be, for at least for the month of April of 2011, the most famous Michigan athlete on Earth: as the reigning United States Amateur Public Links champion, Lion has been invited to play in the 2011 Masters Tournament at the Augusta National Golf Club. He will be watched by a billion viewers on the Masters' worldwide telecast, and untold millions in his birthplace of South Korea.
Lion was born in Seoul, Korea and emigrated to the United States with his parents when he was barely a year old, first living in New Jersey where his father operated a New York area business, and then to Lake Mary, Fla., where he worked seriously on his competitive golf game before accepting a golf scholarship to the University of Michigan.
In the summer of 2009, the Michigan golf team barely qualified for the NCAA Division I Golf Championships to be held at the Inverness Golf Club in Toledo, the historic site of numerous USGA and PGAchampionships.
The 2009 NCAA D-I Championships marked a sea change for collegiate golf; a new/retro format involved team-match play with teams grouped into brackets as in the NCAA basketball brackets. (For non-golfers, "match play" is where two golfers play against each other, counting whether each hole is won or lost. The Ryder Cup is a well-known team-match play format. "Medal play," on the other hand, is the format that most PGA Tour events follow; the entire field playing four rounds for the best total score.) Former Buckeye Jack Nicklaus was invited to Inverness, and spoke at the opening dinner; the D-I Collegiate Player of the Year is now given the Nicklaus Award.
The 2009 NCAA Golf Championship also marked a turning point for Lion Kim and the Michigan Golf Team.  After having barely qualified, they proceeded to go to the semi-finals, including a thrilling victory over a highly-ranked USC team to make the "final four" of the championship before falling to the eventual national champs, Texas A&M. Lion Kim's 17th hole match win against his USC opponent was one of the great moments in Michigan golf in decades.
From then on, Lion Kim has become one of the best players in college golf. He qualified for almost every major amateur event last summer, and in five grueling North Carolina July days at the Bryan Park Golf Course in Greensboro, Lion Kim won the United States Amateur Public Links Championship.  By tradition every year, the USAPL winner, as well as the United States Amateur finalists and the winner of the British Amateur, are all invited to the Masters Tournament at Augusta.
I spoke to Lion last year; he was gracious to talk for a while as he was practicing for the Western Amateur at the Skokie Golf Club just outside of Chicago. At that time, he was looking back with satisfaction on his Masters-qualifying win in the APL, and was looking forward to playing in the Western Am, the US Am at Chambers Bay (a future US Open site) and also playing with his new Michigan teammate, Joey Garber of Petoskey who had just won an unprecedetned double:  the Michigan Junior and the Michigan Amateur Championship. It was a heady time for Michigan golf; I decided to hang on to this interview until we got closer to April and people were finally turning attention to the Masters and Augusta. 
AP: Lion Kim clinches his final match in the USAPL, 6 and 5.
Section 1:  Lion Kim welcome to MGoBlog and thank you so much for taking some time to talk with us while you're playing in the Western Amateur.
Lion Kim: Yeah, no problem.
S1:  First of all congratulations on the US Amateur Public Links, but also congratulations for what really now has been a great run for you for going on for a little bit more than a year now.  How does it feel to be a national champion?
LK:  You know, obviously it is an amazing feeling; never did I think this summer that I would win one of the biggest Amateur golf tournaments in the world. Not just in the US but one of the amateur tournaments around the world and I just feel very honored to be named a national champion and at the same time it's very humbling because I realize that, you know, with this success obviously there is going to be some expectations now, and I enjoy those types of pressures and am really looking forward for the challenge ahead of me.
S1:  Your own game, Lion, seems to have gone to a new level, at the same time that the Michigan Golf Team's collective game has gone to a new level starting back last year at the NCAA's at Inverness.  Can you talk about that stretch of time for us?
LK:  Well, yeah, I mean since then I obviously gained a lot of confidence at NCAA's and but you know overall just, I gained so much confidence in Michigan Golf Program and the coaches and in my teammates and obviously what we were able to do at Inverness Golf Club was amazing but at the same time, honestly in my opinion I was not really surprised because I knew our team was really capable of accomplishing big things like that and ever since then you know I personally gained a lot of confidence through that experience and I just knew actually that week that I am a good player and I really start to believe in myself and ever since then I just kept working hard and am just very lucky that all of my hard work paid off at the US Public Links Championship because obviously with that win, you know, I get some cool invites to PGA Tour events next year, so very exciting.
S1:  Yeah it is going to be a very, very cool year for you coming up.  Any particular memories from your time at Inverness? I was there, and I happened to be standing next to Bronson Burgoon when he hit that gap wedge shot on the last hole of the last match which was pretty exciting.  What are your memories of Inverness? 
LK:  I guess I mean it is tough not to pick my shot on 17 to close out the deal against USC.  I mean obviously we had a large gallery for my group at that time and you know looking back at that golf shot it is a very tough golf shot.  I mean from 212 and I cannot even see the flag.  I have to really just, you know I am only 5'8 and that is on a good day too.  So, I could not even see the flag, so I had to really just jump up to even see the tip of it and, so yeah it just came to that shot on 17 to close out the match.  It just came out perfect, exactly they way I visualized it, and you know it took off.  I thought it was a half skill, half luck type of shot. I mean, I knew that if I had the confidence I would get a good shot, but not to a point where it would be a tap in range.
S1:  Yeah.  How did it feel to play in that new NCAA format at Inverness?
LK:  Well very exciting obviously.  You know in match play, anything can happen and to be honest with you, we were a good team that year but we weren't a great team and USC was a great team.  I think they were ranked in the top-5 heading into that week; and we were like a top-30 team and so you know that's what happens in match play, you just never know.  I mean there is no advantage when it comes to match play and that is really what is exciting because you just do not know who is going to win.  As you say, it was the first year where they had the championship go to match play and I feel like we were very lucky to get the first taste of it. 
S1:  Jack Nicklaus was very excited about that format and he thinks it is a great thing for college golf.  He thinks it is a great thing for young golfers that want to be better golfers to get that experience in match play.
LK:  Yeah I mean, I definitely agree with Mr. Nicklaus.  I think that if you become a good match play player, if you're a great match play player, it really means that not only are you a good golfer but you are just mentally tough because in match play you just really have to be tough because how I like to think of the match play is when I see our opponent plays good, you just need to play great.  And if your opponent plays great, you've just got to play phenomenal golf.  There is nothing to it, you got to do whatever it takes to beat your opponent and you know, you just have to answer.  That is the type of attitude I have in match play and again going back to what Mr. Nicklaus said, it makes you a better player I think, when you play a lot of match play events.
S1:  Yeah.  Did you meet him when you were down there at Inverness?
LK:  Yes, I was very lucky enough to meet him at the player's dinner and I also actually have a picture that I took with him at the player's dinner and it is hanging up on my wall, the picture is hanging up on my wall in my home in New Jersey. A very special moment.
S1:  Fantastic thing, to get a picture with him.  Well you'll never forget that.  I have my own picture of me caddying for him in 1973 when I was a 17 year old and he was at the peak of his powers then.  At that time he was a few years younger than Tiger Woods is right now, so yeah you will love that picture forever.  But I will tell you, Jack Nicklaus is a Buckeye through and through.
LK:  Yeah I understood that.  That is why it made it sweeter to even go up to him and say that I am Lion Kim and I play for the University of Michigan and he almost did not want to take a picture with me, but obviously he is a great man and it was just a fun thing I got from a little rivalry feeling between Ohio State and Michigan.
S1:  Yeah, what is it like playing Ohio State in golf matches?
LK:  You know obviously, it does not get as intense as it does in football.  But we all know that Ohio State and Michigan have the best college rivalry.  Maybe, in my opinion, the best rivalry in sports period.  I mean it is just a fierce rivalry, but in golf, I mean Ohio State knows that they want to beat us really bad and same with us we want to beat them very bad.  But at the end of the day know that we are friends and will be a gentleman and shake their hands, whatever the result is.
S1:  We hear a lot about recruiting in football and basketball, but talk to us a little bit about recruiting in golf and about your own recruiting.
LK:  Yeah, well you know I am a guy from Florida and everybody asked me why would I go to Michigan, going up north to play golf.  You know when people or my buddies ask me that question, I say look -- plain and simple Jack Nicklaus went to Ohio State, Luke Donald went to Northwestern, Steve Stricker went to Illinois and I could go on and name all of these great players that have played school up in the Midwest or just north and you know I tell them that weather really should not be a factor and I understand golf is an outdoor sport but you know if you are really dedicated to the game and if you are really passionate you are going to find a way to improve no matter what the weather is like.  That is the attitude that I have and since my first American home had been in New Jersey, I have seen the weather before and it was not really a surprise for me when I came up to Michigan.
S1:  So, Joey Garber is coming down to Ann Arbor from Petoskey, he is really having a great summer too.  He is out there in Chicago with you right now for the Western Am, right?
LK:  Yes he is.
S1:  And you have got one other teammate that has made the field at the Western?
LK:  Actually there are four of us; including me and Joey, there is also Matt Thompson and Jack Schultz.
S1:  (Laughs.) That's good; you calling Joey your teammate already.
Yes.  (Laughs.)  Right; he is, yes!
S1:  Joey is having a really good summer.  I am not sure; did he qualify as an alternate for USAmateur qualifying?
LK:  Yeah, he is the second alternate right now.  I think he just fell a couple of shots short to make it.  But he is an alternate, he still has hope.
S1:  So, you're exempt for the USAmateur by virtue of your great win in the Public Links.  You did not have to go through qualifying, right?
LK:  After my win I actually called the US AM the following day and said I am scheduled to play in my qualifier in a week and I said, you know I am guessing I am exempt, and they said yes you are exempt and we will just take your name off of the qualifying list and the lady was really nice and she said you are already set and no worries about showing up to your qualifying time.  Which was a good feeling because a lot of guys over the summer really, even no matter how bad, or how poorly they were playing in the summer I think every college kid's goal in the summer really is to at least to play in the US Amateur.  So, it is always in the back of our minds; Am qualifying.  But for me luckily I won't have to qualify for a couple of years. 
S1:  Well for those that are not quite as tuned to it as you and I might be, the USAmateur is obviously the premier national championship for amateur golfers but in the exact same breath you would mention the USAmateur Public Links Championship which you won this year.
LK:  Yes.
S1:  The Public Links is kind of interesting because it was started specifically by the USGA to provide a championship for players that weren't members of private golf clubs.
LK:  Yes.
S1:  And honestly I will tell you Lion; before this interview with you I had never before seen the questionnaire form that you have to fill out for the Public Links.  And they really do ask all of those questions about whether you are a member at a private club. 
LK:  Yeah, and you know what is funny is that they even call to make sure, they even call a club just to make sure that you are really not a member.  The first year I qualified to apply for the Public Links, I sent in my application, got all of my travel arrangements ready and then someone from the USGA called me up and said, "Lion unfortunately you are not eligible to play in the Public Links yet because you did not get rid of your [Florida golf club] membership ahead of time..."  What I learned then was that you have to go a full year without being a golf club member.   And I had gotten rid of my club membership in high school because I was going away for college and obviously it would be a waste of money to spend the monthly payment when I am not going to be there for the majority of the year.  So my dad figured well if I am not going to be there, then why bother paying all of this money.  So we got rid of it.  But yeah, it had been less than a year before that application.  I mean they have some really strict rules, you know, they said you will be eligible for the next year, but not that year.  So you're right; they are very strict about that.
S1:  Yeah, it is a really interesting thing.  I do not know if you were aware of it, but the origination of the United States Amateur Public Links came about way back I think in the 1920s as a result of a guy from Detroit, it was James Standish who was later a President of the USGA and a member at the Country Club of Detroit who had the idea to start the Amateur Public Links; it is his name that is on the trophy.  You will have to look at your trophy to see if you see his name there.
LK:  (Laughs.)  Really, okay.
AP: Lion Kim, holding the Standish Trophy following his USAPL win.
S1:  So there is a nice little Detroit connection there for the Amateur Public Links, he would sure be proud to see a guy from the University of Michigan win it...
Yeah, so as a result of your win at the Public Links you are going to Augusta.
LK:  Ha, yes, that is the plan.  I did not get my official invitation yet, but that is usually the tradition, I think when you do win the USGA, Public Links or US, you get invited to the Masters.
S1:  I think you will get your invitation in about February.
LK:  Haha.  Okay.
S1:  They will mail it to you and obviously your Masters Invitation is probably going to go into a frame and go into your office someday.
LK:  Yeah, I will definitely frame it for sure.
S1:  Yes.  So, tell me have you ever been to Augusta?
LK:  No I haven't.  I have never even been to a practice round, never been to anywhere close to Augusta, the City of Augusta, period.  So I am really looking forward to it.  I plan on playing a practice round maybe in October.  I look forward to going down there. 
S1:  Well I think that they will welcome you and they will be very, very happy to have you down there and you will get to see the Crow's Nest. 
LK:  Yeah, hopefully.  I think all the Amateurs get to stay at the Crow's Nest so yeah I am looking forward to that too.
S1:  So tell me who is going to caddy for you?
LK:  I am not really sure yet.  I mean, I have been asking a lot of my friends who have played there in the past and to be honest with you I am getting two kinds of advice.  Some say you should take your dad or friend or a coach.  Some people say you need to take a local caddy.  But right now, I am not sure yet.  I have not really made my decision.  Obviously I will make my decision leading up to it, but I have a lot of time to really think about it.  So, I am not really sure yet to tell you the truth. 
S1:  Sure, well when you go down there for a practice round, you may get a chance to meet some of the local caddies and they will surely be interested in you.
LK:  Yeah, right, hopefully.

 
S1:  You cannot believe how hilly it is.  You just never see it on television.  It just doesn't show up on a two-dimensional television screen.  The whole thing is on a big side hill from the clubhouse at the top of the hill going all the way down to the 12th green and 13th tee, which is the lowest part of the property down there by the Rae's Creek.  But the extent and the severity of the hills are just absolutely amazing.  You have no idea, no appreciation until you see it live.  So, it will be fun to go down there and see it for the first time.
LK:  Hmm, yeah, really looking forward to it, very excited to see it.
S1:  Well when you won the Amateur Public Links the first thing everyone was trying to think of was whether you would be the first University of Michigan team player to play in the tournament and as far as I have been able to tell, you are the first U of M student that will ever be a Masters' participant.  But there have been some other Michigan guys that have played in it over the years.  As far as I can tell the last Michigan alum who played in it was John Schroeder back in the 1970s and 80s.  Before that you have to go back to the 1930s when Chuck Koscis and John Fisher played in it as amateurs then.
LK:  Yep, definitely heard of Chuck Koscis for sure.
S1:  Yeah, great iron player. 
LK:  Yes, that is what I heard.
S1:  So, equipment-wise, when you go down to Augusta you are going to have to play by the new groove rules.  Is that going to require you to change out anything in your bag?
LK:  Ah yeah; probably my wedges.  I know for sure my current wedges do not confirm with the new rule [The PGA Tour condition of competition for grooves, which is not applicable to the NCAA until 2014.]  Right now, amateur events don't really matter.  I don't think that any of the amateurs have to change until like 2014 I believe. 
S1:  That is exactly right.
LK:  Yeah, so I think that equipment-wise I think that my wedges will be the only clubs in my bag that I would have to switch out.  But you know what, I think that I could get used to [tour-conforming wedges] very quickly.  I have always practiced and played a couple rounds with the conforming groove and I did not really see a whole lot of difference.  So, it should not be a whole lot of transition for me.
S1:  Does Coach [Andrew] Sapp help you guys with equipment?
LK:  Yes, Coach Sapp does and also fortunately for me, before I got to college I had a relationship with Titleist, so they have been helping me out since high school and even throughout right now.  So, Titleist is the club that I usually play with.  I found a new Taylor Made driver that was something different that I have played with for a couple months, but I am pretty sure that I will have Titleist driver in my bag leading up to the Masters.
If you get a chance to talk to talk [former Assistant] Coach Doug [Gross] he will tell you how many equipment changes I have gone through in my Michigan career.  He thinks that I have probably gone through about 18 drivers since I have been in school.  That is quite a bit.    
S1:  Sure.  The new Titleist drivers are very cool; they are finally going to an adjustable hosel sleeve design which is going to make it a lot more fun, a lot easier to work with.  I think the tendency with all of the Titleist drivers that you have been using in the past is that with the way that the hosel bore was set so deep -- that bore-through design -- it sort of ate up a lot of the tip on the shaft and kind of, kind of changed the way that shafts felt. 
S1:  Yeah.
S1:  Well, lets do the lightning round here.  I am going to ask you just a few fun questions, give me your fast answer, okay?
LK:  Okay.
S1:  Alright; your favorite place on the Michigan Campus, other than the golf course?
LK:  Ahhh, Academic Center.
S1:  (Laughs.)  That's a good start, Lion.
LK:  (Laughs.)
S1:  Your favorite place to play golf anywhere?
LK:  Ahh, I would have to go with Cypress Point in California.
S1: Oh, really you played there?
LK:  Yeah, Coach Sapp and one of the Michigan alums, Tony Ridder, [he of the Knight-Ridder newspaper family] he invited the team to play at Pebble Beach, Cypress Point, San Francisco Golf Club and Spyglass.
S1:  Wow.
LK:  Yeah, we got to play some really nice tracks while we were down there.  Beautiful, beautiful scenery.
S1:  That's nice.  San Francisco Golf Club is seriously nice, too.
LK:  Yeah, very nice, right.
Tony Ridder (far left) with the Michigan Golf Team and Coach Sapp (far right) on the first tee at Pebble Beach Golf Links.  (Lion Kim 3rd from right.)
S1:  Okay, back to the lightning round.  Your favorite website?
LK:  Facebook
S1:  What is on your Ipod?
LK:  Korean music.  The majority of them are all Korean music.
S1:  That's cool.  What is the weirdest thing in your golf bag?
LK:  So you warned me about this question, so I have been thinking about that, it is actually my baby oil --
S1:  Oh, wait, I know that.  That's not so weird.
LK:  (Laughter.) Haha, okay.
S1:  I know that; you put baby oil on the finish of your Scotty Cameron putter.  (Laughter.)
LK:  Yes, correct, correct, it will rust.
S1:  I have an old Scotty Cameron Oil Can Laguna, I have to put baby oil on that one as well.
LK:  (Laughter.)  Oh yeah, okay.  Man you know a lot of stuff.
S1:  (Laughter.)  Well that is just the way that we take care of them, right?
LK:  That's right.  (More laughs.)
S1:  Well Lion Kim, thank you so much for taking time while you are in the middle of a competitive week.  We are all wishing you luck in the Western Am, which is one of the great amateur tournaments in the Country and we wish you success in the US Amateur out there in Chambers Bay and we send you sincere congratulations and the pride of everybody at Michigan on winning the US Amateur Public Links and being Michigan's National Champion in 2010.
LK:  Thank you SO much.  Thank you.  It is very exciting and I feel very honored to always represent the block M everywhere I go, so it is an amazing feeling to be a National Champion of the year.
S1:  Well, fantastic! Lion Kim Go Blue!
LK:  Go Blue!
Lion Kim introduced at Michigan Stadium, September 18, 2010: