Michigan Lacrosse: Season Starts Tomorrow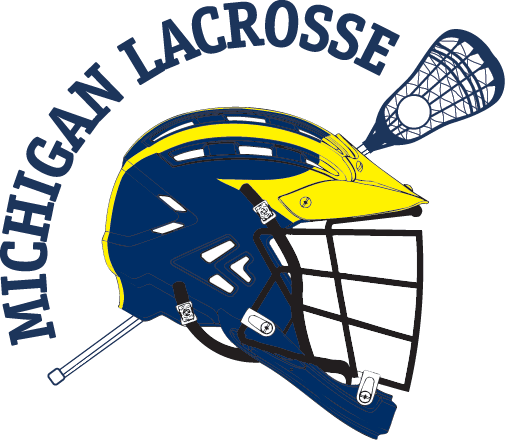 [Ed: Tim has also started a lax blog covering anything and everything in-state. Hit it up if you're part of the burgeoning lacrosse community.]
Giving the latest on the Michigan Men's Lacrosse Team.
Scrimmage Roundup
The Wolverines have been pristine in their spring scrimmages over the past couple years, so to see a loss to Division-1 Bellarmine by a big score may be troubling, especially since the Wolverines bested the same squad last season. Howeva, Michigan was not at full strength and Bellarmine is probably a bit stronger than they were last year.
The Wolverines rebounded by knocking of D-3 Wittenberg by a 13-9 score. It may be a product of the competition, but they looked much stronger in this game despite still not being at full strength. I took some photos at the game, so enjoy a gallery:
The above-inked site is a little side project I just started working on, so I encourage you to check it out if you're interested in lacrosse.
In the final scrimmage, Michigan was as close to full strength as they have been all spring - the MCLA's best defensive player, Harrison Freid, had missed the previous two contests. The Wolverines raced out to a big 12-0 lead at halftime before emptying the bench and taking down Kenyon College 15-6. I only caught the second half thanks to the basketball team's win over Indiana, so no real thoughts on the performance.
As for the team on the whole, it's going to be what we expected. They'll struggle on faceoffs like they have at no point during the current run of MCLA dominance ("struggling" here meaning "not winning 60-70% of draws"), but the offense and defense are likely to be among the best we've seen in Ann Arbor. It's even possible that we'll see a more wide-open offense from the Wolverines this fall.
First Two Weeks: A Preview
In a departure from the standard schedule, Michigan opens up at home against Florida before embarking on their annual spring break road trip. The trip is usually their chance to play multiple top-level non-conference opponents over the course of a week, and boost the schedule difficulty.
Florida
Since the Gators are up first, I'll spend a little bit more time previewing the game against Florida. The game takes places this Saturday at 7PM in Oosterbaan Fieldhouse.
The Gators made the MCLA National Tournament last year as a 12 seed, bowing out to Minnesota-Duluth 12-6 in the opening round. This year, they've started strong by pasting fellow South East Lacrosse Conference opponents Miami (YTM) and South Florida by a combined 30-13 score. They also had a tuneup against MCLA D-2 squad Palm Beach Atlantic last weekend. This all means that the Gators will be much closer to mid-season form than will the Wolverines, but is that enough to get a road win where Michigan hasn't lost since 2007?
The Gators lost their four leading scorers from last year in Ryan Akin (2nd Team All-American), Alex Cervasio, Kyle Beckman (3rd Team All-American), and David Rule. That quartet combined to average 13.5 points per game in 2010, and the Gators need to replace that production. Junior attack William Buch, senior midfielder Ben Salo, and sophomore midfielder CJ Casselli have stepped up to fill that void, but they are untested against the top teams in the country.
The Gators have impressed on faceoffs early in the season, winning 27/36 (.750), and since that's an area of weakness for Michigan, we'll find out soon if Florida's success is based solely on level of competition. As noted above, Michigan's faceoffs have been inconsistent throughout the preseason.
Josh Hagerman from UMGoBlog previews the game, and talks to former Wolverine captain (now Florida assistant coach) Michael Bartomioli. The whole thing is worth reading, and Barto even gives a couple (homer) predictions:
14-13 Florida in OT or 13-10 Michigan… first one as a Florida coach, second one as a former U of M player.
Josh also talks to Florida's head coach, and makes a couple predictions of his own (including - I shit you not - evoking the "SEC SPEED" meme, which caused a unicorn to die, no doubt).
I would guess that Michigan gets a competitive game, but ultimately a comfortable win. SELC teams have yet to prove themselves on the biggest stage and aside from the MCLA Tournament playing on the road at Michigan is as big as it gets.
Oregon
Once they hit the road, Michigan will face Oregon at a neutral site in Los Angeles. The two played a neutral-site thriller in Dallas last season as Michigan came away with a 5-4 win in overtime. They made the MCLA Tournament, falling 9-8 to Colorado in the first round. However, the Ducks may not be quite the team they were last year, as they've started their season 0-2, including a 10-2 pasting by Cal.
The Ducks only lost a couple members of their scoring arsenal from last year, so their inability to score goals early in the season is a surprise, especially with Honorable Mention All-American Kevin Clark still in the fold. It's possible they snap out of it once they get into the swing of the season, or they may just be in for a down year.
They have the same goaltending contingent as last year (including 3rd Team All-American Nick Johnston), and have plenty of returning players in their defensive unit (3rd Team All-American Steven Brizie among them), so they are probably going to try to hold it together on the defensive end while they figure out their problems scoring.
Loyola Marymount
The Lions missed the MCLA Tournament last year despite a solid 13-5 record, as they lost to Chapman in their conference tournament. They were a strong defensive team last year with occasional bursts of offensive firepower. So far this season, they've knocked off San Diego State 9-3 and will play three more games before they face Michigan.
2nd-Team All-American Alec Paul was far and away the Lions' leading scorer in 2010, but he's graduated. That leaves the magnificently-named Magnus Karlsson to carry the scoring mantle, along with fellow midfielder Travis Abraham and attack Chase Parlett. Sophomore midfielder Nolan Smith and attack Max Zeff were the big scorers against San Diego State, so we'll see if that production holds up over the course of the season.
LMU is breaking in a pair of new goalies this season, so if a team can break down their defense (especially early in the year), they should be able to beat the netminder as well. That should be no easy task, of course, as the defensive unit is senior-laden, including 3rd Team All-American Marc Napp.
Chapman
Even those who aren't familiar with lacrosse may have heard of Connor Martin a.k.a. ConBroChill, likely the biggest celebrity among MCLA players all-time. Argue all you want about the negative impact his videos may have on the lacrosse community, but there's no denying Martin was a great player, as only the second MCLA athlete to be drafted by Major League Lacrosse. With him out the door (along with midfielder Blake Whitcomb, a 3rd Team All-American), Chapman's offense takes a big hit.
Andrew Clayton (HM All-American) and William Morrison should be the team's new offensive leaders, but it's the defense that should carry this team. Andrew Salcido and Spencer Halvorsen were 2nd-Team All-Americans last year, and LSM Matt Walrath earned an Honorable Mention.
Thankfully, Chapman lost their faceoff specialist from last year, as Chris Small was a 2nd-Team All-American last year, and Michigan would prboably get destroyed by him if he was still around this year.
And Then?
After their road trip, Michigan opens up conference play with a healthy drive down to Athens, Ohio to face Ohio University. Since they're a first-year MCLA program, it's hard to know a whole lot about the team at this point in the year. I'll preview that game (and review the spring break trip) when the time approaches.
Etc.
A third senior leader has been added to Michigan's contingent of captains. LSM Matt Asperheim joins Attack Trevor Yealy and Harrison Freid, and though he doesn't have as many honors (Yealy and Freid are both multiple-year 1st-Team All-Americans), may be just as important to the team's success as a good defensive player who can go forward with the ball in his stick.
The Men's and Women's lacrosse teams joined forced to participate in Wednesday's Mock Rock event, performing a couple dances from Grease:
Yay, charity.