The past two months, as told through Internet memes and whatever man…
Part of me just wants to wallow in despair and ice my soul dong, but at the same time I just can't overcome the urge to post my thoughts about the past couple of months in UM football.  And since I'm more an REM fan than a Smith's, this post is sprinkled with a couple of my favorite tunes' names.
**NOTE:  Depending on your office culture, there might be a few NSFW-ish memes here.  Nothing epic or pornish (sorry), but you've been warned.
Shiny Happy People
After the Purdue game, my feelings about the team were shared by a bulk of the UM community – namely,
. 
Or, in words, excited about being 7-3, dreaming of possibly splitting with Wiscy and OSU, and finally ending the constant speculation swirling around RR and the team's coaching staff.  Sure, it felt like a bit of a smokescreen – this team was still worked over by MSU-Iowa-PSU that left me with a bad case of the
– but I definitely felt that with Robinson and co. putting up record-breaking offensive numbers the season had taken on a
feeling. 
Plus, the wins, the offensive resurgence, and the uptick in recruiting they brought pointed to something greater – a sense that UM fans no longer needed to worry about rogue newspapers flailing about with half-cooked exposes, of turning on your television and seeing some smug talking head on ESPN crow about the "fall of Michigan" and how Rich Rodriguez was "definitely" on the outs, of scrolling through the blogs and Twitter with baited breath lest another player on the 2-deep tears
tendons in his knee, fails to make the grade, or simply wants to leave.  For the first time in 3 years, fans could finally look in the mirror and say
.
Losing My Religion
…er, Ann Arbor, reality did not mesh with this dream scenario of a return to normalcy for fans of the Maize and Blue.  While the offense had made definite strides under RR, the defense under this dapper gentleman
had badly regressed even from the historically-bad standards of the previous two years.  By any metric, this was one of the worst defenses in college football, and watching them every week made me so…
.
Yeah, I conveniently overlooked the fact that in order for there to be an historic 67-65 win over the Illini UM had to give up 65 points (!!!111!!11!!) in the process, or the fact that the Purdue
's were calling key screen passes between their 3rd and 4th QBs.  And yeah, Wisconsin and OSU still outclassed UM from a talent standpoint and would provide the staunchest tests yet for this fledgling offense, but still, nobody had really shut down UM's offense yet, and when the game gets up to the 30-40 point range anything can happen. 
  So really, what was wrong with a little bit of homerish optimism in an upset? 
What's the Frequency, Kenneth?
I don't (and won't) need to recap what happened in gory detail, but let's just say that phrases like "
that was a horrible series for the offense" and "GERG,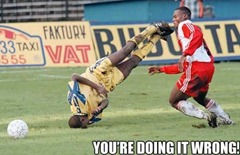 " were frequently typed, tweeted, uttered and sworn over those last two weeks.  At some point during the second half of the Wisconsin game, I thought that jewel thieves were breaking into my house and had simply
ed a single run play and set it on a loop on my TV to distract me.  And if that shellacking wasn't enough of a wake-up call to the UM faithful that this team was not ready for prime-time, the demolition by OSU the following week drove the point home that
if you are an above-average offense against UM's defense.  Fans were left feeling
, though not so much because of the defense's shortcomings (by that point, nobody expected anything from the unit), but because the offense suddenly went from
to
. 
And despite the mountain of factors and valid arguments explaining why this team was going to struggle against elite competition, and in spite of the very positive fact that it was going to be playing a NYD bowl game against a legit SEC team for the first time since…well, the last time they played a NYD bowl game against a legit SEC team, one couldn't ignore the reality that it was another year of
against marque teams not named Notre Dame while the fanbase yearned for a season
. 
Drive
Despite the thumping at the end of the season, at least this season had an expiration date beyond Thanksgiving, and after the past two years that felt like a win.  Of course, this was all overshadowed by the rumors surrounding RR's potential termination and the deafening silence coming from AD David Brandon on the matter beyond "I'm evaluating the team as a whole."  This led to a clear distinction amongst fans – one side felt that
and Brandon either relieve RR of his coaching duties or publicly support his continued employment, and the other side that felt rushing to a decision was too reactionary and that a more measured approach was necessary.  All would acknowledge, though, that the uncertainty surrounding the program had an adverse effect on recruiting, as everyone was
, hide your recruits from other schools poaching them.  Committed kids like Dee Hart started to look elsewhere while recruits like Zettel chose other programs (at least in part) because they weren't sure if RR was going to be there next year, and frankly it was hard to blame them. 
Of course, this led to an unrelenting number of commentators and pundits creating
about how the Michigan coaching situation was going to finally resolve, almost always with RR being canned for the hot coach du jour.
Even venerable MGoBlog,
wasn't immune, leading the creation of the CC tag for posts about a potential coaching change as a means of identifying at least some of the rampant speculation surrounding the head man for the Wolverines.  And this level of confusion/misinformation wasn't limited to traditional media sources; while bloggers called for their readers to
, it was clear that nobody knew what was going to happen to the Michigan program, and that probably included Brandon.  It was enough to make
What made the situation even worse was the poor planning that had seemingly been put toward a potential coaching search by those in the UM family, with the groupthink being that that Harbaugh was the guy and he would jump at the opportunity to coach his alma mater despite evidence that UM wasn't the most attractive offer on the table.  For all the
UM fans had taken in recent years from Notre Dame's schizophrenic coaching decisions, the botched handling of the situation so far by the AD left me wondering if this
wasn't that far off.
Finest Worksong
Hey, remember that bowl game UM was going to play?  Remember how everyone was excited that the team would have 15 more practices to prepare, and how it would allow the coaching staff (especially GERG) to focus on a single team and really prepare for everything, possibly leading to the type of competent defensive effort this team hasn't displayed since UConn to start the season (the only other time when the staff had over a month to prepare)?  It wasn't rocket-
; you made the Bulldogs pay for blitzing on offense and brought the pressure on defense.  Honestly, a brain-damaged Capuchin monkey with a smartphone could have figured that out.  Yeah, about that…
.  Okay, maybe that's a bit too crude.  It wasn't quite prison-shower-scene style, but more like …
.   UM was dominated by the Bulldogs in a way that was more shocking than even what Wiscy and OSU had done in previous games because while those teams were a combined 22-2 and 2 of the best 7-8 teams in the country, MSU was a very beatable SEC team that (thanks in large part to MGoBlog's obsessive analysis) had clearly defined faults that could be exploited. 
Yeah, apparently this was all news to the coaching staff.  After the first quarter the offense couldn't score (thanks in no small part to the realization that even chip-shot FGs were full of
), and the defense was thrashed AGAIN with minimal resistance.  It was the worst bowl loss in UM history, yet another chink in the once-impenetrable armor that surrounded the University of Michigan football program.  And more than the just the numerical domination, watching this team being manhandled by the Bulldogs was just embarrassing – the team looked ill-prepared and lost at times out there, everyone waiting for Denard to just carry the team to a victory that wasn't going to materialize.  It was a fitting end to another
season for the Wolverines, and to many signified the final nail in RR's coffin.
It's The End Of The World As We Know It (And I Feel Fine)
After the Gator Bowl debacle, everyone braced for the announcement concerning the future of the program and where RR fit in.  Most expected him to be fired, though a few held out hope (the author included) that he would be retained for another year to see how this team would perform with all the returning players.  Plus, given that it was now about a month from Signing Day, it would be incredibly trying on a new coach to assemble his assistants, reach out to current commits AND snag some blue-chippers in a couple of weeks.
Harbaugh still looked like the leader in the clubhouse, with Brady Hoke and a gaggle of longshot
, and the sentiment remained that once the job opened up to lead the Wolverines, Harbaugh would welcome the opportunity.  I mean, it's not like this transition wasn't hammered out  between the OSU game and January 1st.
Maybe the first clue that the power of Brandon's
might have been overstated a bit came from the frequent reports that Harbaugh was not sold on returning to UM; that he was weighing options in the NFL and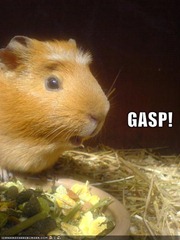 even returning to Stanford.  Then came tweets and articles from Fox Detroit and Michael
Rosenberg that RR was fired, even though there had been no official word and wouldn't be for at least one more day.  This was an obvious formality and not a stay of execution for the Rodriguez era, and on Wednesday Brandon officially announced the termination. 
Bang and Blame
So now a "national coaching search" begins on January 5th - ಠ_ಠ – and we are left again wondering what went wrong under RR and if this program's recent instability was a blip or if it will be forever. 
Personally, I think the key factor in the coaching search needs to be less about bringing in a "Michigan Man" – that anachronistic alliteration that makes Brady Hoke a legitimate candidate – and more on finding a coach who can work with the talent already in place and who understands how to run a defense/hire a competent DC.  RR's inability to find a non-Casteel Castell at Michigan, or at least allow a competent DC run his system, was the main force behind his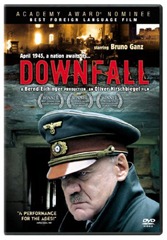 . 
The next coach, whether it be Harbaugh, Miles, Patterson, or whomever, needs to step into this situation and adapt quickly, hopefully winning along the way.  Because what this whole experience has taught me is that despite our claims to the contrary, the average UM fan isn't
ly different than fans at other elite schools – they expect to win and have incredibly thin skin when they don't, are largely resistant to change except if it works immediately, and are only as patient as is necessary before a "better guy" pops up. 
Brandon put himself in this predicament by removing RR before a replacement was in place, so the pressure is squarely on him to deliver.  Whether he does is open for debate, though my pessimism should not be dismissed as mere
.  Until proven otherwise, I view Brandon as an unknown commodity as an AD, and how he handles the next couple of days and weeks will define his tenure for years to come.  Based on his business acumen and UM's historic success, I am confident that Brandon will bring in the
and return this program to national prominence, but if I've learned anything these past two months it is that such logical arguments are