Tailgating @ MICHIGAN... The story of theBLUELOTCREW and a dream to do it right!
Tailgating in the Blue Lot:
SInce 2005, my band of misfits and I have been patrolling the confines of the Blue Lot adjacent to Crisler Arena trying to ignite the type of passion that we feel for Michigan in the souls of others.  The Blue Lot was known for being an area of despair and gloom with no real atmosphere or energy.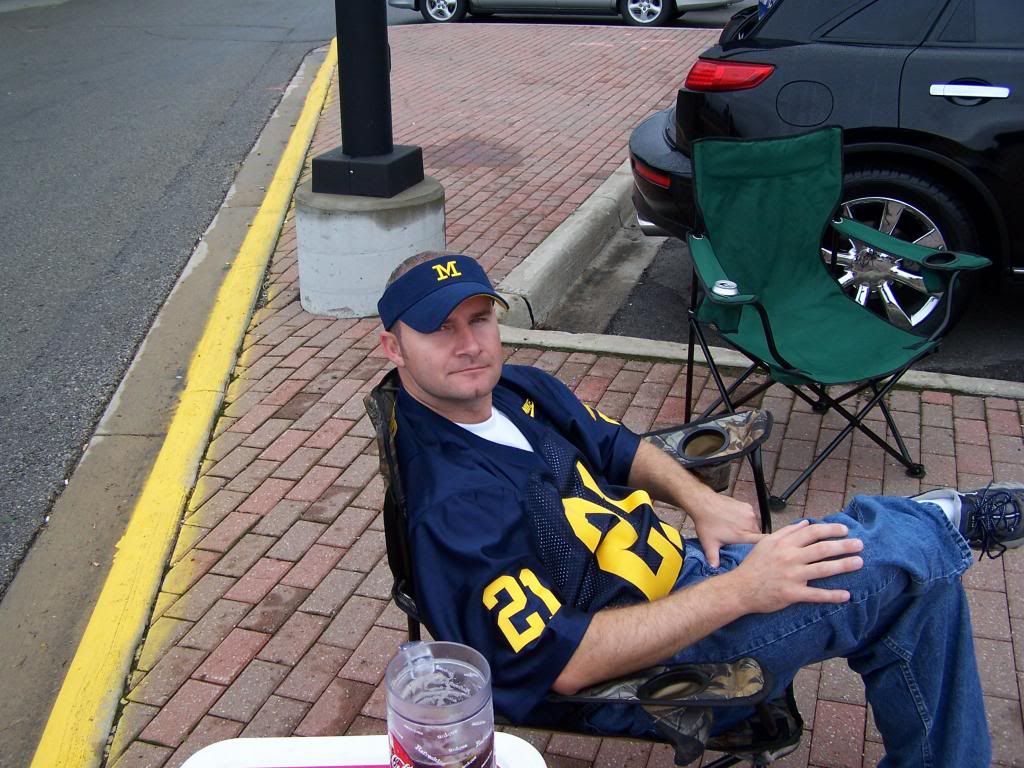 Over the past few years, the scene in the Blue Lot has improved markedly both in our own efforts as well as by those who have been tailgating there, however, yesterday served as a stark reminder that things can change literally overnight.  More on that in a minute, first, a brief history.
Tailgating 101: The Early Years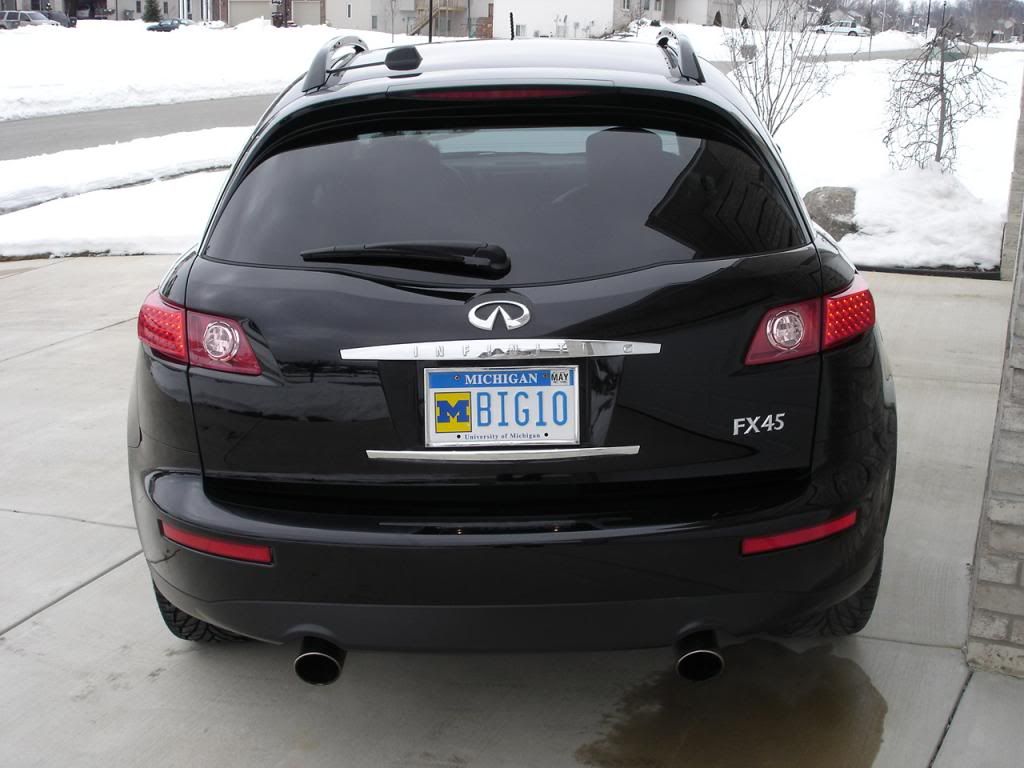 In our earliest feeble attempts at tailgating, we arrived around 9AM regardless of gametime.  Our spread was very humbling considering that the majority of the tailgaters in the Blue Lot arrived in motorhomes and RVs that cost 5X what I paid for my first house.  With that said, we were a young group of avid fans, and we were determined to stake our claim and bring the atmosphere up to the levels that we had seen in our road game travels to venues across the Big Ten.  Initially, we were equipped with the black SUV shown above... meager beginnings to what would eventually materialize.  We were but a group of 4 who travelled to every home game and the term "Cornhole" had not yet been grasped by the American Lexicon... at least in A2.  So, we were armed with 4 folding chairs, a portable propane grill, a cooler and a football.  We played tunes through the open doors of the car we drove down in, and the playlists were in CD form.  But the music attracted the UM dance team... and they were good cooks!
We had no protection from the elements, but were blessed with good weather most of the time.  A brisk chill was the worst things ever really got.  We had a blast nonetheless, but we knew that we had to step our game up, and soon.  We had grand ideas of one day, creating a bastion of tailgating excellence.  A spot where we could comfortably host dozens of our friends and be prepared for any type of weather.  For now, we would just enjoy scores like these.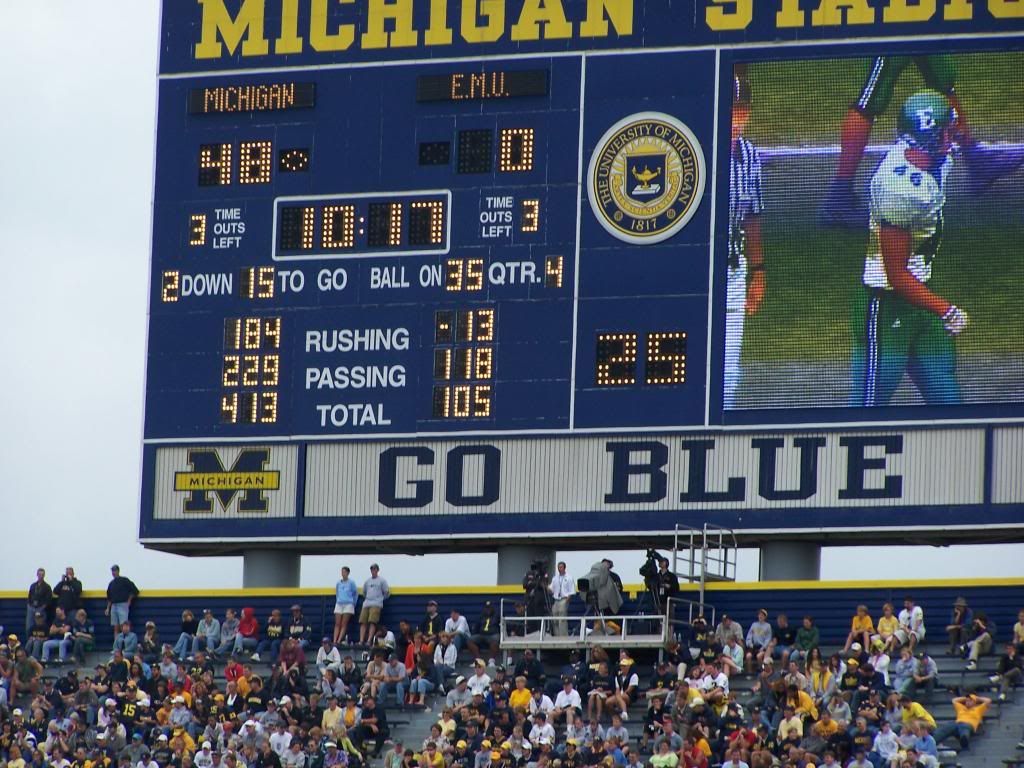 2007: Enter High Hopes, Crushing Defeats and CORNHOLE
2007 Henne is an All American, Hart is up for the Heisman, Long, Manningham and Arrington are back and UM is ranked #5. As for us, we debut our own custom made Cornhole boards.
A glorious day in early fall with an FCS opponent from Boone, NC headed to town.  Just a tune-up for our next 3 games against Oregon, Notre Dame and Penn State, right?  Sure, things started out on a high note that season, and tailgating was no exception.  We were armed with a larger SUV which meant a 21" portable LCD TV, a generator, and a pop-up canopy tent were now part of our arsenal from 2007-2010.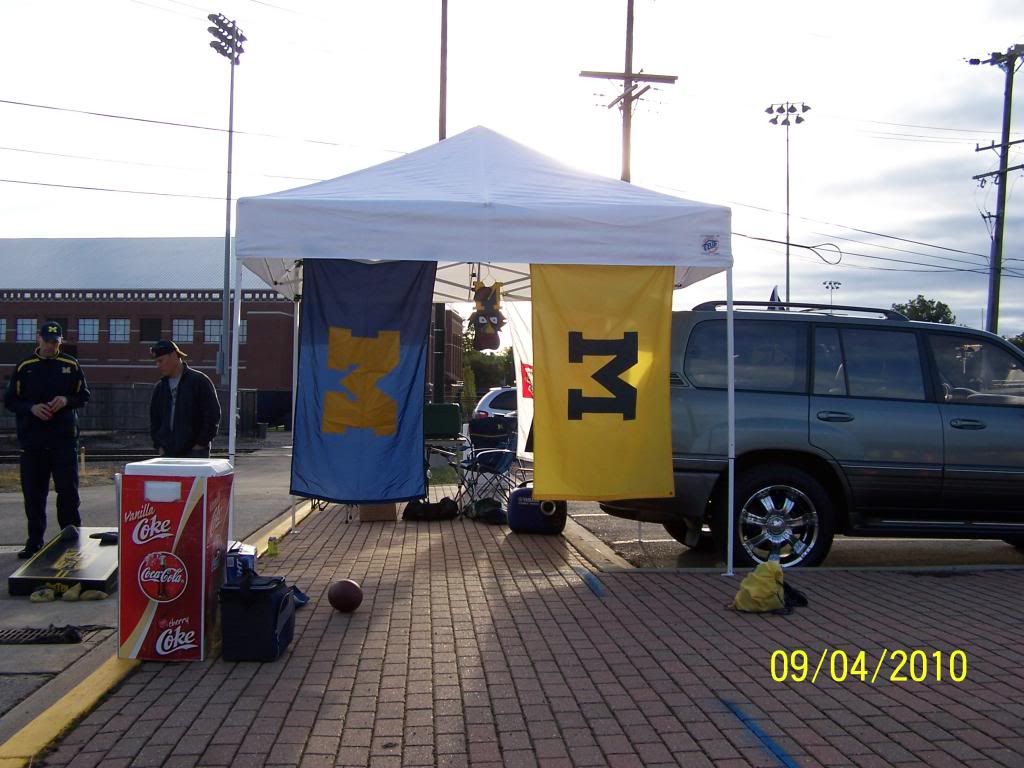 Additionally, as music lovers, we upped the ante on the sound system too.  At first, there was resistance to the volume levels, but once we allowed others to plug in their favorite playlists and let the tunes roll, we became a popular group in the lot as everyone wanted their favorite songs played at 105 dB.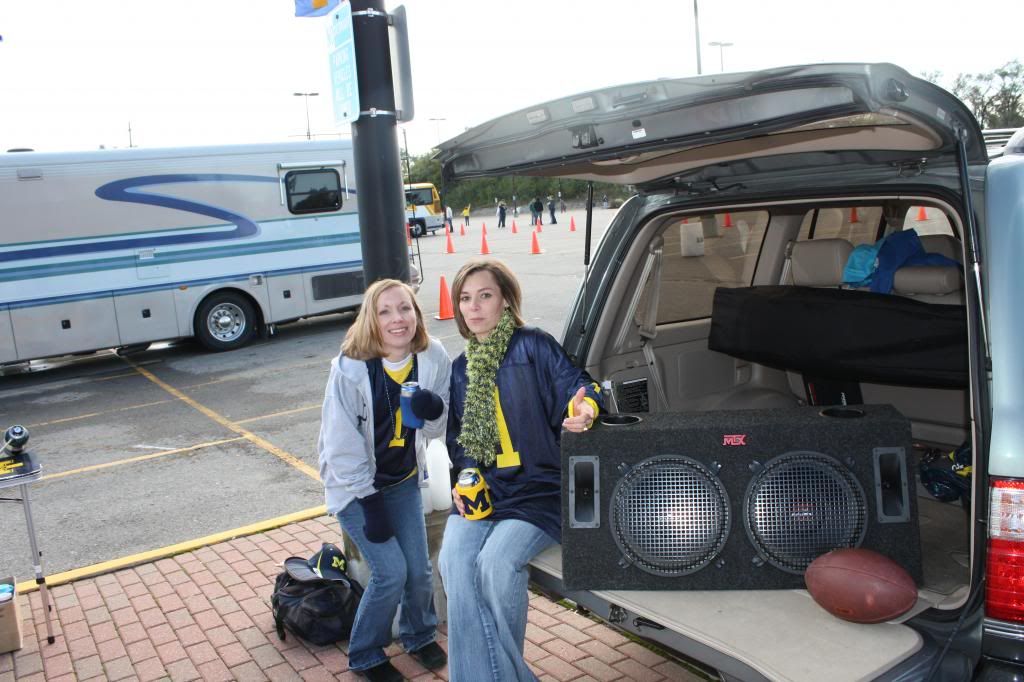 The Blue Lot was livening up, too.  With the announced renovations to the stadium, season ticket holders were allowed for the first time to transfer ownership of their tickets and parking passes to younger family members.  This was a huge deal for many, and the dynamics of our lot were changing as well.  All of the sudden, the lot that would be 80% empty until 2 hours prior to kick-off was filling up earlier... much earlier.  For the first time ever, we arrived at 8AM and our spot was taken.  That was unfortunate and forced us to reconsider our dedication to the tailgating scene.  Although the lot was filling sooner and with younger fans ready to have a good time, we needed to step our game up.  We had to arrive earlier to ensure we would never again lose our spot.  The new plan, arrive at 6AM... the minute the lot opens.  That season was the best yet in terms of tailgating atmosphere.  The Blue Lot was every bit as good as anything we had seen on the golf course, at Pioneer, or on the road.
2008 "Why settle for Les when you can get Rich quick?"
The spread offense was coming to Michigan and we felt obligated to bring something new to the party.  We had to celebrate this new era of UM football and tailgating was the area we could directly impact.  There was a newly erected "bus stop" on the corner where our former tailgating spot resided, so, we had to head east about 150 yards to our current address.
2008 was a rough season.  Weather seemed to be getting colder and there was much more rain than in previous seasons... so much for Global warming.  We had to adapt, so, we did.  Enter thermal canopy sides and our 50,000 btu propane heater.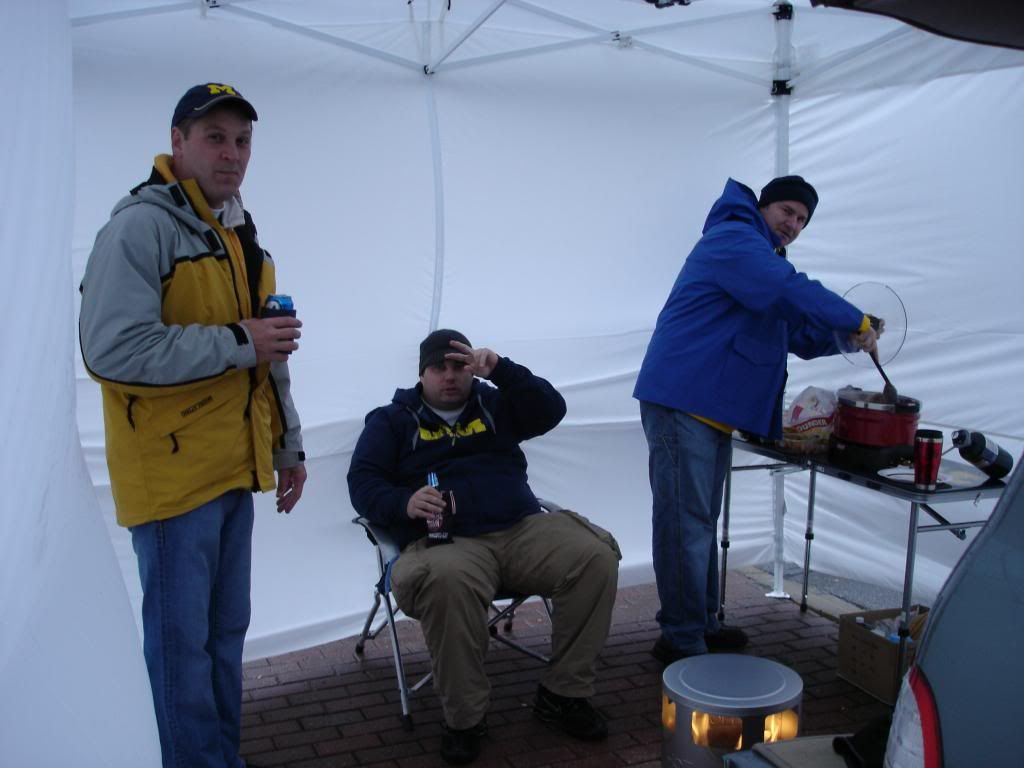 Any of you who recall the 2008 Northwestern game know that driving sleet would wreak havoc on the field, but not in the Blue Lot.  We were in climate controlled heaven with our TV, our heater and our beverage cooler.
Soon, UM celebrities were stopping by to see what we were up to.  Jamie Morris, come on in!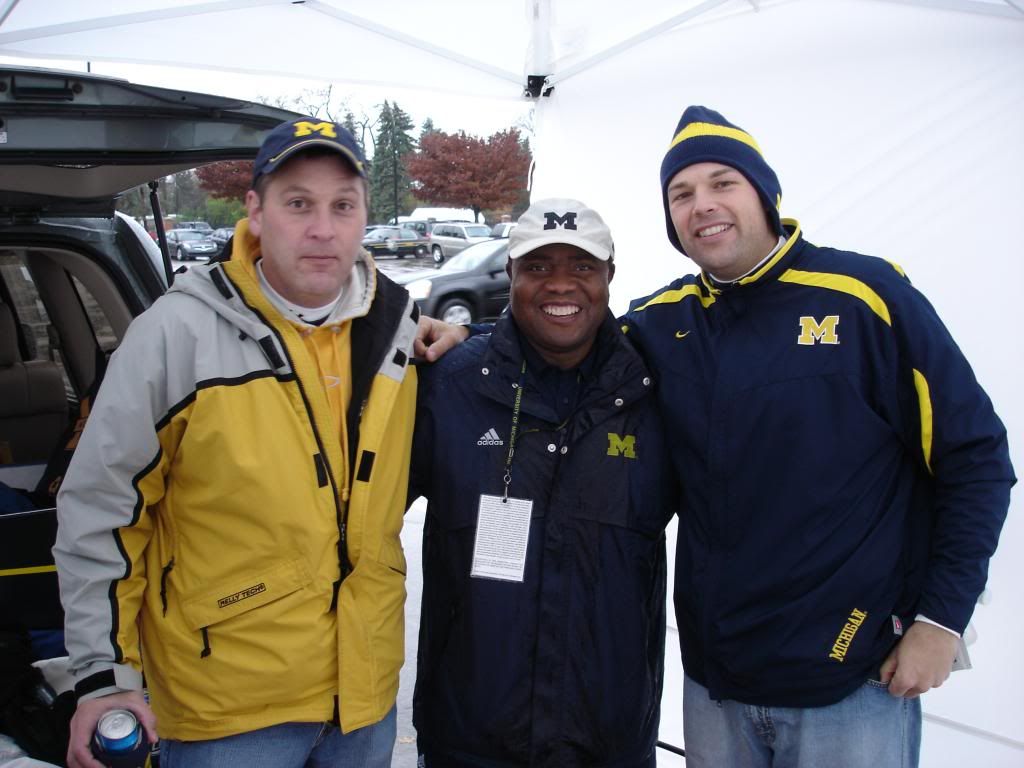 The shining beacon of defensive light of the Rodriguez era... Good Luck to you Brandon Graham.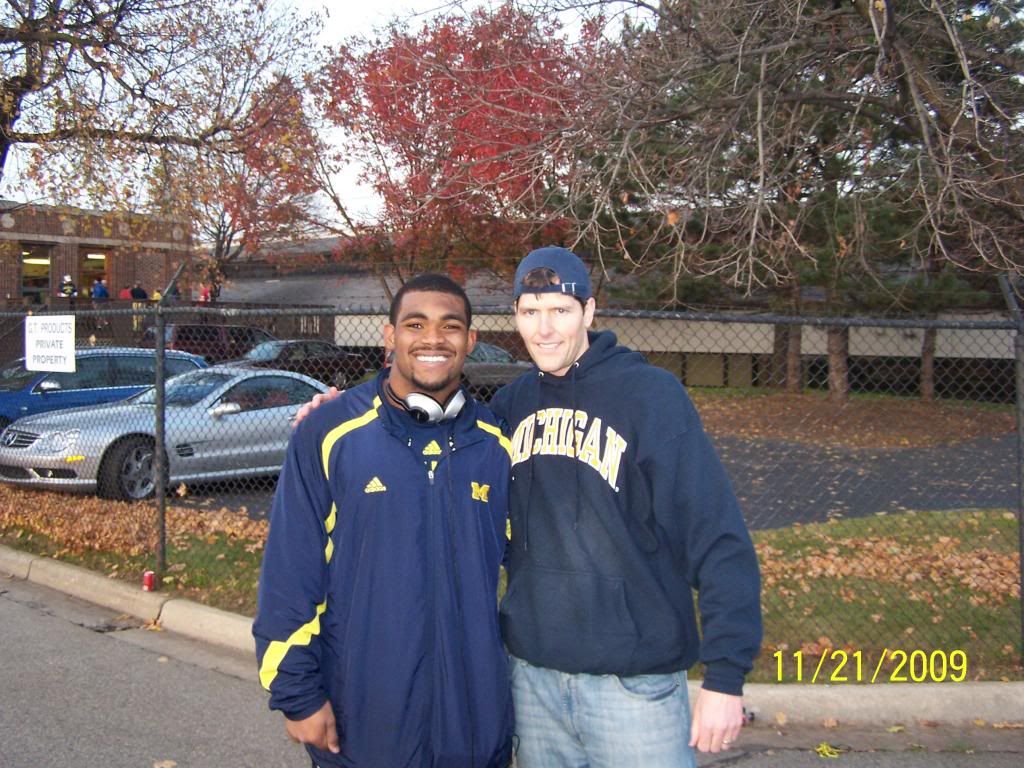 2011: Hoke for tomorrow... a new beginning... of tailgating excellence.
OK, despite our best efforts and undying support, the Rich Rod experiment did not go as planned.  We needed to wipe the slate clean.  All we had known was lost, we were a rudderless ship, and we just hired an unknown commodity to lead the UM program.  This was big, and we needed to do it big.  
A trailer and a dream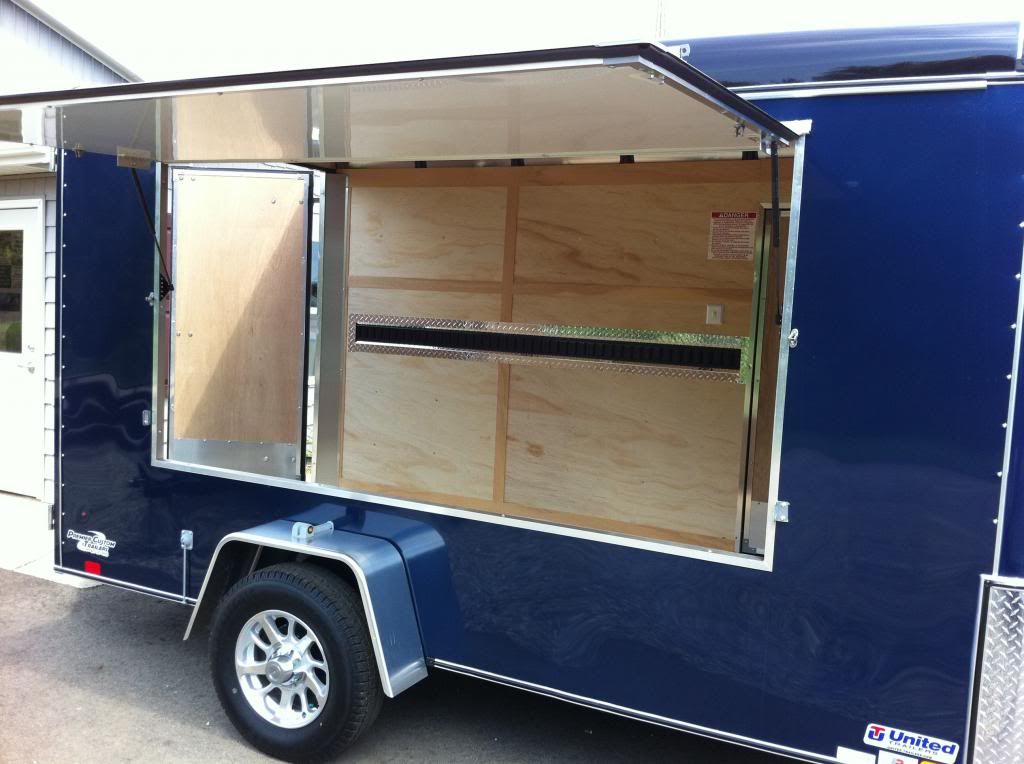 Our core group of 4 had grown to a dozen, but the initial goal had remained the same.  We need to build a Tailgating Trailer unlike anything we have ever seen at UM before.  The essentials needed to be addressed... full size grill and stove.  We needed a microwave oven, convection oven, deep fryer, indoor kitchen with butler's pantry and storage for all the food and necessities one could imagine.  A 184 qt. ice chest for beverages was a minimum requirement as well.  It needed to be portable, yet easy to transport.  It needed to scream MICHIGAN FOOTBALL.  We needed a huge LCD HDTV, we needed DIRECTV with all the hi def content we could summon.  We needed internet connectivity, and video games.  We needed DVD, for when the kids are restless, and we needed POWER.  Lots and lots of POWER.  It seemed impossible, yet, it was our mission. We are talking the kind of power to allow the entire east side of campus and the golf course to know we have arrived.  We needed to go where no tailgating operation had dared to go before, but how would we do it?  The audio equipment alone required a 2500 watt generator just to turn on.  12 speakers, a 1200 watt receiver, a 1,000 watt subwoofer amplifier... the numbers were staggering.  How can you do this and make it portable and efficient enough to operate for 12-16 hours on a Saturday with no electrical outlet within miles?  Well, this is what we came up with...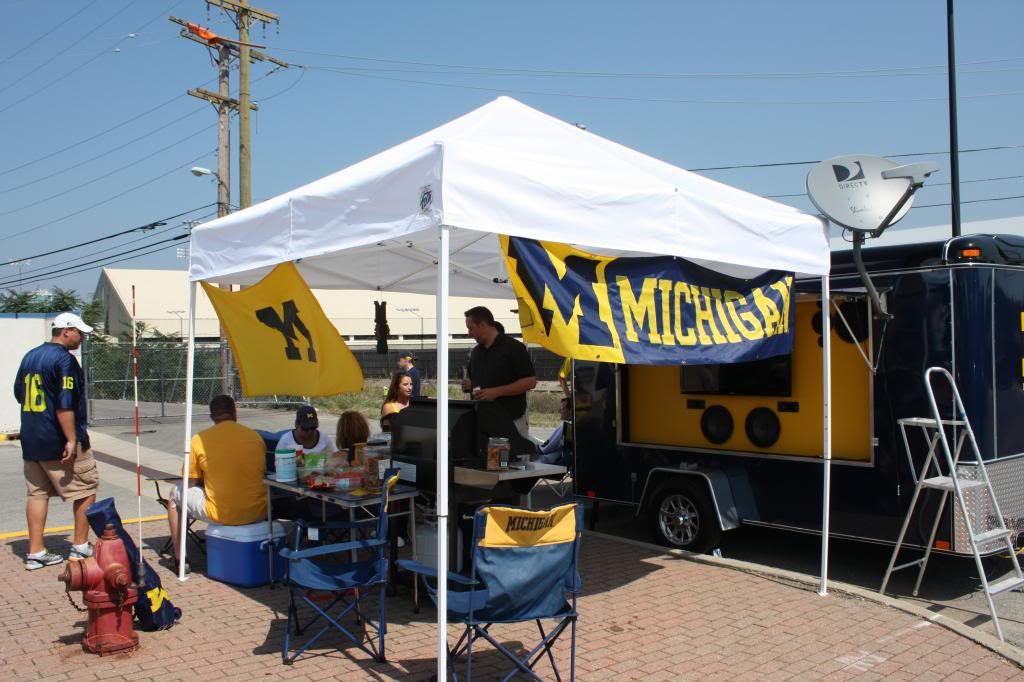 The first season went smoothly, and the trailer was a big hit with all of our friends in the Blue Lot.  We had roughly 20-30 people per game want to take tours of it, get photographed with it, and just ask questions about it.  One guy, an engineering professor, once asked me how we figured out how to wire it all and provide enough stable power with portable generators.  I admit, I left engineering school after 2 years and became a business major.  He smiled and said, well, you obviously learned enough anyway.  I took that as a compliment.  However, when you are rocking out with that many speakers and that much juice, you sometimes get noticed by individuals you would rather avoid.  Luckily, these guys thought it was as cool as anything they'd seen in a long time.  And after playing a few requested songs, and racing them on our electric razor scooter through a cone obstacle course while they rode their motorcycles, they were cool with us.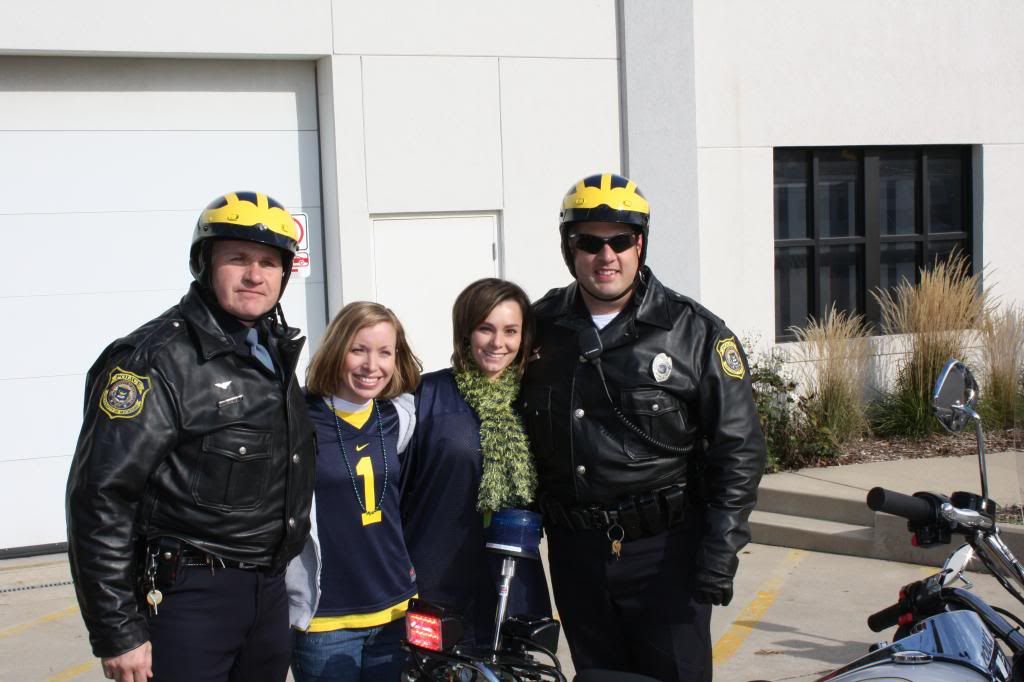 2012: Current Day State of Affairs
We added some additional graphics to the exterior, beefed up the power a bit to handle more electric appliances, and tweaked everything just enough to where we think it is almost complete.  We were eager tio hit the Blue Lot at our normal 6AM arrival time, which seems earlier now that my wife and 7 year old son want to attend every game.  
We leave our home at 3:30 AM with trailer in tow every game day and look forward to the best that Michigan Football Tailgating has to offer, but this year, things would be different.
Over the years, we had befriended many fellow UM fans in the Blue Lot who had been tailgating there for several years and in some cases, decades.  There were always 30-40 RVs in our area, as well as several others who came by car, and we all knew and appreciated seeing eachother every year.  Especially the home openers, where we would reunite and talk about what we had been up to over the spring and summer months.  It's always been like a reunion of old friends and as you can imagine, there was always someone who forgot to bring something that morning.  It was never a problem since we all were a community united by our love of football, tailgating and just having fun together on Saturday mornings.  One of us always had the item that the other was missing, so it worked out.  The lot was nearly always full by 10AM, regardless of the 3:30 kickoff times, and the atmosphere was perfect.  
That was until Saturday.  You see, the Blue Lot is a reserved space for long-time season ticket holders and donors who have supported the program. It was very similar to other schools where you would be hard pressed to find rival fans having access.  Not that it's a bad thing, but since it is reserved for UM Victors Club members, you expect to see mainly Michigan fans there.  Well, this year, Dave Brandon has made a critical error.  If not he, then the person in charge of facilities management needs to revisit the decisions made regarding the prime tailgating location on campus.  This Saturday was a complete joke.  We were the first to arrive by 3 hours.  The next RV wasn't there until after 9AM, and at 1PM, the lot was only 20% full.  By 3PM, when we wrapped things up and headed for our seats, the lot was still less than half full.  The atmosphere has been destroyed and many of our fellow MGoTailgaters have been banished from the lot for reasons unknown to them.  I talked to several people that day both in the lot and ones who were relocated and nobody had any answers.  The idea seems to be that there is now a minimum number of Victors Club points necessary to obtain a parking pass for this lot.  That number is presumed to be 400-500 points.  To put this into perspective, you would need to have been a regular season ticket holder for decades to accumulate enough points, and even then, it wasn't a guarantee.  We squeeked in simply because we have had season tickets in our family for 41 years, However, we barely made it.  Our neighbors in the lot who were banished had been parking in the same spot for 17 years, and were asked to move to the Purple Lot, some 1.5 miles from the stadium.  There is not a supply and demand function at play here, so what is going on?  Rumor has it, visitor parking passes will be issed for this area in the future, but these rumors are both unsubstantiated as well as totally asinine, so I refuse to ponder them.
My hope is that this new policy is examined and corrected very soon.  The lot is a ghost town, the atmosphere is gone, and the reason seems to be a mystery.  If they are selling all of the spots in this lot, I find it hard to believe that with a crowd of 112,574 this weekend, they all car pooled.  The lot was less than half full and people who had been parking there for decades have been moved and for what?  That is the question I would like answered,  Until then, I will continue to do my part to promote an atmosphere of fun and support for my Wolverines and fellow UM fans, in hopes that one day, this issue will be corrected.  We are calling on you Dave Brandon, please, save the Blue Lot.
GO BLUE!
SIncerely yours, The Breakfast Club The Blue Lot Crew!