Why does everything have to be so hard?
Sorry for this
It was an unseasonably warm late November day in St. Louis, the kind of day that happnes once or twice or three times each winter there but would never grace Ann Arbor.  My buddy's apartment complex had an outdoor pool that was still open, and he invited me over for a swim.  
It was 2010, and we had just watched the Michigan vs Ohio State game a few days before.  Even on this perfect day, standing in perfectly warm water looking around at beautiful, barely-bikini clad co-eds with perfect bodies we couldn't be completely happy.
I broke the silence first: "Rich Rodriguez has to go."  My buddy bristled.  His face transitioned from relaxed to tense almost instantly.  We had both been RR supporters since his arrival on campus, but his expression told me that he knew I was right.  "We'll never have an offense like this again," he responded.  I nodded, then gave the obvious counterpoint we both already knew: "But hopefully we'll never have a defense like this again, either."
Here's the thing: though Ohio State had pummeled us by a score of 37-7, the game wasn't nearly that one-sided.  We had piled-up 351 total yards of offense and had opened the game with two long drives: one that ended with a turnover on downs--since by that point in the season we didn't trust our kicker to even attempt a 45-yard field goal--and one that ended in a lost fumble at the Ohio State nine-yard line.  Terrelle Pryor had to scramble about 50 yards on one thrid down to keep their first TD drive alive, then thread a perfect pass between two defenders that might have picked it off had it been just inches different in either direction for the score.  And even though the Michigan offense chugged along a bit more, the defense completely fell apart and it was 24-7 by halftime.  Game over.  Season over.  RR era over.
This is Michigan
Since I am an unreasonably passionate fan, I started doing research on who would eventually replace RR right away.  While Dave Brandon said he was going to follow a "process" before deciding what to do, it was pretty clear that Rodriguez was on his way out the door.  Even a victory in the Who-Gives-A-Fuck bowl wouldn't save the man who had coached Michigan's most fun offense and least effective defense.  As it happened, the bowl game made the decision even easier.
Among the publicized possibilities for the position--Miles, Harbaugh, Fitzgerald, Hoke, etc.--I quickly found myself in the Brady Hoke camp.  He had taken Ball State to an undefeated regular season.  He had turned around SDSU in two years on the job.  He seemed genuine, likeable, and he clearly loved Michigan.  Don't get me wrong--I was hardly sold on Brady Hoke as the savior of our once-proud program, but he seemed like the best option.
But then he said all the right things at that first press conference, fergodsakes.  My optimism took over.  We were back.
Pure joy
In a lot of ways, that 2011 season was very un-Michigan-like.  Things seemed easier than they should have been. The loss at Michigan State was maddening, but the trash tornado and brazenly unnecessary roughness of Staee made it feel a bit invalid.  The Iowa game was VERY Michigan-like: an unexplainable gameplan with an even harder to understand performance that would give the Hawkeye faithful renewed faith in their consistently inconsistent head coach.  But other than those two aberrations, the bounces all seemed to go our way, we broke the streak against Ohio State (now just "Ohio"), and we won a BCS bowl game to which we maybe should not have been invited and in which we certainly didn't outplay our opponent.  Michigan never wins games like that, much less has seasons like that.
The 2012 schedule seemed foolishly challenging, and an 8-5 result with a close bowl game that we perhpas did deserve to win with our shiny new starting QB who seemed more than capable of both passing and running (Devin Gardner) gave us great hope.  2011 had proven Hoke's coaching chops in our minds, and even with doubts about Al Borges, 2013 looked oh-so-promising.
QB Oh Noes
Rather than talk about the Season of Infinite Pain--which is still all-too-fresh in our minds--I'd rather bring-up this happy memory.  The great thing about RR's offense isn't that it always works--it didn't.  No, the truly beautiful thing about a well-run spread outfit is how easy it looks when it's clicking.  Watching Denard take two steps toward the line of scrimmage before flicking a wobbly duck to a W I D E open Roy Roundtree never-ever-ever got old.  It made defenses look inept and Rodriguez look like a genius.  When it worked.
And maybe that's why it was destined to leave Ann Arbor: Michigan isn't allowed to have it easy.  I'm not sure if this is God's decree, but U-M is not graced with swimming pool days in late November or football seasons where everything goes our way.  Even 1997 seemed impossibly hard, overcome only by the superheroics of Charles Woodson and friends.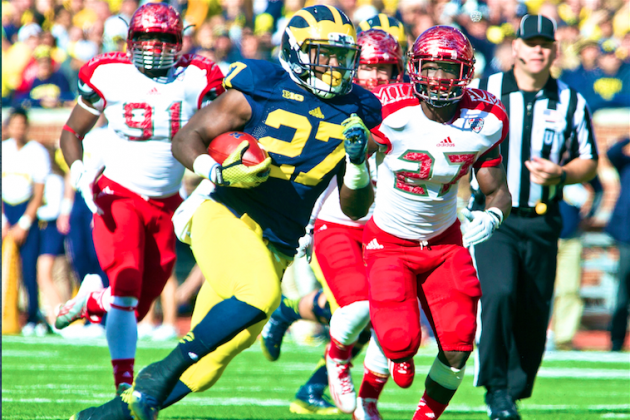 This just happened
And maybe that's why I was so furious on Saturday.  It shouldn't be hard against Miami (NTM), should it?  I mean, it shouldn't be hard against any team whose football prowess is so pathetic that a paranthetical clarification is required.  Not for Michigan.  And yet, here I am, four years into the Hoke era, with my optimism completely erased and thinking to myself, "I will have to reassess my loyalty to this coaching staff at the end of the season."
But this is as it's always been.  And looking at the numbers, I wonder if my frustration is somewhat without merit: through three games, we are 25th in the country on yds/play on offense and 10th in the nation on yds/play on defense.  Sure, we've played two cupcakes, but so has everyone else in the top 25 (actually, Nebraska has played three).  The offense seems to make sense, and the fake-bubble TD was reminiscent of the ease of QB OH NOES!  Of course, even on that play, the throw was a bit off and the catch was bobbled.  Still, a calm, rational thinker would look at our team and say, "You know what, this team actually could be really good before the season is over."
But this is as it's always been.  The Lloyd Carr era brought a National Championship, but was consistently frought with losses that should not have been.  Nine or ten wins felt like an unbreakable ceiling.  Even the orgasmic streak of victories over Cooper's Buckeyes was shattered by a Youngstown State coach.
So why does a game against NTM have to feel like a Herculean effort?  Why does a very respectable loss to an underrated (by me, at least) Notre Dame team have be a 31-0 result?  Why can't it just feel easy, or even easier than impossible when we take the field?  Why can't I feel even slightly confident about a game in East Lansing or Columbus?
I don't have answers to these questions, so I will do what a Michigan fan does: I will watch every game, often in agony, and wait for the end of the season to decide if there is any optimism left in me, or if it's time to have another talk with my buddy in the pool.  Why?  Because this is Michigan, fergodsakes.