OT: Tom Izzo is Sarah Bernhardt
OK, yesterday I called Tom Izzo a "pussy" for his histrionics over his pursuit of the Cleveland Cavaliers HC opening.  Perhaps I was harsh, that full post is here:
http://mgoblog.com/mgoboard/should-i-stay-or-should-i-go-now-ode-izzo#comment-513699
UFR, as they say, I think Tearful Tom is more like Sarah Bernhardt, uber-emoting actress of the late 19th century and the early 20th century silent movie era.
Here is how Sarah looked, not a very close resemblance to Tom (except in profile):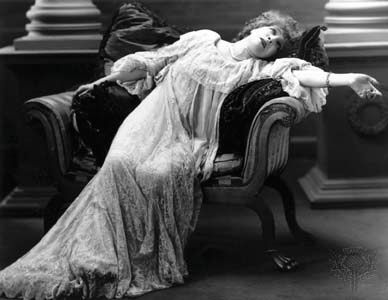 But here is one description of Miss Bernhardt, and it fits Tom to a "T" (no, not a Tech):
Her amazing power of emotional acting, the extraordinary realism and pathos of her death-scenes, the magnetism of her personality, and the beauty of her "voix d'or," made the public tolerant of her occasional caprices.
Amazingly, the Sparty faithful are very tolerant, even noting the passing yesterday of Day 7:
http://www.theonlycolors.com/2010/6/12/1514760/izzo-watch-day-7-alls-quiet-on-the
(My favorite posts there on this topic are of the "hold me, will we be all right?" variety.  The prospect of thousands of MSU sophomores in a fetal position on dorm couches for nearly a week is just too rich.  The Breslin Center "vigil" Friday night with ritualistic candle-burning?  WTF!?!).
Which leads us to a simple question: 
What does a Spartan head coach have to do to get fired, anyway?
Clearly with each passing day we see the likelihood of Izzo leaving trending toward 0%.  I never thought he was serious about leaving in the first place.  The phrase "Attention Whore" springs to mind.  MSU AD Mark Hollis is now seen as the wimp that he is.  (We should never be more thankful that Mary Sue hired an AD with experience, integrity and guts.)
But we know that  Dan Gilbert will not let this go on much longer, since Izzo is just a bit player in his all-in pursuit to re-sign LeBron James.  Tom thinks this is all about him!  So Gilbert soon gives Izzo an ultimatum, and hires Byron Scott.  
Because of his allegiance to MSU and Izzo, Gilbert lets the Pride of Iron Mountain issue a press release a few hours earlier that just drips with Spartan Green wherein Tom proclaims his allegiance to East Lansing, college basketball, and the 2010-11 season.
This melodrama ends possibly today, likely tomorrow, Tuesday at the latest. 
And somewhere, Sarah Bernhardt is proud.