UM hoops Vs West Virginia 8PM Saturday Barclay's Center, Brooklyn ESPN
     Gale Catlett coached the West Virginia Mountaineers from 1978-2002.
That's 24 years. In that time, the Mountaineers moved from the Eastern Collegiate Athletic Conference to the Atlantic 10 to the Big East. Catlett was able to reach the NCAA tournament 8 times. When West Virginia moved to the Big East, things got toucg for Catlett. He managed to reach the NCAA tournament just once in his seven Big East years, finishing his 2001-2002 campaign at 1-15 in conference. The game had passed him by, the program had gotten out of control, and it was time to move on.
     In one of the more bizarre transactions in the history of college basketball, this led to the hiring of Bowling Green's coach Dan Dakich, and his resignation 8 days later under the pre-existing threat of West Virginia NCAA sanctions(click http://www.nytimes.com/2012/08/19/sports/basketball/basketball-star-jonathan-hargetts-story-is-a-cautionary-tale.html?_r=1&ref=sports   if you must, but college basketball was the "Wild Wild West" back then.)  And if you look at Michigan's program in the 90's we've got no room to talk.
     Long story short, a laundry list of coaches turned the job down after that(including Bob Huggins) until John Beilein took on the challenge. He was tasked with rebuilding the program as well as the culture from the ground up.  That is exactly what he did, taking West Virginia to the Elite Eight, the Sweet 16, and winning an NIT Championship in his 5 years as West Virginia's coach.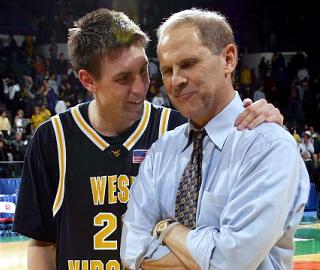 When Beilein was hired at Michigan, the West Virginia job was finally good enough for Bob Huggins.  The rest is history.
     On Saturday Michigan joins the West Virginia mountaineers, heading off to Brooklyn New York to help break in the Nets new digs
.
     The mountaineers enter Saturday's game at a disappointing 4-4 on the heels of a painful loss to Duquesne in which not a soul could hit the broad side of a barn for West Virginia(33% from the field for the game). That has been the general theme of all their losses, as they shot 36% against Oklahoma, 40% against Davidson(whom they beat up pretty good on the boards too…Davidson just had a really good shooting night), and 27% against Gonzaga who absolutely throttled them in their first game 84-50. West Virginia averages something like 43% from the floor in their wins.
     The West Virginia Mountaineers typically enjoy very balanced scoring and distribution from their starters(2 upperclassman big men and a bunch of smallish underclassman guards) as well as their bench.
     Speedy 6-1 sophomore point guard Juwan Staten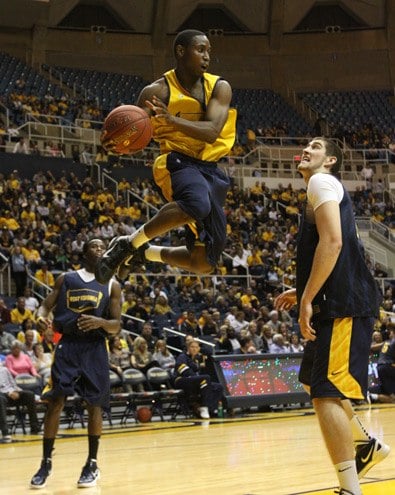 is their nominal leading scorer/distributor at 11 points and 2 assists per game. He spent his freshman year at Dayton where he led the Atlantic 10 in assists. I obviously don't expect he will keep up with Trey on the offensive end, but he is a pesky enough defender to slow Trey down a bit at the other end. He shoots 40% while contributing 3 boards, 2 steals, and 2 turnovers. Like I said, balanced.
     Straight out of the streets of Istanbul, 6-9 big body senior forward Deniz Kilicli
adds 10 points, 6 boards and 3 turnovers shooting 41% from the field.
     6-10 junior center Aaric Murray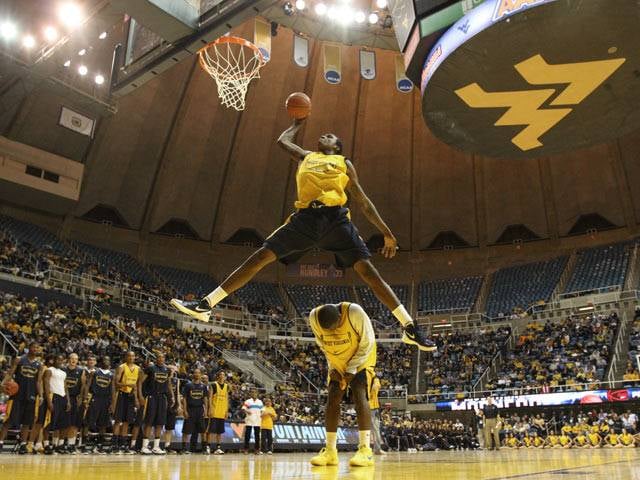 is their most efficient scorer, shooting 53% from the field, 50% from downtown(1 attempt/game) for 9 points, 7 boards and 2 blocks/game. He's pretty agile for his height, which he uses to his advantage finishing on the move and swatting balls in the lane. He transferred from La Salle, whom he led in pretty much every statistical category.
     5-11 sophomore slasher/creator guard Jabarie Hinds
shoots 35% from the field and 27% from downtown(3 attempts/game) for 7 points, 2 boards, and 2 assists.
6-3 three star freshman shooting guard Terry Henderson
shoots 33% from the field and 26% from downtown bringing in 6 points and 4 boards for the mountaineers. Henderson splits starts with Gary Browne.
     Baby faced 6-1 sophomore point guard Gary Browne
shoots 32% from the field and 26% from downtown for 9 points, 4 boards, and 2 assists.
     6-2 freshman guard/energy man Eron Harris
plays only 10 minutes, but dumps in 5 points and 2 boards shooting 52% from the field and 33% from downtown(1 attempt/g).
     Then you've got a bunch of guys(6-6 wing Matt Humphrey, 6-7 forward Keaton Miles, 6-10 forward Kevin Noreen) who play 15 minutes/game without contributing much in the way of statistics.  Well, Noreen did combine with center Aaric Murray to carry West Virginia past Virginia Tech shooting a combined 12-20 for 29 points and 19 rebounds, but that was a bit of an anomaly.
     So what does this all mean for Michigan? Well, as a general rule West Virginia doesn't shoot the ball very well. They don't turn over the ball a ton. Surprisingly they rebound at a decent rate despite their "two bigs and 3 hobbits"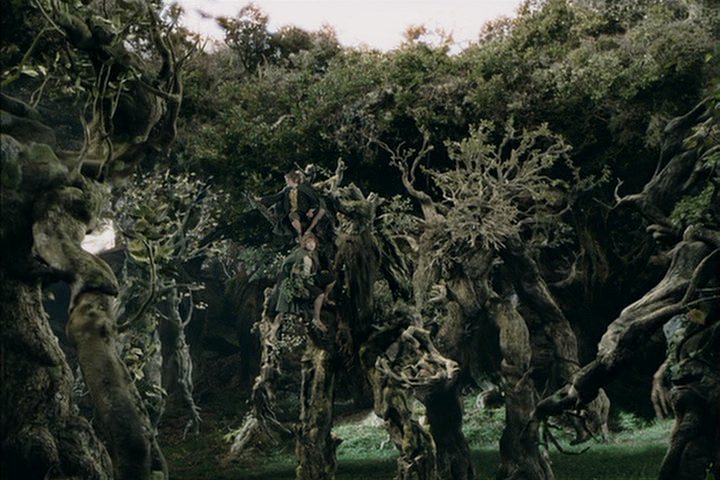 rotations. I think West Virginia is going to keep the score within 13-14 points throughout, with Michigan slipping a bit while trying to kill the clock. Eventually they'll put it together and get Beilein the win against his old school.
I've got 75-69 Michigan.      Go Blue!