OT: Frank Gore fined for Sock Violation
Frank Gore Fined for Sock Violation
What did you think I meant?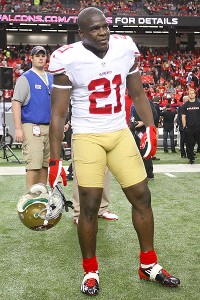 Frank Gore's efforts in the San Francisco 49ers' NFC Championship Game victory over the Atlanta Falcons didn't go unnoticed by the NFL, which decided he wore his socks last Sunday a little too low to its liking. Gore, seen here standing on the field before the NFC Championship Game, was fined $10,500 for wearing his socks too low, a source told ESPN.
Gore, mindful of the importance of the upcoming Super Bowl, responded
"Yeah, I'll be cool. It's all good. I was wrong. Next time, I'll do better."
In EveryJoeSpeak, that means
Are you effin serious?