Why Michigan Doesn't Need a Mascot
Sometimes I'm not above sending a letter to the local paper. I come from a long line of people who wrote letters to local papers (surprise!). Anyway, I penned this as a response to DetNews' Josh Katzenstein on Michigan's Mascot but then Brian front-page responded to the same thing, so there's no use saving it for Dear Diary anymore.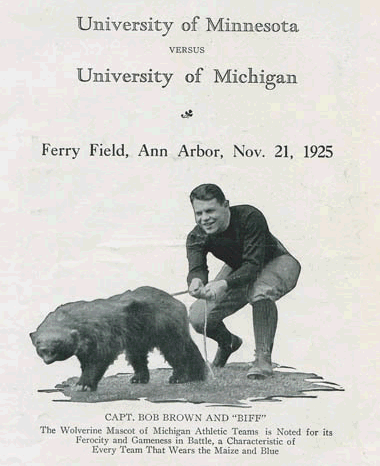 Here's the damn letter that doesn't say "capturing the Sharp market" anywhere in it. Image at right is from MVictors.
Get your arrogance hats ohnnn:
-------------------------------------------
Josh-
I think you're overestimating how much a kid cares about a mascot. Detroit has a history of being late to the mascot line, yet consistently makes or champions most national lists of best sports towns. If a mascot is really that important, how did we get all of these Tigers, Lions, Red Wings, Pistons, and Wolverines fans before 1995, when Paws made his debut at Tiger Stadium?
Because as you pointed out a mascot is for making you cheer when there's no reason to, but at Michigan (and only Michigan?), there is never a reason not to cheer.
You can cheer the winningest program in college football history.
You can cheer because you're the largest group of football fans gathered together to watch a football game in the world.
You can cheer because of their success on the field.
You can cheer because they stand up after their failures.
You can cheer because the best things about our state: integrity, hard work, engineering, business, nature, and beauty, are embodied by its oldest and greatest institution.
You can cheer because this program, this team, and this school care more about being worth cheering for than whether or not you're cheering.
These are program ideals, and while Michigan will fall short in all of them, striving toward those ideals is better than giving up on them. This is what's hidden in what the world calls "Michigan arrogance": when Brady Hoke tells reporters that we will beat some team or recruit some kid because "We're Michigan," or when people who knew Bo spout off cake-and-eat-it-too sentiments about winning championships without sacrificing integrity in a sport filled with seediness (see: recruiting) and next-to-impossible (120 teams!) odds, these are not pretensions, but lofty self-expectations.
A mascot is only a symbol, and one that is hardly interesting or unique. What I think you need to understand about Michigan is -- right, wrong or profoundly arrogant (probably profoundly arrogant) -- the Michigan brand is supposed to be different. What is seen to outsiders as stodginess or conservatism among this fanbase is often simple stodginess and conservatism, but on occasion we also do some weird things because we've thought of a very good reason. I think the mascot is one of those instances.
In our own existentialist way (and yes our way can get quite existentialist) not having a mascot IS our mascot, for it embodies Michigan's Michiganness better than any guy in a polyfoam suit could ever do.
Can a 5-year-old see that in an empty space? Not in those words, no. But if you treat him to a Michigan game, and have him shake a Michigan coach's hand, and show him a Michigan campus, and speak to him about Michigan's ideals, I think that will have a far stronger impression on the kid than watching Sparty flex his biceps and call him "brah."
And when you show him Desmond Howard, or Denard Robinson...
"Misopogon"