Alabama vs. Michigan 2012– Pt. 3 - A Geographic Analysis
So far I've done two of these diaries looking at only the public rosters as posted by each school, free Rivals data and blogger based depth charts.  Pt1 looking at height/weight and Rivals rating by position.  Pt 2 looking at redshirting numbers.  In this diary I'm mainly breaking down the recruiting classes by where they come from and how far they travel to come to the respective schools. A quick review and I will get on with that…
The Tide is bigger in girth and number, more Rivally, redshirty and about as elderly class wise.  Their OTs are humongous. Our DEs are lithe and hopefully hard to lay hands on.  Can we out play their strengths?  Certainly we can.  I'm interested in fall camp.  The onus is on Michigan to execute and develop where expected and also early where otherwise RSing would be a good idea.
It's frustrating given the early entry and success of Bama that they are so well off personnel-wise.  Saban recruits moves and manages rosters differently and/or repugnantly in my estimation.  I want to get into that but it's just not the data or the focus of what I am doing here.  It's worthy of a diary but it's been done before.
OK… on to the data smash that I have…
Where these guys come from isn't really as important as what kind of players they are.  But it's interesting and speaks to who these guys are as well as where in the CFB world both schools are.  Enough "ares" let's get on with this.
A variability chart of distance to campus compared team to team…excluding the walk-ons that are not on the 2-deep...that would be Kovacs (Alabama does not have any walk-ons in the 1s or 2s except kickers and long snappers.)
Note to self - kids like to go to school near home in general. I would be interested to roll this up for all of College football. Especially in light or recent success by USC despite just deserved penalties.  I take that challenge but have limitations in time.
(EDIT: Zone Left points to an article by Andy Staples in the comments that has 2004-2008 data for Div 1 schools.  I rolled that up in the comments.  This was a good link.)
Michigan is more spread out and and in a Florida sense – bi-modal.  I highlighted the guys in the 2 deep above (they are slightly larger dots above…this shows up better in the distribution charts below where the two deep guys are darker.
The differences here are not so great for the most part.  The distributions are the same in character but Michigan is clearly more spread out than Alabama in it's recruiting territory.  The red brackets below the box plots are the shortest interval that contains half the data.  I think it's interesting that despite being more spread out Michigan has a large contingent of close to home guys.  This is due to our proximity to Detroit I'm sure, but Bama is close to Birmingham – not Detroit but biggish. 
Overall CFB is a local sport which probably goes a long way in explaining it's popularity.  It's just another trait that makes this sport great.  Neither team here is recruiting on the national scale of USC or forward slash "S" Sparty .   
Here's a US map with push pins of the known scholarship guys who signed LOIs plus Kovacs.  With a few exceptions (notably and significantly Florida) it's a north south battle royale.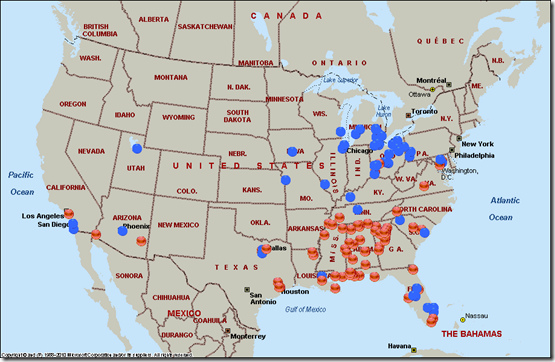 Here's a breakdown of guys on the roster by class to see Alabama's trends given their National Championship runs and Michigan's distribution given our recent coaching change.
Michigan shows Pahokee nights and Detroit days, while there is only a small signal with Alabama of a wider recruiting stamp given the recent success.  
Here's the same chart with all the crucible of recruited athletes that made up the current team.
Comparing these two charts says to me Alabama did not haul in out of town talent who have since left.  This is a similar team in a geographic sense to the crucible of players that has made them.
If anything these charts showcase the regional expertise and interest of the coaching staff as well as the inherent location of the schools in general.  Alabama won their NCs with largely southern talent (with notable exceptions like Ingram) and will be an almost exclusive southern team come September.  Hoke as well is getting it done with more local kids.  Most of his guys from the west coast are kids he had a relationship with at SDSU. 
Michigan is a tale of two coaches with respect to recruiting… here's a chart showing within class adjusted for redshirts.
Here's the 1000+ mile club for Michigan's upperclassmen…RR guys.
Brandin Hawthorne
Brendan Gibbons
Craig Roh
Denard Robinson
Drew Dileo
Jeremy Gallon
Marvin Robinson
Mike Jones
Ricky Barnum
Stephen Hopkins
Taylor Lewan
Vincent Smith
Here's the 1000+ guys from the lowerclassmen…Hoke guys except for Ash.
Erik Magnuson
Matt Wile
Richard Ash
Russell Bellomy
Sione Houma
Here's the same distance to campus data with respect to position…
Our TEs are home grown but otherwise we range fairly evenly across all positions (except kickers thanks to Wile and Gibbons.)  Bama is fairly constant as well by positions and relatively more local.  Here's the same data for the walk ons.
It surprised me that their walk-ons would be even slightly more traveled than Mich.  I don't think that is significant though.  More interesting is the fact that they have LB walkons and we don't.  I thought about that and decided to look at walk-ons by position to gauge their fit vs. team need.
This analysis by class includes current walk-ons which as I learned in doing these diaries can screw up your data when you are too lazy to go back and research who those guys are/were.  This is kind of where I left that off in the other diary. 
Alabama's walk-ons are evenly spread by position (if you breakout DBs and safeties together.)  Michigan's walk-on class complements the holes in the team roster.  I'm going to be interested in seeing if any special teamers are walk-on guys for Bama.  Here's a distribution chart showing the breakdown of each team by position with the walk-ons highlighted. 
Talking about walk-ons is a signal of the differences here in teams.  The Tide doesn't need any walk-on help.  Mich does or at most will need Frosh to play.  There are perhaps reasons Bama has more walk-ons on the spring roster (it can pay to have played for the Tide in the long run for the sake of your heirs – I doubt we will see a Sons of Saban scholarship fund – who knows) but as we saw in Pt2 they had a large contingent of EEs show up and a couple significant JUCOs to make up for NFL and normal attrition.  The non EEs will show up in the fall and squash the Tides walk-ons when they cut to 105.  Michigan doesn't have that issue as seen in Pt 1.
This is about as much as you can tell from looking at the rosters. The sub-plots that underlie these bullets are discussion worthy but I do have a bunch of more odd/interesting takes from the Rivals/Roster mash.
Here's the number of videos posted on Rivals per Star.
I posted the summary analysis just because this is so off the wall.  What I was looking at was if the southern talent was treated differently by Rivals.  This shows a similar treatment if just in the number of videos posted per star.
HUGEtractsofland asked for a speed breakdown in Pt1.  Rivals data for 40 times is sparse but I pulled it and showed it.  Here it is again by position. 
Here it is by roster…again this is sparse and fakey… just showing the available data in chart form.  We all know how fast the SEC is (/s).
The breakdown does show a faster OL for Mich.  Again this is ridiculous stuff but I do think we have a good OL that is going to get undersold to Bamas NFL like talent.
Here's BMI vs speed for both teams…
You get the idea… Lewan and Schofield are Oregonesque in their proportion but perhaps they are more light of feet than the Tide's OTs.
    vs.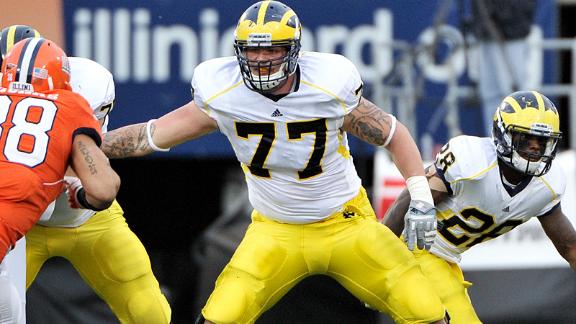 76 or 77 – which do you think will go higher in the draft?
Enough said about rosters.  Ultimately this series of diaries shows that September can't come soon enough.