Sights of the NCAA Hockey Tournament
I started photographing Michigan sports in Spring of 2012. I had just finished my Sophomore year of Undergrad in engineering and wanted to do something with my photography skills, so I joined the Michigan Daily. The 2011-2012 season was Michigan's 22nd consecutive trip to the NCAA tournament. Photographing this 2012-2013 team was obviously a very special opportunity for me and one that I was excited about.
But apparently I was a curse that led to a three year NCAA tournament drought. Or at least many have told me this. Sorry, guys.
But this weekend the curse was broken as Michigan played in the NCAA Tournament in Cincinnati, Ohio.
Since most Michigan could not make the trip, I wanted to make a Diary that gives a feel for what the atmosphere was like. Away games/environements have always intrigued me. Unfortunately I chose the last game of the year to start one but better late than never, right?
The Notre Dame game was a fun preview of the years to come. Fans of both teams travelled well. When teams took the ice, it was a battle of the bands with the fight songs. "Let's Go Irish" chants were drowned out by "Let's Go Blue" chants, and vice versa.
Not every Michigan player dressed, but they did all travel. As a fan, it's tough watching your team go into overtime because there's really not much you can do. As a player though, it must be much worse. They looked far more nervous than any fan (as seen above).
Unlike the Big Ten Tournament, plenty of Michigan fans showed up to cheer on the team. This was to be expected, as Ann Arbor to Cincy is about 4 hours, versus 12 hours to St. Paul. The stadium still wasn't full and the upper deck was tarped off, but there were certainly enough there to create a decent atmosphere.
The hockey bands really gave the college sports atmosphere. The arena still played RAWK MUSIK (actually it was a lot of hip-hop mash-ups that they probably pulled from a YouTube playlist), but hearing Notre Dame and Michigan's fight songs back-to-back was a refreshing sound. Even the Northeastern band traveled quite well (as did their fans, though to a lesser extent than all the other teams).
Speaking of Northeastern, they were thoroughly handled by North Dakota. Despite scoring the first goal, they found themselves down 5-1 in the 2nd period to UND. The above photo pretty much sums up the game.
Steve Racine played lights out all weekend. This save above was a wrap-around by Notre Dame in overtime that was saved by the blade of Racine's skate.
Moments later, Michigan scored, players celebrated, and Notre Dame fans went home looking sad.
The next day, North Dakota fans arrived with strong energy. Though they are now officially the "Fighting Hawks", "Let's Go Sioux" chants echoed all game long.
Also in attendance: Michigan AD Warde Manuel. I don't think he changed facial expressions once all game.
The Sioux Fighting Hawks had some supporters from Ohio, too, celebrating in front of some Miami (Oh) and OSU fans. Something tells me they were cheering more for not-Michigan rather than North Dakota.
"Fighting Hawks" doesn't appear to be catching on any time soon.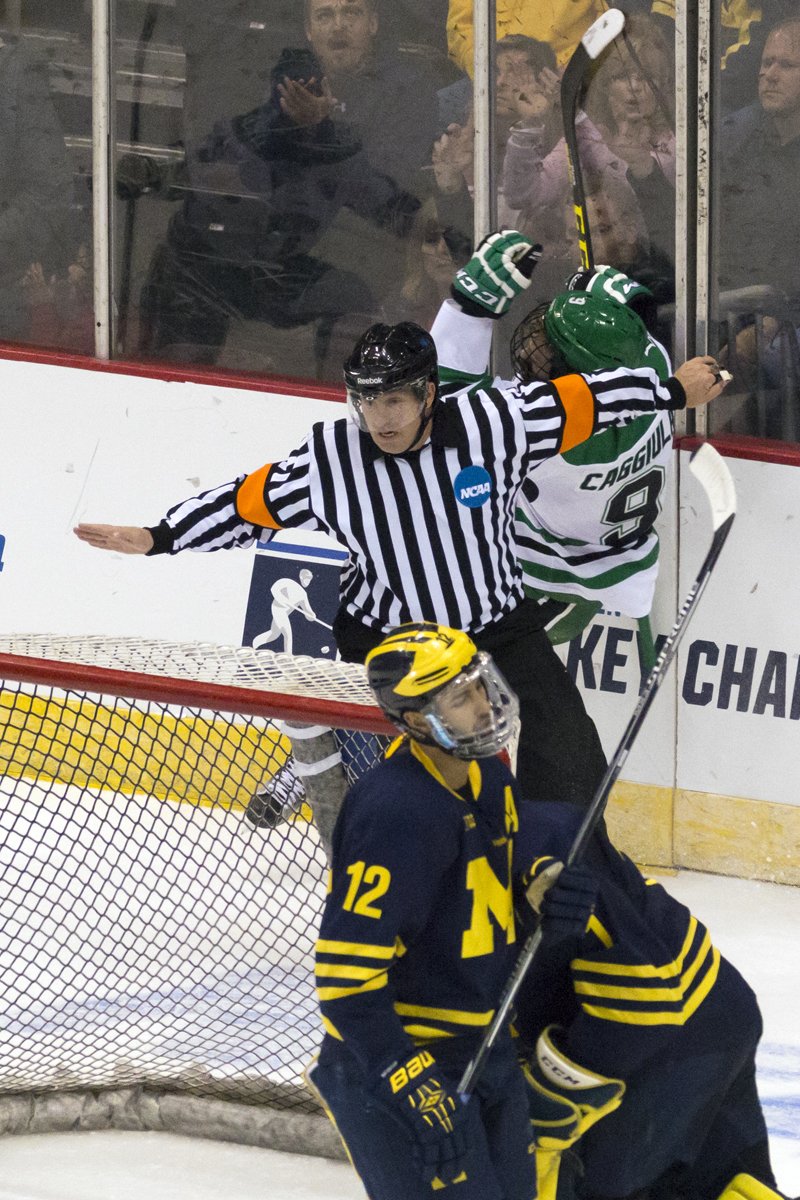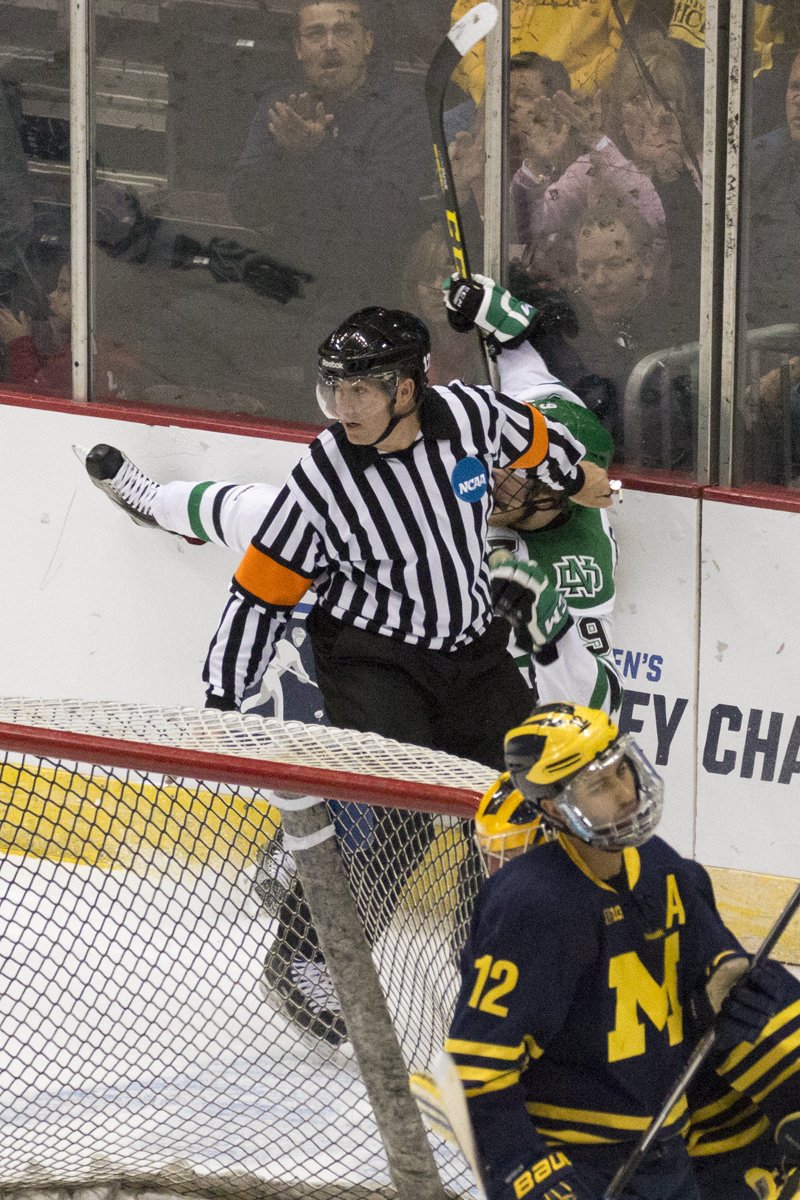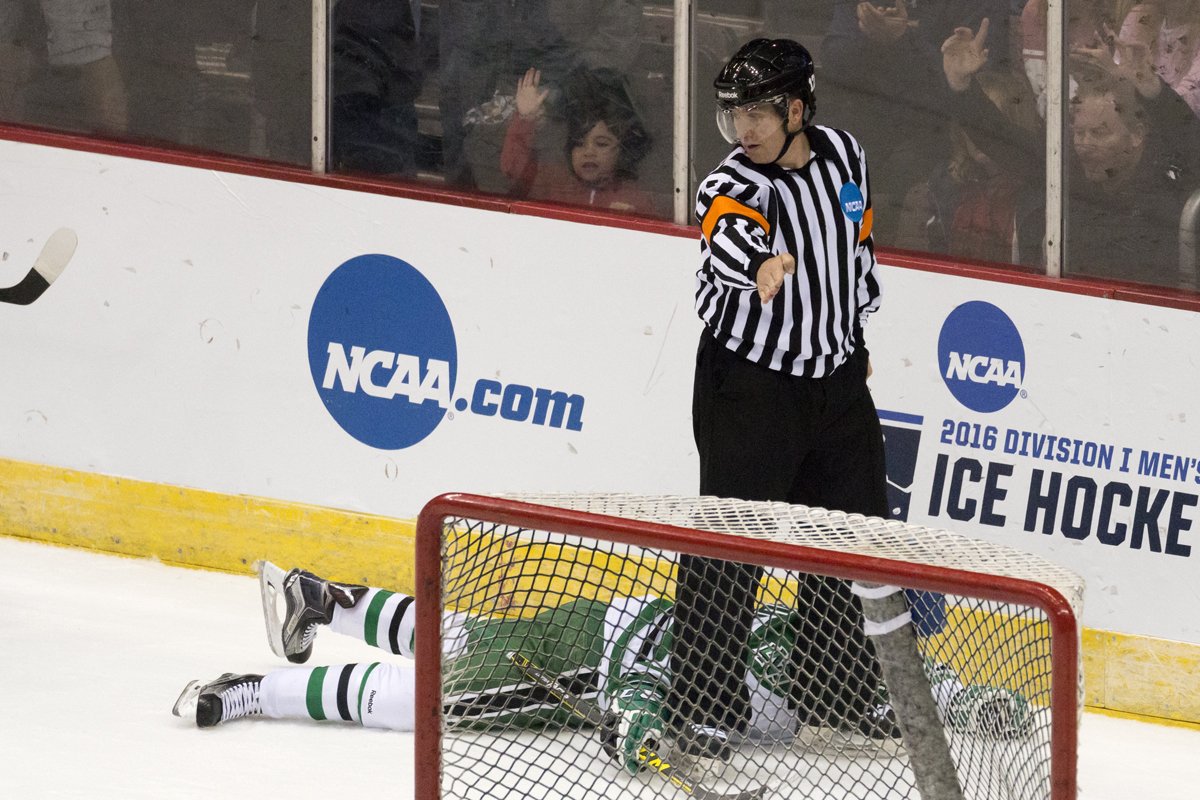 If you're looking for a moral victory, after the North Dakota player scored he got taken out by the ref. So there's that.
It took until the 3rd period for North Dakota to take a 4-2 lead in this game. They dominated most of the pace and you couldn't help but feel that it was only a matter of time until they went ahead. In the first period, shots were 22-5 in favor of North Dakota. The players received a lot of support as they left the ice, Racine especially.
Red Berenson gave no mention of retirement at his press conference. He did applauded the efforts of his seniors, and praised the efforts of North Dakota. Could this have been his last post-game press conference?
If you were unable to attend the tournament in Cincinnati, I hope this has helped give you a feel for what it was like! A thrilling overtime win over Notre Dame and 2.5 periods against one of the best teams in the country made for an exciting weekend of hockey. (This is also my first Diary post so go easy on me!) I'd like to make more of these when I travel to away games in the future.
See you in the Fall!
-Patrick Barron
MGoPhotog
Twitter:@BlueBarronPhoto