Offensive Line's Age versus Offensive Success
Introduction
Amidst all of Michigan's offensive struggles this year, the relative youth of our offensive line, particularly along the interior, has been a constant concern. Regardless of which side you fall on in the "Execution vs. Play-Calling" debate, you probably agree that having 6 combined years of experience between our three interior linemen is part of the issue. While the interior will hopefully improve next year with another year under each of their belts, Michigan will be losing it's two 5th year senior tackles.
With this in mind, I attempted to quantify the impact that an offensive line's experience has on a team's offensive success. Can Michigan expect to improve it's offensive output next season? How painful will it be to lose Lewan and Schofield?
Methodology
I used depth charts from Rivals' database (they seemed more or less up to date) to get average experience (defined by academic standing) for each team in the Big 10's OL as a whole as well as split up by subgroup (T, G, C). I then drew scatter plots comparing those ages to overall YPA and rushing/passing YPA.
After seeing the initial results, I had to remove Purdue since they have the oldest OL and yet the worst offense by nearly two standard deviations. Some other teams were lesser outliers (Michigan, Indiana) but with such a small sample I didn't want to remove them too.
Results
Michigan has a young, but not absurdly so, offensive line. Of course, they are helped tremendously by Lewan and Schofield. They have a very young interior though, with 6 combined years of experience. Iowa's interior is second youngest at 8 combined years, and their offense isn't exactly instilling fear across the nation either.
Purdue sucks. Wisconsin, OSU, and Indiana are really good. The rest of the Big 10 is mediocre. No news here.
Below are a series of scatterplots comparing the age of each Big 10 team's OL (and it's subgroups) to the offense's YPA (passing and rushing.
Overall, the age of the offensive line seems to have little to no impact on overall yards per play. In the Big 10, it has a slight positive impact on rushing yards but actually has a slight negative impact on passing yards. The negative impact on Passing YPA is mainly due to Michigan and Indiana, two teams with young OLs but high Passing YPA. In general though, these are pretty low R-squared values and don't seem to show much.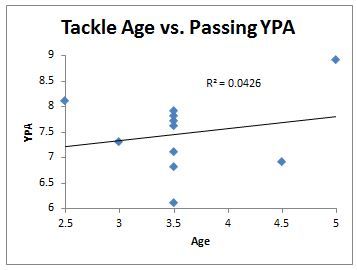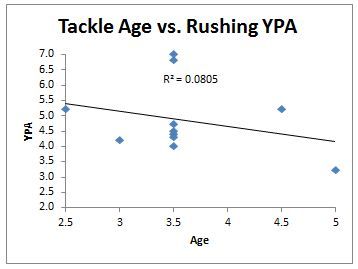 Tackles seem to have almost no impact on YPA, whether in the air or on the ground. This is probably largely a function of the sample, where 7 of the 11 teams have tackles with 7 combined years of experience. If I remove Indiana, the impact on Passing YPA becomes more meaningful, which makes sense given tackles' roles in pass protection. Michigan is wholly responsible for dragging down the Rushing YPA graph.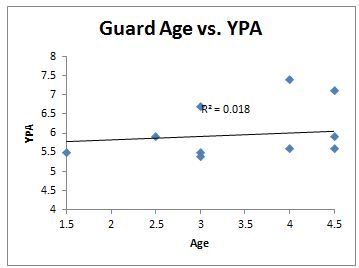 Again, guards' ages don't show much impact on YPA according to R-squared, although you can see an upward trend here at least. Even removing Michigan's young guards results in guard age having a negative correlation with passing YPA which is surprising. The rushing YPA graph makes sense at least, showing a relatively strong R-squared value.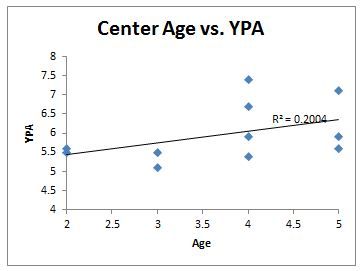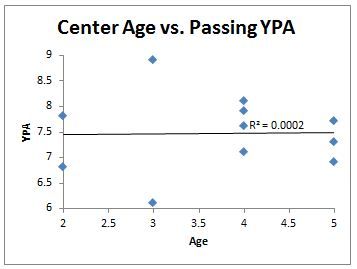 Center experience shows by far the strongest relationship between age and YPA. This makes sense both because of center's importance to the OL as well as the complexity of the position requiring some experience to learn. The entirety of that influence comes on the ground, with center's age meaning nothing to passing YPA.
Conclusions
Before attempting to draw any conclusions, I think a few caveats must be stated:
This analysis looks strictly at academic standing as a measure of experience. That means that a RS senior starting for the first time is viewed as more experienced than a true junior in his third year of starting.
This analysis ignores all positions other than OL. As we saw last season at Michigan, for example, a dynamic QB can make up for a youthful offensive line. It also overlooks TEs, which in a system like Michigan's are also a vital part of the OL.
The sample size is pretty thin. If I had more time, I'd like to do this for a large group - maybe the top 25 teams or something.
The above aside, I still think there are some interesting takeaways from this analysis.
Offensive line experience matters in the run game. OSU and Wisconsin have the top two offenses in terms of YPA and 2 of the 4 most experienced lines. In particular, their rushing attacks average over a yard more per attempt than any other team.
Offensive line experience does not seem to matter as in the air. While Indiana's passing YPA may be a function of it's system, Minnesota and Illinois have respectable averages with relatively young lines.
Michigan's rushing game should improve next year (how can it get any worse...). Both guard and center experience correlate with rushing YPA. Losing their tackles doesn't appear to have much impact based on this analysis.
Michigan's passing game is not necessarily doomed next year. The data doesn't show much one way or another, but tackle experience at least is not strongly correlated with offensive success in this sample.
Any thoughts/feedback are welcome.