Coaching Candidate: Making the Case for Beau Baldwin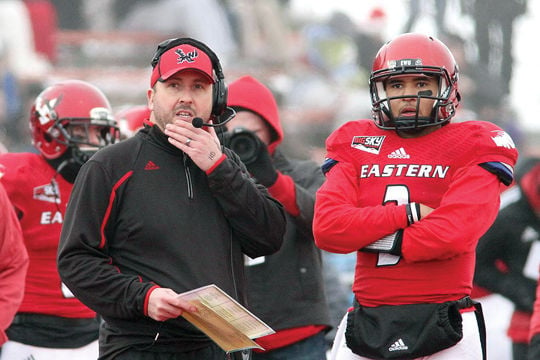 OK, so who the hell is this guy?
Indeed 46 years later, "Beau Who?" might be once again an appropriate headline for the 2015 head football coach of the University of Michigan.  At least I think so.
I submit to you that any new head football coach search for Michigan must include youth, energy and proven record of success.  Beau Baldwin is one of the most successful college football coaches in the country right now.
Title: Head Coach
Team: Eastern Washington
Conference: Big Sky
Record: 56-22 at EWU, 66-25 career
Played QB at Central Washington 1991-1993
Coaching Career:
1994–2002      Central Washington (QB Coach)
2003–2006      Eastern Washington (OC & QB Coach)
2007                  Central Washington (HC)
2008–present  Eastern Washington (HC)
Influencers:   John Zamberlin, Paul Wulff, Greg Olson (OC for Oakland Raiders & QB coach of Drew Brees while at Purdue)
QBs Coached: Jon Kitna, Mike Reilly, Bo Levi Mitchell, Erik Meyer (Walter Payton Award winner), Vernon Adams
Upsets:
Defeated No. 25 Oregon State (Mike Riley) in Corvallis, August 2013 (EWU as FCS school).
Scared the shit out of Washington 52-59 in Seattle, September 6, 2014.
Offensive Philsophy:
"The idea is to tempo people and to get on people and to stay on people. But the whole philosophy of that no-huddle is to keep the defense off balance. And from there it's nice to be able to spread people out and that's always been my philosophy," he added. "But you have to be balanced. You have to have the threat of both and I think that goes for any sport. To be a championship-caliber offense, you have to be balanced."
Negatives
-No Mid-West ties
-No FBS head coaching experience, just NCAA division II and FCS/Division I.
-Unfamiliar with the B1G
-Too west-centric. Completely unknown in the mid-west
- He doesn't have a wandering eye. Loves EWU. Loves the brand of football at the division II/I level. Says he's very happy where he's at.
Positives
- Strong, proven quarterback coaching skills and experience. High performance, numerous accolades won by QB players.
- Creative offensive coordinator, seasoned
- Strong HC performance over 7 years: 66 wins, 5 tournament appearances, 1 championship game. Never had a losing season. 3 time Big Sky coach of the year.
- Players love him.
- Strong confidence, determination, drive to make EWU nationally relevant program
Bio:
http://goeags.com/sports/m-footbl/coaches/baldwin_beau00.html
http://en.wikipedia.org/wiki/Beau_Baldwin
Articles:
http://www.bozemandailychronicle.com/sports/bobcats/football/article_65…
Those who have watched the coach say he always seems so confident, so calm and so sure Eastern will slay any Goliath who gets in its way. Despite their No. 4 ranking in the FCS poll, that's really what the Eagles were that evening in Corvallis, Ore. — a David with a coach named Beau Baldwin who calmly stalks sidelines with a disguised fearlessness he infuses into every coach and player he surrounds himself with.

"I think they just buy into that mindset, that attitude," Baldwin said. "You have to live it, that's what I'll say. It's one thing to say it in a team meeting, but as long as they see that you truly believe it then there's no reason not to believe it. That's when great things happen."

Added Mario Brown, a fifth-year running back Baldwin recruited from Oakland, Calif., "It definitely carries over to the team. We're a representation of who he is."