Tackling Technique: The Season In Review
2010. A Defensive Odyssey
So. The 2010 Defense. The general consensus is a solid "WTFWTHCWT" (What the F? Why the hell can't we tackle?). I decided to look at tackling, mostly to deduce whether it was coaching or just us being small and getting run over. Good tackling technique can be outstripped by superior strength/athleticism, so it was a valid consideration to look at technique of tackling to ensure that our defensive woes were a parallel to youth and not the infamous GERG. Considering both the change in coaching situation (Mattison for Mayor of Smackmouth-Swaggerville), it now makes more sense to look at these numbers mostly for future reference, as progression of freshman is inevitable, and with the number we played on D our chances for a leap forward are large.
About the analysis:
1. I regarded made tackles as anytime a player made contact with the ballcarrier and that ball carrier ended up down by contact using solid tackling technique. I did not look at technique of made tackles, as after 1/2 of tape review most of the tackles that were made were of good technique. Any tackle that forced the ball-carrier out of bounds was counted as a made tackle.
2. I designated missed tackles as failing to make a tackle in space, taking an extremely bad angle on a tackle that should have been made, or simply just getting the hit but not bringing down the ballcarrier.
3. Bad Form takes into account any missed tackle that used any of the following:
       Head on the up-field side
       Arm/Jersey tackling
       Any hit at or above the numbers
       Getting "shook" in open field due to not breaking down or over pursuit.
The notable difference here is missed tackles sometimes come from being overpowered or stiff-armed, not a technique avenue. If the UM defender made the hit with the head on the right side and attempted to wrap up but the ball carrier just slipped through, I counted this as a missed tackle only. If, however, the same play happened with the UM defender coming in high and behind, this was counted as both a missed and bad form tackle.
To derive the "Tackling Efficiency" I used the following formulas as necessary:
Tackling Efficiency: (Made Tackles - Missed Tackles)/(Bad Form Missed Tackles+1)
This metric takes into account both total tackles made along with missed tackles. In my mind it should give a good representation of who is making the most tackles, while missing the least
Tackling Percentage (%):Made Tackles/Tackling Opportunities (Made + Missed)
This should just give a straight representation of "If I was in position to make a tackle, did I bring down the ball carrier?"
I included both metrics to allay the concern on a previous post that I was marginalizing the D-line due to limited numbers of tackles. As you can see, both metrics relatively correlate with one another, with both having one or two anomalous results.
Results:
Individual Players Tackling Efficiency: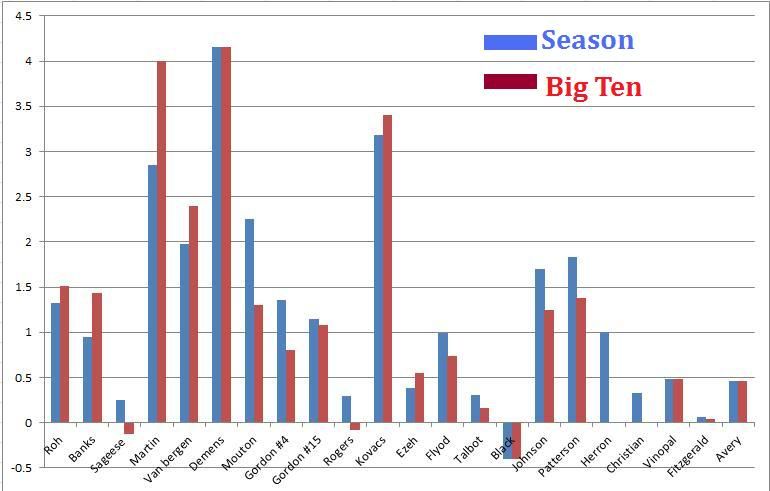 A few notes from the individual analysis:
Our defensive studs are who you expected
Martin, Demens, Kovacs and RVB are monsters
Mouton was a beast outside of conference, but once we hit the B10 he dropped to about 3 tackles for ever 2 misses.
Ezeh really cannot tackle.
Roh was not as beast as he could have been
Underclassman tended to tackle less effectively in B10 play than upperclassman
Individual Players Tackling Percentage: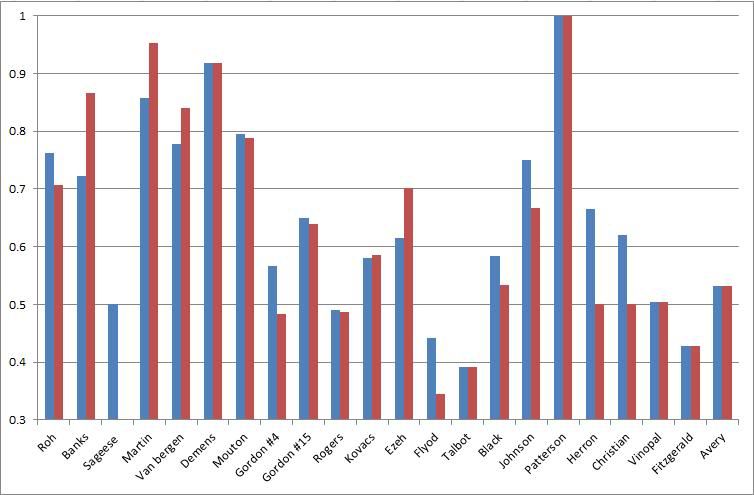 A few notes from the analysis
Our defensive studs are who you expected
Martin, Demens and RVB are monsters
Roh was a better tackler than it seemed with the efficiency index.
Upperclassman seem to tackle better in the B10 than underclassman, with less noticeable dropoff
Carvin Johnson has the potential to be a bad bad man. Dude can tackle. And more often than not, he puts the ball carrier down with authority.
A By-Class Anaylsis:
I stockpiled the numbers by year. 1st years are True Frosh and RS Fr, 2nd years are True Sophs and RS So's etc.
(9 1st years, 4 2nd years, 3 3rd years and 6 4th years)
Tackling Efficiency: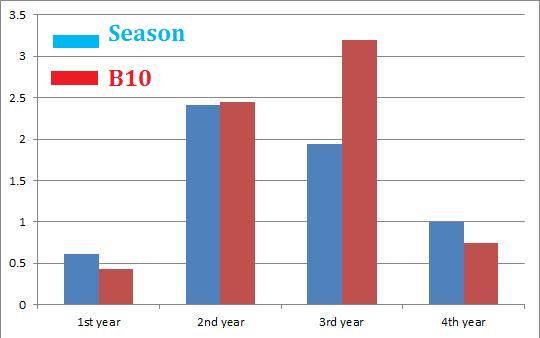 Tackling %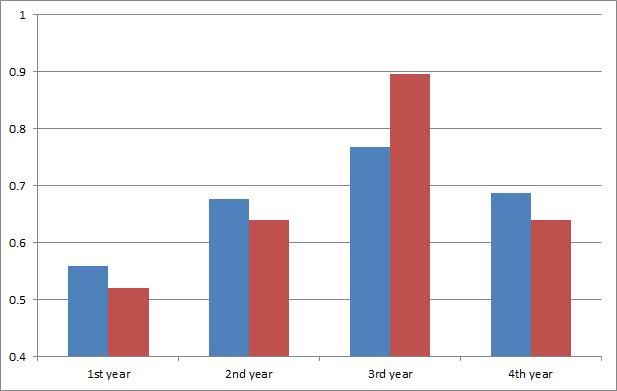 Conclusions:
This team is young (shocker). There were 9 players that were first year players, compared to 4 and 3 2nd and 3rd year players. Of the 6 seniors to play, only 3 had meaningful minutes (Ezeh, Mouton and Rogers). The trend is easily demonstrable, as you get older you get better at tackling. Ignore the 4th year numbers, as Rogers is absolutely terrible at tackling, something you would expect of a WR journeyman at CB. The most telling graph I feel is the tackling efficiency by class analysis. This clearly shows that, while there were less sophomores and juniors, they made more of the opportunities and made more tackles as a whole. Going forward, I think there are some players on D that are young that have the potential to be absolute stars. Carvin Johnson and Courtney Avery both flashed some absolutely astounding athleticism; however with a year in the weight room I think Avery could be a better tackler. Most of his missed tackles weren't bad form, just simply not being strong enough to bring down the ball carrier.  
Positioning:
Cam Gordon is best suited to be a down-hill blitz type LB, as when he played in the box is when he was most effective.
Ray Vinopal should have been red shirted, however we did not have that luxury. He is definetly the gritty player we expected, just simply not big/strong enough to make the plays in run support we needed.
Mike Martin gets held. A lot. So does RVB.
Demens has the potential to be an All Big-Ten LB. He is that dominate. Once he starts learning some passing coverage and his reads are more instinctive, his tackles for loss will go up. He greets the runner with violence, and is all over the field shedding blockers and enforcing his will.
Carvin Johnson should be the freshman people are most excited to see next year. That kid has an absolute nose for the football, and plays with good energy.
Roh at the weak D end is a potential good fit, however he really needs to work on breaking down and containing the QB. Against OSU he continually broke contain and TP just stepped up and downfield he went.
Jibreel Black needs work, but he could be a good one. Really good moves and solid hand use