Way too early Kansas preview
Friday 7:37 Cowboy Stadium TBS 
      I dont remember a lot about Bill Self's Illinois teams.  I remember that his last team(he coached there from 01-03) put an end to Michigan's 13 game winning streak.  Illinois was playing with a chip on their shoulder, having taken a tough loss to Kansas in the Sweet 16 the previous year(small world).  That would have been Daniel Horton's freshman year, as well as the first time I was really excited about Michigan basketball(since the fab 5 anyway).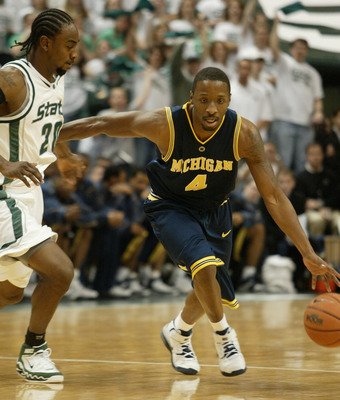 Michigan ended up finishing 3'rd in the big ten, but yeah...like everyone else in the Amaker era, those players would suffer for something they had nothing to do with; they were post-season inelegible.
     I vaguely remember going to the rematch in Crisler.  Mostly I remember Illinois power forward Brian Cook hitting everything from everywhere.  Shots contested by Graham Brown and Chris Hunter.  I swore that Cook had made a deal with the devil. 
At the time I thought he was the best player that I'd ever seen.  He was named Big Ten Player of the Year and First-Team All-Big Ten by both the coaches and the media. 
     Michigan made a game of it, but in the end it was just too much Cook.  Illinois won 82-79, on the back of Cook's 26 points and 7 boards.  Illinois would go on to finish second in the league, and win the big ten tournament. 
     At the end of that year, Roy Williams left Kansas for North Carolina, and Bill Self swore up and down that he was happy at Illinois.  He boarded a plane bound for Lawrence a few days later.
     At Kansas, Bill Self has won nine Big 12 titles and one national championship(2008).  Last year they fell to Kentucky in the NCAA Championship, 67-59.  Kansas stands second to only Kentucky with 2,101 wins, the last one coming against Roy Williams's North Carolina team.  Small world indeed. 
     Michigan has something like 1,458 wins by my math, although some would argue for 1,571.  We wont catch them in our children's lifetimes.  Maybe never.
     When last we met: Video http://www2.kusports.com/videos/2011/jan/09/33848/ 
     Kansas rolled into Ann Arbor in January of 2011 expecting to crush Michigan under their Goliath boot.  Stu and Zack had other plans, pulling down 21 rebounds between them and taking Kansas to overtime.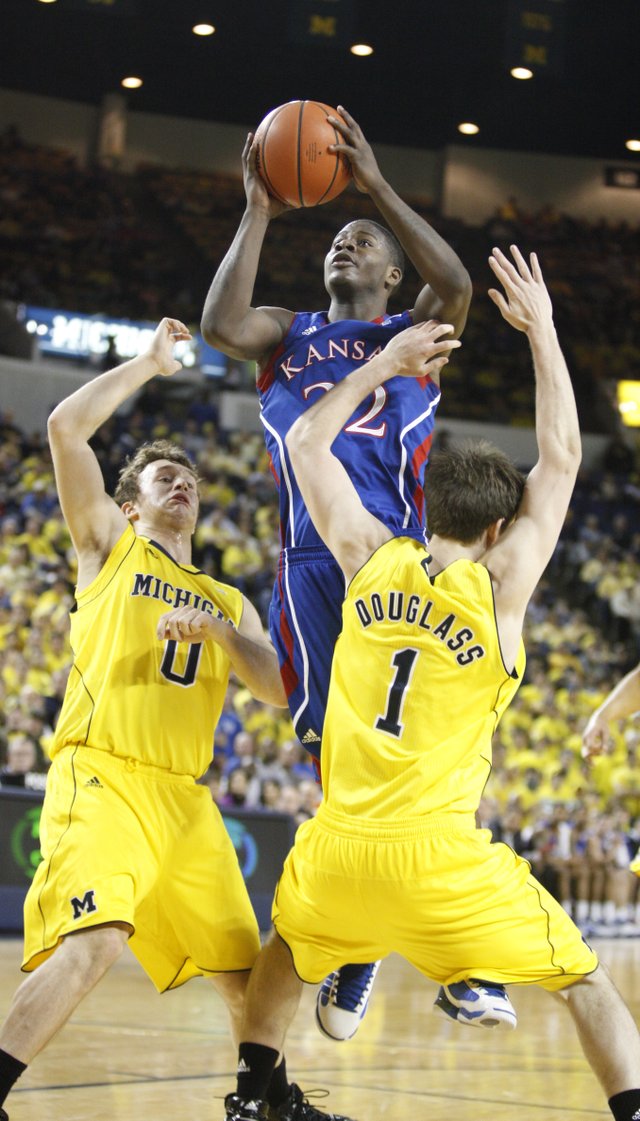 In the end Kansas's Marcus Morris went all Brian Cook on us, scoring 22 and grabbing 10 rebounds. Michigan would lose in overtime 67-60, but Kansas limped away knowing they'd been in a fistfight.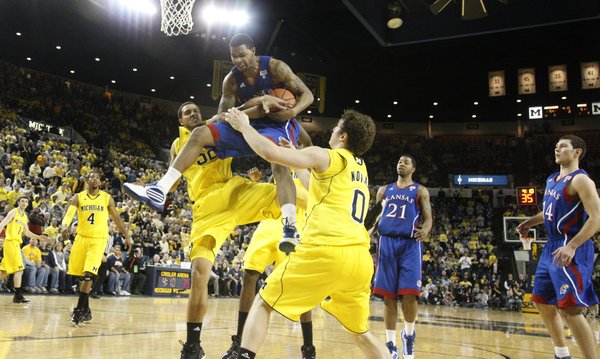 Kansas is a tough, tough defensive team.  They dont press as much as Self has in the past, but they man you up in the half court like few teams in America.  They will turn you over in a heartbeat, and 7 foot senior center Jeff Withey is averaging 4 blocks/game.  Michigan is going to have to execute at a very high level to score on these guys.
     Kansas's offense has been hot and cold.  Self runs a hi-lo motion offense designed to get post players one on one deep in the paint.  This results in a lot of defenses "packing it in" in the paint, making it very difficult for Kansas's guards to get to the rim.  This is somewhat exacerbated by the Jayhawk's lack of a truly elite slasher.  Their point guard tandem of Elijah Johnson and Naadir Tharpe, as well as swingman Travis Releford can put the ball on the floor and even beat their man, but in the games I've watched they seem more comfortabe using the advantage to kick the ball out to the perimeter rather than finding a cutting big or finishing near the basket.  Some have pointed to McGary's tendence to "over-help" as the achille's heel of his defense, and Kansas's ability to take advantage of post players off the drive(which frankly they haven't shown much) may tell the tale of the ballgame. 
     Kansas gets a lot of post touches and a lot of shots from the perimeter.  That means few Kobe assists and lots of long rebounds.  Those are fast break opportunities that Michigan will have to capitalize on if they want to reach the Elite Eight.  Kansas likes to score in transition too, so a lot is going to be dependent on A. Can Burke get into the lane?  and B. Which team is going to hit their jumpers? 
     I suppose before I get too far ahead of myself we should do a little "meet the Jayhawks".
     6-5 freshman guard Ben Mclemore is the leading scorer at 16per.  
He shoots 50% from the floor and 42% from downtown.  You dont want to leave that guy open.  Fortunately he hasn't been shooting too well as of late.  he chipped in just 2 points against North Carolina.  Hopefully that trend continues. 
     7ft senior center Jeff Withey has been carrying the Jayhawks through the tourney at 17 pts/g(14/g for the year) shooting 58%. 
He also grabs 9 boards and blocks 4 shots, altering countless others.  He can be outworked and outpositioned, but this is going to be a tough matchup for McGary, Morgan or Horford.  His man has got to keep a body on him whether a teammate is getting beat or not.  Help is going to have to come from somewhere else.
     6-6 senior guard Travis Releford chips in 12 points and 3 assists shooting 57% from the floor and 42% from downtown. 
You dont need Kobe assists when you're shooting like that. 
     Those are Kansas's elite players.  Their supporting cast is competent as well, starting with 6-4 senoir point guard Elijah Johnson.  He averages 10 points and 5 dimes, shooting 38% from the floor and 33% from downtown.  He takes a lot of jumpers(second only to Mclemore).  Kansas fans would like to see him drive and distribute more.  He shares the point with 5-11 sophomore Naadir Thorpe.  Thorpe averages 6 points and 3 assists shooting 35% from the field and 34% from downtown.  The other bigs are 6-8 senior forward Kevin Young and 6-8 freshman forward Perry Ellis.  They combine for 14 points and 11 boards between them. 
     So alright, its going to be tough to score on these guys.  But make no mistake, this is no David vs Goliath matchup like the one a couple years ago.  The first time Beilein went down to Chesterton, he came back with a bulldog in a pug's body.  This time he went down there and brought back the bulldog. 
This is going to be a Goliath vs Goliath matchup, maybe the best one we see in the tourney.  Transition buckets and post defense are going to be key factors.  Looking back on this year, on all the battle scars this team has weathered...I have to believe that that act of God Wisconsin shot happened for a reason.  That maybe that last shot against Indiana was meant to hang on the rim for an eternity before falling off.  Maybe I've just seen "Signs" one too many times, but I think maybe we'll see the results on Friday.
  65-59 Michigan.
Go Blue!