Best and Worst: Miami (NTM)
I hope you saved some space on your plate for these #HOTTAKES.
Worst:  Cue Up Morrissey 
I'll get this right out up front; I am not nearly as down about this game as seems to be the general consensus.  I'm a bit of an optimist at heart, but a 34-10 win where UM more than doubled the yardage of the opposition (while holding them under 200 total yards) and never being seriously challenged save for a random 5-minute spurt in the 2nd quarter in which everything that could go wrong did just doesn't get my blood boiling.  Yes, the team looked out-of-sorts at times, and obviously this isn't one for the Gardner archives, but reading my Facebook feed and the comments on the internet, you'd think UM had just lost to MAC teams like so many conference brethren.
I do think there is a subset of the fanbase that must disabuse itself of the notion that Michigan can just impose its will on teams and the opponents will oblige by pulling their collective tails beneath them and scurrying away.  The announcers of the game (who I thought did an immensely better job than last we heard BTN announcer/bitter OSU WR Joey Galloway and Beth "EMPhasis on the wrong syLLAble" Moowins) mentioned a couple of times that Miami wasn't "afraid" or in awe of UM.  Now, maybe Angola was taken aback by the mere presence of the Dream Team in 1992, but a D1 team comprised of players from the same region should absolutely feel like it can compete, especially when the opposition is giving away possessions and clearly not at the top of its game for stretches of the contest.  I know I'm harping on a seemingly-meaningless point, but the part of the Michigan internet echo chamber that drives me most crazy is the chicken little mentality that has existed for decades (and yes, this existed well before 2007).  It wasn't pretty all the time, and there are definitely lingering issues (i.e. clock management at the end of halves, Gardner's skittishness and WR lock-on, coverages issues in the secondary), but this team looks light-years ahead of where it was last year in its third game against Akron, where they gave up 418 yards and needed a last-second stop at home.  Michigan largely dominated an overmatched team saved for a string of bad luck in the 2nd quarter, and attempts to make it more meaningful or representative of the rest of the season feels like a fool's errand.
Best:  Apparently They Listened
Last week I said that I thought it would behoove the coaching staff to pick one of the two key backs and give him the bulk of the carries for a game or two just to build some cohesiveness and see if Green or Smith could be the "feature" back in this offense.  Well, after some chatter this week that Smith was seen gingerly walking around campus, Derrick Green was given 27 carries this game and turned in a pretty solid performance, averaging 6.2 ypc and 2 TDs.  That average is both impressive (his long was only 27 yards, so it wasn't goosed by some massive run through the secondary) and a bit troubling (you kinda hoped the former #1 RB recruit could have broken a big run against a turrible Miami defense), but overall Green looked better as the game progressed and made some nice cuts and reads throughout the day, including what I believe was his long run where he went left then cut back right to burst through a massive hole on the backside of the play.  Perhaps most promising was the fact that he ran thru contact far better than in the past, falling forward and getting those couple of extra yards good backs should always eek out.  While I understand the value of multiple backs being interchangeable parts in the rushing attack, it does seem to help when a back can get into the flow of the game and run multiples series without being swapped in and out.  While I'd still love for either Green or Smith to have that extra speed element that can turn some of these 10+ yard runs into 50+ yard TD runs, at this stage the rushing attack looks lightyears better than it did last year, when TFLs were abundant (only 2 this game, for a total of 3 yards) even against the dregs on the schedule (Akron had 7 for 21 yards).
Meh:  Chaotic Neutral Devin Gardner
Gardner had an average performance, one that probably was a bit worse than I'm making it out to be (his mechanics seemed out of whack at times and a couple of his throws, including the INT, were a result of locking onto the WR and not setting his feet in the pocket) but also one not nearly as bad as the Russell Bellomy Special people are making it out to be.  Coming on the heels of last week's second-half horror show, it was a bit disheartening to see Gardner throw another bad INT on a pass that led to Chesson getting sandwiched between two Redhawks.  Also, and this is somewhat hard to tell from the sideline camera angle, but it felt like Gardner sensed breakdowns in the pocket that weren't there, leading him to scramble around and make off-balance throws where stepping up or shifting position slightly would have been sufficient.  But unlike in years past, he halted the scuttling in the second half, and that wide-open TD to Butt that really broke the game open and settled everyone down.  I saw some people complain that Gardner nearly blew that wide-open pass, but that type of throw actually seems harder than it looks precisely because of how open Butt was; as a QB, you are conditioned to expect a certain level of coverage on your receivers, and when a guy is that blindingly wide open it seems to catch lots of QBs by surprise and takes them a moment to adjust.
Overall, Gardner's numbers were fine (14+ yards per completion, 2 TDs, running when appropriate) and he seems to have found another weapon in Darboh that will help complement Funchess when he gets back.  It was a workman-like performance, and coming off last week's game it was a welcome return.
Worst:  ChadTomDrewJohnJimDenard HenneBradyHensonNavarreHarbaughRobinson Jr. Ain't Walking Through That Door
You always hear that the best position on a team is the backup to the "leader", whether it be QB, goalie, PG, etc.  While the starter plays every game and exposes his failings on a daily basis, the platonic ideal of that player tends to manifest themselves in the form of the backup, who rarely sees the field and thus does nothing to dispel the notion that he would be superior to the incumbent even though in most circumstances, you know, he would probably be the starter if he actually was better.
Now, Gardner's problem isn't most people thinking Shane Morris should be the starter; beyond the "give reps to the future" camp, I haven't seen many people arguing Morris is better than Gardner right now at QB.  What I do see, in veiled references and wistful posts, is the idea that Gardner is somehow demonstrably worse than those QBs who came before him, that if you put any of a dozen former QBs in his spot they would be world-beaters.  To me, this mindset is the combination of whitewashing the past while stubbornly ignoring the realities of the present that you typically only see when you talk to Baby Boomers.
Look at Tom Brady's college stats, then remember he had future NFL Offensive ROY Anthony Thomas as the feature back, throwing to future 1st rounder NFL pick David Terrell and 3rd-rounder Marquise Walker, and was protected by All Big Tens Jon Jansen and Steven Hutchinson, with Hutch being one of the best 2-3 guards in the history of the program.  Henne always had Hart and a cadre of NFL-quality WRs to throw to, from Braylon to Manningham and Breaston, and had future #1 overall tackle Jake Long covering his backside every year.
My point isn't to disparage the past accomplishments of players; Drew Henson could have been a transcendent star at UM if he had stuck around, and guys like Jim Harbaugh played in a different era but were absolutely deserving of the accolades they received.  But they weren't world-beaters, and virtually all of them played on better teams, with better supporting casts and far more coherent offensive philosophies and coaching stability, than Devin Gardner.  And they all had their flaws; guys like Henne and Navarre were notorious for locking onto their safety blankets (usually Braylon or Walker) and willing the ball to them, coverage be damned.  Most QBs do that at various points in their careers, and anyone who has watched an NFL game with Calvin Johnson, Randy Moss, etc. in the lineup knows that this behavior isn't confined to the college game.  Brady emerged somewhat as a senior, but he seemed like the definition of a game manager throughout his career, with his last game against Alabama being so memorable because of how against-type it was compared to the rest of his career.
Barring an epic turnaround, Gardner won't go down in Michigan lore as one of the great ones; not enough record-breaking runs like Denard, too strong a perception that he throws interceptions and misses receivers be respected as a passer.  And games like this one do nothing to dispel these notions, but that's an issue more for the viewer than the realities of Devin Gardner's tenure at QB for Michigan.  He's a good QB who probably won't ever be great, and that's fine; you have to go pretty far back in the history books before you'd find someone who would fit that designation at UM.  But the constant strawmen he's compared to, and the needless nit-picking that seems to follow his every performance, is both an unnecessary exercise in rabble-rousing and a disservice to a pretty good player.
Best:  Depth at Wide Receiver or
Worst:  Is That Depth Only Interchangeable?
It was great to see guys like Darboh, Chesson, and even a brief appearance by Canteen get some focus in a passing attack that still seems to be figuring out what to do with the players available.  Darboh clearly established himself as the starter across from Funchess, and he looked sufficiently athletic enough to punish teams who single-cover him, at least with the ball in his hands (that first fumble was due as much to ball security as a good tackle by Miami).  Chesson couldn't pull in a gorgeous pass from Morris in the endzone when the MU corner swiped his arm, and he was the intended receiver who got crunched on Devin's tipped INT, but he his holding off some decent players for his spot and is also contributing on special teams.  Norfleet didn't catch a pass but had a great kickoff return to start the game and his 21-yard run on 1st down in the 3rd quarter gave Michigan great field position that they ultimately squandered.  Even Jungle Beats got in on the action, and looked like he could be a playmaker as the season progresses.
At the same time, it was a bit disheartening to see the passing offense remain a bit stagnant, at least in terms of downfield threats.  Darboh averaged a shade over 14.5 yards per catch, and that included a 26-yarder that featured quite a bit yac tacked onto a short slant/crossing route.  The longest completion of the day was on Butt's TD, which required absolutely every Miami player to not keep their eyes on a big Butt as it passed them by.
Given how the offense seems adverse to throwing downfield consistently even when Funchess is available, my inclination is not that Michigan has a bunch of possession receivers but that they aren't being asked to stretch the field.  So far Nussmeier seems content to take a couple shots down the field a game but mostly focus on getting the ball out to his playmakers and asking them to make yardage after the catch, highlighted by the multiple WR screens and quick outs we've seen for three weeks now.  Hopefully as the season progresses we'll see a more diverse passing attack, but at least so far it does look like UM has playmakers outside, in the slot, and at TE.
Best:  The Charmeleon'ing of the Offensive Line
I was a bit too old for the whole Pokemon craze, but having two younger brothers and playing a fair bit of Super Smash Brothers I was exposed to enough of the mythos to make this reference kinda work.  The Pokemon creatures, both as a homage to the growth patterns of many inspects as well as a shameless money grab to force fans to purchase ever-more "intense" versions of the same basic character, "evolve" as they gain more experience in battles and, I guess, in life.  So like a mild-manner turtle named Squirtle can become the weaponized Blastoise simply be practicing and becoming more attuned to its skills and abilities, it feels like the offensive line is becoming more proficient and cohesive every week.  Yes there were breakdowns, but the running game didn't get overly bogged down after some early struggles, and as noted earlier it felt like Gardner's scrambles were as much a response to phantom pains from past rib-crushings than Miami consistently getting pressure.  As always, competency is the end-goal this year, and this unit is going to struggle against some of the better lines on the schedule, but this felt like another battle won by the line, and every week they are gaining the experience necessary to take the next step in its evolution.
Best:  Impressive
I'm sure the rush defense is going to struggle at some point this year, but its been three weeks in a row now where opposing offenses are getting absolutely stoned running the ball.  Excising the one 1 sack by Beyer, Michigan held Miami to 46 yards on 23 carries, or a very tidy 2.0 ypc.  The longest run of the day was an 8-yard scramble by Andrew Hendrix, and at no point did Miami seem capable of getting a consistent push against the front 7.  Both Bolden and Ryan looked more comfortable out there, though it still feels like Ryan is wasted in the middle given his disruptive abilities as a pass rusher, and Thomas was in to snuff out some runs as well.  It continues to be a bit troubling that the team isn't recording buckets of TFLs, but its a minor quibble considering Miami  had a total of 8 first downs all day, and most of those came on their two short-field scoring drives.
Best:  All Those Penalties
One of those underrated stats that "smart" football minds used to lord over was the number of pass interference flags certain WRs would accumulate over the season.  The logic is that a PI is at least as good as a completion; it typically means the defender had to bail out on whatever he normally does and resort to cheating to stop a long completion from occurring.  Certain receivers tended to draw those flags more than others, and identifying them and their disruptive tendencies helped both defense as well as the offense because you could design plays that would isolate those players against corners and try to draw flags at key moments.
The corollary on the defensive line should probably be the false start, especially at the tackle spots.  When you have a great pass rusher, your tackles know they need to get whatever jump they can in order to compensate, and as a result they'll try to "cheat" on quick counts to get that extra half-step before contact.  In this game, it seemed that the Miami line was so worried about guys like Clark, Henry, and Beyer that they had 4 false starts plus one delay of game that immediately followed the first false start.  Though they only recorded the one Beyer sack, Clark was consistently putting pressure on Hendrix, and had the line kept containment on a few plays they probably would have record 2-3 more sacks (one play in particular seemingly featured the entire line chasing Hendrix as he fled the pocket; you probably don't want to see that on a 4-man rush).  It feels like the sacks are going to be there at the end of the year, and in this game the disruptiveness along that line just manifested itself in all the laundry being thrown by the refs.
Worst:  Holding's Still a Thing, Right?
Each team was called for one hold in this game, with Michigan's coming on the last, meaningless drive.  That seems about 100 short considering how overmatched Miami's line looked at times and how frequently a UM defender was thisclose to dragging down Hendrix or tackling a back behind the line, only to see that player escape for a minimal gain or throw the ball away.  There is undoubtedly some bias in this view, but it felt like after the flurry of self-inflicted wounds by Miami to start the game, the referees seemed to let up a bit.  Listen, just because Miami is screwing up before the play doesn't mean they aren't equally dumb during the play.  It's the same mentality that led to the "press coverage or die" popularized by MSU and the Seahawks; nobody wants to call a penalty on every play, so accept some bad calls for the overall success rate you get by grabbing and holding.  It didn't really matter in the end, but it was annoying to watch in real time.
Meh:  The Secondary
I've never sat in on coaching meetings nor do I know the exact formations being taught by the coaching staff, but watching the game it felt like the corners were still struggling with the intricacies of the coverages being called.  A number of times there were Miami receivers in the gaps between 2-3 Michigan defenders, with a corner trailing behind and a LB twisting around, trying to locate the ball.  On one of those Bolden made a nice 1-handed deflection that probably would have been a nice reception without it, and an early 3rd-and-14 pass to Rokeem Williams was open between 4 Michigan defenders that Hendrix just underthrew.  Again, some of these "mistakes" could have been designs of the defense that Miami simply countered; even bad teams can get you in a bad formation or find a hole in the coverage.  And the defense was still down Taylor and Peppers was getting his first sustained time on the field, so some growing pains are to be expected.  But I agree with Brian that the secondary still seems to be getting the intricacies of the defensive scheme down, which is usually a big enough problem if it wasn't also compounded by having the coach learning it for the first time as well.
Worst:  Clock Management and Coaching or
Worst-er:  Bitching about Clock Management and Coaching
Everyone complained about the slowest 4-minute drill to end the first half, and the decision to punt at the Miami 37 after a delay of game on 4th-and-1 were cringe-worthy, but I'm comfortably numb at this point to these brain farts with Michigan football, and would argue that this stuff happens to every team from time to time.  Yes, great teams usually don't waste oodles of time in a close game huddling and then running clocking-killing runs from midfield, but Michigan is so far away from being a "great" team that "not screwing this up and getting somebody killed" beats out "throwing it for a pick-6 because your first-year WR runs the wrong pattern" even if the latter probably nets you more points over time.
I know fans want this team to be less derpy about clock management, but for better or for worse this is how Michigan has played for decades now.  At some point you'd hope that the coaching staff pushes the envelope a bit and picks up the pace, but at the same time all coaching staffs have their blind spots, and when UM is back to consistently winning 10-11 games a year I'll start worrying about these wasted opportunities.  It's probably a bit defeatist and unproductive, but no more so than the weekly complaints about it.
Best:  One of These is Not Like the Others
Though the NCAA.com hasn't updated the stats for the week thus far, it is safe to assume that Michigan has one of the weirder profiles in college football.  They sport one of the top defenses overall, especially against the run, and have a decent rushing attack (top 30-ish) and an emerging passing game.  The kicking game is a little meh, but it isn't an atrocity either to the scale it was under RR.  Michigan has outscored its opponents 117 to 55, and that is with the potential outlier of ND's 31-0 whatever that was.  And yet, the team has a turnover margin of -7, with only some of that explained by poor ball security or bad throws.  I know Michigan has been snakebitten in the turnover department for years now (save 2011), but it feels like that will have to rectify itself, especially given how strong the defense has looked overall.  Provided the running game isn't a mirage and the line continues its solid play, that should take some pressure off Gardner and thus allow him to pass under less duress, and at some point you have to think Clark, Ryan, etc. will start creating turnovers in droves.  Heck, Lewis's INT was a result of Hendrix being under pressure and throwing a floater up short.  This team probably deserves to still be 2-1, and with a bit more luck, who knows?
Best:  Cradle of Fandom
Usually during rivalry weeks around these parts, people talk about how they came to be a fan of the Wolverines.  Many of the stories features tales of family members taking them to games as youths, or plopping down in front of the TV and catching a big game on national TV, or being inducted into the Michigan family before they even opened their eyes.
Me, I came to be a Michigan football fan by a more circuitous, or at least a less conventional, route.
Growing, my sport was basketball.  Loved watching it, loved playing it, everything about the hardwood interested me.  My favorite book was a compendium of the 50 best basketball players based on whatever criteria that ended up with Kendall Gill and just-out-of-college Christian Laettner.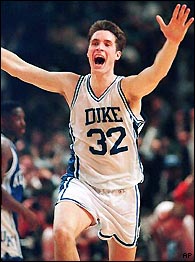 I'm as surprised as you are, Christian.
Hell, I even bought Bill Laimbeer's Combat Basketball, even though I played it for about 5 minutes total.  Now, I wasn't conventionally "good" at playing the game of basketball, but it remains one of the few competitive sports that comes with both single-player and multi-player compatibility out of the box; you can shoot alone on your driveway or join a pickup game seamlessly.  My father's first passion was basketball, and some of my fondest memories involved playing horse with him as he taught me the hook shot and how to square my shoulders when taking a jumpshot.  And growing up in the shadow of the Fab 5 era cemented my love for the game, though weirdly not for the University.  Sure I loved the fact that my local college team was winning games with flair and had future pros up and down the roster, but you could have switched them with Central and I wouldn't have batted an eye.
Football was a different beast for me; while I had briefly played it as a youngster, it just didn't stick.  My dad had attended Michigan and would watch the bowl games and the major rivalries on TV, but it wasn't a religious experience for him the way it seemed for other families.  So it wasn't until 1995 when I attended my first UM football game, with my friend and his father, against the Miami (NTM) RedHawks.  And as weird as it is to say nearly two decades later, that was when I probably became a true Michigan fan.
It was one of those beautiful fall days you always remember every football Saturday being even though most probably weren't.  I had never been to Ann Arbor, so the hour-plus drive from Royal Oak, MI was a blur of highways and weird farm country.  We parked a couple blocks off State Street (probably off Packard, but who knows) and walked down beautiful tree-lined streets to Hoover, then into the stadium.  It seems like most Michigan fans have their first stadium experience in one of two ways; as small children taken by family, where everything is overwhelming and you don't really grasp it at the time, or as (relatively) jaded college freshmen who are impressed but have enough life experience and have many other things on their mind (e.g. getting acclimated to college life, classes, parties, etc.) that the full impact of the surroundings is muted.
Well, and this will sound like hyperbole, that was the moment I figured out I wanted to go to the University of Michigan.  It's simplistic and over the years I obviously learned more about the school and how it fit into my future plans, but that day, sitting in those stands watching UM put away a plucky Redhawks team that felt eerily like this game (UM was never truly threatened, but that Miami team was pretty good at 8-2-1 and certainly had enough playmakers to keep up), I became enchanted with the football team, the stadium, the school, and everything that encapsulated.  And that team UM finished with 4 losses, part of a 4-year streak in which the Wolverines finished with 4 losses each year, that ended in 1997.
I guess the reason I shared this story is that for all the complaining and consternation people around here have about the "direction" of the program, marketing efforts, ticket pricing and attendance, and all the other minutiae that occupies the days between gameday, it helps to remember that for lots of people, the magic isn't gone and the experience of being in that stadium on a crisp fall day is one that can have profound influence on their lives.  Hell, the reason I was even there was probably because Miami was a "poor" opponent and tickets were readily available; earlier that year the 100k attendance record nearly ended when Memphis showed up.  I'm not saying yesterday's game will lead to someone adopting the Wolverines as the University as his/her own, but part of me hopes that another generation of fans does.
Best:  Bring on the Utes
It's fashionable to talk about Utah being a dangerous team, and I'll admit that Dres Anderson (who is one of my college football fantasy WRs) looks pretty good so far this year.  But the two teams they have beaten are a combined 1-5, with that one win being Idaho St.'s "not as close as the score indicates but still not a good sign when the other team doesn't even have a logo on ESPN" win over Chadron St.  The Utes have had a week to prepare, but Michigan will be a massive step up in talent compared to Utah's schedule so far, and while last year's Utah team upset Stanford and lost a nailbitter to ASU last year, it was otherwise handled pretty handily by the good teams on its schedule and only had a 7-point win over BYU on the road.  It will be a tougher test that UM probably wanted when they scheduled this game years ago, but it also feels like a good barometer for the team's potential this season.  I expect Utah to be able to move the ball at times, but Wilson is no Golson and if Michigan can cut down on the inexplicable turnovers, I think they'll emerge with a win.