Michigan Lacrosse Preview 2011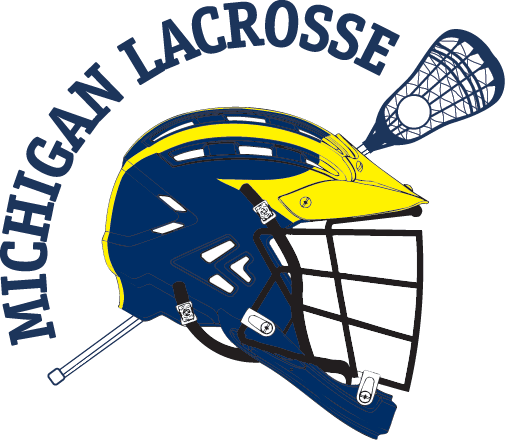 Michigan Men's Lacrosse has captured the last thee national titles in the MCLA, the highest level of club lacrosse in the country. They begin their quest to make it an unprecedented 4-peat tonight at 6:00PM in Oosterbaan Fieldhouse, with a pre-season scrimmage against Division 1 squad Bellarmine.
Let's look at the personnel.
Goal
Key Returners: Mark Stone (HM AA, 2nd Conf), Andrew Fowler
Losses: Conor McGee
Mark Stone and Andrew Folwer split time in net almost equally in 2009, and though Fowler missed some time with a leg injury, he got the start in the MCLA Championship game. Last year, however, Stone took over as the #1 keeper, playing almost twice as many minutes as Fowler, and posting a slightly better save percentage (.609 to .595) overall.
This season, look for Stone to be the starter again - and increased performance out of both main keepers in their senior years. Sophomore Cy Abdelnour is the third option, as Conor McGee has transferred to UVa.
Defense
Key Returners: Harry Freid (1st AA, 1st Conf), Austin Swaney (2nd Conf), Justin Burgin (3rd Conf).
Losses: Zach Mueller, Theo Lederfine Paskal, Bob Diehl.
Newcomers: Dakota Sherman, Pat Stansik, Jake Dockser.
Harry Freid enters his senior year after back-to-back First-Team All-American seasons, and he's been named to the MCLA's all-decade team. He's the key player in the Wolverines' defensive corps, and will probably spend next spring playing a year of Division-1 lacrosse.
Austin Swaney is the team's #2 defenseman. His athleticism and instincts are the keys to his success. The starting unit could be rounded out by either Pat Stansik or Justin Burgin, though Burgin is coming off an injury. Stansik is a big, intimidating defenseman, and Burgin excels going up the field in transition.
JD Johnson, Dakota Sherman, and Paul Hegeman should also get some good playing time in a very deep defensive unit.
Midfield
Key Returners: Matt Asperheim (3rd AA, 1st Conf).
Losses: Anthony Hrusovsky (2nd AA, 1st Conf), Jordan Kirshner (3rd AA, 1st Conf), David Rogers (2nd Conf), Svet Tintchev (2nd Conf), Michael Bartomioli (HM Conf), Jamison Goldberg (HM Conf).
The midfield is the hardest-hit unit by graduation, with only senior Long-Stick Matt Asperheim returning among players who received All-American or All-Conference honors. Asperheim is an important part of the team's defensive play, but also has great stick skills, and can score.
The other starters of Michigan's defensive midfield have graduated, so Jordan Kirshner and Michael Bartomioli (now an assistant at Michigan's Feb. 19th opponent Florida) will need to be replaced. Sean Sutton should be one of the starters, but the other is still up in the air, with Rob Healy a strong contender.
Michigan also lost a lot from their offensive midfield units, with #5 scorer Svet Tintchev out the door, along with #7 Anthony Hrusovsky, #9 Jamison Goldberg, and #10 David Rogers. Young players such as Joey Hrusovsky will have to step up, and don't be surprised if the Wolverines have more 2-way midfielders this season.
Faceoff
Key Returners: Edward Ernst, Harrison Silver
Losses: David Reinhard (1st AA, 1st Conf)
David Reinhard was a huge part of Michigan's success over the past two years, as the diminutive faceoff specialist won nearly 70% of his draws, helping the Wolverines dominate possession against all competition. With Reinhard out the door, it's up to junior Edward Ernst to carry the torch at the faceoff X.
Ernst actually performed better overall (80.6 win percentage), though most of his attempts came late in games, and especially against lesser competition. He'll have to step up his game for Michigan to control possession like they have the past few years.
Attack
Key Returners: Trevor Yealy (1st AA, 1st Conf), Thomas Paras (2nd Conf)
Losses: Kevin Zorovich (2nd AA, 1st Conf), Josh Ein (HM Conf), Clark McIntyre (HM Conf)
Though Michigan's #3, 4, and 6 scorers from last year have graduated, the Michigan offense still has its most important piece in Trevor Yealy. The senior captain has been a deadly finisher on the crease the last three years, with a mind-numbing 77 goals last year alone - compared to a grand total of 2 assists. This year, he should play a more versatile role, including out on the wing. Even if his scoring production drops, it will be for the betterment of the team on the whole.
Michigan's #2 scorer from last year, Thomas Paras, should be improved in his second year in the program. Since the Wolverines lost two lefties (Zorovich and Ein), the addition of St. John's transfer Ryan-Dutton O'Hara (HT: UMGoBlog) is important. He's a big attackman with good finishing ability.
The Wolverines may have scoring spread more throughout the roster, so keep an eye on Chad Carroll, who's new to the team after not playing lacrosse the last couple years, and freshman jitterbug Jeff Chu.
The Schedule
Last year's home lineup consisted of a meager four games, but that's paid forward to 2011, with 8 home contests, including 2010 tournament teams Florida, BYU, Boston College, Colorado State, and Arizona State (last year's runner-up). I break it down into about 4 parts:
Pre-Season
Bellarmine
Jan. 29, 6:00PM
NCAA Division-1, 9-6 in 2010
Wittenberg
Feb. 4, 7:30PM
NCAA Division-3, 10-5 in 2010
Kenyon
Feb 12, 7:00PM
NCAA Division-3, 6-8 in 2010
Early Season/Road Trip
Florida
Feb. 19, 7:00PM
SELC, 12-4 in 2010 (First Round MCLA Tournament)
Oregon
Feb. 25, 6:00PM. Los Angeles, CA
PNCLL, 10-5 in 2010 (MCLA Tournament First Round)
@ Loyola Marymount
Mar. 2, 3:00 PM. Los Angeles, CA
SLC, 13-5 in 2010
@ Chapman
Mar. 5, 1:00 PM. Orange, CA
SLC, 16-3 in 2010 (MCLA Final Four - Lost to Michigan)
@ Ohio
Mar. 12, 2:00 PM. Athens, OH
CCLA East, 11-2 NCLL in 2010
The Home Stand
BYU
Mar. 18, 7:00 PM
RMLC, 12-6 in 2010 (MCLA Tournament Second Round - Lost to Michigan)
Pittsburgh
Mar. 19, 7:00 PM
CCLA East, 5-10 in 2010
Boston College
Mar. 25, 7:00 PM
PCLL, 11-3 in 2010 (MCLA Tournament First Round)
UC-Santa Barbara
Mar. 26, 7:00 PM
SLC, 10-6 in 2010
Colorado State
Apr. 1, 7:00 PM
RMLC, 17-2 in 2010 (MCLA Tournament Second Round)
Arizona State
Apr. 2, 7:00 PM
SLC, 16-4 in 2010 (MCLA Runners-up - Lost to Michigan)
Missouri
Apr. 9, 7:00 PM
GRLC, 8-7 in 2010
The Home Stretch
Michigan State
Apr. 16, 7:00 PM. Birmingham Seaholm HS
CCLA, 10-6 in 2010 (MCLA Tournament First Round)
@ Toledo
Apr. 23, 7:00 PM. Toledo, OH
CCLA East, 8-6 NCLL in 2010
CCLA Tournament
May 5-7 Saline, MI
MCLA Tournament
May 17-21 Denver, CO
The Summary
Michigan's recipe for success over the past few years has been to dominate possession, owning the faceoff X and riding opponents into turnovers to hold on to the ball much more than the opposition.
Michigan's biggest question mark this year, then, will be on faceoffs. In the one-on-one battle at midfield, they need to have Edward Ernst step up to continue the formula that's brought them such success. Ernst has David Reinhard, last year's All-American specialist, teaching and competing with him in practice (just like Reinhard had with Brekan Kohlitz a couple years back), so he should be able to step up.
Other than faceoff, Michigan's top-end talent and depth are both exceptional. Plugging Division-1 transfers into holes created by graduation is not a luxury all club programs have, and the Wolverines have some of the best coaching in the MCLA as well.
It's likely, unless there are some early-season stumbles, that Michigan will be favored - and often heavily so - in every game this year. They've earned it by losing only one game in the past 3 years, and refusing to ever rebuild, but always reload. It doesn't hurt to have the runaway favorites for MCLA Offensive and Defensive Players of the Year on your squad, either.
If you're looking to make it out to just a couple games, I recommend tonight's scrimmage, as Bellarmine is a D-1 opponent, and the back-to-back home games against Colorado State and Arizona State.