2010 MGoShirt Alert, Final Week
"… An' it's a one, two , three, what're we fightin' for?
Don't ask me I don't give a damn, next stop it's Col-um-bus,
An' it's a five, six, seven, open up the iron gates,
Ain't no time to wonder why we're playin' the game in July."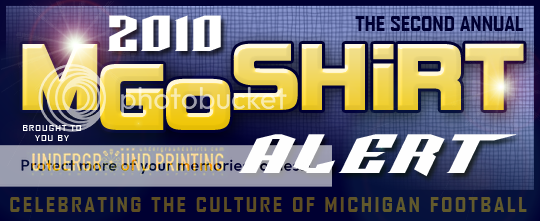 It has been my privilege to present to all of you the MGoShirt 2010 Season Line, as designed by yours truly and produced exclusively by Underground Printing in conjunction with our very own MGoBlog.
So before Delany and those other masters or war take away the rest of our freedoms, we have to take action!  And yes, many of you are speaking out, writing letters, organizing MGoBlog Be-Ins on the diag, burning bras in front of Shembechler.  In other words, power to the maize and blue people!  We have the right to be heard!  Forrest Gump!!
So today the MGoShirt Alert springs into action, bringing a voice to the masses in high quality cotton blend.  Behold, my brothers:
     Because you demanded it-- a shirt that tells THE MAN what we think of moving the Ohio State game to earlier in the season, or perhaps off the schedule altogether.  Blasphemy, pure and utter blasphemy.  We will be heard, we will take action, and we will sport this message on national TV in such frequency that forces Mike Patrick to explain it to the rest of America.
    In all my years, I've learned that there are two things you must never mess with:  the first is LaMarr Woodley, which is, well, pretty much common sense.  The second is tradition, and apparently the Big Ten Conference never got this memo.  You've already moved the game once; enough is enough.  And if you don't believe me, ask Lloyd Carr what he thinks of change.  This is the kind of decision that put the RoTel theme song in our heads for an entire autumn last year.  Someone's got to have a little common sense over there, right?
DESIGNER INSIDER:   M-Wolverine's sitting over there with a big ol' grin in the corner, and for good reason.  He totally called me out sucka MC-style on Saturday morning to spring into action and design a shirt that would rally the troops on this worthy cause.  I thought it through and just tried to say what everyone was thinking with as few words as possible. 
This will be the only shirt featured today, and for good reason—In an act of socially responsible solidarity, the forces behind MGoStore have agreed to offer this important shirt at the very affordable price of...
$9.95!!
TEN BUCKS, PEOPLE!  So do your duty and give a strong message to the powers that be—wear the shirt, send the message.  Fight the power.  Go Blue.
Also, the special offer still stands—Underground has created the Special Deal for those that want to own the full MGoShirt Alert 2010 collection. Buy all 10 shirts (or any 10 shirts - mix and match your favorites) and get them for $150 (25% off!).
 
---
That'll do it—the store's full with a whole new batch of shirts.  Of course, this isn't all we've done, and I'm sure a few more will emerge as the season progresses.  But for now, it's time for me to back away from the drawing board and find a comfy spot on the couch (no, won't be in town next week, but that's another story).  Game week officially starts on Monday morning, and there's much work to be done!!  Get the grill tank refilled!  Pack up the beer pong table!  Wipe down the TV screen!  Decide on the gameday menu!  Buy the MGoShirts!  Clean out the cooler!  Make the wife's spa appointment!  Start screaming at the TV now so the dog's conditioned by next Saturday!  I'll see you all around the blog as we work ourselves into full blown 100% gameday meltdown mode this week!
THE SEASON IS PRACTICALLY HERE!!!