Jim Harbaugh, Bo, and the Michigan Family
[ed: bump.]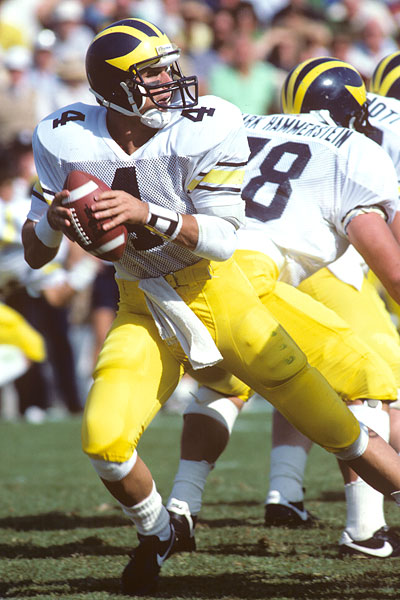 There is a special fondness for one's earliest sports memories. They form the backdrop of experience against which all future events are contextualized. 
My earliest datable memory is Kirk Gibson hitting a home run in the bottom of the 8th inning in Game Five of the 1984 World Series; from that day until his retirement he was my favorite baseball player. I learned to cheer for Isiah Thomas and Gary Grant. I cheered for Yzerman, and accepted that the Lions were always bad. And I rooted for Michigan football, with Jamie Morris and Mark Messner.
And Jim Harbaugh.
He won the Fiesta Bowl. He beat Ohio State with clutch play. He guaranteed a victory in '86, and then beat Ohio State again.* He led Michigan to a Rose Bowl. To a young boy, he was a hero, everything that the winged helmet was supposed to be about. To everyone at Michigan, he was a Michigan Man.
*Someone recently argued on the board that Harbaugh essentially rode the coattails of Jamie Morris to the win, belittling his role in the game. That's acceptable logic, if you're willing to assert that Denard rode the coattails of Junior Hemingway to wins over Virginia Tech and Notre Dame last season--any takers?
*  *  *  *  *
Fast Forward to 2007. I was visiting Michigan from California, where I was attending school. I was enjoying one of the things I really missed about Ann Arbor--walking around the Ann Arbor-Saline Road Meijer after midnight. As I ambled past the U-Scan lanes, I happened to glance at the newspaper display. And there it was, front page.
Jim Harbaugh Criticizes Michigan Academics
"Jim," I muttered to myself. "You fool. What are you doing?"
*  *  *  *  *
Jim Harbaugh was calling out the academic integrity of Michigan Athletics. He was dropping Bo's name (after Bo died, something that sat poorly with myself and others) and using it as a cudgel against Michigan. And, by all appearances, he was doing so in an arrogant way to burnish his own program's reputation.
Nobody in the Michigan camp liked it. Now, I suppose there could be discussion about whether or not he had any legitimate points. Many blogs, including this one, vehemently refuted his accusations and sharply criticized him for making them. I believe it can safely be said that the vast majority of the Michigan family disagreed with both the content and the method of his message.
But this is not about what he said in 2007. This is not about whether or not he wanted to "come home" after Rich Rodriguez left.* I want to address a debate that has bounced around the Michigan family for more than five years now:
Is Jim Harbaugh one of us?