Eleven On Eleven
10/13/2018 – Michigan 38, Wisconsin 13 – 6-1, 4-0 Big Ten
Like anyone still standing after a 2-15 run against Ohio State, I have withered into a cynical-ass bastard more tree than man. We are the Michigan ents. The Ments. But even though this heart was long ago replaced by lignin, by God I felt it beat when Roy Roundtree and Denard Robinson popped up on the video board before the game. They talked about night games at Michigan Stadium in general. They also talked about one very specific game. I had feelings.
I did not know I had just been handed the most critical bit of the gameplan. Wisconsin did not, either. Wisconsin apparently did not know quarterbacks were, like, allowed to keep the ball. I feel like they should have known this. Even if they were completely unaware of the last 20 years of college football, surely their review of Michigan's game tape would tip them of that yes, occasionally the quarterback guy runs with the ball, and faster than you'd think.
Nope.
Patterson pulled twice more, once for a redzone touchdown and once for another chunk run. The last saw Wisconsin actually respect the idea of a pull, somewhat, but Patterson was able to outpace a wrong-footed Badger defensive end anyway.
Then the backups came in and things went from intriguing to bizarre and hilarious. Dylan McCaffrey is slashing inside a block and outrunning an All-American linebacker to the endzone! Okay!
TJ Edwards is sad in the background [Eric Upchurch]
Joe Milton, who had approximately zero rushing yards in high school, is switching fields and outrunning the whole Badger defense to the other sideline! I thought this was Diet Coke, not Meth Coke! Who put meth in my Coke? Did you also give some to Paul Chryst? Ah that's fine then, good move.
-------------------------------------
Michigan's season-long con took in both the Badgers and your author; now revealed, it resets season expectations. Harbaugh noted the impact it had on Wisconsin's run defense when they suddenly had to play 11 v 11:
Coach, you had two quarterbacks that were a big part of things as far as running the ball. Was that element added to this game?

"Yeah, it was big. Shea (Patterson) really got things going in the first quarter with the long run. And the touchdown run he had, he was — allowed us to stretch their defense, get all their gaps, make them cover — make them account for as many gaps as we could. So that was a gameplan well-executed."
Michigan spent most of their short yardage snaps in this game in a two-tight-end shotgun look that had everyone in Michigan Stadium agonizing about the absence of Ben Mason, but aside from one bad decision from Higdon to press outside Michigan converted every time. Frequently this was accomplished by a running back cutting back behind Juwann Bushell-Beatty, who was paving his man, as a Wisconsin defender gave Patterson his newfound due.
Maybe I'd been primed by the pregame video, but I thought about Michigan's approach in Denard's other Notre Dame masterpiece, the one on the road: after a slant to Roundtree set Michigan up at the two on Michigan's winning drive, shotgun, QB zone stretch, easy cutback, TD.
Patterson's not Denard Robinson but he's certainly fast enough to demand someone account for him. When that gets combined with a mauling right side of the line and a rapidly developing whole, you get something. You get 320 rushing yards. You get nearly 240 of those in the second half. You get fourth quarter drives on which Wisconsin knows you're going to kill the clock and can't stop you on six straight runs; the clock only stops getting stabbed to death 40 seconds at a time because you accidentally score a touchdown.
With the mesh point suddenly a real thing, possibilities open up. Ends can't charge willy-nilly at the quarterback. You can make those token play actions into defense-crippling ones with the extra time that buys you—something that Ohio State just struggled to defend this weekend. The corner that Michigan could turn to become a juggernaut offense is there, shockingly in sight.
HIGHLIGHTS
AWARDS
Known Friends and Trusted Agents Of The Week
JBB is almost out of this shot, which is good [Fuller]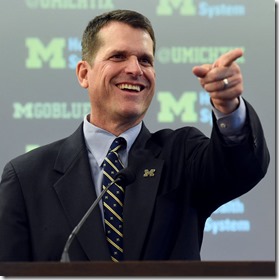 you're the man now, dog
#1(t) Juwann Bushell-Beatty and Jon Runyan Jr. Seriously. Not ironically. Not even in a throw-these-guys-a-bone sense. Patterson was iffy, Higdon fumbled, the defense didn't have a guy contributing except in scattered bursts: JBB and Runyan were the Michigan players most consistently helping Michigan down-to-down.
I don't think either gave up a pressure. JBB paved guys on a series of plays that cut to his side of the line; he was also the source of some of those zone stretch cutback runs. Meanwhile Michigan was usually running to Runyan's side of the line.
DOD was low with Wisconsin in desperation mode at DE, but I be like dang all the same. Both guys get three points because they're made up and don't matter and also this portion of the writeup is indeed me throwing them a bone.
#2 David Long. Both Long and Hill were avoided all night until the late Wisconsin TD drive when Hornibrook went after Hill's excellent coverage. Long didn't suffer those Mr. Tight Windows slings and arrows and was able to sell him twice on man coverage that turned out to be a trap—more below—that turned into a PBU and an interception.
#3 Karan Higdon. Did fumble. Did miss a hole or two. Also went over 100 yards and made some nice zone cuts; his ability was a major reason Michigan won a game in which they had four second half passing yards.
Honorable mention: The Spirit of Denard. Paul Chryst.
KFaTAotW Standings.
7: Chase Winovich (#1 ND, #3 SMU, #1 NW)
5: Karan Higdon (#1 WMU, #3 Nebraska, #3 Wisconsin).
4: Devin Bush(#3 ND, #1 Nebraska), Rashan Gary(#2 WMU, #2 Nebraska), Shea Patterson (#3 WMU, #1 Maryland).
3: Zach Gentry(T1 SMU, #2 Maryland), Juwann Bushell-Beatty(T1 Wisconsin), Jon Runyan Jr(T1 Wisconsin).
2: Ambry Thomas (#2 ND), Donovan Peoples-Jones(T1 SMU), Josh Metellus(#2 SMU), David Long(#2 Wisconsin).
1: Will Hart (#3 NW), Mike Dwumfour (T2 NW), Kwity Paye (T2 NW), Josh Uche (T2 NW), Khaleke Hudson(#3 Maryland).
Who's Got It Better Than Us(?) Of The Week
That would be a game-sealing pick six. Alex Hornibrook has to be sick of watching Michigan defenders spear his passes with one hand.
Honorable mention: 81 yard Patterson run; McCaffrey touchdown; Interception #1; DPJ almost breaks another punt; Wisconsin roughs the snapper; various Paul Chryst punt decisions.
​MARCUS HALL EPIC DOUBLE BIRD OF THE WEEK.
Wisconsin busts a jet sweep to tie the game and momentarily give people the willies about whether Michigan can stop this run game at all.
Honorable mention: The two stunning Winovich holding calls that didn't get made; Michigan's inability to capitalize on the first INT; ESPN having the Chainsmokers on to pick games instead of Denard.
[After THE JUMP: What are you doing, Turtle?!]