Neck Sharpies: Meet Down G: Half-Power, All-Zone
The result [Fulller]
[Gif is here if you want to go frame-by-frame]
One of the hallmarks of a Harbaugh rushing attack is he finds ways to surprise defenders with blocks they weren't expecting. In the middle of 2016 Michigan brought out a weird play that pulled on the frontside like power but blocked zone on the backside. I started to draw it up, but it never really worked, and it disappeared from the offense until the first quarter of Saturday, when they ran it twice in a row. So let's draw it up.
The play is a meatball gap run where the backside blocks like Outside Zone and the frontside uses a bit of Power. A quick refresher of what that means: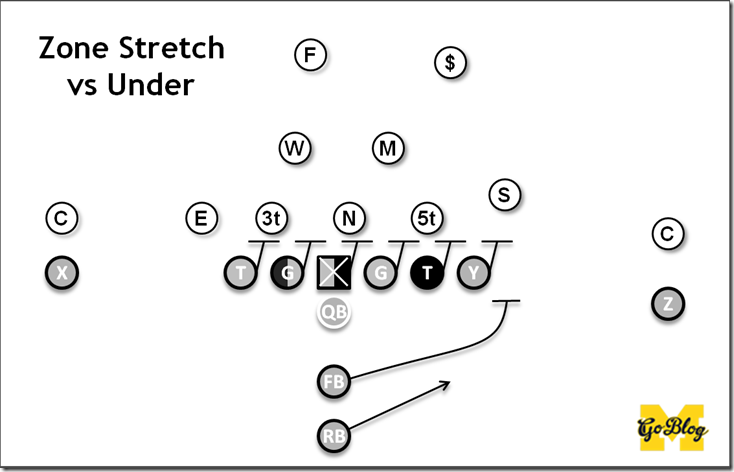 Outside Zone or Zone Stretch: In zone running you block whoever arrives in your gap. If you're "covered" (a lineman is lined up across from you) you have to make sure you deal with the guy over you, either blocking him through the play or combo-blocking him with the next lineman down (reading playside to backside) from you. If you're uncovered you can release to the next level, but if the lineman down from you is shaded playside on your buddy you can give your buddy some help first. OZ is the a more extreme type of zone. The OL are shuffling horizontally instead of trying to create space by shoving the DL vertically. Also Outside Zone doesn't block the backside end. Ideally your covered linemen will flank the guys they're over, and the uncovered linemen will release and get blocks on linebackers, but failing that you keep shuffling and waiting for the lineman to overpursue so you can lock him out of his gap. The running back and any lead blockers will pick their way behind this and wait for a gap to open up.
Power: The front side of the line each has a man to block, and your job is blow him down and seal him in whatever gap he's in so you can run through a preordained gap. Meanwhile the backside guard (usually) pulls around to thwack whatever linebacker or whatever shows in that gap, and maybe you also send a fullback escort. The idea here is to give you advantageous blocks by "blocking down" on dudes lined up further from the play than you, and "kicking out" the last dude to the playside to make the gap you're running into as wide as possible. The running back then follows a mass of bodies into the gap.
[After the JUMP: These are entirely different concepts and I don't understand how they can work together]