The Oral History of Yost in the 1990s, Part 2: The Magic Kingdom
Previously: Part one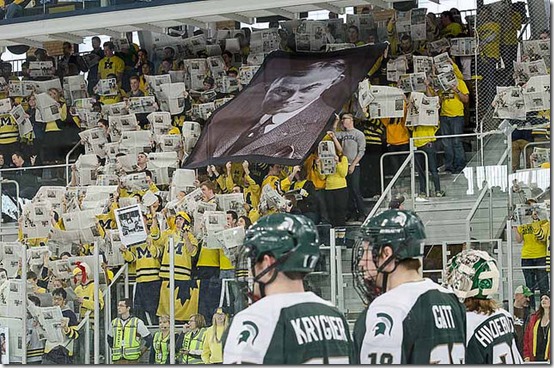 [Bill Rapai]
The time blocked out on Red Berenson's schedule for handing out free tickets could be reallocated to recruiting by 1993. Michigan had won or tied 56 of their last 62 home games by the beginning of the 1993-94 season, was riding a three-year NCAA Tournament streak, and had finished no worse than second in the CCHA each of the past three seasons.
The success of the team fueled Yost's atmosphere, and the atmosphere helped reel in recruits; Michigan's 1993 recruiting class featured future Hobey Baker winner Brendan Morrison as well as John Madden, Jason Botterill, Mike Legg, and Warren Luhning. The recruiting success continued in 1994, as Berenson signed Marty Turco, Bill Muckalt, and Matt Herr. Stories of Yost's unmatched gameday environment spread by word of mouth and students were soon filling the entire east side of Yost. The means for procuring tickets changed drastically as the one-time Diag freebie became one of the hottest tickets in town; students camped out as more highly-touted recruits came in.
Brendan Morrison, forward (1993-97): My freshman year we had a great team and were competing for the national championship and every single night we went into that arena and played at home it was sold out and the students led the charge. You look at the architecture of the rink and you read about the history of the field house and how it evolved over the years to where it is now or where it was my senior year— I remember students would sleep outside the Michigan Union there for two nights in order to get season tickets. When you walked by there as a player and you saw the commitment that your fellow students were willing to make in order to come and watch your team play, it was truly a special thing to be able to go out there and play in front of them and it really made you understand how special a place Yost is.
Roger Spurgeon, student season ticket holder: I met these guys and we made friendships our freshman year, so our sophomore year I wouldn't be surprised if it was me who said, "Hey, let's go get season tickets." They sold them at the Union and I don't think we actually camped out. I think we went there at maybe 6 AM.
Scott Spooner, student season ticket holder: Yeah, I think the first year we were like "Let's get there early" so we got there at like 6 AM.
Spurgeon: Yeah, like 6 AM, and there were maybe 50 people in front of us. I kind of remember that season tickets were about $60 and we got a free hockey jersey. It had "Subway" written on the back. It was a cheap reproduction hockey jersey, it wasn't anything fancy. I think the next couple years they gave us sweatshirts. Like, nice sweatshirts as incentives to buy season tickets.
Spooner: That still said "Subway" on the back.
Spurgeon: We didn't care. We got freebies, so we didn't care if it said "Subway" or not.
Megaphone Man, student season ticket holder: Demand was high. You got a season sweatshirt when you camped out and put in your order for tickets. I remember they were sponsored by Subway, so they were kind of like a must-have item, kind of like they do with the football shirts and the Maize Rage shirts. Before they started doing it on a regular basis for the other sports, I think hockey was the only one really doing it at the time.
[After THE JUMP: fandom expands, everyone dances, and the rules of the rule-free student section]