Picture Pages: Nefarious Option Scheme
Air Force's ability to consistently get the edge on Michigan's defense was the most frustrating thing about Saturday's game, and many theories have been proffered as to what was supposed to be happening, why it wasn't, and why we will or will not die on the rest of the schedule.
I'm of the opinion that Michigan's scheme was predictable and that as soon as Air Force started blocking Kovacs they were out of ideas.
Here's Air Force's first play of the second half. Denard Robinson's just gone 58 yards to put M up 21-10 and a poor decision by a Falcon player to fall on a squibbed kickoff sets the Falcons up on their own 12 yard line. Michigan has just sat in the locker room for 20 minutes getting coached up; Air Force comes out and runs the same triple option they've been running all game.
It does not go well.
Okay: I called this "near half-flex" for Air  Force. Michigan is in their 4-4 under, which I know is actually shifted towards the nominal strength of the formation and so is technically an over. Michigan aligns to field, not strength—so they would flip their formation if it was on the other hash.
Against Air Force, Michigan brought Gordon down into the box and made their formation basically symmetrical. Mattison:
Jake and Thomas were the exact same position in our scheme. A lot of people play the same scheme.
Kovacs is playing center field. Earlier in the game, he was not getting blocked and doing Kovacs things. Like this:
Air Force was all like Eff that to the A and started blocking him. That took out Michigan's edge defender and opened up the corner. Michigan didn't really adjust.
Air Force's "triple" option" wasn't really that. They occasionally ran the dive to keep the defense honest but when they did that the QB just turned around and give it, no read. Here they're running the option with the token dive fake. Already in the above frame, bad things are happening.
Will Campbell(1) is tackling an Air Force lineman who's trying to get out on Bolden. He'll succeed at this, allowing Bolden to flow freely for the rest of the play, but he'll pick up a second defensive holding call doing so. On the edge, Gordon(2) is the optioned guy. Michigan is playing him to pitch like they have been all game. Kovacs(3), is the destination of the flexback.
In a second or two, Michigan is going to eat cut blocks:
Thanks for participating, Clark and Morgan, but you've been elimidated. Try again next play. Meanwhile, downfield…
…the ref is ANGAR at Campbell and Jordan Kovacs is decidedly not coming up to stop the pitch.
Why is Kovacs taking that angle? Why is he not attacking the run? That's an eligible receiver he is in man coverage on. He's got no one behind him, and there are two other receivers going vertical. He has to respect this guy as a receiver, or he could give up an 88-yard touchdown.
At this point it's pretty obvious, but Kovacs doesn't have good options.

Gordon forces the pitch. Michigan has Bolden ready to hit the QB if necessary, but he doesn't know that, and that's not the scheme.
The scheme is getting cut to the ground 13 yards downfield.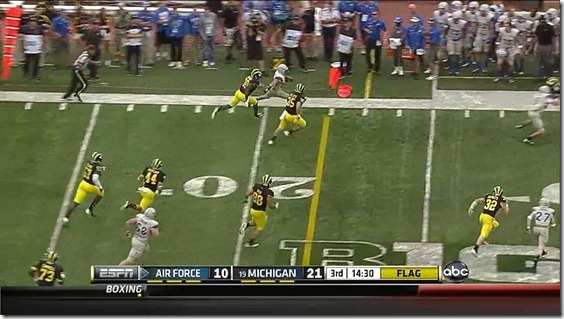 Presenting yet another ten yard run on a pitch. WSG Will Campbell holding flag.
Video:
[After THE JUMP: Air Force twists its mustache!]