Upon Further Review 2017: Special Teams vs Purdue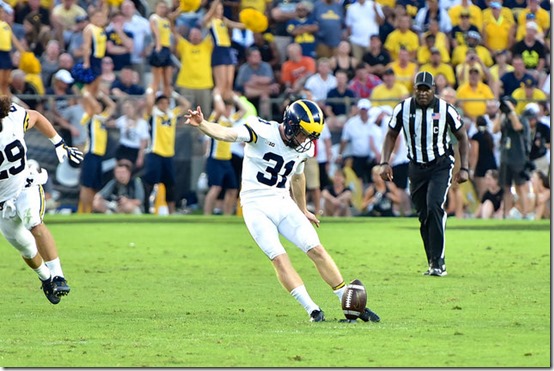 in need of a prospecting name [Fuller]
Formation/Substitution notes: Only change of note is subbing Kekoa Crawford out for Ambry Thomas on kick return. Crawford was the deep man for the first two returns of the game, both of which went out of the end zone. Michigan then inserted Thomas to start the third quarter. Timing is a bit odd considering Crawford didn't have a shot to return the first two kicks before ceding his spot, but there's a chance he can earn it back considering how the third-quarter return went. More on that later.
It's not a substitution, but Brad Robbins' redshirt is gone and Will Hart's on the bench. Robbins did an excellent job getting distance and hangtime on his punts. It's hard to tell whether they just drifted or were intentional, but it seems more likely that Robbins executed two directional kicks—Hart's bête noire—in the second half. All told, it was an excellent debut for the touted freshman.
Other than that, Michigan would often hold three guys in a zone short of the sticks on punts. This was a smart decision and likely something Michigan picked up on film, as Purdue was frequently motioning out one of the members of the shield wide. The only all-out rushes were when Purdue was punting from inside their 10-yard line. They also went safe on Purdue's lone field goal.
Makes perfect sense considering Purdue's Brohminess and where the ball is located.
[After THE JUMP: Robbins' new gig; roughing vs running into the kicker; and Foug, god of hangtime, ruler of return teams]