I Was Just A Balloon But They Stabbed Me All The Same
[Patrick Barron]
9/29/2018 – Michigan 20, Northwestern 17 – 4-1, 2-0 Big Ten
On the one hand you look at the spread and things like "opponent loses to Akron" and you assume that Michigan will have a comfortable victory. On the other, you are playing the Northwestern Wildcats, so things are gonna get weird. Dave brought up the recent history of this series on the podcast, and other than a 38-0 blitzing in 2015 it is Hall of Fame weird:
2014: M00N
2013: The Dileo Power Slide field goal gets Michigan to overtime, and is possibly the only last-second clock-running scramble FG to ever go through the uprights.
2012: Michigan gets to overtime thanks to a Northwestern safety tipping the ball to Roy Roundtree with just seconds remaining.
2011: Fairly normal.
2008: The Fandom Endurance III game is played in conditions that are less sleet and more sideways ice knives.
That's the last decade of Michigan playing Northwestern. It is a nonstop barrage of Pat Fitzgerald pumping his fist until his head expands into a Thanksgiving Day balloon. Michigan scales the balloon to let the air out, sometimes gradually and sometimes all at once. In the post-game presser Fitzgerald's head keeps flopping to one side; he must testily re-seat it. His veins are inverted. He is not so much a hollow shell of a man but the very inverse of a human being, a creature of deflation. Nobody is to walk over to Pat Fitzgerald. Your space-time wavelength may intersect with his and cancel it out, leaving nothing but a ghostly jaw where once two people—one person and one deflation—were.
Nothing can cancel out Pat Fitzgerald's jaw.
---------------------------------------
I guess this season is all about mental calibration. Some way through the third quarter the Black Pit of Negative Expectations gave way to a feeling that stretches all the way back to Lloyd Carr: the Gray Pit of We're Probably Going To Win This Game Despite Starting Horribly Now Could We Please Hurry Up And Actually Do That. (Watch out for the GPoWPGTWTGDSHNCWPHUAADT t-shirt coming to a store near you.) This is a better feeling than the Very Black Pit of Oh God We're Going To Blow Another 18 Point Lead Aren't We.
Michigan did win the game, eventually. By the standards of Michigan-Northwestern it wasn't even that weird. Michigan outgained Northwestern ~4 to 1 after the initial blitzing and was only stopped by a boggling penalty and some boggling failures to use Ol' Murderface when short yardage loomed. Michigan ran into the line on first down and found itself in second and long; they converted that anyway. Nothing could be more traditional. Except also running into the line on second down, which Michigan did not do.
There were no last-second rescues by providence, no inexplicably organized portions of a Brady Hoke team pulling Michigan's ass out of the fire, no two-point conversions to finish our suffering either way. The only thing in question was whether Michigan was going to catch up before the clock ran out. Once they did things were more or less over; they could have played a second game immediately following the second and Northwestern would still be stuck on 17.
Squint and things look pretty good. Maybe that 20 looks like a 28. Michigan almost doubled up the opponent in total yardage (376 to 202) while blasting punts 50+ yards. You don't lose games like that unless you turn the ball over. I know Michigan almost did. We're squinting here.
Open your eyes back up and it's a three-point win over a team with previous ignominious demises at the hands of Duke and Akron. Your personal level of negative expectation will determine how much squinting you're going to do. I am at war with myself. On Monday two days removed I can look at the box score and Pat Fitzgerald's giant throbbing head and be relatively sanguine. Saturday, not so much. Future Saturdays will tend to slip into the black pit until such time as that decision is forcibly repudiated. At this point I don't think anyone has much control over it.
At least Michigan can inflict it, as well. When the game was ended, his quarterback in yet another heap of Michigan defenders surrounded by apologetic linemen, Fitzgerald spiked his headset into the ground and trundled across the field. Instead of a hand to shake he found a wall of Michigan players incidentally in his way. There was no way through. Eventually he veered to one side, disgusted, leaking helium from pin-pricks across his body. By the time he got to the locker room he was barely there at all.
HIGHLIGHTS
AWARDS
Known Friends And Trusted Agents Of The Week
[Patrick Barron]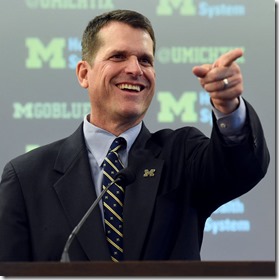 you're the man now, dog
#1 Chase Winovich. Everywhere. His sack was a gift; his other two TFLs were +3s where he scythed through guys trying to block him and solo TFL'd in the backfield. Now the national leader in TFLs. Also living up to meme potential in pre-game.
#2(T) Mike Dwumfour, Kwity Paye, Josh Uche. Michigan's fresh-faced crew of sackists thrived in the absence of Gary and Aidan Hutchinson. Dwumfour forced more of the play than his teammates, creating both of Paye's sacks and getting one of his own, but also got blown out a couple times against the run. Uche ended he game with a textbook dip around the corner that looked like the offseason hype sounded. I like 'em both, and the other one too. One point each because the points are made up and don't matter.
#3 Will Hart. Last week: "Will Hart is gonna get on the board if Michigan ever punts six times in a game." This week: Michigan punts six times. Hart averages 51 yards a kick. Here you go, Will Hart.
Honorable mention:
KFaTAotW Standings.
7: Chase Winovich (#1 ND, #3 SMU, #1 NW)
4: Devin Bush(#3 ND, #1 Nebraska), Rashan Gary(#2 WMU, #2 Nebraska), Karan Higdon (#1 WMU, #3 Nebraska)
2: Ambry Thomas (#2 ND), Rashan Gary(#2 WMU), Donovan Peoples-Jones(T1 SMU), Zach Gentry(T1 SMU), Josh Metellus(#2 SMU).
1: Shea Patterson(#3 WMU), Will Hart (#3 NW), Mike Dwumfour (T2 NW), Kwity Paye (T2 NW), Josh Uche (T2 NW).
Who's Got It Better Than Us(?) Of The Week
Michigan scores to take the lead. Leading is good.
Honorable mention: A-gap Higdon gashes. Gentry sets up the final TD with a ball that just squeezes inside a DB. Will Hart punts! Various sacks.
​MARCUS HALL EPIC DOUBLE BIRD OF THE WEEK.
Has to be the Worst Holding Call In The History Of Football:
This was called holding on Karan Higdon and erased a long Shea Patterson run for first down. pic.twitter.com/eGNaojXLAa

— Scott Bell (@sbell021) September 29, 2018
That call caused one of just two three-and-outs after Michigan got it together and erased a Michigan first and ten from about the Northwestern 40 in the midst of four different scoring drives.
Honorable mention: Various failures to Mason. The entire first quarter.
[After THE JUMP: CSI: TOUCHDOWN]