Any news regarding the possible eligibility of Jason Forcier for this upcoming season? Any idea when we might hear from the NCAA and any conjecture as to what the outcome might be? I'm guessing (based on the fact we haven't heard anything) that this probably won't happen.

I'd sure breathe easier with an experienced backup to the freshman tandem we are fielding.

Thanks!  Best, Mark
No, not really. The elder Forcier's transferred to Michigan and applied for the semi-repealed Mundy waiver; a decision has to be coming in the next couple weeks since fall drills start in mid-August. I don't know how likely a waiver is, and neither does the athletic department. I asked Bruce Madej about it; the response: "we have not had this before so there is nothing to draw from."
As far as breathing easier… while it'll be nice to have Forcier around for multiple reasons—can't hurt Tate's adjustment to college, for one—I'd be mildly surprised if he ended up above Sheridan on the depth chart. He's had little time to learn the offense and at this point has far less D-I playing time than Sheridan. Even if he does win the third (second?) string spot, if he sees the field it will be time for serious panic.
Brian,

The tight end position and the slot receiver position look as though they will have more competition and more depth this year.  From early reports both Koger and Webb are some of the most athletic players on the team.  Odoms will have his hands full trying to keep his starting slot position with Stokes, Roundtree, Gallon and Robinson behind him.  Do believe this added depth will create changes in which formations are used.  Maybe two TEs with Koger and Webb or could two slots be on the field and that the same time to make bubble screens to either side of the ball?  Thanks.

Rob
You'll definitely see some formations with four wideouts and two slot guys; Rodriguez went to that frequently at West Virginia. As you note, that will prevent defenses from cheating on the bubbles and hopefully add some variety. And it might not end there. Gallon, Robinson, and Teric Jones all spent their high school careers in the backfield, and thus might be better candidates to go from the backfield to the slot or pull up to provide option pitch guys on QB runs. Gallon's got a pretty accurate arm for a 5'8" guy; I have waking dreams about Gallon pulling up to pass a la Antwaan Randle El in that Super Bowl.
As far as dual TE sets… well, I don't know. At West Virginia, Rodriguez would move Owen Schmitt around as an H-back and that was it as far as TEs went. So he's already in unexplored territory here. If I had to guess, though, I bet he tries it. He's an inveterate tinkerer and likes to mix up some I-form and whatnot to catch opponents off guard; if he's got two tight ends there will probably be a game in which we see a change-up dose of twin-TE ace sets. They can run zone stretches from that, too. I also bet that at least one of the hyped tight ends falls a little flat, causing significant separation between option A and option B and that twin TE sets never make it out of the exotics phase.
Those will feature more this year but It's another new formation I expect will emerge in the fall: a 1TE 2RB shotgun set with Carlos Brown and Brandon Minor in the same backfield. Michigan showed this in the spring game with some frequency and it promises to be difficult for opposing teams to defend as long as both seniors remain healthy.
Hey Brian

Though we all know July is a complete and utter dead zone as far as college football is concerned, I thought of a question to occupy our time that hasn't really yet been asked. With everyone under the sun making predictions about how next season will go, no one has really considered or elaborated on what effect, if any, this season could have on the current 2010 class coaches are compiling. You, and several others, have mentioned that a 3 and 9 season caused an understandable dip in recruiting, perhaps prompting coaches to widely pursue more players (some of lower rank) while turning higher rated players off on Michigan, etc. Though rankings aren't everything.

But, if 2009 goes the way of 7 and 5 or even 6 and 6, do you see a potential increase in interest from guys either on the fence about Michigan or turned off by the Wolverine's 2008 season. Basically, can success in 2009 win over 2010 guys currently not on the board? If so, who? Or with this summer almost in the bag, are recruits starting to finalize their decisions and close the door on schools they haven't yet considered?

Thanks
-J
Eh… not much. By the time it'll be clear Michigan has improved and Rodriguez isn't a dead man walking, 99% of Michigan's targets will have already made their decision re: Michigan. For one, there won't be many slots in the class even midway through the fall. Michigan will add maybe 7 or 8 players before February, and by mid-September they'll probably have half of those guys. A competent season could collect one or two guys who might have gone elsewhere, and that effect is pretty marginal.
Where you would see a bounce is in the 2011 class.
Through The Wolverine Blog I saw a link to the Bentley image bank library at UM.  I was checking out team photos from throughout the years (which is awesome) and came across this photo that appears to have the team wearing three different jerseys.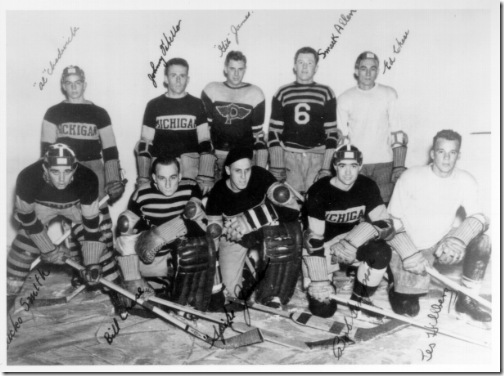 Any info on what the deal is with this? Is this just what they wore at practice back then? Would love to see some striped throwback jerseys sometime at Yost. These are nice too:
   -Gabo
I have no answers for Gabo here, but I figure someone out there might. What's the deal with Michigan's motley collection of jerseys here? It's the Great Depression, so maybe they didn't sell enough pencils to get a unified kit. The guys on the right appear to have eaten their shirts entirely.